Manhattan has 11 statues of men on horses…and one woman. Forgotten NY tracked down all of them, and we thought we'd show them to you here in alphabetical order. There's your usual mix of politicians and war heroes, but there are a couple of wild cards thrown in.
Before we take a look at the statues, remember an artistic code for equestrian statuary, according to legend:
1) ONE LEG RAISED: rider wounded in battle
2) BOTH LEGS RAISED: rider killed in battle
3) FOUR HOOVES ON PAVEMENT: "died in his four-poster" (historian Joseph Brodsky)
Simon Bolivar, the "George Washington of South America" who led the way in the liberation of Bolivia, Panama, Colombia, Ecuador, Peru, and Venezuela from Spain, is commemorated, along with two other South American heroes, at the entrance to Central Park at the north end of Sixth Avenue, which is, of course, known officially as The Avenue Of The Americas.
Sculptor: Sally James Farnham. This statue was a gift from the government of Venezuela and replaced an earlier one of Bolivar on the same site.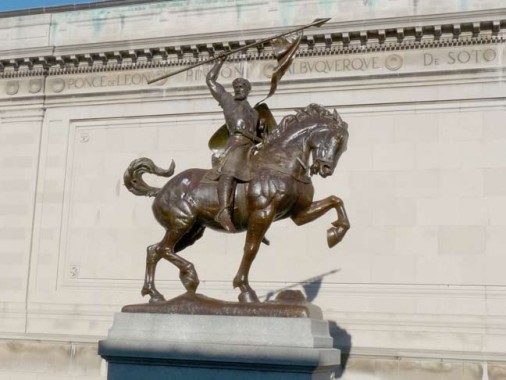 El Cid, the legendary eleventh-century Spanish knight who fought the Moors, is currently undergoing renovations at his home in Audubon Terrace, on Broadway north of West 155th Street.
Audubon Terrace, on land formerly held by John James Audubon, is an underpublicized mixture of Beaux Arts and American Renaissance architecture, and is home to Boricua College, the Hispanic Society of America, the American Numismatic Society (basically the "Money Museum") and formerly, the home of the Museum of the American Indian, which has relocated to the Custom House in Bowling Green and larger digs on the Mall in Washington, DC.
Landmarked Audubon Terrace was commissioned at the behest of railroad heir Archer Huntington in 1907; his wife Anna sculpted El Cid.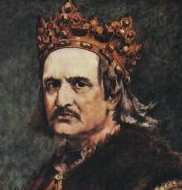 Located at the east shore of Turtle Pond in Central Park (near the East Drive at about 80th Street is King Ladislaus Jagiello.
King who?
Ladislaus Jagiello, grand duke of Lithuania, became king of Poland in 1386; his reign is regarded as a revival of learning and literature in eastern Europe as it slowly emerged from the dark ages.
Jagiello's statue was sculpted by S.K. Ostrowski and originally appeared at the Polish pavilion at the first NYC World's Fair. A gift from Poland, it was moved to its present site in 1945.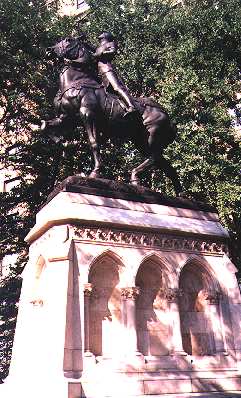 If you've done time in grade school, 
you know the story of 
Joan of Arc
: guided by heavenly voices only she could hear, she led French resistance to England in the Hundred Years' War (fought toward the end of Jagiello's era in Poland, parenthetically). Yet she was betrayed by the French and was executed at the stake by the English in 1431. She was canonized as a saint in 1920.
Joan's statue, at Riverside Drive and 93rd Street, was sculpted by Anna Huntington (see El Cid above). Fragments of the cathedral at Rheims and the tower at Rouen, where Joan was executed, are embedded in the pedestal.
Also at Sixth Avenue and Central Park South is the second of the great South American liberator trio:José de San Martin, who, besides Simón Bolivar, was a great military hero of South American freedom from Spain.
The statue was sculpted by Luis J. Daunas and was a gift from Buenos Aires to NYC in 1951.
Though San Martin did not perish in battle, both of his steed's front hooves are raised high.
The third member of the Latin American trilogy, General José Martí, a journalist and political activist who worked for Cuba's independence from Spain and freedom from domination by the US. He founded the Cuban Revolutionary Party. Assisting in the Cuban revolution in 1895, he was mortally wounded and his statue, sculpted by Anna Huntington, depicts him at the moment of his death. "Guantanamera", a popular folksong in the 1960s, was based on his poetry.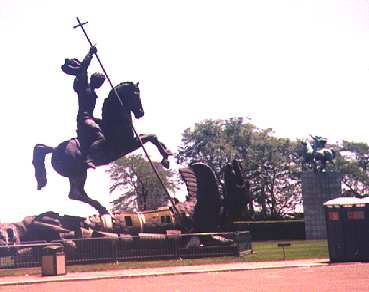 Not one, but two equestrian statues are on United Nations grounds on First Avenue at the end of the revived Dag Hammarskjold Plaza. At left is a depiction of St. George, the patron saint of England, and the dragon. The George Cross has been awarded in England for bravery since 1940. SculptorZurab Tsereteli incorporated fragments of US and Soviet russian ballistic missiles.
The other, seen to the right of St. George in the pciture at right, is a depiction of the spirit of Peace by sculptor A. Augustincic, a gift from Yugoslavia. (Note one hoof raised; 'Peace' is always wounded, but never dead.) As an added bonus, the famed Pepsi Cola sign in Long Island City provides a backdrop.
Teddy Roosevelt, President, adventurer and explorer, greets visitors to the Museum of Natural History on Central Park and 81st Street. Born in New York City, Roosevelt was governor of New York before attaining the presidency, and he pretty much governed from his home in Oyster Bay, NY during the summer.
Sculptor: James Earl Frasier. After leaving the White House in 1909, Roosevelt, always an avid outdoorsman, went on an African safari. He is shown in the depiction in his role as an outdoorsman. Roosevelt here is accompanied by a Native American and an African.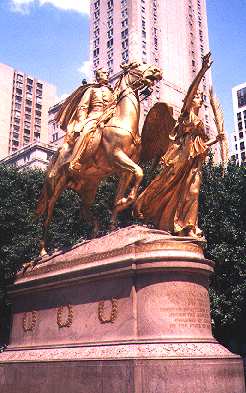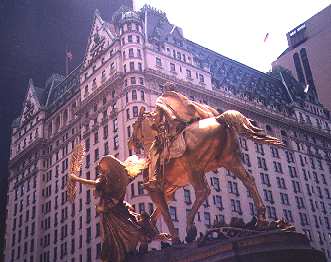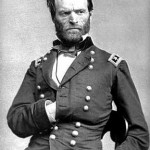 The most spectacular equestrian statue in NYC is that of General William Tecumseh Sherman at Grand Army Plaza, right next to the Plaza Hotel.
Sherman, one of the greatest Union generals, is best known for his 'March to the Sea' in the fall of 1864 in which the city of Atlanta was destroyed by fire.
Sherman is accompanied by Nike(Winged Victory) in this sculpture by Augustus Saint-Gardens. It has two layers of gold leaf. It was originally going to be placed at Grant's Tomb, but after objections from Grant's family, it was located in Grand Army Plaza where it makes a spectacular park entrance.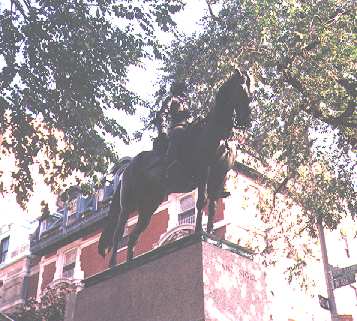 Major General Franz Sigelstands at Riverside Drive and West 106th Street. Sigel, born in Baden, Germany, served in the German military until 1852, when he emigrated to the US, becoming a journalist.
Joining the US Army at the outbreak of the Civil War, he helped suppress Missouri's secession and went on to fight in Virginia and West Virginia.
Though revered by generations of German-Americans, Sigel is regarded by some historians as one of the least successful of Union generals. He was defeated by John C. Breckinridge at the Battle of New Market, Virginia in May 1864, a battle that is commemorated by the Virginia Military Institute to this day because 10 cadets were killed in the fight. Sigel went on to public relations and journalism in Baltimore and New York City.
Sculptor: Karl Bitter. Sigel's statue was unveiled amid great fanfare in 1907.
Our last equestrian is, who else, George Washington.
Henry Kirke Brown's statue stands at Union Square with the Empire State Building as a backdrop.
Sources:
J. Simon Prager, Page of Lists, New York Magazine, March 6, 1978
William Bryk, "I Fights Mit Sigel", New York Press, June 21-17, 2000
Father Alban Butler, Lives of the Saints, Benziger Brothers 1955
On Broadway, David Dunlap, Rizzoli 1990
Landmarks of New York, Barbaralee Diamonstein, Harry N. Abrams 1998
Brewer's Dictionary of Phrase and Fable, Ivor Evans, Harper & Row 1981
7/22/2000