I've slowly come to the realization that Forgotten is woefully deficient as far as the Bronx, the only borough on the mainland, is concerned. And that's ironic, since the Bronx, street for street, probably contains more ancient mural ads than any other borough. It's no secret that large parts of the Bronx have been slow to develop and recover during the last few years of prosperity (and don't get me wrong: some parts of the Bronx have turned around 100% since, say, the famed Jimmy Carter visit to a decimated Charlotte Street in the Crotona Park section in the Seventies). Still, in many areas the Bronx has held on to ads for long-dead or failed products, and some for items that are very much alive.

Long before enigmatic crooner Leon Redbone became the voice of All detergent on its TV and radio commercials, All was advertising on wall mural ads in da Bronx. This one appears on 167th Street just west of the River Avenue el station, and can be glimpsed from the platform if you crane your neck just right. All apparently was in cahoots with Bendix at this time, which I estimate is anywhere from 1955-1965.
Photo: Gary Fonville
You didn't think Charles H. Fletcher's pride and joy, Castoria, would be shut out of Bronx action did you? This mural, which appeared first between about 1910 and 1920, is on E. 180th Street near Belmont Avenue in East Tremont.
Hey, female Forgotten Fans: when's the last time anyone asked for a permanent wave, or a permanent of any type? Opal's, on Conner Street near Dyre Avenue, offered 'em in the 1950s in Eastchester.
Photo: Gary Fonville
The Pause That Refreshes checks in, in an ad that likely goes back to 1915 or so, on White Plains Road and about East 240th Street in Wakefield. Coke has used this script logo relatively unchanged since the first batch was brewed in 1886.
Ferris Buehler?!?
No, Ferris Buick, on Jerome Avenue and Risse Street near Mosholu Parkway in Norwood.
Photos: Gary Fonville
At one time, Hearn's was the A&S of the Bronx. (Hey, wait a minute: The World's Largest Store ate A&S 10 years ago!) Anyway, Hearn's is remembered by not one but two wall murals at The Hub, East 149th and Bergen Avenue, in Melrose.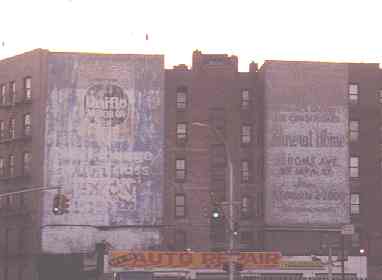 Photo: Gary Fonville
So what we have here, on East 170 Street and Teller Avenue just off Claremont Park is one of the very first Exxon signs. Before 1971 or so, Exxon was known as Esso (as it still is in some parts). On the right is an ad for Hirsch & Sons Funeral Home, which is still there.
The Exxon sign is a palimpsest with Uniflo Motor Oil.
Photo: Gary Fonville
There was a time in this fine land when you can get your taxes done for $2.00. Harry Truman's time.
The sands of Father Time have erased the name of the agent on this ad on 3rd Avenue and 168th Street in Claremont Village.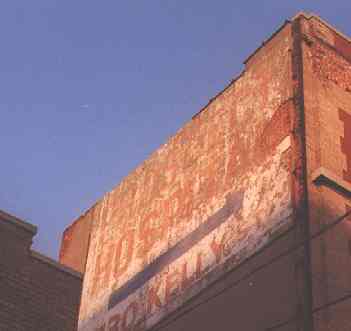 Photo: Gary Fonville
Though Prospect Hospital stopped admitting patients almost 20 years ago, you can still find this reference on Longwood avenue near Westchester Avenue.
Photo by Gary Fonville
Guy named Schorsch made paper bags and advertised on Brown Place and Bruckner Boulevard in Port Morris
Photo: Gary Fonville
If you're in the mood for a dog, and the ride on the D train from the Bronx down to Nathan's at Coney is a bit much, you could always go for the next best thing, the Hebrew National route. This ad, from the looks of it a 1955-65 vintage (the logo is almost identical today) is on West Farms Road near Westchester Avenue in Morrisania.
And, speaking of wieners…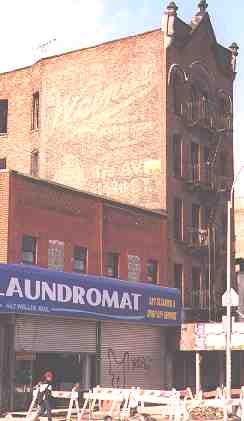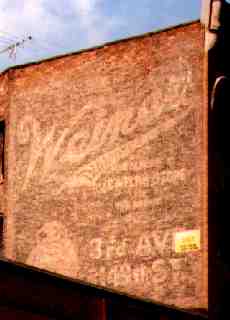 Er, um, Weiner's Jewelers was on 3rd Avenue in the 140s. This ancient ad is on Willis avenue near 146th Street.
Thanks to Nat Weiner (no relation)
Photos: Gary Fonville
Many more Bronx ads coming up later!
Thanks to indefatigable MTA employee Gary Fonville for hisyeoman photography and research. He comes across dozens of items undreamt of by Your Webmaster in his capacity as a city bus driver.
E me at erpietri@earthlink.net .
Resouces:
The Revival of the South Bronx