(Apologies to the late great Joey Ramone for that ridiculous pun)
Commuters hustling through the connecting passageway that connects the IRT #7 and the various 6th Avenue IND lines at 42nd Street take little notice of the historical plaques that are mounted on the wall. One of them presents this strange scene of 5th Avenue looking south from 42nd Street, showing a large body of water surrounded by concrete. It was once the Croton Reservoir (officially the Croton Distributing Reservoir) , once NYC's foremost water source. It stood where the New York Public Library, with its lions, is now.
2003: A renovation has tragically removed this artwork from the corridor.
The year 1842 marked what was perhaps the greatest forward stride in the city's history ­ the general introduction of running water…when the reservoir was first completed it had a spacious promenade all around the top of the walls upon which gay and animated groups constantly gathered. Old letters speak of the delightful scene at night, with the moonlight dancing on the water. In the daytime, the charming views of Long Island, the distant hills of Westchester, and the lordly heights of the Palisades provided a fascinating panorama. It was certainly a delightful spot…
­ Henry Collins Brown, Director, Museum of the City of New York, in Fifth Avenue Old and New, published 1924
courtesy Peter Sefton
The Croton Cottage, located at 5th Avenue and 40th Street from about 1845 to 1863, provided refreshment and recreation to reservoir visitors. The Cottage was destroyed during the NYC Draft Riots in 1863.
New York's first water system was built between 1837 and 1842. Prior to those years, water was obtained from cisterns, wells and barrels from rain.
Construction began in 1837 on a series of mostly underground conduits that would bring water from the Croton River in northern Westchester County to NYC's spigots. Amazingly, it took only five years to finish the first connection given the technology available at the time.
Croton Reservoir, 5th Avenue and 42nd Street, about 1900
Two reservoirs were built in New York City, one between the present-day lines of 6th and 7th Avenues and 79th and 85th Streets, and a smaller distributing reservoir on 5th and 42nd. The former was drained in 1930 and its site is now occupied by Central Park's Great Lawn. The latter was torn down to make room for the main branch of the New York Public Library, which rose in 1911. Those reservoirs were replaced by two huge tunnels that were built in 1917 and 1937; a third is still under construction. Central Park's present Reservoir was begun in 1858 and was a part of NYC's water distribution system all the way till 1991.
Some of the Croton's original foundation can still be found in the South Court at the New York Public Library, which replaced the Reservoir. Photo: Robert Dumas.
Presently, the Croton system's remnants are surprisingly numerous. What is currently visible are mostly remnants of the Old Croton Aqueduct, which was in service between 1842 and 1890, when a newer aqueduct was built. Let's work our way south noting where the Aqueduct relics can still be found…
Croton Aqueduct trail, Van Cortlandt Park
The Bronx section, which bisects Van Cortlandt Park east of the Mosholu Parkway, has not fared quite so well as the section in Westchester. It's an obscure track that is reachable by a maze of park walks from about Van Cortlandt Park South west of the Mosholu.
Possible remnants of gatehouse, Van Cortlandt Park
Photo: Bob Kornfeld Jr.
Croton Aqueduct trail in Westchester
Westchester County has named its section of the Croton as a Scenic and Historic Corridor. Much of the aqueduct is in the Bronx' neighbor to the north and is generally well maintained.
Aqueduct Walk
Gate House #5, Jerome Park Reservoir
Proceeding south, some of Croton's remnants can be detected at the Jerome Park Reservoir, east of Sedgwick Avenue and north of Reservoir Avenue in Kingsbridge Heights. This reservoir, built in 1905, sits on top of the old aqueduct and some of the aqueduct's stonework can be glimpsed as you walk along Goulden Avenue on the reservoir's eastern flank.
The reservoir, as well as lengthy Jerome Avenue, takes its name from the Jerome Park Racetrack, which was here between 1876 and 1890; the racetrack was owned by Leonard W. Jerome, the grandfather of British WWII prime minister Sir Winston Churchill.
Crotona Aqueduct at about West 190 Street
Croton Aqueduct at about East 183rd Street. Aqueduct Avenue East is at right.
Gatehouse remains at Burnside Avenue east of University.
Croton Aqueduct walkway at about Fordham Road
Progressing south, the Croton Aqueduct route has been preserved for about a two-mile stretch as a raised embankment and walkway from Kingsbridge Road south to about Burnside Avenue.
Paralleling the aqueduct walkway on each side are Aqueduct Avenues East and West. Aqueduct Avenue East runs from West 180th north to West 184th Street and Aqueduct Avenue West runs from West 188th north to Kingsbridge Road. So, the two avenues present a puzzling appearance on a map, because it appears that Aqueduct Avenue West is actually NORTH of Aqueduct Avenue East. The mistake is made because modern maps do not depict the old Aqueduct route, and the avenues are named for their position relative to the Aqueduct.
Just to add to the confusion, lengthy University Avenue's old name was Aqueduct Avenue; it was renamed for NYU in 1913 and renamed again for Martin Luther King Jr. in 1988. The section of University Avenue with a center mall is the section that had the Aqueduct running beneath it.
The Croton Aqueduct's routes are studded with what are known as 'gatehouses.' Although water routing apparatus was located beneath every house, the gatehouses appear to be no more than decorative markers to limn the aqueduct's route above ground.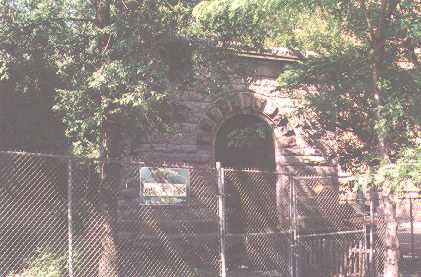 Above, aqueduct head house remains at Phelan Place. This remnant is from the New Croton Aqueduct, in service between 1885 and 1893, and so is not associated with Old Croton Aqueduct remains.
Continuing south along University, being careful not to get flattened by traffic exiting and entering the busy Cross-Bronx Expressway, we are nearing one of New York City's true architectural gems.
The Croton did not tunnel under the Harlem River on its way into Manhattan. Rather, it used a handsome and now historical bridge to enter New York City (which was a separate city in the 1840s)…
The Croton Aqueduct's routes are studded with what are known as 'gatehouses.' Although water routing apparatus was located beneath every house, the gatehouses appear to be no more than decorative markers to limn the aqueduct's route above ground.
A long-deceased gas station marks the Aqueduct trail at University just north of Burnside.
Some newer info (11/06) from Forgotten Fan Tom Vicinanza:
The structure at Burnside/Old Croton is not original.   Nope.  Originally the aqueduct went OVER Burnside and there were pedestrian and vehicle tunnels underneath the aqueduct.
In the 1920's or early 30's the "bridge" was removed, the aqueduct was run under Burnside and a 'reverse siphon' was installed under Burnside. Thus, the fortress-like walls and the little buildings in the middle there at street level were created in early 20th century. I was QUITE surprised to learn this.
We're now at Sedgwick Avenue and West 170th Street and we have arrived at one of the 19th Century's true architectural marvels, High Bridge, which also gives its name to the part of the Bronx we're standing in. Built between 1838 and 1848, it is the oldest remaining bridge connecting Manhattan Island with mainland USA. Edgar Allan Poe wrote of crossing the bridge in his midnight walks. An aqueduct gate house can be seen in the foreground.
In the second picture, we see its remaining masonry arches that tower high above the Harlem River. The cast iron arch, seen at right, was installed in the 1920s to allow ship traffic.
High Bridge Tower, once one of the tallest structures in Manhattan, rivalled only by church steeples when it was built in 1872, is 195 feet tall and used to hold a 47,000 gallon tank to store water that flowed over huge iron pipes situated on the underside of High Bridge. The tower was in use for water storage until 1965, and until 1957 the tower held carillon bells. A suicidal arsonist set the belfry on fire in 1984, prompting a million-dollar 1988 restoration.
Unfortunately, the observation deck atop the tower is closed except for special occasions such as tours conducted by NYC's Urban Park Rangers.
High Bridge itself has been closed to pedestrian traffic (it has never carried a roadway for motor vehicles) since 1960. In recent years, High Bridge Park (on the Manhattan side at Amsterdam Avenue and West 174th Street) has been spruced up by New York Restoration, a group spearheaded by Bette Midler, the Divine Miss M herself.
Harlem gatehouses
Convent and 135th. Photo: Gary Fonville
Amsterdam and 119th. Photo: Gary Fonville
Croton manhole on 5th Avenue along Central Park.
Manhattan's most prominent Croton Aqueduct remnant is the large gatehouse at Convent Avenue and West 135th Street. This gatehouse served the New Croton Aqueduct and was begun in 1884.
A short walk downtown and you will arrive at Amsterdam Avenue and West 119th Street, and the second of Manhattan's 3 remaining gatehouses.. This is a smaller granite building with a slate roof. It was recently designated a NYC landmark, all but precluding its demolition or alteration.
An even briefer walk 6 blocks downtown and the third Manhattan gatehouse at West 113th Street can be glimpsed. That one has become an elder care center.
Are the three gatehouses the only Manhattan remnants of the old Croton Aqueduct and water system? Not quite. The reservoir provides NYC with water to this day and more than a few manholes provide access to the underground conduits.
Three more gatehouses are located at the Central Park Jacqueline Onassis Reservoir.
SOURCES:
Water for Gotham, Gerard T. Koeppel, 2000 Princeton University Press
BUY this book at Amazon.COM
Liquid Assets : A History of New York City's Water System, Diane Galusha, 1999 Harbor Hill
BUY this book at Amazon.COM
Fifth Avenue Old and New, Henry Collins Brown, 1924 Fifth Avenue Association. OUT OF PRINT.
Thanks to Gary Fonville , Robert Kornfeld Jr. and John Halabi for assistance with this page
1/2/02