Maspeth, in a western corner of Queens east of Greenpoint and Williamsburg, Brooklyn and west of Middle Village, seems stuck between the grit of Brooklyn and the airy, almost suburban feel that its eastern and southern neighbors, Middle Village and Glendale have. Maspeth was first settled by Native Americans for centuries before the middle 1600s and by the Dutch and English after that. It was absorbed by a newer settlement to the east (named, appropriately, Newtown–the present-day Elmhust), became a part of the borough of Queens, and then became a part of New York City in 1898.
Though its thousands of residents would disagree, we've always thought of Maspeth as being a bit out of the way…it's cut off from Brooklyn by English Kills and Newtown Creek and by expressways from northern Queens, and no subway lines run through it.
Let's take a look at some of the things the NYC guidebooks won't mention about Maspeth (that's a joke, son…NYC guidebooks ignore Maspeth!) as well as a couple of offbeat locales in this low-key Queens neighborhood.
On Grand Avenue just south of the LIE, you will find what used to be Anton Fausner's wheelwright and wagonmaker's shop from when horses and carriages were the main method of transportation.
The wheelwright's ground floor later housed Maspeth Auto Parts, and several ancient signs from that incarnation remain (Brakes, clutches, pinfitting).
A house on 58th Avenue, directly behind the wheelwright, has an old wagon wheel in front of it. Coincidence?
2006: Relentless development has claimed the Fausner house. Or nondevelopment. Whoever bought the property tore down the house and it's been an empty lot for 6 months (November 2006). Apparently the land is considered more valuable as an empty lot.
A bank now occupies the former wheelwright plot. 
photos: Bernard Ente
Maspeth Avenue has been redirected on the Queens side by industry away from its original straight path. The old Maspeth Tanks, cousins of the more famous Elmhurst Tanks, outlived their brethren by a couple of years, but they, too, saw their end via a controlled implosion. The pilings of an ancient bridge connecting Williamsburg and Maspeth are in the foreground.

Maspeth begins, appropriately, at Maspeth Avenue and English Kills, a short rivulet that branches from Newtown Creek. Formerly known as Maspeth Plank Road because in the 19th Century it was paved with wooden planks, it followed a relatively straight line from Williamsburg to Newtown and crossed English Kills via a bridge that is evidenced only by wooden pilings today.
A small section of Maspeth, centered at Maspeth Plank Road just east of present-day Rust Street, was known as Melvina. Today that place name survives in a short lane off Maspeth Avenue.
The Long Island Rail Road. Incredibly, the Bushwick Branch, which crosses Flushing Avenue here at about 56th Street, actually used to carry passengers until that service was ended in the 1920s. The line diverges from the Bay Ridge Branch (which itself ended passenger service itself in the Twenties as well) slightly west of here and continues west to a trainyard at Bushwick Place and Johnson Avenue in Brooklyn. In March 2004, a runaway diesel engine injured several people here when it crashed a couple of cars before it careened to a stop near Varick Avenue. In fact, the line's a defacto dump.
The LIRR's main branch, known as the Montauk Branch, travels at grade at times in Maspeth. There are still actual passenger runs here…about three or four per weekday…but here the line is mainly used to move traincars and for occasional freight runs.
Busy Flushing Avenue has been tunneled under the LIRR at this point, the appropriately-named Rust Street, making it a homeless encampment of choice.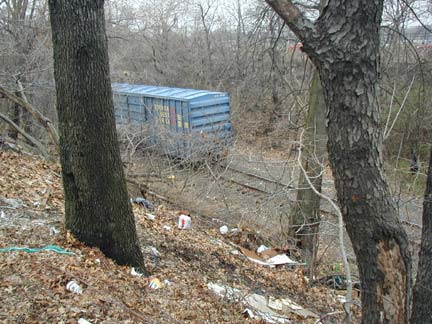 Conrail, running exclusively freight, also runs through here. The line runs north-south through Queens from the Hell Gate Bridge to the Fresh Pond yards, where it meets the LIRR and New York and Atlantic. This day, a relatively rare freight was making its way slowly north at 62nd Avenue and 71st Street.
Horse cars, and later, trolleys carried Brooklynites into Maspeth for Sunday outings in the area's numerous cemeteries. This sign, at the trident formed by Flushing, Grand and Maspeth Avenues, recognizes their former hegemony.
The sign now resides in the home of FNY Correspondent Christina Wilkinson.
THE METROPOLITAN OVAL
On 60th Street north of 60th Avenue you will find one of Queens' and indeed New York City's overlooked treasures.
The Metropolitan Oval has been used continuously for soccer since 1925. Soccer greats Tony Meola, Werner Roth, Tab Ramos and Edson Nascimento (Pele's son) have all called Met Oval their home field at one time or another.
Met Oval had fallen into decrepitude and disrepair a few years ago (even now, it's practically invisible from the street and you have to walk past a few dumpsters to reach the entrance) but half a million dollars from the US Soccer Foundation and Nike turned it around, providing it with FieldTurf, a state of the art playing surface.
Its location, high on a hill facing downtown Manhattan, gives it the potential to be one of NYC's prime tourist attractions, in our opinion.
Your options are limited when traveling to Maspeth from Brooklyn. You can use the heavily-traveled Metropolitan Avenue bridge or the less-traveled, but better-looking Grand Street Bridge, which opened February 5, 1903. Of all NYC's vehicular bridges, only the Brooklyn Bridge, Willis Avenue, Third Avenue (Manhattan), Third Avenue (Brooklyn), Macombs Dam, Washington, City Island, and Carroll Street bridges are older. The bridge can swing to allow boat traffic to pass; since Newtown Creek, which it spans, dead ends just south of here, it rarely has to open.
Newtown Creek almost looks bucolic as seen from the Grand Street Bridge, looking north. In the distance is the Kosciusko Bridge.
Nirvana? Amid the collision repair places and machine shops along Grand Street just over on the Brooklyn side, there's a Budweiser bottling plant. No free samples, though.
This grocery on the Grand Street Brooklyn side was closed, unusually, on a Saturday, perhaps indicating it's closed forever, but not before the forgotten NY cameras record its vintage 1945-1955 linoleum sign, a modern classic.
As retro-Corvingtons assert their dominance on Grand Avenue (which Grand Street becomes as it enters Queens) there's a changing of the guard as Donald Deskey-designed posts gradually give way. Here they chat to compare notes before the retro-Corv accepts the baton.
Meanwhile, back in Queens….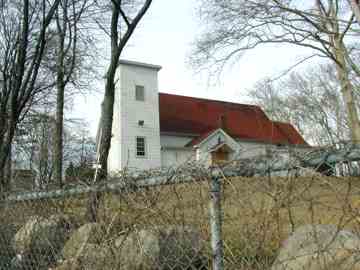 The old St. Savior's Church on Rust Street and 57th Drive has been here since 1847 on land donated by James Maurice, a prominent lawyer, politician, and landowner. It was torched by vandals in 1970, and is considerably altered today. The property was bought in 2005 by developers bent on razing it; this has met with fierce opposition from the community. Most of its white exterior has now been stripped off.
In 2008 the church was disassembled and now lies, in storage, at All-Faiths/Lutheran Cemetery. Community groups are still trying to concert the site into parkland, but the developer started construction of warehouses on the site in 2011.
Outside the A-framed Church of the Transfiguration on Perry Avenue you will find this odd object in the front yard.
It is a replica of a Lithuanian roadside shrine, a tradition of that country on the Baltic Sea, one of the first to break away from Soviet domination. It has been here since 1981.
Maspeth has long been home to immigrants from Poland, Lithuania and other Eastern European countries, as store signs will indicate.
More Maurice legacy: his home still stands at Rust Street and 57th Road, missing its original ornamental pond. Its original address was 1 Hill Street.
Oddly, pillars marked "Ridgewood Terrace" can be found along 60th Street even though we are officially in Maspeth.
Brooklyn and Queens have always fought a turf war over Ridgewood. Until the 1920s, the Brooklyn-Queens boundary line ran diagonally across he neighborhood, bifurcating some houses which found themselves in separate postal zones. In the 30s the line was redrawn to zigzag along Wyckoff , Cypress and Irving Avenues.
60th Street is well into Maspeth, though; perhaps the area's developer's heart was in Brooklyn.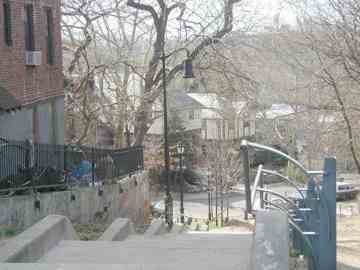 The Ridgewood Gardens (which are nowhere near Ridgewood) apartment complex was built following the sale of the old Maurice Woods by the Episcopal Church. Originally, James Maurice owned a 72-acre forested tract here, and donated the land to the Church in 1850. In the 1920s, streets were cut through and the handsome complex was later built. Maurice Woods occupied a triangle of land between Maurice Avenue, Jay Avenue, 66th Street and what is now the LIE.
53rd Avenue, then known as Lincoln Street, originally descended the hill to 64th Street. Luckily one of its original Type F "Seventh Avenue" lampposts survives here.

GRAND AVENUE
Grand Avenue has been Maspeth's main route since before the U.S. Revolution. It was a twisting, turning Indian trail changed by the residents of Newtown to "the upper ferry road' since it led to Newtown Creek. The route has lost few of its winding qualities over the centuries.
It has been common practice not only in Queens but in the other boroughs to homogenize odd-sounding street names to more 'normal' ones, and in Queens' case, eradicating names altogether. There are occasional survivors, though; Fresh Pond Road, which runs from Maspeth south to Myrtle Avenue on the Ridgewood-Glendale border, did indeed indicate a large fresh water pond, the word 'fresh' indicating not salty. Fresh Meadows in eastern Queens was named on a similar principle.
Many of Grand Avenue's landmarks from the 19th Century can still be found there, much altered of course!
The Queens County Hotel, built in 1851, served farmers from Long Island who were hauling wagon loads of produce to Brooklyn's Wallabout Market. The hotel was one of many that sprang up on Grand Avenue, then a farm-to-market road. The wheelwright (see top of page) also served the farm workers. It was a long trip by wagon, and the weary wagon drivers and passengers would stay the night and take a meal, and not a few drinks.
1920. Before the world turned color in 1966, the globe was a much plainer place. But at least you had a theater on every corner.
Before the days of multiplexes… 6 screens in one house with two dozen seats each, there was one movie per theatre, and you also got comedians, dancing girls and maybe a trained chimp or two. The Maspeth, on Grand Avenue near 69th, was the largest of the town's three theatres. Today, you get relief from the daily grind of a distinctly different nature…you can get your Valium or Viagra order done here.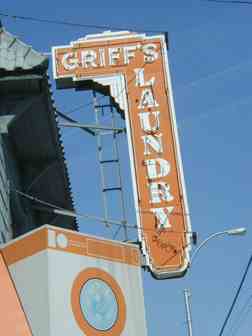 From a hardware store to a laundry must be quite a leap. But not for Griff's. It was a neigborhood hardware place for decades before this recent development. It looks like they've recycled the classic neon sign for soapy purposes. This location was Wielback's Grocery before it was Griff's.
Weren't 'solid state' TVs the next big thing back in the 1970s, when they got rid of all the tubes? This vintage sign for a TV repair shop near the old theatre makes a big point of servicing color TVs…we don't think they've made black and white sets since the Lyndon Johnson administration. Neither have stereo sets been called Hi-fi's for quite awhile, either.
The significance of this plaque at Grand Avenue and the LIE is probably quite lost on younger Maspethians (what do horses have to do with cars anyway?) but the NYC Park's Department's redoubtable Henry Stern has, in his administration during the Koch and Giuliani mayoralties, done a great deal to recollect many neighborhoods' local histories by granting names to triangle parks.
The main car barn in the Maspeth network of horsecars was at Grand Avenue and Brown Place. That intersection does not exist anymore: the Long Island Expressway was put through here in the early 1950s. Its former occupant has been remembered by the Parks Department.
Before buses, there were trolleys, before trolleys, there were horsecars, and before horsecars, there were stage coaches. Beginning in 1849, James Dranan began to run a stage coach/ferry route to get passengers from Manhattan to Calvary Cemetery (in those days, people went for Sunday walks in cemeteries…the notion of public parks sprang from this practice). In the early 1850s horse cars began to replace the stagecoach routes. Cars were attached to rails embedded in the steet and pulled by overworked dobbins. "Paddy" Gleason, the former mayor of Long Island City, owned one such horsecar line and even drove a horsecar himself.
Later, Maspeth became renowned for its numerous picnic parks, and the horsecars brought hundreds of people into Maspeth in the late 19th Century, seeking to escape their crampred, airless tenements. By 1890, the horsecar lines were fully electrified, but the trolleys' heyday was not to last. Buses, and their belching clouds of exhaust, were the rule by the 1930s. Not that the horses were much cleaner.
Grand Avenue (left), 57th Avenue (right)

The North Hempstead Plank Road split off from Grand Avenue at about Maiden Lane (now called Mazeau Street). This road is now called 57th Avenue and extends to Queens Boulevard.
A number of old roads in Queens used to be called North Hempstead this and North Hempstead that, since before 1898 Queens County, in addition to the territory it occupies today, also boasted three more towns that now make up Nassau County: Hempstead, North Hempstead and Oyster Bay. Roads that pointed toward the town of North Hempstead were named so.
This route still has a couple of the homes that were there in the mid-1850s…
N. Hempstead Plank Road house, built in the 1850s. (The air conditioner dates the photo to the 1950s or later, however)
Yikes! The place has been modernized beyond recognition. It has a glass (or plexiglass) wraparound porch, and though its mansard roof is still there, nearly every detail has been excised.
Meanwhile, its next-door neighbor still looks much the same as it must have in the late 1800s.
photo: Christina Wilkinson
Maspeth, as a former rural community, is full of old barns that are now used for different purposes. The house on 57th Avenue we saw above still has a barn in the back.
photo: Christina Wilkinson
With a little imagination it's not hard to imagine chickens scratching in the yard, cows lowing in the barns, and Mr. Green Jeans rolling a smoke.
photo: Christina Wilkinson
OK, name that car!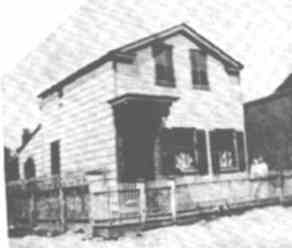 Meinhardt blacksmith, 1882
George Meinhardt's blacksmithery still stands on Mazeau Street. Its old contours can still be seen today although an ell has been added. Mainhardt was the foremost blacksmith in Maspeth in the 1880s.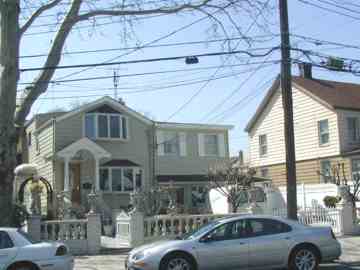 Meinhardt blacksmith, 2002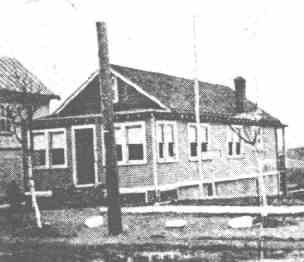 Koenig Florist in about 1900
Since there were so many cemeteries in western Queens, flowers were an important business. On Caldwell Avenue in the southern part of Maspeth, the Koenig family owned a florist and flower farm for many years. This florist is no longer in business, but there remain many florists in Maspeth, Middle Village and Glendale.
photo: Christina Wilkinson
Koenig Florist, now a private residence, 2002
It ain't necessarily so. "Maspeth Town Hall" on 72nd Street north of Grand Avenue was never the actual town hall, though it did serve in a municipal capacity before becoming a police stationhouse and later, a public school. It went up in 1897, not 1802, as the sign says.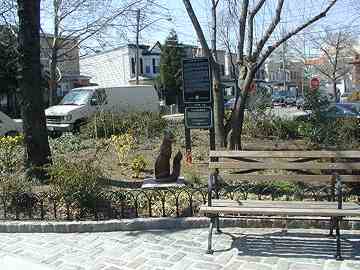 A salute to vulpines and typesetters everywhere is Quick Brown Fox Triangle, on 73rd Street and the Long Island Expressway. This part of Maspeth is a maze of meandering lanes, forever sundered by Robert Moses' jackhammers when he ran the LIE through here in the 1950s. 'Quick Brown Fox' Triangle is yet another colorful Henry Stern-ism.
On its eastern edge, where Maspeth meets Elmhurst, is a large group of handsome yellow-brick 2 and 3 story buildings located between Grand Avenue, 79th Street and Calamus Avenue. These are the Mathews Company row houses built by Louis Allmendinger, a protegé of Gustave Mathews, who built block after block of row houses in nearby Ridgewood between 1900 and 1920. These houses went up in 1930 and use the same Kreischer brick the Riadgewood houses have.
SOURCES:
Maspeth, Our Town, Barbara Stankowski, Maspeth Savings & Loan Association 1977
Thanks to FNY Correspondent Christina Wilkinson for her help with this page.
If you liked Maspeth, you'll like her sister, Elmhurst
Need more Maspeth? Check ForgottenTour 27!
4/9/02; revised since