For much of its history, it's been an avenue without a number, ever since it was proclaimed the Avenue of the Americas in 1945. New Yorkers have always referred to it as Sixth, however, and in the 1980s the Department of Transportation finally gave in and installed new "6 AVE" green-and-whites along its entire length.
Sixth got no respect above Central Park, either…it was renamed Lenox Avenue in 1887 for James Lenox, whose collection formed the original New York Public Library; exactly one hundred years later, it was subtitled Malcolm X Boulevard for the slain civil rights leader.
Sixth Avenue is the southernmost of all numbered NYC avenues, extending all the way down to Church and Franklin Streets; most NYC numbered avenues begin their upward march at about Houston Street or streets to its north.
AVENUE                     Begins at
1st Avenue                   E. Hosuton St.
2nd Avenue                 E. Houston St.
3rd Avenue                  Cooper Square at St. Mark's Place
4th Avenue                  Cooper Square at Astor Place
5th Avenue                  Washington Square North
6th Avenue                  Church and Franklin Streets, Tribeca
7th Avenue                  Greenwich Avenue at West 11th Street; 7th Avenue S. begins at Clarkson & Varick Sts.
8th Avenue                  Abingdon Square at Hudson and Bleecker Streets
9th Avenue                  Gansevoort and Greenwich Streets
10th Avenue                West and W. 13th Streets
11th Avenue                 West and W. 13th Streets
12th Avenue                 11th Avenue and West 22nd Street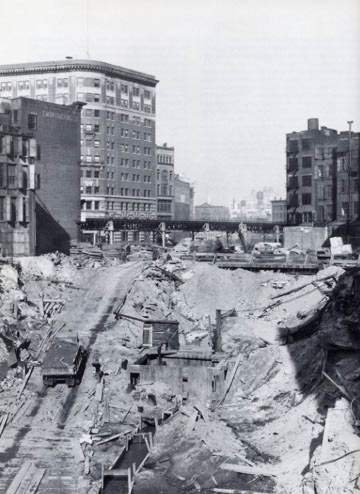 The IND Sixth Avenue Subway, and Sixth Avenue itself, are cut through Tribeca in this view from White Street just west of Church Street in this 1928 photo.
The building in the left background, the American Thread Company building, still stands at West Broadway and Beach Street. Running in front of it, over West Broadway, is the Sixth Avenue Elevated; it would join Sixth Avenue at West 3rd Street. The El would end service in 1938 and be torn down the following year.
Why does Sixth Avenue get started almost an entire mile south of its 'brother' avenues? The answer lies in the creation, in 1924, of the new Independent Subway, to be run by the City of New York to compete with the then-privately held Interborough Rapid Transit (IRT), Brooklyn & Manhattan Transit (BMT) as well as the various elevated lines that belched their way all over Manhattan, Brooklyn and the Bronx. The IND first broke ground on March 14, 1925 at St. Nicholas Avenue near 133rd Street, a section that became part of the present Eighth Avenue line, designated the A train.
IND construction would follow for the next 15 years, with break for World War II, and employ over 10,000 people. There would be two main trunk lines, along 6th and 8th Avenues, to be connected along 53rd Street (exactly following the path the old 6th Avenue El took with its connection to the 9th Avenue El). One branch would run along Houston Street and out to Brooklyn via a tunnel under Rutgers Street. Another would run south to Hudson Terminal, then turn east, running under Fulton Street to Brooklyn. But what street would that branch run under?
In 1925, Sixth Avenue terminated, rather abruptly, at Carmine Street and Minetta Lane. It enjoyed a single block of daylight before the Sixth Avenue El rumbled over it, turning from West 3rd Street. It was decided that the IND would stop at West 4th, Spring, Canal and Hudson Terminal (Chambers Street) and run under Church Street. But how to get there? Property was condemned and razed, and the IND was rammed through in a diagonal line from the planned West 4th Street station to Church Street. When the subway was finished, the new southern section of Sixth Avenue was born. The New Sixth also gave motorists another option downtown to reach the new Holland Tunnel, opened at about the same time.
Unlike the southern IRT expansion a dozen years earlier that gave birth to Seventh Avenue South, it was decided to renumber Sixth Avenue and begin it at Church and Franklin Streets. Along the way, though, as we will see, some streets were sacrificed so that Sixth Avenue could become NYC's southernmost numbered avenue…
Ain't mis-be-pavin': Quite a long time ago, in 1974-1975, the city gave Sixth Avenue a makeover. Snazzy pavement treatments were laid down in the crosswalks, the sodium lamps along the roadway were given chocolate brown paint jobs, and numerous green pedestrian plazas were constructed. Traces of the crosswalks are still there, though patchwork pavement has covered it in some cases.
That makeover also served to introduce the oversized New Gumballs luminaires, which still line Sixth Avenue by the dozen but are used rather sparingly elsewhere.
Compare the New Gumball to the "old" Gumball, two of which graced a Twinlamp on Sixth Avenue and Walker Street well into the 1980s.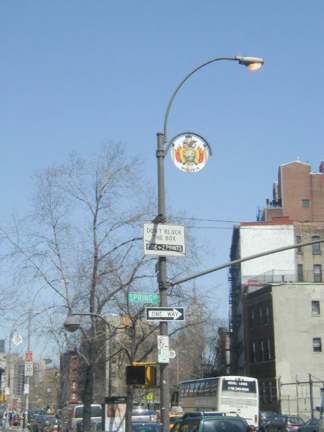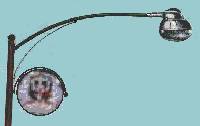 The first Avenue of the Americas poles appeared in the late 1950s or early 1960s and were among the first to feature General Electric F109 mercury bulbs that gave a bright greenish-white light.
A second unusual lamppost treatment along Sixth Avenue appeared in the early 1960s when member countries in the Organization of American States were represented by medallions mounted on then-new octagonal aluminum poles. (Sixth was "renamed" Avenue of the Americas by Mayor Fiorello LaGuardia in 1945.)
Throughout the years, the Department of Transportation has gradually winnowed out the medallions; an entire section of them were eliminated about 1992 when a flock of new retro Bishop Crook lampposts were installed. Today, the medallions have two bastions: Greenwich Village and the few blocks of Sixth Avenue south of Central Park.
This building on Sixth north of Broome features colorful Art Deco bas reliefs. It was built in 1928 (Ely Jacques Kahn, arch.) Now simply called 100 6th Avenue, it was originally known as the Green Sixth Avenue Building. Of particular interest are the colored bas reliefs of artisans and workers.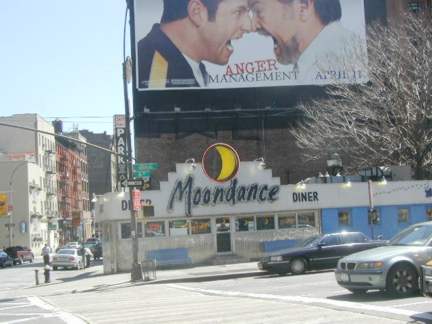 It's a marvelous day for a … Moondance, a classic diner built in the 1930s at Sixth and Broome. Was it renamed after Van Morrison had the hit?
The James Hotel replaced the Moondance at 6th and Grand in 2009 (architect: Eran Chen). It is part of  a chain of luxury hotels with franchises in Chicago and New York. Of interest is its rooftop pool and bar, "The Jimmy."
The Avenue that ate Clark Street. Before Sixth Avenue was punched downtown, a short two-block thoroughfare called Clark Street ran between Broome and Spring Streets…and still does. It was merely absorbed by Sixth Avenue and became a sort of service road. You can see it in the above photo on the left.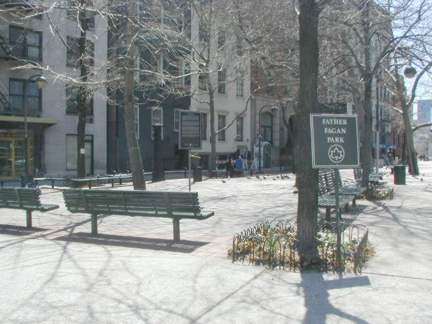 A section of Macdougal Street between Prince and Spring Streets was shaved off when the New Sixth was rammed through, 'orphanizing' a triangle-shaped plot. In 1941 a small park was built here and named for Father Richard Fagan, a young priest at nearby St. Anthony's Church. Fr. Fagan died heroically while rescuing two other priests in a fire at the church on November 4, 1938.
When you are roaring up Sixth Avenue in a cab sometime, distract your attention from your cell phone and take a look at the edge of some very old houses at King Street. They are part of the Charlton-King-Vandam Historic District and comprise some 72 Federal- and Greek Revival-style houses, many of them built as early as the 1820s. They stand on land known from the late 1700s as Richmond Hill.
The land had passed down from the Dutch era, the late 1600s, from a freed slave called Symon Congo to Trinity Church to British major Abraham Mortimer (who built the mansion that gave Richmond Hill its name). After the revolution, Richmond Hill became the offical residence of the Vice-President for just one year when the Capitol was located in NYC. In 1794, Richmond Hill became home to Senator Aaron Burr, later Vice-President and Alexander Hamilton's killer in their 1804 duel. In 1817, Burr sold the property to fur magnate John Jacob Astor, but the mansion's days were numbered when Charlton and King Streets were cut through. It was placed on logs and rolled 45 feet away from the street. This bought it some time, and it survived as a tavern, a country resort, and a theater; it was razed in 1849. Meanwhile, Astor saw a profitable real-estate investment at Richmond Hill and built dozens of row houses on Charlton, King, and Vandam Streets, and luckily, most have survived to the present.
One of the niftier things about the southern extensions of Sixth and Seventh Avenues is that they added a crazy-quilt character to the street grid, creating unusual intersections and triangles of green space. One of these is Charlton Plaza, an .039 acre of vegetation at Sixth and Charlton.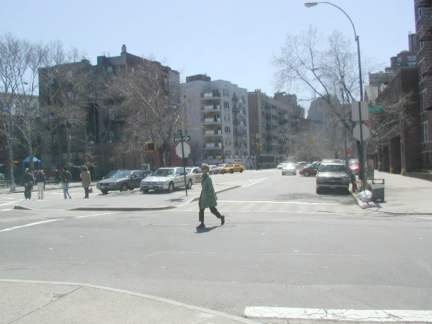 Here we see traces of two more of the streets eliminated by the southward progress of Sixth Avenue. At the intersection of Sixth, West Houston and Bedford, there's a very small roadway just in front of the firehouse (top). It was once a one-block street called Smith Street (and earlier, Congress Street). Below, the building angle on Sixth changes just before you reach Bleecker Street when you are traveling north. That marks the remnants of Hancock Street, another one-block affair which ran between West Houston and Bleecker.
More on streets absorbed by 6th Avenue
Even though Greenwich Village has never been short on Communists (especially in the early 20th Century) Little Red Square, occupying Hancock Street's old path on Sixth and Bleecker, has nothing to do with Moscow. It commemorates the red brick building adjacent to it, the Little Red Schoolhouse. In 1921, Elisabeth Irwin founded the experimental school at P.S. 16 on East 16th Street in a red-bricked building annex; by 1932, it had moved to another red brick building at 196 Bleecker. It was among the first schools to try field trips, psychological testing, and may other ideas later adopted by mainstream education. The Schoolhouse is now located at 272 Sixth Avenue at Bleecker.
One of Greenwich Village's more notable landmarks, Our Lady of Pompeii Church. This is the latest of the church's many locations, and was built in 1928. The previous church was on Bleecker and Minetta Streets…smack in the path of the expanding Sixth Avenue. The pastor, Father Antonio Demo, bought the parcel at Bleecker and Carmine Streets that had earlier hosted a vaudeville hall and St. Benedict the Moor, the first black Catholic church in the city.
Mother Frances Cabrini, commemorated with one of Manhattan's few "boulevards" in Washington Heights, was a parishioner. Our Lady of Pompeii has Mass, confession, sacraments and a weekly radio program in Italian.
Mayor Fiorello LaGuardia named the triangle formed by Sixth, Bleecker and Carmine for Father Demo in 1936.
Demo Square has been completely rehabilitated since this photo was taken in 2003.
What an evocative scene John Sloan painted in 1928 of Sixth Avenue Elevated at Third Street in 1928! Women in cloche hats are rushing off to a party; the Sixth Avenue El rumbles overhead, and a trolley rumbles underneath it. Within 10 years or so, most of the scene as painted would be swept away. The El would be razed in 1939, and all the storefronts on the right side would also be condemned as Sixth Avenue was widened. Yet, the buildings on the left are still there, most notably St. Joseph's Church at the extreme left, and the tall tower of the Jefferson Market Courthouse. And, bishop crook lampposts have also made a Sixth Avenue comeback.
Below is the same scene from Carmine Street in 2003. Playgrounds and gardens line the right side of Sixth now, while the Empire State Building has loomed over all since 1931.
It doesn't get a lot of ink in the guidebooks, but St. Joseph's Church, at Sixth and Washington Place, built by John Doran in 1833 (the date is prominent on the facing) is the 3rd oldest Catholic Church building in NYC (Old St. Patrick's  and the Church of the Transfiguration, both on Mott Street, both built in 1801, are older). It is a mix of Federal and Greek Revival styles. The facing is actually a later addition and the actual 1833 exterior can only be seen from Washington Place.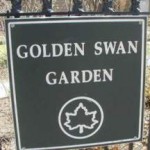 This vest pocket garden at Sixth and west 4th commemorates theGolden Swan Cafe, also known as The Hell Hole,a sawdust-floored dive with a weather-beaten stuffed swan in the back room. Who was at the bar?Eugene O'Neill was a regular patron in the mid-teens getting ideas for plays like The Iceman Cometh. The Hell Hole was demolished in 1928.
This unprepossessing-looking storefront housng the Washington Square coffee shop on West 4th just off Sixth Avenue was once a Village touchstone. The small house and the two buildings adjacent to it were once a gristmill and a stable; parts of the trio may date to the late 1700s. By 1916, a tearoom known as The Mad Hatter had opened in the smallest of the three. It had a wooden sign by the door that read:
NWOD EHT TIBBAR ELOH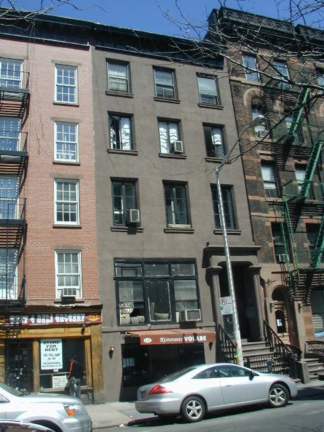 147 West 4th, again just east of Sixth Avenue, was once the home of NY Post editor William Cullen Bryant and in 1918, John Reed wrote his account of the Russian Revolution, Ten Days That Shook The World, here. The house was built in 1849 and was also once the home of Whitney Gallery, a precursor of the Whitney Museum.
The Waverly Theatre started doing midnight showings of the Rocky Horror Picture Show in 1976 and, well, created a monster.
The Waverly was built in the shell of the 1807 Dutch Reform Church which predates Sixth Avenue itself; when the church was built, a long-lost road called West Road ran past it.
At 359 Sixth you will find Comollo's in an 1832 Federal style building; Forgotten Fans may remember it in the 1980s as McBell's. In 1922 it was a speakeasy called the Red Head; it subsequently moved to Washington Place and then uptown to 21 West 52nd Street, where it put on airs and became the 21 Club.
6th and Downing is one of the few official spots in New York City commemorating Sir Winston Churchill, the British Prime Minister during World War II who held fast against the Axis until its ultimate defeat. He was awarded a ticker tape parade up Broadway in 1946. Churchill's mother, Jennie Jerome (who wore a tattoo of a snake on her left wrist and was part Iroquois Indian) was born on Amity Street in Brooklyn, and her family were the Jeromes for which Jerome Avenue in the Bronx was named.
Churchill Square is at Sixth Avenue and Downing Street…no coincidence, since 10 Downing Street in London is the Prime Minister's residence.
Twisting Minetta Street follows the path of Minetta Brook, which ran from where 5th Avenue and 20th Street are today southwest to the Hudson River at about Houston Street. In the early 1800s the brook was redirected underground, but this very short Village alley is a reminder of its route. It has a colorful history; in the 1840s it was once NYC's first black neighborhoods, but then descended into one of its worst slums.
A sign over Panchito's Mexican Restaurant recalls its earler incarnation as the Fat Black Pussycat Theater; in 1962, when it was called The Commons, Bob Dylan previewed "Blowin' In the Wind' here.
[The sign was removed in 2011]
On Minetta Street's partner, Minetta Lane, the Reader's Digest got its start in February 1922 in the basement of a speakeasy that became the Minetta Tavern at MacDougal Street. Later, the Minetta Tavern was frequented by one of the Village's great eccentrics, Joe Gould, a Harvard graduate who claimed to have mastered the language of sea gulls and wrote several thousand pages of his supposed masterwork, The Oral History of the World. He was championed by New Yorker writer Joseph Mitchell; an oil painting of Gould can be seen in the tavern; and Stanley Tucci's movie about the Mitchell-Gould friendship, Joe Gould's Secret, was released to acclaim in 2000.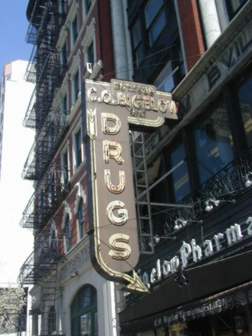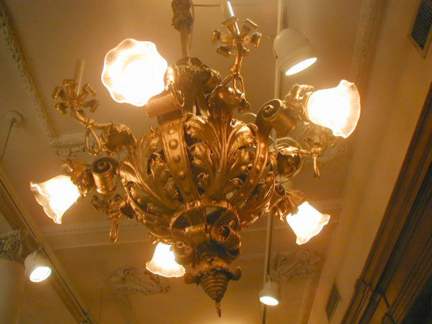 In 1838, when Van Buren was President, a small apothecary opened on Sixth Avenue just north of Clinton Place (now West 8th Street), and after it had changed hands a couple of times and moved two doors uptown, Clarence Otis Bigelow had established his "chemist's". The present building dates to 1902; the pharmacy still occasionally displays a 1905 ledger containing regular customer Mark Twain's name. Note the gas jets on the electric chandeliers: they still work, and in the 1965 and 1977 blackouts, they were turned on; Bigelow's remained open. NOTE: Bigelow's is unfriendly to photographers.
If you blink, you'll miss it. The triangular Shearith Israel Cemetery can be found on West 11th Street just off Sixth. The back wall conforms to the alignment of the long-vanished Union Road. When West 11th Street was cut through, remains in the way of the street were removed and brought uptown to another Shearith Israel cemetery on West 21st just west of Sixth.
I'm just Wilde about Oscar. The Irish playwright and bon vivant resided for a short time in this town house on West 11th east of Sixth.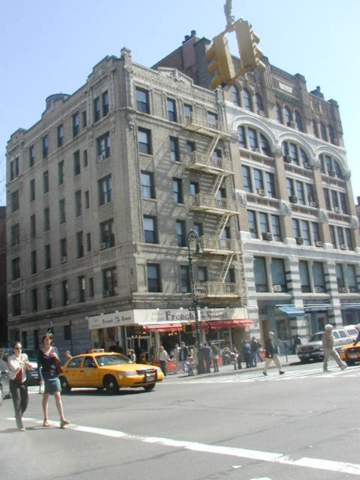 This apartment building, built in 1915 on the southeast corner of Sixth and West 11th, stands in place of an old roadhouse built in 1830 called The Old Grapevine. Village locals would congregate here to exchange gossip and catch up on what was happening. During the Civil War, a certain phrase was adopted that inferred that certain information was being distributed through back channels that only insiders would know.
The phrase was, of course, "I Heard It Through the Grapevine" and, in the early 1960s, Norman Whitfield and Barrett Strong were sufficiently inspired by the phrase to write a song that went on to be recorded by several artists in Motown's stellar stable, including Smokey Robinson and The Miracles, Gladys Knight and the Pips and by Marvin Gaye, who had unquestionably the most successful version, hitting #1 with it for seven weeks in December 1968 and January 1969. The song has also been covered by King Curtis, Creedence Clearwater Revival, the Temptations, the Undisputed Truth, Ike & Tina Turner, Paul Mauriat, Elton John and of course, the California Raisins.
Not a bad showing for a saloon that was torn down ninety years ago!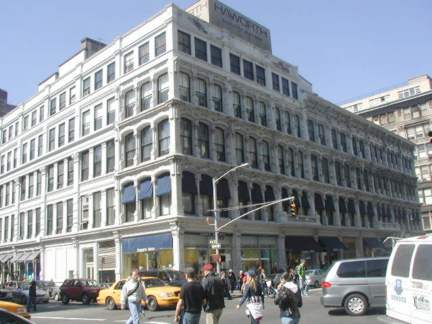 Ladies' Mile: With R. H. Macy leading the way in the mid-1850s with a flagship store at Sixth and 14th, and A.T. Stewart's Cast Iron Palace at 9th Street, Sixth Avenue from 9th north to 23rd is lined with big, buxom Beaux-Arts buildings that catered to ladies who lunched and then shopped. In Ladies' Mile heyday, over a dozen huge emporia lined the avenue…but were thrown into shadow until 1939, when the el was razed. After that, the stores could be seen in all their glory…which faded rapidly as the years went by as the buildings slowly decayed. They were in sad shape indeed until, gradually and slowly at first, they began to be restored in the late 1980s until today, Sixth Avenue is as busy and bustling a shopping street as it ever was.
The above two buildings on Sixth and 18th are noteworthy: above is the old B. Altman's building, used by the firm between 1877 and 1906 when it moved to a new store encompassing an entire city block, 5th to Madison and 34th to 35th, until the store closed its doors forever in 1989. That means B. Altmans' has left behind not one but two of NYC's most beautiful buildings. Below is the Siegel-Cooper Dry Goods store, built in 1895, the largest of the Ladies' Mile emporia, containing 15.5 acres of floor space. It used to have a clock tower and a large fountain, since removed and placed in Forest Lawn Cemetery in Los Angeles. Note the large picture window on the 18th Street side: a ramp from the El allowed passengers to walk directly into the store from the platform.
There's an abiding mystery on Sixth between 22nd and 23rd Streets. This is the old Ehrich Brothers Emporium, built in 1889 by William Schickel and now home on the ground floor to a Burlington Coat Factory. Yet, the building features "K's" both in mosaic (right) and in terra cotta above the mosaic. Why K? Perhaps the architect's mother was named Kate?
Forgotten Fan David Hall submits a column from the February 5, 1995 New York Times which clears it up. The Ehrich Brothers store closed in 1911 and the building passed to Chicago merchants J.L. Kesner Company. Architects Taylor & Levi added new storefronts with Arts and Crafts style pilasters with terra cotta by Hartford Faience. Kesner left in 1913, so they were there only 2 years, but the K's are there, apparently forever!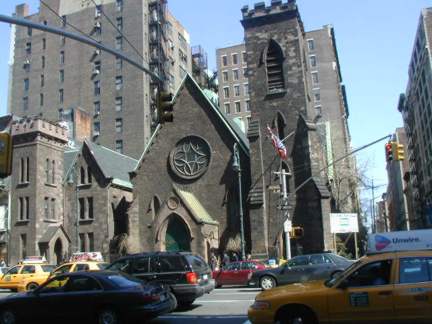 It's a church of some sort, isn't it? Sort of. It was when it was built between 1844 and 1850 on Sixth and 20th byRichard Upjohn, the Trinity Church architect. In the 1980s it became the Limelight Disco; in the 1990s its owner, Peter Gatien, was busted when drug dealing was rampant in the former Episcopal Church of the Holy Communion.
The building on Sixth and 24th Street features two tablets calling it "The Corner."
When Rudy Giuliani cracked down on strip joints in the mid-1990s, Billy's Topless, on Sixth and 24th, devised a method to keep the cops away for awhile at least: while the girls were stripping off their clothes, owner Milton Anthony stripped off an apostrophe, making the sign read Billy Stopless. The joint went out of business around 2000, anyway and these days the only thing topless there is a bagel without butter. Anyway, thanks for the mammaries.
Change has come to the stretch of Sixth Avenue between 23rd Street and Herald Square in the last five years, and Billy's is only one of the casualties. High-rise towers featuring condos for the rich have sprouted like spring dandelions, forcing the razing of many old buildings. Thus far, the Flower District centered on 28th Street but running up Sixth between 26th and 28th has weathered the change. 28th between Fifth and Sixth was formerly known as Tin Pan Alley, the epicenter of songwriting in NYC in the early 20th Century.
The seahorses give it away. This McDonalds on 6th and 28th Street has fortunately preserved its seahorse-festooned facade, which marks it as a former Childs Restaurant branch. Childs was once what McDonalds is now, but with waiters. There is still a beautiful terra-cotta Chids building on the Coney Island boardwalk.
Above Herald Square and Bryant Park, Sixth Avenue becomes a staging area for modern architecture, of which the crowning glory is Rockefeller Center between 47th and 52nd Streets.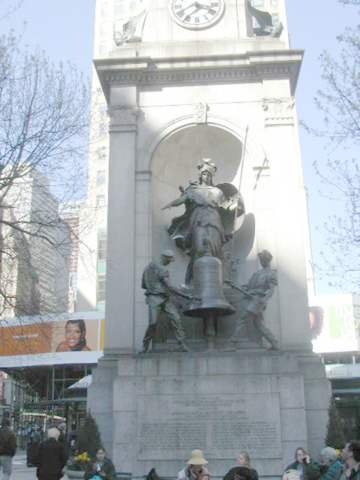 Statuary usually just stands there and does nothing. Not so Minerva, the Bellringers and Owls by Antonin Jean Carles, which originally graced the nearby New York Herald building which gave the square at Sixth and 33rd its name. Every hour on the hour, Stuff and Guff ring the big bell. The statues were moved here when the Herald building was torn down.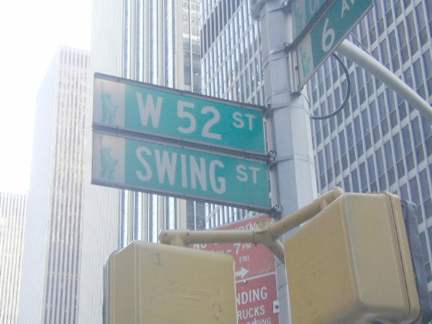 At the end of 30's, center of jazz in New York moved to 52nd Street from Harlem because several jazz clubs opened next each other on the street. At first, The Onyx opened, and The Three Duces, Jimmy Ryan's, The Famous Door, Club Samoa and others followed. Then, people called this street "Swing Street."
SOURCES:
Manhattan's Outdoor Sculpture, Margot Gayle and Michele Cohen, Prentice Hall Press 1988
BUY this book at Amazon.COM
From Trout Stream to Bohemia, Joyce Gold, Old Warren Road Press 1996
BUY this book at Amazon.COM
In Old New York, Thomas Janvier, 1894, reprinted 2000 St. Martin's Press
BUY this book at Amazon.COM
Historic Shops and Restaurants of New York, Ellen Williams and Steve Redlauer, Little Bookroom 2002
BUY this book at Amazon.COM
Greenwich Village and How It Got That Way, Terry Miller, Crown Publishers 1990
BUY this book at Amazon.COM
4/15/03; revised 2012