Your webmaster knows full well he will be ridiculed, pilloried and threatened with everything from lawsuits to bodily harm for including Hoboken on a Forgotten NY site. New Jersey, the Sixth Borough, has a large and mostly unspoken Forgotten history, and for the most part, we'll leave it to the two Marks of Weird NJ to cover the Forgotten bases of the Garden State. Hoboken's another story, since I've been here more times than you can count on your fingers and toes. Though Hoboken's too expensive for your webmaster to afford, having been invaded by yuppies, I'm practically a hometown boy. So chide all you want. I won't back down.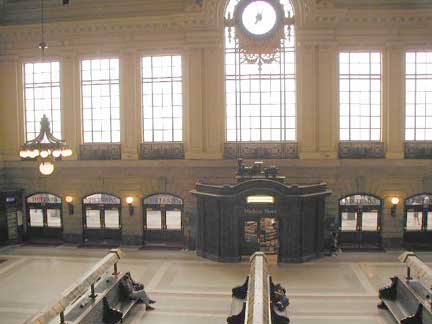 Waiting room, Lackawanna Terminal, Hoboken: gateway to the west
Eat your heart out Penn Station: here is Hoboken's Beaux-Arts Lackawanna Railroad terminal, designed by Kenneth Murchison in 1907. Its exterior at Hudson Place and the Hudson River is swathed in tasteful copper verdigris with a concrete core. Though it is almost 100 years old, it was preceded on this site by fourprevious railroad terminals. With the return of ferries in recent years it is also again one of the region's few combined railroad-ferry terminals (Long Island's Greenport is another.)
Between 1997 and 1999, Hoboken Terminal underwent a thorough renovation. The colorful skylight had been blacked over; it's not Tiffany glass, as some accounts have it, though. The benches, clock and chandeliers are faithful reproductions of the 1907 originals, with added heating under the benches. The upstairs ferry waiting hall remains vast and mysterious. Since security has been stepped up the last couple of years, I didn't risk a photo: it's off limits to the public, but you could play a football game in there.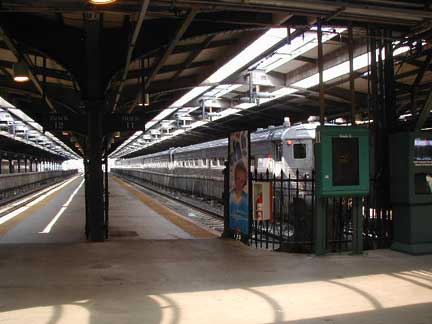 You used to be able to catch a train to Buffalo from here, but you can still get as far as Trenton or Port Jervis from the terminal. 30,000 commuters use the terminal daily.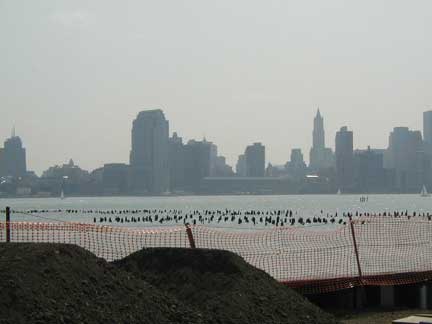 Some things will never return. Pilings are all that remain of Hoboken's formerly thriving waterfront shipping: the docks were once busy with stevedores unloading everything from beer, flowers and cheese to cars and grain. Today, Hoboken has made its waterfront more recreational and alas, built luxury housing for the rich there as well.
A brand-new and welcome addition to Hoboken Terminal is the recently-opened Hudson Bergen Light Rail station. HBLR (called Hibbler by Jerseyites) is a modern-day trolley running along a dedicated right of way, sometimes elevated, sometimes at grade, and sometimes in an open cut. Service along the line began in April 2000 between Jersey City and Bayonne and has since been expanded north to Hoboken, Weehawken and into Bergen County.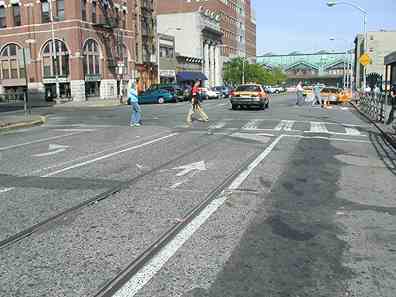 NYC eliminated the last of its trolleys in 1956 (and Hoboken also had trolley service in the early 20th Century). Tracks are still in place on Hudson Place up the street from the terminal, which can be seen in the background.
More HBLR photos
The baseball birthplace claim is disputed; other locales also have legitimate claims. As we'll see though, Hoboken does have a big part in baseball history.
Though Hoboken is easily approached by PATH and by boat from the east, getting there from the west is another matter. The Mile Square City is separated from Jersey City on the west by a high bluff. Only a few roads traverse it, among them Paterson Plank Road (which used to bemade of planks) which intersects twisting, turning Mountain Road (pictured) and further north, the 14th Street Viaduct. In the north, Hoboken is connected to Weehawken by two viaducts and to Jersey City in the south by just Newark Street and Marin Boulevard.
Hoboken is jammed full of offbeat or outdated signage, much more, acre for acre, than its big brother across the river…
An S. Zorn had a business of some kind at 413 First Street. What kind of business? A very close look at the facing below it will reveal the faint remnants of the words "Teas & Coffees."
Forgotten Fan Frank B. remembers it as a hardware store, however.
"Hello, Neumann…" This was a former tannery and the target of a bitter 1939 strike by workers attempting to form a union. The building is now home to a dotcom, telic.net. Presently, there's a British firm called Neumann Leathers, but I'm not sure if it has any connection to the one that used to be here.
A florist sign remains affixed to a building at Grand and 6th Street.
While a block away, on Clinton, Rocco's Liquors still hangs in there.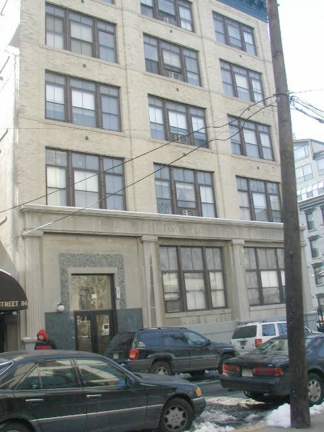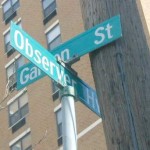 The Hudson Observer hasn't been published since 1951 (when it merged with the Jersey Observer). The Hudson Observer Building is still at 111 Newark Street (at Bloomfield); Observer Highway, formerly Ferry Street, hasn't gotten its old name back.
We'll get this out of the way early: Frank Sinatra was born in Hoboken in 1915 in a house on Monroe Street between 4th and 5th Street that is no longer standing. When he started his career (inspired by a Bing Crosby performance in a movie at the Loew's Theatre in downtown Jersey City) and got married, he moved to Jersey City and eventually left New Jersey and rarely looked back. Legend has it that in 1948, he was singing at the Union Club on 600 Hudson Street, got booed off the stage, and swore he would never return. Still, he is a native son of Hoboken and is revered there. More recently, Hoboken can claim actors Joe Pantoliano and Laura San Giacomo. And in the 1800s…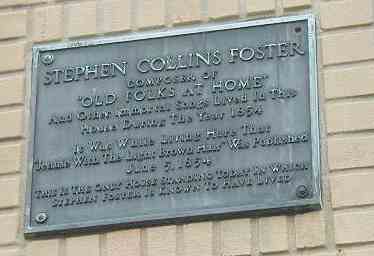 … composer Stephen Foster,who lived in this corner building at Bloomfield and 6th in 1854. Though the plaque mentions "Old Folks At Home (aka "Swanee River"), the only one of Foster's major hits written here was "Jeannie With The Light Brown Hair."
Foster was born in Pennsylvania in 1826 and spent most of his life in that state and Ohio. He wrote and published hundreds of songs, including staples like "Camptown Races," "Oh! Susanna," and "Beautiful Dreamer." He was not a financial success as a songwriter, however, and his songs gained their tremendous popularity decades later when, according to PBS, "contractual difficulties in the music industry sent publishers scrambling for music with expired copyrights." Foster died, nearly penniless, at Bellevue Hospital in NYC at age 38.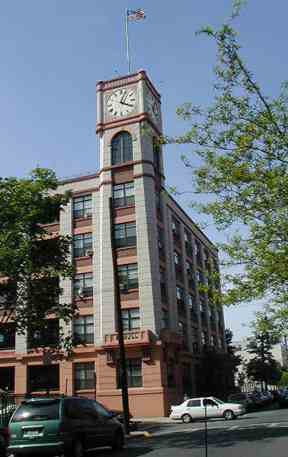 Your webmaster is 46 (in 2003) and has never used a slide rule, thanks to Texas Instruments. I do remember when calculators cost almost $100. For decades, if you needed the square root or logorithm or cosine of anything, you used a slide rule, and that's what Keuffel and Esser, K & E, produced. K & E expanded into compasses, transits and other instrumentation and are still going strong. The company built this magnificent Clock Tower Building, on 3rd and Adams, in the 1890s; currently, it's, what else, apartments.
Your webmaster actually once received a B grade in a college math class. However, my usual result with math was embodied by an exclamation by a high school math teacher named Ciraulo, after he finished grading one of my tests: "Walsh! You passed, you got a 68!" Now, that's motivation. One time, I was doing this logorithm problem on the blackboard. After about ten minutes I got mad and tossed the chalk up in the air. It didn't come down. It had landed on the blackboard ledge. "You'll never do that again in a million years," said Ciraulo. My antipathy to math is why I am writing about the Clock Tower Building, instead of living in it. My old school. It's condos, now.
K & E had a NYC office as well, in a building on Fulton Street.
Nearby K&E buildings
Some people look down on Hoboken, but your webmaster tends to look down in Hoboken. The colorful past is embedded in the sidewalk. Above is the remains of the National Bank of Hoboken (Hoboken Bank for Savings) at Newark and Washington. Its boast of being the only savings bank in Hoboken is of course no longer applicable. At right on the sidewalk on Washington between 1st and 2nd is the remnants of Snyder Hats, now a pizzeria.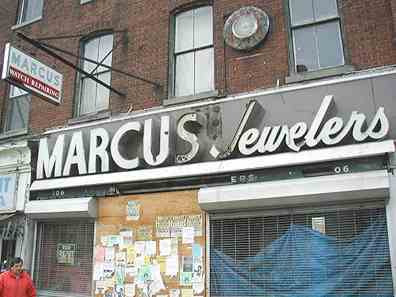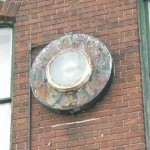 In just the last year or so, some of my favorite Hoboken storefronts have bowed out. Among them was Marcus Jewelers with its huge 1940s sign and neon clock.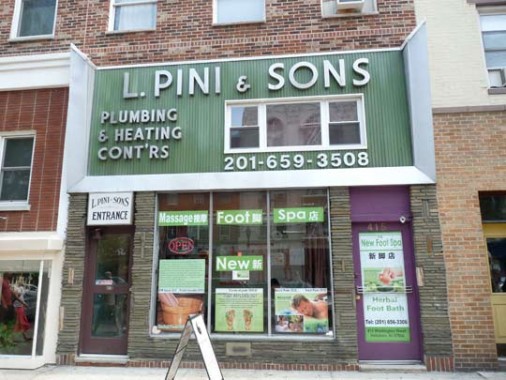 L.Pini and Sons metallic plumbing supplies sign still there on Washington Street.
People's Photo is gone, too. In 1960s agitpropspeak, the adjective "People's" usually meant "Socialist" but since the shop dated back past the 1940s or so, I doubt they meant it that way. The People's Photo display window was a trip. There were hundreds of old cameras in the window, from the brownies of the 1910s all the way to the Swingers of the 1960s. Flash bulb cameras (Sylvania, no doubt) the kind my father used to use. Polaroids too. I don't know how all those cameras got disposed of, but I hope they found a good home. The Peoples sign on the floor in the doorway hadn't been removed in April 2003, the last time I was there.
I'll bet the Swinger lasted longer than my digital Olympus, which had to go into the shop a scant 3 years after I bought it. The Nader planned obsolescence theory, no question.
Fresh Tortillas has kept the old clock from the business that preceded it.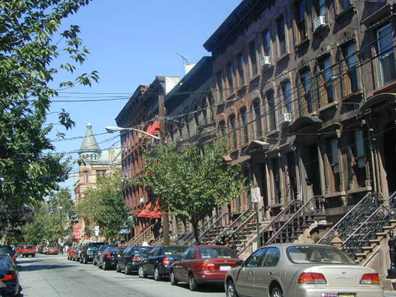 Hoboken's acres and acres of brownstone buildings (such as on Bloomfield Street near 10th) are one of its chief attractions as are the many wild cards, like the unusually façaded house at the right.
The gorgeously stucco'ed building at Clinton and 10th, near Columbus Park, is signed by its architects along with the date of construction. I'm not sure if the stucco has always been there.
In 2004, Hoboken streets are still largely illuminated by 1960s-era luminaires like this Westinghouse Silverliner "Cheerful" which shines in a muted greenish-white light.
By 2011, though, most had been replaced by this model.
There's a very old iron pole on Hudson Street inscribed PS that was probably a light pole or a pole supporting trolley wire.
Forgotten Fan Michael Martinelli of fdnytrucks.com writes to say PS stands for Public Service, the precursor to New Jersey Transit, and ran most Hoboken bus and trolley service; so that confirms that this was a trolley pole.
Hoboken is dotted by specimens of street sign designs past. Though most corners in town are marked by standard green and white street signs (New York City was converted to them a couple of decades ago) there are some remaining porcelain/iron signs around town, complete with the iron arrow-shaped one-way signs that were purged in the boroughs at the start of the 1960s. On Washington Street you can still find very old ones from the 1910s.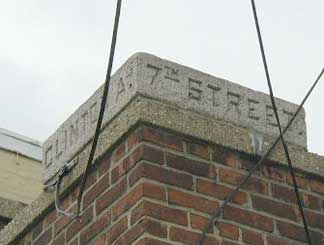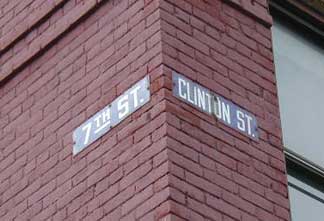 In Europe, the preferred method of street signage is on the buildings, rather than on sidewalk poles, and that's the way it was done here decades ago. The older of the two sets of signs is the one on the left, where Clinton Street's earlier incarnation as Clinton Avenue is preserved in concrete.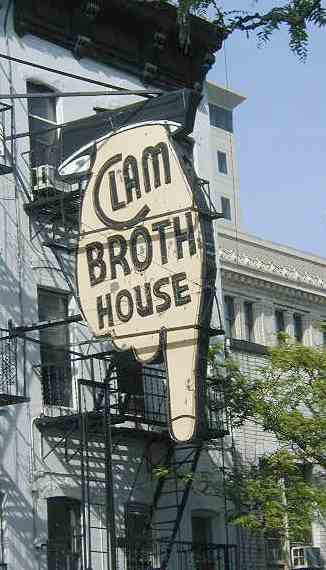 Incredibly, a Hoboken symbol, the Clam Broth House pointer (as much an icon as Hoboken's old Maxwell House neon sign with the 'last drop') has been taken town after its building failed several safety inspections. The sign is in storage and may be reinstalled if, or when, the Clam Broth House reopens.
One of the signs (bottom) is still in place.
The Hotel Victor, at Hudson Place and Hudson Street, is now a real estate office.
Which one's real and which one's the fake?Goodman's Habardashery on 1st and Washington Streets was founded in 1923, and this sign is at least a few decades old (it has outlasted Goodman's) while "Doc" Izzo's sign, an evocative hommage to ad designs past, dates only to 1983; the hardware store owner's son commissioned the piece, done by Hoboken artist McKevin Shaughnessy, at Washington and 7th Streets.
The cast iron façade of the Hudson City Savings Bank on Washington between 10th and 11th retains the Polesie's name from a dry goods store started by Polish immigrant Max Polesie (probably not his real name) in 1901.
I don't hang out in sushi restaurants ( I like food nuked) and anyway, it's doubtful I'll get any Breyer's ice cream at Asia Sushi on Washington between 9th and 10th.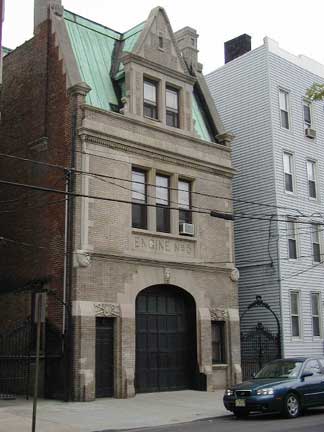 Frank Sinatra's father served at the former Engine Company No. 5, an old firehouse now divided into apartments. As a boxer, he was known as "Marty O'Brien." It is on Grand Street between 4th and 5th.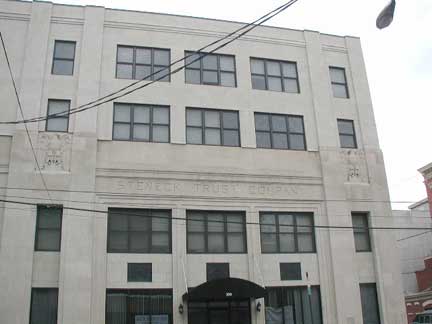 At Grand and 4th is the old Steneck Trust Company Building. It was Cervelli's Market for some years and is now residential housing.
This monument, at 11th and Washington, reminds passersby of Hoboken's claim to be the city where organized baseball originated. In the mid-1840s, about one block from here along he Hudson River, there was an expansive public park known as Elysian Fields (named for the equivalent of heaven in the classic Greek myths) where, on June 19, 1846 the New York Base Ball Club defeated the Knickerbockers 23-1 in what was purportedly the first officially recorded professional baseball game.
By 2011, the site had a new sign.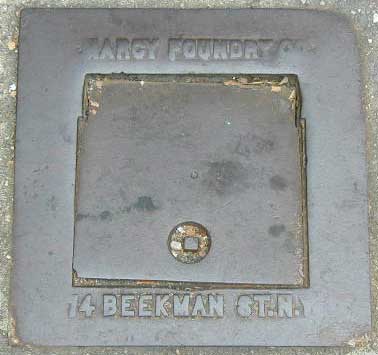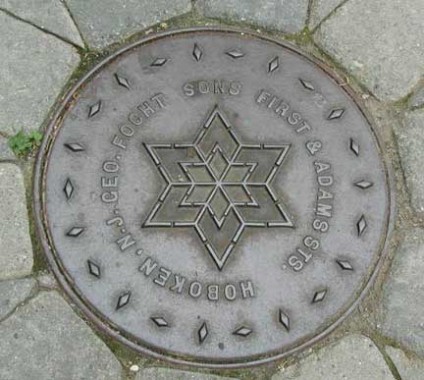 Keep looking down. Just like NYC, Hoboken has several interesting coal chute covers as well as builder's plates. Both Charles S. Whan and George Focht and Sons are long out of business but can still be found on the sidewalks.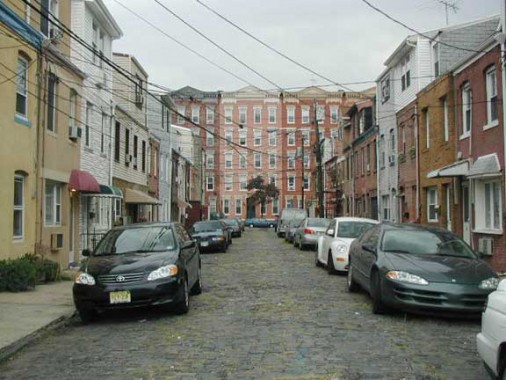 Two views of Willow Terrace. The terrace, between Clinton Street, Willow Avenue and 6th and 7th Streets, looks much as it did in 1880 when it was constructed by the Stevens family (of Stevens Institute fame) for laborers working on the nearby institute. Stevens Institute, founded in 1870, is America's first college of mechanical engineering. It commands a spectacular view of New York City from its perch on Castle Point.
One of Hoboken's more picturesque remnants is narrow, cobblestoned Court Street, which runs from 1st Street north to 6th between Washington and Hudson. It was originally a mews for local stables.
More Hoboken…
Hoboken Museum at Hudson and 13th
Maxwell's, where your webmaster has spent many happy musical evenings
One that got away. At one time, there was a plan to build a bridge from Hoboken to midtown Manhattan. Of course, the bridge never got built, but somewhere along the waterfront, there's a plaque where the western foundation was supposed to go. Apparently, erosion is endangering the plaque, so if anyone can tell me where it currently is, I'd appreciate it.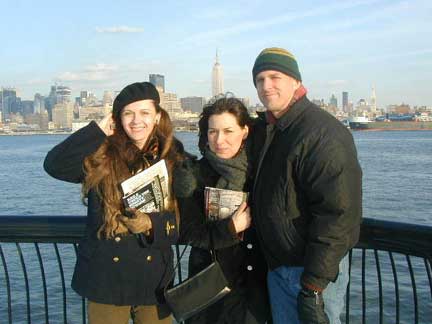 Your webmaster's Hoboken friends include Mary, Laura and Eric, left, and below, Dawn, performing with the Anderson Council at Maxwell's, Hoboken's premier rock palace, in August 2002. I would like to thank them for their participation in this page. (Dawn, now a blogger and author, has since moved to Morristown, NJ and then Washington DC, but she was a Hobokenite for 17 years). Forgotten associate Steve Garza was Hobokener for many years before relocating to Ridgewood, Queens in 2008.
9/20/2003; revised 2012