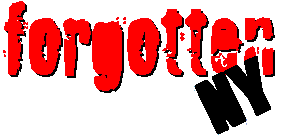 DESCEND with us now to a place far below the tumult and cacophony of the New York City subway system, a place where dripping water and the scuttling of rats are the only sound. They are the abandoned platforms that abut tracks that will never see revenue subway service alight again.
There are several such abysses in the New York City subways, six to be exact, and to glimpse two of them, FNY has called upon an individual with the cojones to go where your cowardly webmaster dare not tread. That individual is one Mike Epstein of satanslaundromat, a photoblog of increasing fame.
42ND STREET, on the IND 8th Avenue line, has a lower level that can only be accessed from trains traveling downtown from the crosstown 53rd Street line, currently the E train. Traveling south from here, switches allow trains to go express or local entering 34th Street (which trains on the upper level cannot do). The uptown tracks do not reach this platform.
Though built in 1932 along with the upper level, the station didn't get a great deal of use until the 1970s, when it was employed for race track special trains to Aqueduct, which ran from 1959 to 1981, and special rush hour E trains departing from here downtown in the 1970s. There has been no service at all since 1981. In the past 2 years, the track connection has been severed.
At present the only entrance to the lower level from the upper level is a trap door at the south end of the southbound platform. The escalator shown here, shown in 1996, has now been removed; all other entrances have now been sealed up. For many years, the lower level was visible to passengers crossing from the downtown to the uptown platforms, but a new arrangement eliminated the need for that crossunder. Above photo: Peter Dougherty from nycsubway.org
A look down the track designated D3 (upper level tracks are designated A1 through A4).
RIGHT: The MTA's 1970s pillar paint scheme, repeated ad nauseam throughout the system, was beige/pale yellow inside with royal blue outside; it is preserved here at 42nd Street.
For a station built in 1932, the decor seems rather more modern, doesn't it? 42nd Street lower level tilework more closely resembles the latter-day IND tilework found at stations like Grant Avenue in East New York. This platform went without tilework or nameplates until the late 1950s, when it was readied for use with the Aqueduct service; thus, it would not reflect the older conventions used for the rest of the IND, which mostly opened in the 1930s.
Station signage follows the same "orchid purple" band with black borders station colors that the familiar upper level does, but the "42nd Street" name plates have been accentuated with brilliant gold. If it were ever reopened for revenue service, 42nd Street would make a handsome addition to the subway system.
Sharp-eyed observers will recognize 42nd Street's lower level from its use in the 1990 movieGhost, in which Vincent Schiavelli teaches a newly dead Patrick Swayze how to move solid objects with sheer "hate power."
42nd Street's lower level may not last much longer. It lies directly in the path of the proposed westward extension of the IRT Flushing Line (#7); if it were to run under 41st Street to the Javits Center, the lower level would be sacrificed to make room for it.
Joe Brennan on 42nd Street lower level
nycsubway.org has additional photos of 42nd Street lower level
Peter Dougherty's track map of 34th-42nd Streets (the 8th Avenue Line is on the left)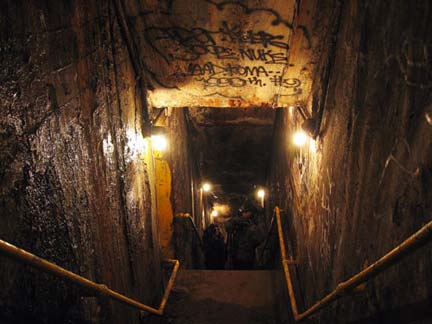 Emergency exit between Jay and Bergen Street stations leading to the B3 & B4 tracks
BERGEN STREET, a subway stop in newly-trendy Cobble Hill, Brooklyn serving the F and G IND lines, has a little-used lower level. Now and then, these tracks do see revenue trains, but they never stop here and are used only by trains that will continue down the tracks to run on the two center express tracks (officially designated B3 and B4) going down the center, between the two local tracks. B3 and B4 are only used when repairs are being done on the local tracks, B1 and B2. (Further south, B3 and B4 tunnel under Prospect Park in another rarely-used section of trackage.)
The G has always been the odd bird of the subways. It never ventures into Manhattan, and other than its forays with the F and transfer with the A and C at the Hoyt-Schermerhorn station, it is very much on its own on its runs through Bedford-Stuyvesant, East Williamsburg and Greenpoint, except on weekends when it runs into Queens and has to compete with the R. Most times, it loses, since few Gs are scheduled per hour, running in 4-car units. In Brooklyn, the G usually ends its run at the inconvenient, though picturesque Smith-9th Street station, with its views of lower Manhattan.
In February, Mike Epstein, Corrie  Trancho-Robie and other souls braver than your webmaster entered the forbidden lower level of Bergen Street.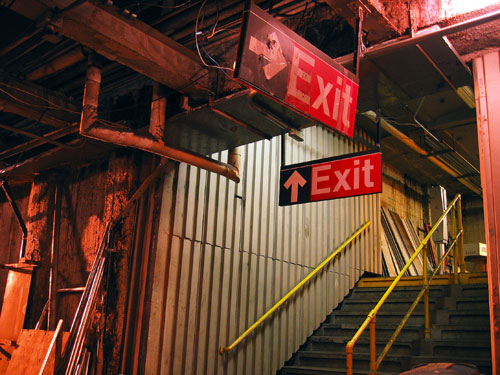 The Bergen Street lower level has an unfinished feel to it; any IND tilework was removed when the Bergen Street complex was renovated in the early 1990s. For a brief eight years, from 1968 to 1976, there was local GG and express F service during rush hours, and the lower level did see trains stopping here then. Ridership was low, however, and the express was curtailed in 1976, leaving only local F service as the only option if you wanted to travel south of Smith/9th.
These exit signs are in line with the MTA's late 1980s signage design, so the MTA may be preparing for any possibility including using this lower level again.
Signage of different eras. WNYC-AM was the municipal radio station of New York City between its inception in 1927 until 1997, when it was sold off to a private institution. When Bergen Street's lower level was open, between 1968 and 1976, it obviously paid for some advertising and the streamlined, Milton Glaser-esque art on the poster is a hallmark of the period. Since WNYC broadcasted on AM820 beginning in 1989, the ad appeared after that year, which means this level was open for something after 1989. Anyone know what?
When the IND was first constructed, "Typhoid Mary" Mallon was still fresh in everyone's minds and containment of disease was a concern, so much that spitting appeared in an equal point-size on subway signage. These days, it seems something of a joke trying to stop people from spitting on subway platforms.

To some, the clean IND signage and station design gets a bad rap. It has nothing to compare to the original Heins and LaFarge terra cotta designs that marked the original 27 IRT subway stations between City Hall and 145th Street, or the next wave of subway mosaics under the direction of Squire J. Vickers featured in stations constructed by the Dual Contracts in the 1910s and 1920s.
But the IND was a product of the Machine Age and its stations feature loud, bold nameplates, color-coded stations and easily readable black-on-white signage that somehow has the panache that its successor 1970s signs in Helvetica and Akzidenz-Grotesk lack.
New York City is lucky to have had so many successive waves of station designs that impart such variety. Both Boston and Chicago have, in fact, copied the IND color coding, though their stations are purely utilitarian and lack NYC's design elements, though Chicago has been playing catchup of late.
It might be better that Bergen's lower level stay closed, since original IND "Berg'n" enamel column plates are still undisturbed there. Unfortunately, the tiles and signage have been stripped off the walls on the lower level, though the curious 'exit' signs have actually been installed since that time. Tim Robbins' 1990 horror vehicle Jacob's Ladder features a scene filmed in Lower Bergen.
Joe Brennan on Bergen Street's lower level
nycsubway.org's Bergen Street pictures
satanslaundromat.com Lower 42nd Street page and Lower Bergen page
Photos on this page and leave to use them by Mike Epstein in February 2004 unless noted; text, by Your Webmaster, completed May 8, 2004
5/8/04