Title card: Mid-1980s IRT retro-kiosk at Astor Place, ca. 1985
In New York City, just about every subway entrance on the system's 460-plus stations is somehow different, and that's no mean feat. There are standard templates that different subway companies in the early days, the IRT, BMT, and IND, followed, but they've been blurred over the years, so that sometimes IND-style entrance features can be found on BMT stations. (Can any Forgotten Fans under 35 draw distinctions between the IRT, BMT and IND?) Anyway, sometimes entrances can be found in department store basements, liquor store lobbies, and until recently, saloons could be found as you descended down subway staircases.
(TOP) These cast-iron behemoths were constructed at all IRT entrances beginning in 1904; they were removed by the 1950s because their sheer size took up so much space. There were an innie and an outie: separate designs for entrances and exits. People played along back then.
Forget about those new, modern, antiseptic subway entrance buildings that are going up all over town. The "outer boroughs" still have the classics, with mini-malls as you descend into the darkness. This one, at Rego Park, has coffee, "fast food", a shoe repair place, a "unisex salon" complete with old-school barber pole, and a dancing school. Everything you need before heading off to work. There's a serifed "Subway" marker likely dating from the FDR administration, and topping it off, a sign letting us know we're special.
Your webmaster has often been called 'special.'
When the IND 8th Avenue Line reached the City College area at West 135th Street in the 1930s, the builders decided to accentuate the subway entrance just a little. The green globules indicate this entrance is open 24/7.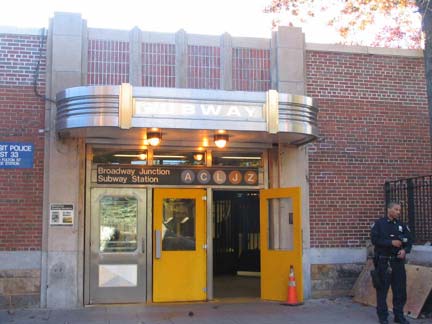 The marquee at East New York, Van Sinderen Avenue and Fulton Street, is reminiscent of the grand movie palaces of old. Soon, the cop will have to start arresting people taking pictures of the subway.
Uptown IND stations had to tunnel through the Mountains of Manhattan, large outcroppings of schist rock. The 181st and 190th Street stations, therefore, break away from IND conventions here. The western entrance at 190th (left) on Fort Washington Avenue is at the top of the hill, while the Bennett Avenue entrance (right) is at the bottom of the hill; a lengthy pedestrian tunnel was drilled through the rock to provide access to the deep station.
The 181st Street station, one stop south, tunnels under the same hill but has unique design elements on the western entrance on Ft. Washington Avenue, such as the peaked doorway and a roughly pencil-shaped "subway" sign with green-glass stenciled letters above a fluorescent bulb…
…raised, gilded "entrance" letters on the green-painted swing door…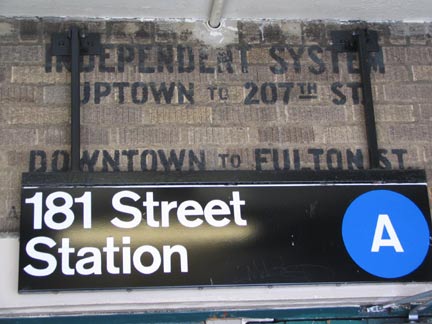 …and what could be an original hand-stencilled station sign from the early days (1933-36) when this line only went as far south as downtown Brooklyn. (Today the A extends to Ozone Park, Rockaway Park and Far Rockaway.)
Whoever has intimated that IND stations were designed without individuality or panache should visit these two uptown stops.
181st's eastern entrance on Overlook Terrace echoes the western on Ft. Washington, but with a softer arch.
At the GE Building, Lexington Avenue and East 51st Street, the subway entrance at least attempts to match the art-deco/thunderbolt vibe.
These entrances are in Brooklyn's very first subway station, Borough Hall, built in 1908. The ornate cast-iron entrance is at the back of Borough Hall; the austere Tuscan style columns are part of the Brooklyn Municipal Building.
The entrance to the IND 72nd St. station at Central Park West outside Dakota Apartments are unique in the system, with singular lampposts, bearded guy and dragon motif, and verdigris'ed "subway" sign.
IRT Flushing Line (#7) ends at Main Street, tunneling under Roosevelt Avenue for just one stop, after spending most of its run on an elevated. In the mid-1990s the station was given a thorough rehabilitation, which entailed the construction of elevators and escalators to street level.
Street level escalators, i.e. escalators that empty out directly onto the sidewalk, remain a rarity in NYC; they are the rule, for example, on the Washington, DC Metro.
Note the IND-type light stanchion supporting the green station indicator. These stanchions, with their signature cross-hatching, became standard throughout the system in the past couple of decades even though they originally appeared on only IND construction. They can be standalone units or bracketed, as here, onto walls or columns.
Dyckman Street and Broadway, IND
Utica Avenue and Fulton Street, IND
These are the most common type of subway entrances, though there are many variations on this "prison-bars" theme. Most are painted green. At right, note the IND light stanchions mentioned above. At left, the Dyckman Street station unusually has two styles of station indicator light: the square variety, introduced in the 1970s (much of modern design eschewed curves) and the newer globular variety, itself a retro style, which appeared in the mid-1980s. Green indicates a station is always open; ywllow, sometimes; red, that this is an exit only, not an entrance.
The 169th Street IND station, at present the F train, at Hillside Avenue and Homelawn Street, has surprisingly changed little from when it was first opened in 1937 (left). The black glass or basalt cladding is still there, though the white highlights that made it resemble castle battlements have been painted black. The metal "subway" sign is still over the door, though the stylized "8th Avenue" sign is long gone; fittingly the present F line runs under 6th Avenue.
The same vent is still there in 1937 and 2004.
The interior of the Jamaica-Van Wyck station, at Kew Gardens Road at Metropolitan and Jamaica Avenues in Queens is actually one of the better of the recent modern subway stations; opened in 1988, it has design elements of the 1970s that gain historic value as the years march on, as illustrated here. Note the 70s-style boxy station indicators.
The exterior, though, looks like a blah municipal building entrance or even a police precinct.
Two station entrances of recent vintage: new canopy at Franklin and Varick Streets, IND, and the new 72nd Street headhouse at Broadway, complementing the original 1904 Heins & LaFarge house at the southern end of the station. 2002 station improvements finally granted a free transfer from the uptown to downtown platform here. The new house is airy and sunny, with a large skylight, and is a good representative of modern public transportation design (in the humble opinion of your webmaster).
(LEFT) BMR/IRT entrance at Manhattan's Municipal Building at Chambers and Centre Streets. We'll get to that SVBWAY sign a little later. Above: keeping it simple at Park Avenue just south of East 42nd Street.
Downtown, 28th Street Lexington Avenue IRT. Come to think of it…isn't it a little strange to substitute "V" for "U" in a subway sign? Sure, the intent is to capture a little dignity and historic value; the "v" was always used for "u" in ancient Latin script, with the "u" and "w" characters not appearing until the Middle Ages. "Sub" is a Latin prefix meaning "under", but "way" is from Old English "weg" from an Indo-European root word that also gave rise to latin "via." So, it's slightly silly to do Roman-style spelling in a word that never appeared in Latin.
Nice tiled sign, though.
Your webmaster well remembers many ill-spent late-nights in his school years waiting for a train at West 4th Street. The train never seemed to come, and for some reason the station began to spin around! In any case, I always seemed to get home in time to get up for class two hours later. Here at the 95th Street Bay Ridge BMT station, you can purchase a couple of liters for that long, long ride home. Bay Ridge is wayyyy out there.
At York Street (IND), Art Deco design of the same stripe as the 181st street on Fort Washington Avenue.
Source:
Building the Independent Subway, Frederick Kramer, Quadrant Press 1990.
Photographed from 2000-2005; written February 14, 2005.