QUIET, suburban Rosedale is clustered along the Queens-Nassau County border, between Laurelton in the west and Valley Stream and Woodmere in the east. When visiting the area a couple of years ago, I was struck not by its architecture, which is mostly 50s and 60s suburban sprawl; I was more impressed with its resemblance to neighboring Nassau. It seems to be a part of Queens only by political considerations.
Till 1898, when New York City expanded to five boroughs, Queens and Nassau were one (very) large county. As you move along the Queens-Nassau border, you can see places where they might as well have never separated.
It's also a place where some of Long Island's longest roads begin and end…
A 1910 map by Hammond shows Rosedale as it was around 1910, when southern Queens was mostly farmland dotted with small towns. The Long Island Rail Road was already well-established by then; the Springfield station was eliminated in 1939 when grade crossings in this part of town were eliminated. The area is presently served by the Laurelton station, with the town of Springfield absorbed by the new Laurelton Land Company real-estate development in the early 20th Century. (Old Springfield was settled in the 1600s and will be featured on an upcoming FNY page). In the map, the pink is the town of Hempstead, Nassau County; the yellow is Queens.
The red line represents the aqueduct, or conduit, carrying water between the Brooklyn Water Works near Freeport back to the city. The ruins of the works can still be seen as you ride the LIRR directly past. The aqueduct has lent its name to Aqueduct Race Track (in 2005 pondering kicking out the horsies and bringing in slot machines) as well as North and South Conduit Avenues.
As we can see from the map, many of the area's main roads are already there in 1910; some date back to the colonial era. Freeman's Path, later Farmers Avenue, was renamed for the area's agriculture and amazingly, is still so-called, even though all of Queens' farms are gone, save one. It was renamed Farmers Boulevard (known to hip hop fans by the LL Cool J tribute) after a county edict in the early 20th Century mandated that many of Queens' main roads be renamed "boulevard;" hence, Vernon Boulevard, Northern Boulevard, Springfield Boulevard, etc.
PRESENT-DAY ROSEDALE: GOOGLE MAP
Merrick Boulevard becomes Merrick Road as it enters Nassau. A NYC DOT guy-wired lamppost stands next to a Nassau County telephone pole with ornate streetlight mast.
Merrick Avenue, now Boulevard, is still there too. It begins as a trickle at Hillside Avenue between 166th and 167th Streets, and is only two lanes for a couple of blocks (yet hosts a major Jamaica bus depot and the main branch of Queens Public Library) before gaining multiple lanes at the most forlorn "Grand Army Plaza" you'll ever see at Liberty Avenue and South Road. It picks up steam, hurtling through Springfield Gardens and Laurelton, before entering Nassau and changing its moniker to Merrick Road, roars through Valley Stream, Lynbrook, crosses Sunrise Highway (see below) in a complicated interchange in Rockville Centre, zigs and zags in Oceanside, Baldwin, Freeport, its namesake Merrick, Belmore, Wantagh, Seaford, Massapequa and West Amityville. Near the Suffolk line State Highway 27A takes over, and in general the road is known as the Montauk Highway until it ends at Montauk Point. Just east of Southampton, it becomes State Highway 27, inheriting the route from Sunrise Highway.
The town and the road were both named for the Merrick Indians.

In the colonial era, Rosedale was the eastern end of the settlement known as Springfield, so called for abundant fresh water in the area. Native Americans had used it as a hunting ground for centuries prior to that. An early British settler was named John Foster, and so the area was named Foster's Meadows, as was the Long Island Rail Road station when the railroad arrived in the late 1800s. The only road through the meadows, now an undeveloped part of Brookville Park, was known as Old Foster's Meadow Road until it was renamed Brookville Boulevard in the 1920s. It remains the only road connecting Rosedale with Rockaway Boulevard east of Guy Brewer Boulevard and if you look at the map, that's a lot of territory.
Ghost Train
While Brookville Park encompasses 90 acres, most of it, the portion south of 149th Avenue, is undeveloped and wild. The cultivated section is generally between South Conduit Avenue, 147th Avenue, 232nd Street and Brookville Boulevard. A natural stream divides that section in two, punctuated by Conselyea's Pond just north of 147th.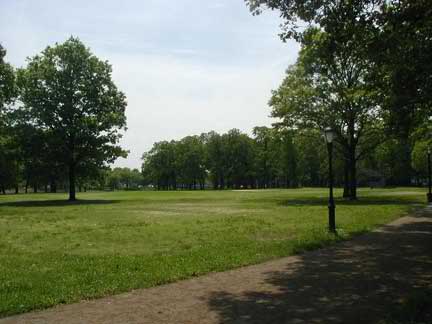 A long-forgotten spur of the Long Island Rail Road, known as the Cedarhurst Cutoff, once ran southeast through Rosedale. Today it is remembered only by the street pattern (a glance at the map shows Edgewood and Huxley Streets diagonally cutting through the grid for no discernible purpose; the RR once ran between the two streets). And, there's a lengthy clearing in Brookville Park (left) corresponding to the RR's old route.
As Bob Andersen explains at lirrhistory.com, the line connecting the main line to Cedarhurst was only in active use between 1872, when it was built, and about 1880. Yet the LIRR had high hopes for it and it was rebuilt in both 1918 and 1928, the latter an electrification, but trains never ran on the route again and by World War II, the rails had been torn up.
The Road With Two Names
Bellerose, in Queens, and Floral Park, in Nassau County, share a section of a lengthy road — State Highway 25, known as Jamaica Avenue on the north (Queens) side and Jericho Turnpike on the south side (Nassau). The two names had coexisted peacefully for the better part of a century, but Bellrose residents agitated for a change of their side of the road to Jericho Turnpike, simply to avoid confusion, they say, and not as a slap at the community of Jamaica, a couple of miles to the west. The change was made, and the road re-signed, in October 2005.
Yet in Rosedale there's a similar awkwardly-monikered road, with nary a squawk from anyone…
Running from the junction of Brookville Boulevard and Elmont Road (which never quite reaches Queens) and 149th Avenue is Hook Creek Boulevard, which is hardly a boulevard but a moderately busy two-lane route.
From Brookville Boulevard south to about 132nd Avenue, though, only half of Hook Creek Boulevard is in Queens. The border runs down the middle of the street, and the eastern half is in Valley Stream and is called Ocean Avenue. South of 132nd, the Nassau County line moves slightly east of the road, and all of Hook Creek Blvd. reverts to Queens. As you can see from the map above both sides of the road were called Ocean Avenue in the early 20th Century.
This makes for an interesting juxtaposition of Queens and Nassau county street lighting, signage, etc. In the photo above note the Nassau County "don't walk" stoplight just in front of the NYC street signs.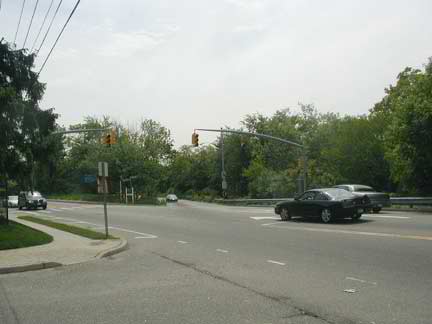 (TOP): Entirely within Nassau here (I had my passport) on Elmont Road looking south at the junction of Brookville Blvd (middle) and Hook Creek Boulevard/Ocean Avenue (left). You can recognize the Nassau County-style stoplights, davit-type poles without the guy wires of their NYC counterparts.
Frankie Lew meets his match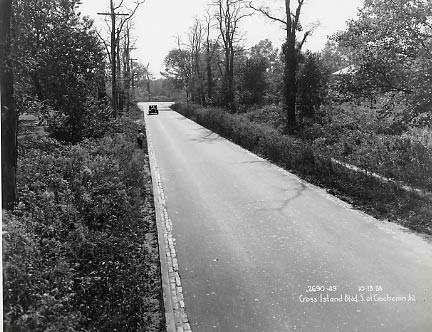 Francis Lewis Boulevard (Cross Island Blvd.) at Crocheron Avenue in Auburndale in 1938. It was easy driving then! "Frankie Lew" has become an eight-lane behemoth since. Brooklyn Collectibles
Francis Lewis Boulevard, named for a Queens resident (1713-1803) who was a signer of the Declaration of Independence, is the longest street that's restricted to Queens (there are longer roads like Northern Blvd. that are longer, but extend far into Nassau and Suffolk Counties). It runs through Whitestone, Auburndale, Fresh Meadows, Holliswood, Hollis, Cambria Heights, and Rosedale.
Lewis, a Welshman by birth, arrived in New York in 1734 and moved to Long Island in 1775; he became a delegate to the Second Continental Congress from New York. Shortly after he signed the document, the British destroyed his home and property and took his wife prisoner for several months; she died shortly after her release. Lewis lived in poverty for the rest of his life
The boulevard is a relatively recent arrival. It doesn't appear on maps until the 1920s, was initially called Cross Island Boulevard, and initially extended only as far as Springfield Boulevard. Probably to avoid confusion, it was renamed for the Queens patriot at about the same time as Robert Moses' new Cross Island Parkway, the eastern end of the Belt Parkway system, opened in 1940.
Hagstrom Maps
Below Springfield Boulevard, planners had a considerable obstacle to their plans of extending Francis Lewis Blvd. to Rosedale: Montefiore Cemetery.
A novel solution was implemented as 121st Avenue, 230th Place, and 138th Avenue were dragooned into service, and renamed Francis Lewis Boulevard in order to have the road continue on its southeastern push. In this neighborhood the boulevard takes on a weird "Z" shape.
When it arrives in Rosedale, Francis Lewis Boulevard assumes the route of one of the town's former main drags, Rosedale Avenue. It finally meets its end at a gas station and a tangle of utility wires at Hook Creek Boulevard and 148th Avenue. This isn't quite the end of Francis Lewis Boulevard, however. It has an oddly-named extension into Nassau County…
Hungry Harbor Road extends from Hook Creek Boulevard, crossing the boulevard's titular creek before entering the town of Woodmere and changing its name to Rosedale Road. The origin of the name is unclear, but the town of Woodmere contains a lengthier road with the same name that has nothing at all to do with this.
Forgotten Fan Rob Hans writes:
"I have this book my mother got from the Village of Valley Stream Celebrating the 50th anniversary of Valley Stream in the book has the beginnings of Valley Stream, how it was named and such in the book and says "On the extreme southwest, approaching Jamaica Bay, was Hungry Harbor, so called because it was largely a settlement of squatters, and the squatters went hungry a goodly part of the time. True, it was a harbor because it was the only area of farmland that possessed rich fertile land in addition to having access to the sea. Hirst dock was the sole commercial enterprise of Hungry Harbor."
Edge of the Universe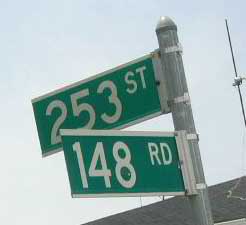 Cosmo Kramer, finding himself at 1st and 1st (a corner that actually exists, in the East Village), called it "the nexus of the universe."
Rosedale, then, must be the edge of the universe…it has NYC's highest-numbered streets, when you add the cross streets together. NYC's highest-numbered individual street, 271st, is in Bellerose. Ah, but the biggest sums are in Rosedale, such as the 401 at left. The biggest sum in Rosedale is 411, at 149th Avenue and 262nd Street.
(The sum of your webmaster's Flushing street coordinates is 205)
I'll Follow the Sun
Sunrise Highway was begun in 1926 and has never really been finished. It's an at-grade highway in some sections, and an elevated expressway in others. The expressway sections in Nassau and Suffolk Counties were begun in 1958 and the latest, in Oakdale in Suffolk, was finished in 1998. The highway proper is State Highway 27 (as Linden Boulevard is in Brooklyn and Queens) and carries the name Sunrise Highway as far as County Road 39 in Shinnecock Hills.
The road is a cognate of sorts of Los Angeles' Sunset Boulevard, albeit much less glamorous.
But Sunrise Highway isn't thought of as a New York City thoroughfare. Or is it?
Sunrise Highway signs and median at Brookville Boulevard
The highway extends west into Queens, or rather proceeds from Queens east, for the better part of a mile. When the Belt System turns north along the Queens-Nassau Line, Shore Parkway becomes Laurelton Parkway and Sunset Boulevard picks up some of the Belt Parkway's eastbound traffic. North and South Conduit Avenues transfer their allegiances here: they have accompanied Shore Parkway all the way from the Brooklyn line, and escort Sunrise Highway till they end at the city line just east of Hook Creek Boulevard.
I have a couple of maps from the 1930s that show Conduit Boulevard, the 4-lane section of the Belt that spurs west from Cross Bay Boulevard to Atlantic Avenue, as Sunrise Highway but have yet to see anything definitive regarding that.
TOP: where else but Brookville Boulevard, way out at the edge of New York City, are you still going to find such a large flock of General Electric M400 streetlamp luminaires, vintage 1962? When these were installed, the Beatles hadn't yet appeared on Sullivan!
I ask you…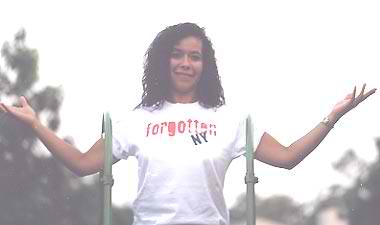 LINDA'S GOT ONE. Why don't you get one?
FORGOTTEN NY T-SHIRTS and more!
Photographs taken June 2003; page completed 10/29/05
erpietri"@"earthlink.net
©2005 Midnight Fish