In a borough largely ignored by NYC's Landmarks Preservation Commission, the magnificent garden apartments of Jackson Heights are a happy exception. Today's Jackson Heights is a neighborhood of handsome six-story co-operative apartments, most of which surround a central garden. They appeared, seemingly out of nowhere, beginning in 1914 when the entire area was not much more than a swampy meadow. The Queensboro Corporation and developer Edward MacDougall built now-landmarked housing along today's 82nd Street; the area became known as Jackson Heights after John C. Jackson, who laid Jackson Avenue, now Northern Boulevard, out across the meadow beginning in 1859.
Sleepy Jackson
The boundaries of Jackson Heights proper are fairly well-defined, from the Brooklyn-Queens Expressway on the west to about 90th Street on the east, and from Roosevelt Avenue on the south to the Grand Central Parkway (and LaGuardia Airport) on the north. But there's a triangle of a neighborhood bounded by Hazen and 81st Streets, 19th Avenue and the Grand Central Parkway, that can be claimed by both Jackson Heights and Astoria. Since it can claim two very interesting structures from a FNY POV, we'll plant the Jackson Heights flag here as we visit…
78-03 19th Road, popularly known as the Lent-Riker Homestead.
This is a colonial farmhouse that was by most accounts built by Abraham Rycken Van Lent in 1729, though some historians date the oldest part of the house to be even older…perhaps 1656, according to an American Historic Buildings Survey. Rycken, whose family later changed its name to Riker, is remembered by most New Yorkers for the offshore island he acquired from New York governor Peter Stuyvesant in 1664, later acquired by NYC's Department of Corrections in 1884. Riker would no doubt have preferred that his well-preserved Queens home be his chief remembrance. The current owners, Micheal and Marion Smith, have celebrated their 40th year of living here and have magnificently restored the building after it fell into disrepair in the 1950s and early 60s.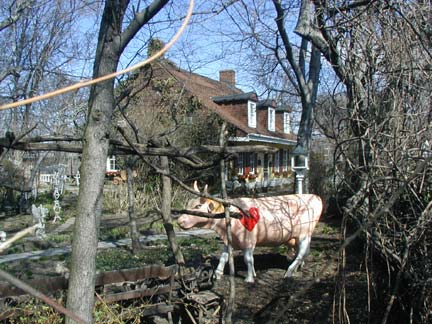 Adjacent to the homestead is the Riker family cemetery, which is unfortunately completely invisible from 19th Avenue and 19th Road, which border it. The cemetery contains some of Queens' oldest gravesites, including patriarch Abraham Riker (1746) and his son, also named Abraham, who died at Valley Forge (1778).
The Smiths, who from what I've seen are merry and enthusiastic curators of their piece of NYC history, maintain a more recent slice of history in their yard: a NYC Cow Parade cow from 2000. Some of these cows are still scattered around town.
Just a few blocks away is a representative of a world that Abraham Rycken Van Lent never conceived of in his wildest dreams, where people reach the west coast anywhere in the USA or Europe in a few hours… the magnificently restored Marine Air Terminal at 82nd street and Ditmars Blvd.
Queens Gazette
Designed and built in 1939 by William Delano, it's the only active passenger terminal remaining from the first generation of USA air travel, dating back to LaGuardia Airport's first days. LGA opened in October 1939 and the Marine Air Terminal was dedicated the following March, serving Pan American's magnificent Yankee Clipper aircraft, seaplanes known as "flying boats." Today it serves commuter airlines including the Delta Water Shuttle (a ferry service), air taxis, and a private weather station.
Related: FLOYD BENNETT FIELD
Terra-Cotta Skyline, Susan Tunick
Among the Marine Air terminal's most distinguishing elements is its frieze of terra-cotta flying fish along the roofline. They represent the Pan Am "flying boats" the terminal originally serviced.
answers.com, photo by Chris Sloan
The 12-foot-high, 235-foot-long mural "Flight" byJames Brooks was restored in the mid-1980s. The mural encircling the interior wall of the terminal's rotunda tells the story of human flight, from Greek mythology through the mid-20th century was the largest and last mural commissioned by the Works Progress Administration during the Great Depression. Incredibly, and unconscionably, the mural had been painted over in the 1950s, apparently since some commissioner thought it resembled a communist propaganda poster.
In the beginning…
…and until 1909 when the Queensborough Corporation was formed and the first of the apartment buildings we now associate with the neighborhood was built in 1914, there was no Jackson Heights. It was simply the vast northern region of Newtown, a marshy, swampy area with sacttered farms, meadows and ponds. It was bisected by two roads that were mere dirt tracks through country, much of which was wilderness…
Trains Meadow Road traveled in a mostly northwest fashion from about today's Woodside Avenue and 63rd Street (now a major transit hub) all the way to Flushing Bay. It was laid out in 1672 and, since it was the only road in the area until around 1900 or so, most families who lived in the area, named Trains Meadow, resided on this road. It was always a simple two-lane cart path, and after the Queensborough Corporation bought up land and built housing, it was removed from the map as north-south strets were cut through.
The name "Trains" Meadow is perplexing; old maps don't show property belonging to a Train, and the North Side railroad did not arrive in Newtown until the 1860s. Perhaps, it's simply a corruption of the word "drain."
Top: bird hunter in Trains Meadow, 1900. In about a decade, this scene would dramatically change. 722 Miles: The Building of the Subways, Clifton Hood
Unlike some of NYC's other colonial-era roads, such as Broadway and Brooklyn's Kings Highway which have become major routes, virtually no trace of Trains Meadow Road, and the homes that lined it, is around anymore. The only part of the roadway left is 35th Road between 69th and Leverich Streets.
On 81st Street and 30th Avenue you'll see a little white house on the corner, tilted strangely askew from the street. It formerly faced Trains Meadow Road, which once ran past it.
The other colonial road in what's now Jackson Heights served its eastern end, in what is now called East Elmhurst in the 90 streets. It meandered north from Hoffman (Queens) Boulevard to the waters bordering North Beach, today's LGA but then located along Bowery Bay. A number of old roads in Queens carry the name Bowery Bay Road. A series of resorts were built there before the coming of the airport.
This one was surprisingly preserved when a trolley extension was built along its route that survived into the LGA era. Some parts of the road that carried the trolley are still there; they were renamed, along the way, for the Jackson Mill, located at North Beach near the road's nothern terminus. Today's Jackson Mill Road is in two pieces…running east from 93rd to 97th Streets and again between 94th Street and 24th Avenue. Both of these pieces carried the old trolley.
(The name "Junction Avenue/Boulevard" is a mystery; the name predates any railroads or trolleys that came to the area. Perhaps it led to a junction of roads.)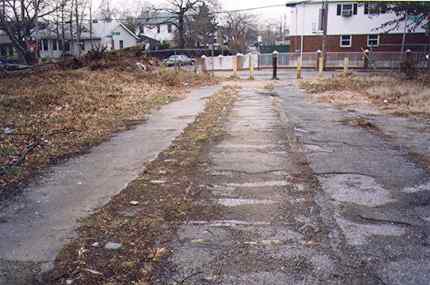 Amazingly a very short stretch of tracks can be seen on a demapped part of Jackson Mill Road between 24th and 25th Avenues; recent new development has been encroaching on it, though, and the tracks' days may be numbered.
Jackson awakes
The Queensborough Corporation, beginning in the 1910s and continuing on to the 1930s, built a magnificent series of apartment buildings between 74th and 90th Street and from Roosevelt Avenue north to Jackson Avenue, now Northern Blvd. The buildings boast vast inner courtyards (invisible from the street) and the complex once had its own golf course and tennis club. Though time and demographics have altered the buildings, they remain a NYC treasure and own well-deserved places as NYC landmarks. They're hardly Forgotten, so we'll give them a glancing view here, but if you're curious about a part of NYC where new housing once had panache and craft, please consult…
Li Yu's Jackson Heights site
Jackson Heights Beautification Group
Bridge and Tunnel Club in Jackson Heights
Ravenna Court, 37 Avenue between 80 and 81 Streets. The Ravenna, built in 1929, was the first building constructed uunder the Realty Investment Plan, in which individuals could buy stock: the plan surged despite the Wall Street collapse that year.
Georgian Court, 37 Avenue between 83 and 84 Street, built 1930.
The great Tudor with the rams' heads by the door on the SW corner of 37th Avenue and 82nd Street was the 1929 home of the Queensboro Corporation. The first floor, according to Jackson Hts. chronicler Daniel Karatzas, was "lavishly decorated with fireplaces, a beamed ceiling, leather sofas, and oriental rugs. Squash courts were located in the basement."
82nd Street is the major shopping street in Jackson Heights, along with 37th Avenue. If people look up for an instant, they'll see what remains of English Gables, designed specifically for commercial traffic by architect Robert Tappan and completed in 1928. Karatzas:
Queensboro carefully monitored the type of signs the merchants used, the quality of their merchandise, and the artfulness of the displays. Everything had to fit in just so. English Gables was so highly admired that the Queens Chamber of Commerce gave it a design award.
Times have changed; 82nd Street now presents a streetscape like any other. You have to look up to appreciate it.
In the 1920s, 82nd Street had bishop crook lampposts, and in the 1980s it was one of the first streets in NYC to receive retro-crooks.
Secrets of the Robert Morris
The Robert Morris Apartments, built in 1929 on the south side of 37th Avenue between 79th and 80th Street, still preserves what is probably its original molded doorways and cut glass facades. A look under the awning of a nails place on the corner of 79th reveals and old Cats paw ad from the days when it was a shoe repairer. Robert Morris was a signer of the Declaration of Independence from Pennsylvania.
Not nearly enough time or webspace to show most of the best of Jackson Heights' archietcture (the "boulevard buildings" along 37th Avenue are not even typical of Jackson Heights' garden apartments, which at first were built closer to Northern Boulevard, the main route through the area in the 1920s). Check out Daniel Karatzas' "Jackson Heights: a Garden in the City" for the complete story behind this landmarked oasis.
Apropos of nothing, there's a penguin on the center median of 75th Street between 37th Avenue and Roosevelt Avenue.
Breitling, Big City
There are a lot of triangle buildings around town formed by intersections (the most famous being the Flatiron Building at Madison Square) and there's this one, probably a brick building with a modern cladding at Broadway and 73rd street I call the Breitling Building because of the ad that was on it in November '05 when I went by. This part of Jackson Heights is its Little India, with 74th Street lined with subcontinental shops and restaurants, notably the Jackson Diner and Delhi Palace.
On 37th Road just east of Broadway is the Eagle Theatre, now a Bollywood purveyor, was designed by famed theatre architect John Eberson and constructed in 1936 as the Earle. Like the Bombay in Fresh Meadows, it was a porno palace for awhile before its recent return to legitimacy.
The Fair Theatre at Astoria Blvd. and 90th Street was opened in 1939, the same year as its namesake World's Fair in Flushing Meadow. The Fair's classic marquee and neon lettering have fortuitously survived the decades, though these days the Fair is strictly porno; as I shot this on a September Sunday afternoon at 3PM, the raincoat brigade began shuffling out. I'm told the management prohibits photography of the exterior, though nothing was said to your webmaster. It was designed by Charles Sandblom and at most holds 600 seats. It's even more impressive at night.
Also nearby, on 37th Avenue and 93rd Street is the Polk (Avenue) Theatre, called for 37th Avenue's original name. When Jackson Heights was laid out north-south strets were numbered and avenues were named for Presidents. In 1930 the streets were renamed to what they are today. The Polk was designed by Sandblom and opened in 1938, considerably altered today. The Polk closed in February 2006, never to reopen? photo: Ed Solero
Boody well right. Boody Street, along the Brooklyn Queens Expressway between 30th Ave, and Astoria Blvd, marks a 'natural' NWern edge to Jackson Heights. Just so you don't miss it, the DOT marks the intersection with especially large signs. Prior to the construction of the BQE Boody Street was the eastern boundary of St. Michael's Cemetery. Bordering Astoria and Jackson Heights, the Episcopal cemetery was established in 1852.
The last one-room schoolhouse in Queens was located at Astoria Boulevard (then known as Flushing Avenue) and 90th Street from 1879 until its demolition in 1910. The site became a public park in 1934 and is currently known as One Room Schoolhouse Park.
"Dress Up Your Neighborhood" contests, run by Partnerships for Parks, are named for the late fashion designer Mollie Parnis (1902-1992). One Room Schoolhouse Park has won twice, though not recently.
90th Street between Astoria Blvd. and 30th Avenue is awash in fine Tudor buildings. The gatepost marks it as a likely former private development. It's quite separate from the Queensborough Corporation's development, which is all south of Northern Boulevard.
Landing planes heading for LGA won't mistake a LaGuardia landing strip for a NYC street; the DOT has seen to it by installing dwarf poles at 82nd Street, Ditmars Blvd., and the Grand Central Parkway. What's interesting is that the DOT has hewn to its three major post-1955 lampposts designs: the cobra neck, the straight mast and the undefeatable Deskey SLECO.
LaGuardia's main control tower, built in 1964, forms an impressive backdrop for 96th Street at 23rd Avenue. It stands 150 feet high. [A new control tower began service in 2010]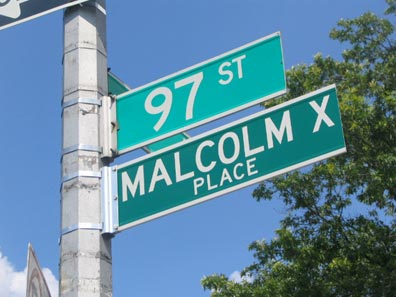 Malcolm X and his family were living on 97th Street when their home was firebombed on February 14, 1965. He was assassinated at the Audubon Ballroom in Manhattan a week later.
JACKSON HEIGHTS/EAST ELMHURST CONTINUES ON PAGE 2