College Point, excluding Broad Channel (which is on its own eponymous island) and the towns along the Rockaway Peninsula, is the most isolated neighborhood in Queens. It is separated from its closest neighbor, Whitestone, by the Whitestone Expressway and the giant empty field that used to be Flushing Airport, and from Flushing by the expressway and the massive College Point Industrial Park.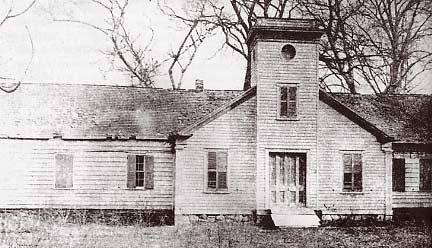 There is no college in College Point, and hasn't been since about 1850, when St. Paul's College, shown here just before its demolition in 1900, was converted into an elementary school and then a summer resort. The college was founded in 1835 as a seminary by the Rev. Augustus Muhlenberg. Communities known as Strattonport and Flammersberg united to form College Point in 1867. College Point by Victor Lederer
Though the Lawrence family, a name familiar to Queens historians, settled in what is now the College Point area in the colonial era (the Lawrence homestead still exists, though it has been moved to the Bethpage Restoration in Farmingdale, Nassau County) it was an enterpreneur named Conrad Poppenhusen who built downtown College Point to house his factory workers, and it is still his legacy that shapes College Point to this day.
Manufacturer Conrad Poppenhusen (1818-1883) arrived here from Germany in 1854 and converted College Point into a virtual company town. Poppenhusen opened a large hard rubber factory (hard rubber was the plastic of its day) employing hundreds of immigrant workers and native College Pointers; he produced rubber products, combs, dental and medical goods and hardware; he also built the Flushing and North Side Railroad, now a part of the LIRR Port Washington line, and later owned the LIRR between 1876 and 1879. Poppenhusen built water and sewage systems, a library, and the Poppenhusen Institute (above, 14th Road and 114th Street). He is recalled by the Institute, an avenue, and an 1884 bust by Henry Baehrer at Poppenhusen Triangle at College Place and 12th Avenue, at the approximate spot where his mansion used to stand.
The City can't spell Poppenhusen's name right, but the inscription on Baehrer's bust does.
Poppenhusen Institute, built in 1868 at what is now 14th Road and 114th Street, featured the nation's first free kindergarten, as well as a justice of the peace, the first home of the College Point Savings Bank, German singing societies, the first library in the area, a court room, the sheriff's office with two jail cells (still there in the basement), and a grand ballroom.
Today the Institute is used as a community center and features karate and piano lessons, summer band concerts, and fire department museum and Native American exhibits, while the ballroom is rented for wedding receptions. It is open Monday 9-6, Wednesday from 9 to 5, and Friday from 9-6, with special events on weekends: call (718)-358-0067 or email poppenhusen@juno.com.
The Isaak B. Kleinert Rubber Works building, 20th Avenue and 127th Street, was among many rubber factories in College Point. The town also contained may ornamental metal works and ribbon factories employing hundreds from the area. In 1869, Kleinert invented "dress shields" which, in the era before roll-on deodorant, were worn under the arms to prevent embarrassing stains on hot summer days. The company also introduced the shower cap.
The "newer" Kleinert building probably dates to the 30s. Kleinert, by the way is still around, and still making dress shields, though the company is presently based in Elba, Alabama.
College Point Boulevard
The main street of College Point is one of a handful of main roads into the neighborhood, along with 14th and 20th Avenues and Linden Place/Ulmer Street. College Point Boulevard received its name only in 1969, when three other streets were amalgamated to form it: 122nd Street, College Point Causeway (constructed across the marshes by Poppenhusen in the late 1800s) and Lawrence Street, named for the colonial settler family.
Victor Lederer's excellent Arcadia Press book College Point describes the old Haefele's Hotel (seen above in 1880) as still standing on College Point Blvd. on the east side south of 23rd Avenue. College Point by Victor Lederer
I could not find any buildings that looked like the old hotel, but did find two candidates. I rather think the building at top was Haefele's, but it would have to have had a second floor and a porch added.
Gaiser's Wine and Lager Bier saloon is still there on what is now College Point Blvd. and 15th Avenue…somewhere beneath all the aluminum siding. College Point by Victor Lederer
Ferdinand Koch's butcher shop at College Point Blvd. and 22nd Avenue (seen in 1920 and in 2006). The building, though again aluminum-sided, is still pretty recognizable. College Point by Victor Lederer
Early 1960s view of 122nd Street, now College Point Blvd. The College Theater had by then become a bingo hall and now, with its ground floor hollowed out for a parking lot, an Eckerd's Pharmacy, though I'm stumped about where the drugstore is. College Point by Victor Lederer
Remembering Flessel's
(LEFT: 1999; RIGHT: 2006)
14th Road and 119th Street was the location of an undeclared landmark in College Point, Queens for 127 years before most of Queens was even settled. Flessel's was built in 1872 when Queens was double its current size, including all of Nassau County, and before it was a part of New York City. It was built during the Ulysses S. Grant administration and was there before the Brooklyn Bridge connected Long Island to New York City.
1895 view of Witzel's interior. Flessel's ornately carved bar later featured a solid onyx rail imported in 1903 and beveled glass behind it. Its exterior signature was its ancient neon sign that dated to the 1930s. The tavern had upstairs rooms that were lodging at one time. The bar in the photo survived until Flessel's closed for good in 1997. Old Queens, N. Y. in Early Photographs,Vincent Seyfried and William Asedorian.
I had long known about Flessel's, even before I moved to Queens in 1993, from its description in the AIA Guide To New York City. I always admired its out-of-time quality, at least from the meager photographic evidence. After moving to Queens, I had always talked about getting up to Flessel's for a drink or a meal.
But I am a procrastinator, and it never happened. Flessel's closed for good in the spring of 1998, the property was sold, and the building was demolished in December 1999. The above photo seems like it's from a lost era, out of time, but it only dates to 1999.
The building that later became Flessel's Restaurant was originally built by Joseph Witzel, a College Point landowner who also built a long-gone resort called Point View Island in Whitestone. Probably the only reminder of Joseph Witzel's former holdings in the area was the "W"s on the columns of the side porch that remained throughout the tavern's many proprietory changes.
Over the years, the building changed hands a few times. It has been used as both a hotel, bar and restaurant throughout its long history. It has been known as Witzel's, Eifel's and then, Flessel's over the years. German food and drink was a specialty as a rule. It was one of many resorts and beer gardens located in College Point in the early years of the 20th Century.
Incredibly, Flessel's was never named a landmark by New York City, which would have saved it from extinction. Local preservationist Paul Graziano said in an interview with the Whitestone Times in June 1999, shortly before the building was razed: "It's a perfect example of a building that should have been landmarked 30 years ago but because of the politics in Queens, it never was." Familiar story eh?
Sometimes, architecture is emblematic of the pure evanescence of our own mortality. I.E., all the good stuff goes away a lot quicker than the awful stuff.
Along 14th Road surrounding the old Flessel's site, we se several very old buildings which may or may not have been roadhouses and competed with it.
Queen of 14
Without a doubt, the doyenne of 14th Avenue is the wedding-cake white First Reformed Church at 14th Avenue and 119th (a block from where Flessel's used to be) was built in 1873 with the chapel, shown above, about a decade later. Poppenhusen donated much of the necessary funding.
The building is what is known by architectural cognoscenti as Eastlakian Gothic (after an eraly proponent Charles Eastlake), with Italianate touches. Also known as "Stick Style" after the thin timbers used in the ornamentation.
In 1992, the church considered using vinyl siding to cover the walls, but wisely decided against it from an esthetic viewpoint…
The first St. Fidelis Roman Catholic Church was built on 124th Street between 14th and 15th Avenues, while this building, the second on the site, was erected in 1894, along with the adjacent St. Agnes parochial school, featuring Goudy-esque lettering above the doors.
The Dominican convent next to St. Fidelis has been preserved, but given yellow brick cladding. Its spire has been replaced by a more modest cross. College Point by Victor Lederer
On 14th Avenue & Road
A magnificent mansion on 14th Avenue may have belonged to a sea captain if the gate is any indication.
Another ancient house on 14th just east of College Point Blvd is in a poorer state of repair.
The old Fireman's Hall on 123rd Street near 14th Avenue is now home to the College Point Little League.
E.W. Karker's Sawmill was located near Flushing Bay on 110th Street between 14th Road and 15th Avenue. Karker walked to work: his house, seen on the left in the 1870's image, still stands at 14th Road and 110th Street, a few blocks from Poppenhusen Institute. College Point by Victor Lederer
"Farrington" is an old name in Flushing and College Point; the first Farringtons arrived in Flushing in the 1640s. Farrington Street, which now ends at the Whitestone Expressway, was formerly a main route between the two communities.
John Farrington opened a farrier and blacksmith on 14th Avenue and 126th Street in 1868, and the business has survived through several modes of animal and mechanically- conducted transportation. The modern sign has been cleverly rendered to resemble the original one.
Because of NYC's overall street grid system you seldom get a chance to look down a street or road to its end. Since 14th Road begins at College Point Blvd., we can see a mix of several grand old architecural styles. At right, a nearby mural celebrates a fallen serviceman.
5 corners
Five Corners, aptly named because 14th and 15th Avenues and 127th Street come together here, boasts several venerable houses. Five Corners Restaurant may have been an old roadhouse along 14th Avenue, a very old route that dates back to College Point's beginnings. A very old house across the street now has a For Sale sign (4/06) and may not last.
18th
In typical Queens fashion, College Point has no 16th or 17th Avenues, skipping from 15th to 18th to 20thAvenues, and so on. 18th has some historic tidbits.
18th Avenue is unusually wide toward Flushing Airport,since it was built as a grand boulevard leading east to a stop on the old Whitestone branch of the LIRR (which ended operations in 1932). Most of the wider section was eliminated when he airport was built in the late 1920s. A World War I memorial commemorating College Pointers who died in the conflict was placed in the center median in 1930. The area has become increasingly industrialized over the decades, and despite a recent renovation, few take the time to peruse the plaque.
The Union Evangelical Church at 18th and 123rd Street, built in 1893, now serves a primarily Korean congregation as the New York Mission Church. College Point by Victor Lederer
Ore-Lube, 18th and 129th, has a great sign consisting of hundreds of little tiles, and dig the 1950s nuclear power symbol.
CONTINUE TO COLLEGE POINT, PART 2
erpietri@earthlink.net