I am sure Forgotten aficionados have noticed that my trips back to "the old country", i.e. my former neighborhood, Bay Ridge, tend to be nostalgic. I make no apologies. I am an enthusiastic nostalgist: while I sometimes cannot remember what I had for lunch yesterday, I remember who was with me on certain days 20 years ago; where we went; how many drinks I had. The mechanics of the mind remain an unplumbed mystery, an onion that the psychiatrists and psychoanalysts have yet to make much headway peeling.
My meandering ambulations took me to places unfrequented during the 35 years I was a Bay Ridge resident. Dyker Beach is cut off from Bay Ridge by the Gowanus Expressway, and in turn from Bath Beach by the expansive Dyker Beach Golf Course. I had always thought of Bath Beach as a place to bicycle through on my way to Coney Island, and always ignored it. However, now I am discovering a treasure trove of riches in this former seaside resort where grand mansions once faced Gravesend Bay.
To tell you the truth, without naming names, I find some photobloggers camera snobs, preferring to get the perfect shot more than telling a story by what they choose to shoot, as I do. (I suppose it's a matter of what you're setting out to do.) That said, today's photos on Halloween eve, with the last of the fall colors in the trees, azure blue sky and late afternoon light made this an uncommonly good day to take photos. I hope you'll agree with that assessment.
The title card refers to Brooklyn's only street that had no name. It connected Dyker and Bath Beaches on the south side of Dyker Beach Golf Course, and for decades, the Department of Traffic (later Transportation) refused to place street signs on it. As we'll see the MTA referred to it by a few different monikers. But the DOT has, apparently, recently made a decision…but I'll tell you what I think it should be called.
WAYFARING MAP: FROM DYKER BEACH TO BATH BEACH (open map in a separate window so you can follow my route)
I began at the subway at 4th Avenue and 86th Street; I had left this area in March 1993, and had returned periodically to visit my father about once a month, for dentist visits, and lunch at my favorite diner, Zeke's Roast Beef on 8th Avenue and 66th Streets. Well, my father has passed on, and so has Zeke's; it's now a Chinese restaurant. I still have a good number of my teeth, though, and now and then, some of them hurt, so my connection to Bay Ridge is now my dentist. (I have never returned to my old grade school, St. Anselm's; I consider June 17, 1971, my own personal holiday since that was the day I graduated. I wasn't treated with the courtesy I thought I deserved from either my classmates or teachers. Of course the same also goes for some of the places I've worked.)
Not many of the businesses on 86th Street that were there when I lived in Bay Ridge are still there, with the exception of Century 21, which seems to have absorbed most of the south side of 86th between 4th and 5th. Here, though, a bar recently closed, leaving behind its old sign, and this is the same "Law Offices" that were there in the 60s and 70s. You'd think they could afford an F.
In the early 70s, our super in my building was a thin Scotsman resembling Billy Martin named Jimmy Cuthill; when he wasn't around our building, he'd be here at this bar whose name now escapes me.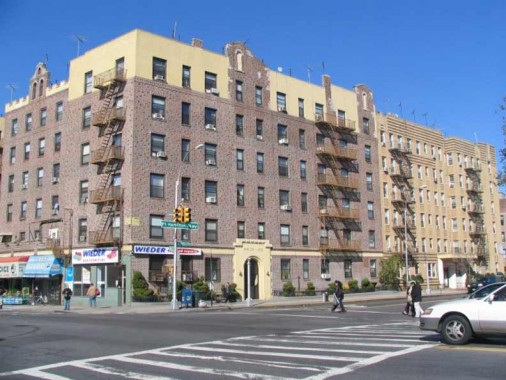 Sometimes you cannot appreciate where you live until you move out. This, Hamilton Lodge, wasn't my apartment building: I lived further over on 6th Avenue and 83rd Street–but I would pass this building, at 86th Street and Fort Hamilton Parkway every day without giving it much notice. Ft. Hamilton Parkway is lined on both sides between 85th and 87th Streets with wonderful buildings like this that date back to the building boom of the Roaring 1920s, though the more Moderne building nearer 85th may go back to the late 20s or even early 30s.(I used to be able to find out this sort of thing on PropertyShark, but, unlike Forgotten NY, they want a fee for all but the most rudimentary searches.) But, Hamilton Lodge has been repointed in recent years and looks about as fab as it must have ever did.
Fort Hamilton Parkway runs between Ocean Parkway near Prospect Park all the way to John Paul Jones Park at the edge of its namesake fort. It appears in early maps going back to the 1870s (when it was called Fort Hamilton Avenue) and must have been one of the area's first major routes; other than New Utrecht Avenue it is the only diagonal route through the area. However, in the town of New Utrecht's rural era, before it was annexed by the City of Brooklyn, there were many old roads zigzagging through this area, and one, Kings Highway, actually ended here at what would become Ft. Hamilton Parkway and 86th Street (it was mostly demapped west of Bay Parkway in the early 20th Century, though a piece west of 18th Avenue remains as 84th Street). Note this1873 Beers Atlas map of the region: Kings Highway here is called State Road and, while may old roads like Stewart Avenue and Bennett Lane are there on that map, you can also make out the ghosts of 7th Avenue and 86th Streets, which were then planned but not built.
Despite the "parkway' moniker, Fort Hamilton Parkway is a major pedal to the metal truck route.
86th Street crosses the Gowanus Expressway at Gatling Place, where there are a pair of old sticker signs that haven't worn off yet; Senator Al D'Amato served in Congress between January 1, 1981 and January 1, 1999, and NYNEX was a previous moniker for the local telephone provider, Verizon at present; former names have been New York Telephone and Bell Atlantic.
The wall art, on an apartment building adjacent to the on-ramp, was commissioned by Mothers Against Drunk Driving

7th Avenue
If you look at a map of Brooklyn published before 1964, you can see that it's a very definable neighborhood, with the Narrows on the west and south forming one barrier, the Long Island Rail Road Bay Ridge Branch, built in the 1860s, on the north and wide 7th Avenue on the east. After 7th Avenue, as you press on southeast into Dyker Heights, the numbered avenues progress northwest at a different angle. The construction of the Gowanus Expressway changed things, as it made Bay Ridge much more self-contained and insular because the expressway was placed in an open cut, with limited crossings, and cut off a bit of Bay Ridge from the rest of the neighborhood, as we'll see later on this page.
It also robbed Seventh Avenue of its prominence to some degree. North of 81st Street, it became a one-way service road for the Gowanus Expressway, and all the homes on its west side were torn down. Between 86th Street at Dyker Beach Golf Course and 81st street, it retained its wide boulevard status, but still retains a somewhat quiet, small town air, with a couple of bars, delis and local businesses here and there. I remember an American Legion and, if I remember correctly, a Little League office named for Ty Cobb.
For several years the SE corner of 7th Avenue and 84th Street has been called the Marie Walsh Corner, and it's always escaped me who she was. Hundreds of streets in NYC are now named for obscure personalities that only a few locals or relatives know.
Of course the DOT could alleviate the mystery by installing plaques identifying these mysterious personalities, just as the Parks Department employs helpful plaques explaining the names that appear on park signs, but if they've ever entertained the notion, the DOT probably won't be attaching any explanatory information, thinking that local youth would defile the signs with graffiti or steal them.
In 1964 Fort Hamilton Parkway was bridged over the new Gowanus Expressway, and rerouted somewhat so that it formed a new triangle park with 7th Avenue at 81st Street. Soon after it was named for Lieutenant William E. Coffey, who, I was told, was a relative of mine by marriage.
One of the last-remaining previous generation of one-way signs is mounted on a lamppost here. They were mostly discontinued in the 1970s as new one-way signs, with a white arrow on a black sign, replaced them.
The corner of 7th and 84th has always been a catering site of some kind. At present it's the worldwide headquarters of Ambrosial Granola. I admit, I've always found granola bars to be as dry as straw.
Bay Ridge Ambulance Volunteer Organization (BRAVO), Bay Ridge/Dyker Heights' volunteer ambulance service, has been in operation since 1974; in fact, one of their first assignments was bringing my mother to Victory Memorial Hospital.

Dyker Beach
Wedged between the expressway, the golf course, 86th Street and Fort Hamilton is a little area that used to be part of Bay Ridge, but I now call it "Dyker Beach" because of its proximity to the water and the golf course.
There has always been a car-friendly eatery at the SW corner of 7th and 86th as long as I've been alive; for the past 30 years or so, it's been a Nathan's. This day, it was a 5¢ dog day if you buy one at full price, and the place was packed. Eschewing (not chewing) the jacketed cow product, I instead decided to snap this incongruous sign in the parking lot.
At Parrott Place and 7th Avenue, there's this tiny building; there used to be a lot more of these in the Bay Ridge area.

Tee Time
I had hoped to show you some of Dyker Beach Golf Course, especially its clubhouse, but unfortunately the clubhouse is undergoing a complete renovation and is closed at present (November 2006). Golf has been played here since the 1890s when the private Dyker Meadow Golf Club was instituted. The public incarnation of the golf course was opened in 1920 after all of its present territory had been purchased, and the course was fully established in its present form after a further 1935 renovation.
While your webmaster has never picked up a golf club, Dyker Beach Golf Course does have its place in Forgotten NY lore…
The clubhouse service road between 7th Avenue and 86th Street, as well as its parking lot, was the bastion for a set of Type G "Corvington" cast-iron poles as late as the mid-1990s; of course, by the 90s the bulbs were gone or were burned out. Type Gs were shorter than the Type 24M Corvingtons that dominated NYC avenues from the 1910s to 1950s. Type Gs above were shot in 1978 by Bob Mulero and in the early 1990s by your webmaster.

The Innovators
With both Parrott and Poly Places in the area you might be led to think that the streets in this area were named for Brooklyn's burgeoning wild parrot colonies. No, these streets, close to Fort Hamilton, were named for military innovators:Captain Robert Parker Parrott (1804-1877) an inventor of projectiles, rifles and cannon, who worked at the West Point foundry for 40 years; Admiral John A. Dahlgren ( 1809-1870), commander of the Washington Navy Yard, confidant of Abraham Lincoln and inventor of the cast-iron cannon Dahlgren gun; and Doctor Richard J. Gatling (1818-1903), who devised the famous hand-cranked Gatling Gun, several electric-powered cannons, as well as many other devices in and out of the military sphere.
For most of my 35-year Bay Ridge residency, I thought that these street names had something to do with the fort, but didn't know that they were named much more specifically — for military inventors. In a city where entire groups of streets are named for mayors, NY State cities, composers, and astronauts, to name just a few, this might be the most focused grouping.
For a while in the 1960s and earlier, Dahlgren was being misspelled "Dahlgreen" on maps and street signage, but this problem has been resolved. Since 1964 most of Dahlgren and all of Gatling Places have been service roads of the Gowanus Expressway, necessitating the demolition of several homes along their routes.
Since I first found it, I've always admired the Kenruby, 90th Street just SE of Dahlgren, and its chessboard tilework around the arched door. It's really one of Brooklyn's hidden treasures but unfortunately the owners don't agree, and the tilework is in disarray, especially near the sidewalk.
Across from the Kenruby are two little brick apartment buildings, one covered in ivy. There are a lot of Tudor apartment buildings like this one on 88th Street, but I can't resist snapping any of them.
Battery Avenue, too, has its share of handsome brick structures. In the 1970s the Army took over a stretch of Battery Avenue south of Fort Hill Place, making it a lengthy dead end. I'm disappointed that the Army closed off this stretch since I'm convinced that there are still a pair of 1940s-50s porcelain and metal BATTERY AV and POLY PL signs on a lamppost at the end of the street. When civilians were allowed in, in the 1980s, I spotted them there.
The world and Dahlgren Place. Once a year, the NYC Marathon comes to a short stretch of Dahlgren Place, here between the Verrazano Bridge exit ramp and 92nd Street, and tens of thousands of athletes visit the obscure roadway…very briefly.
The Dahlgren lottery. In the early 1960s, the owners of this small frame house on the west side of Dahlgren place must have felt very lucky, since theirs was the first on that side of the street spared by the wreckers' ball as the exit ramps of the Verrazano Bridge were constructed.
Also along Dahlgren Place you can find one of the subgenres of New York City street lighting: one of the cylindrical poles that were used to illuminate highways and their service roads (as opposed to the 8-sided poles used for city streets.) A few of the original poles, installed in the early 1960s, can still be found along the Gowanus Expressway service roads, and even older ones for older expressways such as the Cross Bronx Expressway.

92 Skiddoo
East of Fort Hamilton Parkway, 92nd Street, formerly a narrow side route, takes on additional lanes as traffic exits from the Verrazano Bridge, though I'm unclear whether 92nd was this wide before the bridge was constructed.
92nd still has some older dwellings along its north side.
The "new" wing of Victory Memorial Hospital arrived in the early 1970s at Parrott Place. (As a kid my grandmother would bring me past one of what she termed one of the old "haunted houses" of the area, which was probably one of the original homes going back to the 19th Century. Your webmaster, however, was impressed by the ancient Type G castiron lamppost, complete with ancient radial-wave diffuser and incandescent bulb; even in the early 1960s, nearly all of those were gone.)
I happen to like the new wing, especially the wrap-around windows that seem to take their cue from the Deco and Moderne styles you see walking along the Grand Concourse in the Bronx.
Victory Memorial does have some sour memories for me, since my mother died here in September 1974, but I do have a happier memory: while visiting in the late 1990s I noticed that there's a breathtaking view of the Narrows, the bridge, and the two small islands (Hoffman and Swinburne) east of Staten Island available from some of the south-facing windows on an upper floor.

Poly Prep
The wedding cake-white, 4-sided clock tower of what used to be called the Polytechnic Preparatory Institute on 7th Avenue between 92nd Street and Poly Place can be seen from far and wide in Bay Ridge and Dyker Heights. Poly Prep, a private school for students from kindergarten through high school, was instituted on downtown Livingston Street in 1854, was offered the present plot by Dyker Meadow Golf Club in 1916, the school became the Poly Prep Country Day School, and the familiar clock tower was completed in 1917. Poly became fully co-ed in 1979.
Your webmaster attended St. Anselm's – I've referred to my difficulties there – and I sort of miss not having had a gorgeous campus like Poly Prep's.
I'm not sure if Poly Prep's duck pond, near the 92nd Street side, is a natural glacial kettle pond or not (there are a couple of more in Dyker Beach Golf Course), but natural or not, it brings a "country day" to Bay Ridge residents as its complement of friendly ducks and geese swarm the photographer looking for handouts, as do the fowl.
CONTINUE TO PAGE 2 for a look at the Street With No Name and Bath Beach