The city seems more determined than ever to rebuild, retool, and plan for the future, even as in 2006 entire neighborhoods like Flushing, Long Island City, and Williamsburg are being torn down and new businesses and dwellings, some decent, some awful, rise in their place. The acceleration of destruction and construction is dizzying, confusing and disorienting.
As old buildings are torn down, though, they can sometimes reveal haunting reminders of the past…painted ads done in the florid, showy style of a previous generation. And, ancient painted ads can be found in the shadows of new construction, and in corners of the city redevelopment hasn't yet touched.
We've turned the MTA's Forgotten correspondent Gary Fonville loose once again with a camera to capture these relics, before Boymelgreen, Trump, or sunshine itself can obliterate them.
Gulf Gasoline: Springfield Boulevard & Linden Boulevard, Cambria Heights, Queens
Used cars with Oldsmobile being noted, Church Avenue just east of Bedford Avenue, Flatbush.
Might there be an old-fashioned exchange alphanumeric phone number under the shribbery?
Newman's Shop. This faded gem was also placed for riders on the Fulton Street el. Fulton Street just east of Nostrand Avenue, Bedford-Stuyvesant.
At bottom of sign note corporate name changes: Brooklyn Union Gas is now Keyspan. Nynex is now Verizon. Lilco (Long Island Lighting Company) is now LIPA (Long Island Power Authority) Classon Avenue near Quincy Street, Clinton Hill.
Does this need explanation? Westchester Avenue near Bergen Avenue, The Hub, Bronx.
A.J. Waldron Real Estate. The sign was preserved by being deprived of sunlight exposure. Sign was recently revealed by demolition of adjacent structure. East side of Bedford Avenue near Madison Street, Bedford-Stuyvesant.
Goodyear Tire. Probably dates from 1970's. In parking lot of White Castle restaurant at 149th Street & Southern Boulevard, Longwood, Bronx.
Chandler Music Co. Best viewed from Macy's garage at Livingston Street & Hoyt Street, downtown Brooklyn.
RIGHT: Uneeda Biscuits. Uneeda was the first brand used by the then fledgling National Biscuit Company. We now know it as Nabisco. 15th Street & 4th Avenue, Park Slope.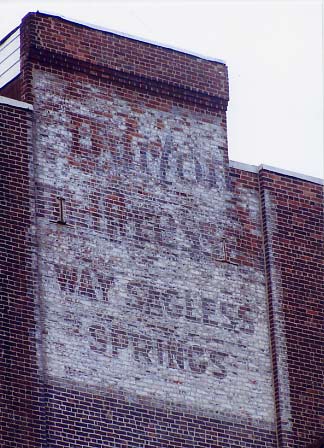 Burton Mattresses. Franklin Avenue & Crown Street, Crown Heights, Brooklyn
Bendix washing machines. "Going to the Bendix (laundromat) was part of NYC's lexicon.". (My aunt, who's nearly 80 still uses that term.) Westchester Avenue near Elder Avenue, Soundview, Bronx
Corn Exchange Bank is a corporate forerunner to today's Chase Bank. Grand Street & Varick Streets, Soho.
L. Salzinger tools. Another strategically placed sign for el riders. This one was made for riders on the Myrtle Avenue el. Myrtle Avenue just west of Broadway, Bushwick
Marcus Brush Company. Willow Avenue & 137th Street, Port Morris, Bronx
National Packing Factory. Union & Bond Streets near theGowanus Canal.
In the 1910s Bloomingdale's staged an exhaustive building ad campaign, and many of these 8-decade-old ads are still visible. Many of them said, "all cars transfer to Bloomingdale's, 3rd Avenue asnd 59th Street," meaning trolley cars, and are still effective today, since Bloomie's is still there on 3rd Avenue between 59th and 60th. Above left, 152nd Street between Elton & 3rd Avenues, The Hub, and the other two are different views of the same ad on East Tremont near Crotona Avenue in Tremont, Bronx.
AC Delco (GM), Motorcraft (Ford) and Monroe are represented in this faded one. Atlantic Avenue just west ofFranklin Avenue Shuttle, Prospect Heights.
The oil heat industry has always tried to convince natural gas customers to switch to oil. They haven't and won't convince me. Willis Avenue near 146th Street, The Hub.
RKO Chester, opened 1927, closed 1968. Boston Road and East Tremont Avenue, West Farms, Bronx.
"This theater became a hot sheet motel and was an eyesore for years. Not too long after Bronx Borough President Adolfo Carrion was sworn in, he and a van full of policeman raided the former movie palace and closed it down. Since then Howard Johnson has taken over and renovated the interior and exterior of the building. Because of this and increased police prescence prostitutes have been doing business elsewhere."
—Cinematreasures
Former used car lot. The Plymouth badge was yanked by Daimler Chrysler as a cost cutting move in the 1990s. White Plains Road near East Gun Hill Road, Williamsbridge.
Fair and Square. Building constructed around 1885. Was Joseph Loth and Co's "Fair and Square" ribbon factory. Sign wonderfully preserved by lack of sunlight exposure. I drove by this building many times working the M100 and M101. I knew little of the building's history; however, I found this sign by accident because it's on West 150th Street just west of Amsterdam Avenue, Hamilton Heights.
More of the Loth factory was seen on ForgottenTour 18, December 2004.
Ko-Rec-Type. Sitting on prime waterfront real estate on Kent Avenue near North 7th Street in Williamsburg. Ko-Rec-Type made little strips of chalk-encrusted paper that was inserted intoa typewriter to correct misteaks. Ko-Rec-Type has adjusted to the modern era, adding a line of products for copiers and printers, as well as the original correction solutions.
Storage, Madison Street east of Ralph Avenue, Bedford-Stuyvesant.
Can you see it? Coca-Cola, Wadsworth Avenue and West 182 Street, Washington Heights
Goodrich Tires, Patchen avenue near Madison Street, Bedford-Stuyvesant.