Whenever I lead a ForgottenTour through a cemetery (like Green-Wood Cemetery, Tour 24) I always tell people to peek in the windows of the mausolea. More often than not, you'll get the ring in the Cracker Jack box — a gorgeous stained-glass panel depicting a religious scene…most of the time, but not always. The fascinating part is that the mausoleum builders go to great lengths to make you not notice the glass panels: the doors are of course locked, but also heavily barred or covered, so you wouldn't know the glass works are in there.
The glaziers and artists' works are unsigned; often the mausoleum has been there for so long that no one visits the deceased anymore, and these evocative, poignant works go unnoticed …until the Forgotten NY cameras shine a light on them for you.
Believe it or not I had never set foot in Flushing Cemetery until the summer of 2006, when I went to find Louis Armstrong's grave. I have lived in the Ever-Present Fabness since March 1993, after all, yet never found the time to go in. It's taken some time to bend my mind around the fact that many cemeteries now actively encourage visits by other than the bereaved, but with Green-Wood now offering concerts and dance shows, I suppose it's time to re-jigger my thinking. Before starting Forgotten New York, I hadn't been inside a cemetery since my mother died in 1974! Well, since I'll be spending an awful long time in one sooner or later, I'm making up for lost time while I can walk around cemeteries instead of being bug food, and some of NYC's cemeteries are breathtaking. Others are weed choked lots.
Actually I was rather comforted that Satchmo was only a couple of blocks away from chez webmaster. It stumps me, though, that he's buried in Flushing, since for almost 30 years, he was a Coronian.
Flushing Cemetery office building, 46th Avenue and 164th Street. This beautiful ashlar-stone Spanish-style building, designed in 1916 by architects York & Sawyer at a cost of $45.000, replaced Flushing Cemetery's original two-story finial-roofed wood building, shown here about 1890. Flushing in the Civil War Era, 1837-1865, Vincent Seyfried
Pidgeon Meadow Road skirts the western and southern edge of Flushing Cemetery. The origin of the name is a mystery to me; perhaps Flushing Cemetery replaced Pidgeon Meadow when the cemetery was built in 1853?
Some of Flushing Cemetery's older stones from the 1850s near the 46th Avenue entrance.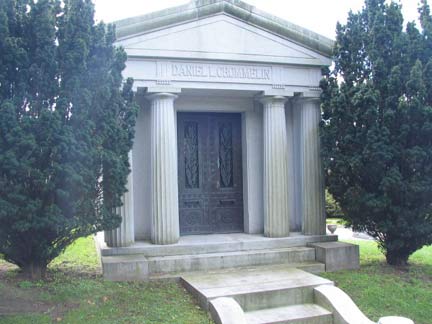 Daniel Crommelin, near 46th Avenue entrance. The Crommelin family was apparently prominent in Flushing: Crommelin Street borders the Queens Botanical Garden.
The Beginnings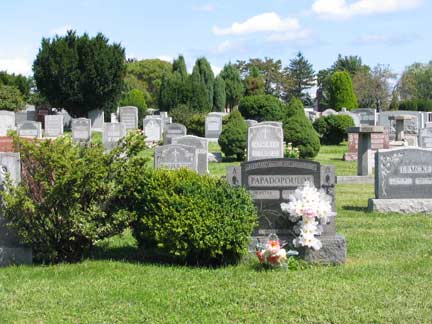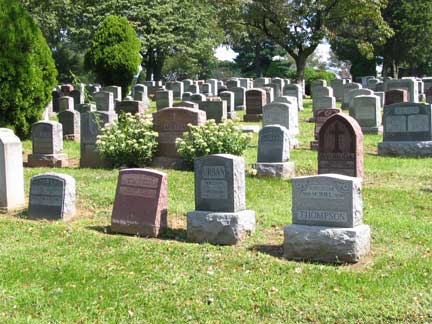 The Flushing Cemetery Association was formed in March 1853; until that time, Flushing had many small church and family plots scattered here and there, but no large cemetery, and in April the Association bought approximately 21 acres from local farmers at 46th Avenue (then known as Queens Avenue), 162nd Street (then Fresh Meadow Lane) and what is now Pidgeon Meadow Road. Construction and landscaping proceeded apace and the new cemetery was dedicated August 31st.
Besides Louis Armstrong, musicians Dizzy Gillespie (whose plot is not marked), Hazel Dorothy Scott and Johnny Hodges, US Congressmen Thomas B. Jackson, John Lawrence, Lemuel Quigg, Frederic Storm, Elmer Ebenezer Studley and William W. Valk, author and pastor Adam Clayton Powell Senior, financier Bernard Baruch, restaurateur Vincent Sardi, Civil War hero and winner of the Congressional Medal of Honor, College Pointer Pvt. Carl Ludwig are all interred in Flushing Cemetery.
Mauseoleum Art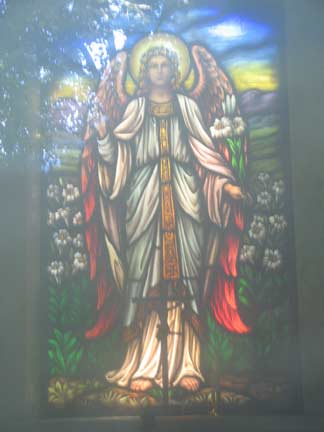 Most stained glass mausoleum windows offer ecclesiastical themes, such as this angel…
The sun was in just the right place for this one. I'm afraid I'm unable to identify this New Testament tableau; anyone know what it is? The inscriptions are in Greek.
Forgotten Fan Irving Estella:
You asked about that New Testament scene in one of the mausoleum windows. It is not readily recognizable as a biblical scene because it is actually an adaptation of a Greek Orthodox icon of the Resurrection. Here Christ is welcoming a new arrival into Heaven with the saints who have gone before in waiting. Perhaps it is a member of the Zangas family!
The Greek inscription above Christ says: "H Anastasis" = "The Resurrection." To the right of Christ are the monograms "IC" and "XC," the Greek initials for "Jesus Christ."
Jesus' Ascension to heaven is depicted above. Perhaps, however, neither the interred nor his/her family was especially religious. In that case, more generic, yet still gorgeous, stained glass work was produced…
…featuring evocative, tranquil scenes, mountains, sunsets. One such scene especially struck me…
In the Rebholz tomb we find some stained glass art evocative of James Earle Fraser's sculpture, "End of the Trail" with a switch from Native American to cowboy.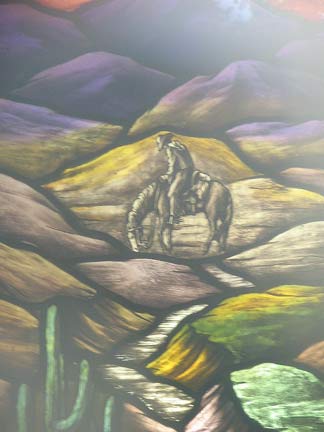 Among Fraser's other major works were the bison and Indian depicted on the Buffalo nickel (1913-1938)
Elsewhere in Flushing Cemetery
The mausolea are mostly concentrated along the northern edge of Flushing Cemetery. It was a beautiful day, so I wandered around for a bit. (It's virtually impossible to get a good shot of Satchmo's stone on a sunny day this time of year, since the sun is right on the camera, but there's plenty to see…)
Modern International-Style stone.
Reflecting the recent influx of East Asians into Flushing.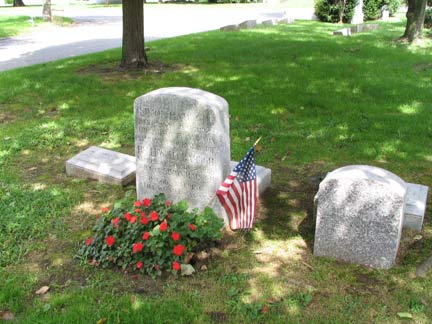 Simon Baruch, father of Bernard Baruch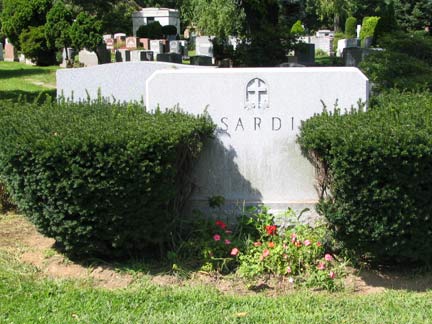 Restaurateur to the stars Vincent Sardi (1885-1969)

Sardi's, opened in 1921, is the birthplace of the Tony Awards and contains over 1300 framed caricatures of Broadway and film stars.
Flushing's 9-11 monument is in the cemetery facing Pidgeon Meadow Road near the front entrance. It directly faces a nonfunctioning fountain.
1/14/07