The Golden Age of NYC Neon has come and gone. Believe it or not, the noble gas (since it combines with other elements only reluctantly, in lab conditions) is fairly rare on Earth, being available only in trace form in the atmosphere. If gathered in sufficient quantity it is a red-orange tangerine color. Most commercial "neon" signs featuring different colors employ chemical elements other than neon, such as argon, mercury and phosphorus.
Neon signs are prouced by applying electrical charges to chemicals sealed in glass tubes, and were first popularized by Frenchman Georges Claude in 1923 for a Packard car dealership in Los Angeles. Neon signs quickly became an indelible part of Americana, and while they're less favored on billboards and store signage these days, you can still find quite a few in store windows. Ghosts of neon past still haunt the streets of NYC, as Forgotten NY correspondent Gary Fonville demonstrates here…
Forgotten Fan Larry Ray writes: …The different colors…are not achieved by different gasses in the basic neon sign, rather the colors come from phosphorescent coatings on the inside of the glass that is bent and formed to form the letters and designs. The different coatings glow with different colors when ionized by the neon.
The Amsterdam News. Sign probably dates from the 1930-1940's. Has been dark at least 40 years. The New York Amsterdam News is the largest weekly newspaper that caters to African-Americans. The Amsterdam News has a circulation of around 50,000. Founded in 1909 by James H. Anderson. The current editor and publisher is Elinor Tatum. Frederick Douglas Boulevard (8th Avenue) between 126th & 127th Street, Harlem, Manhattan.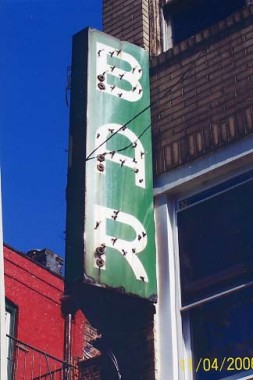 Location: Nostrand Ave between St. John's Place & Lincoln Place, Crown Heights, Brooklyn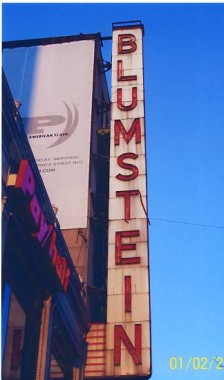 Blumstein's Department Store. Started by Louis Blumstein in 1894 on Hudson Street. Blumstein employed Robert Kohn and Charles Butler as the architects of this 1923 building. Blacks were a large part of the customer base. However, they weren't allowed to be employees at Blumstein's. The store was boycotted until they changed their employment practices around 1940. Blumstein's was the site of another notable piece of history. Martin Luther King was attending a book signing engagement when he was stabbed in the chest on September 20, 1958 by Izola Curry, a deranged woman. He was taken to Harlem Hospital where he recovered. This sign is probably one of the tallest and largest dilapidated neon signs in the city. It stretches nearly four stories vertically. Location: 125th Street between Frederick Douglas Blvd (8th Avenue) and Adam Clayton Powell Boulevard (7th Avenue), Harlem, Manhattan.
When Harlem Nearly Killed King
Tremont Avenue near Morris Park Avenue, West Farms, The Bronx
Auto-Lite Staful Batteries. Location: Bedford Avenue & Willoughby Avenue, Bedford-Stuyvesant, Brooklyn.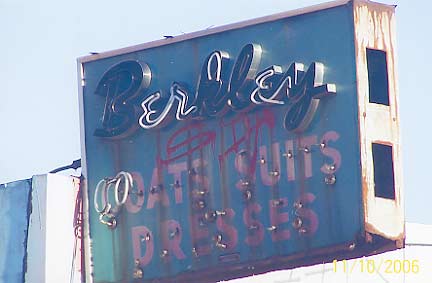 Dilapidated is the word here! Berkley Clothing. Location: 5th Avenue, Park Slope, Brooklyn. The store is long gone but the sign remains.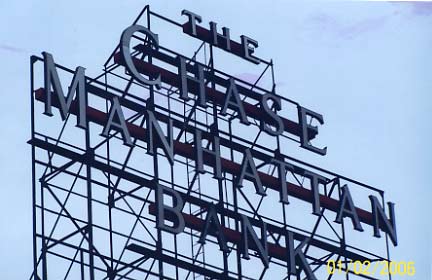 Chase Manhattan Bank. Williamsburgh Bridge Plaza, Brooklyn. This expensive sign was made obsolete by a corporate merger. This sign was built when The Chase Manhattan Bank was a seperate entity. Chase has had asomewhat complicated history, especially recently. Its most recent merger has been with J.P. Morgan & Co., resulting in J.P. Morgan Chase. The company was founded by Salmon P. Chase (1808-1873), US Senator and Governor of Ohio, Secretary of the Treasury and Chief Justice, US Supreme Court. His portrait appeared on the $10,000 bill until its discontinuance in 1969.
Chrome Center. Likely dates to the 1950's when chrome and formica were the materials of choice for kitchen furniture. Location: Atlantic Avenue near Rockaway Avenue, Ocean Hill, Brooklyn.
Laundermat. Location: Winthrop Street just east of Utica Avenue, Flatbush, Brooklyn.
London Credit Outfitters. Location: Livingston Street just west of Nevins Street, Downtown Brooklyn
Beck's Stationery. Location: Linden Boulevard near 197th Street, St. Albans, Queens
Meyers Furniture. Was located at the 163 Street station of the now gone Third Avenue el. Location: Third Avenue & 163 Street, Morrisania, The Bronx
Liberty Nursing Home. Location: East New York Avenue near Rockaway Avenue, Ocean Hill-Brownsville, Brooklyn.
LEFT: The new meets up with the old. Wishco Manor and Washington Mutual Bank. This catering hall was a popular place to hold weddings and other functions well up into the 1960's. But look at who has taken over the building! This branch will be a busy one because it's at a major transportation hub. Many bus passengers transfer here for the number 3 and 4 trains. It seems that you can hardly go anywhere in the city and not see a new branch of Washington Mutual celebrating a grand opening. Location: SE corner of Eastern Parkway & Utica Avenue, Crown Heights, Brooklyn
RIGHT: Only part of this sign is operational. Rainbow Cafe, 5th Avenue and 39th Street, Sunset Park, Brooklyn. This bar has since closed.
Former movie theater. Now Washington Temple Church. Location: Bergen Street & Bedford Avenue, Crown Heights, Brooklyn.
2/12/07