April 1, 2007, didn't fool 48 ForgottenFans…second-most ever on a ForgottenTour (the prize goes to the 56 who turned up for Tour 14 in Dumbo, October 2003)…who turned up for FNY's jaunt through Middle Village and Juniper Park. We were aided by FNY Correspondent Christina, the Queen of Queens, and Bob Holden, President of the Juniper Park Civic Association.
I usually avoid featuring photos of my misbegotten visage but the expression of your webmaster here is priceless as I discourse on the history of the 1960s Donald Deskey slotted lamppost. Passion.
Your webmaster discourses on a Deskey photo: Steve Garza
Middle Village lies between Maspeth and Forest Hills and was named in the 1830s after its position along Metropolitan Avenue, which was laid out as a toll road between Williamsburg and Jamaica in 1816. By the Civil War era, a small scattering of dwellings as well as a hotel sprung up along the road in this area, deemed to be the midpoint between Williamsburg and Jamaica. The area added population as cemeteries were built in the area and a network of saloons and hotels was instituted to serve cemetery visitors.
Our tour began at the 63rd Drive IND station (G, R, V) on Queens Boulevard, that being the closest station to Middle Village. An IND route, a combined subway and el route, was planned to serve the Woodside, Maspeth and Middle Village region as part of the IND Second System Winfield Spur, but the Depression and World War II ended that idea.
WAYFARING: MIDDLE VILLAGE FNY TOUR 28
Numerous signage at the Queens Blvd. entrance at 63rd Drive. BELOW: Gatepost on 63rd Drive. Posts usually designate real estate developments, but the one this one signified has long since become part of the neighborhood fabric. Photos: Bob Mulero
Dry Harbor Road and Juniper Blvd. South. The architect of one of the Tudor-style houses here may have playfully inscribed the year of construction, but the initials remain a mystery.
The rocakbilly guy on a Penelope Avenue house doesn't look like Elvis. Who could it be? BM
Juniper Valley Park in Middle Village, Queens is rich in natural, historical, and recreational resources. The park takes its name from the Juniper Valley Swamp, which covered an area of about 100 acres from Caldwell Avenue south to Juniper Valley Road. The swamp and surrounding area were blanketed by a thick forest of Juniper and White Cedar trees. Before the site of Juniper Valley Park was improved for recreational purposes, it was used variously as a farm, a race track, a cemetery, a source for peat moss, the property of a racketeer, and a garbage dump. 
When Juniper Valley Park was a racetrack
Juniper Park Civic Association President Bob Holden and Christina point out the view of the Empire State Building from Juniper Park. Bob holds up the organization's publication, the Juniper Berry. SG
In the early 1930s the City of New York acquired the bog to settle a $225,000 claim in back taxes against the estate of the infamous Arnold Rothstein (1882-1928), who had been accused of fixing the 1919 World Series. Rothstein had purchased land in Middle Village on which he erected 143 flimsy houses with the hope of raising property values. Rejecting proposals to use Rothstein's "Phantom Village" as the site of a municipal airport or as the site of the Queens civic center, government officials chose instead to develop the land for use as a park. The bog was mined to provide landscaping material for parks and parkways. The land and four adjacent parcels were acquired for park purposes between 1937 and 1949.

From 1941 to 1942, squads of Works Progress Administration workers transformed the barren land into one of Queens's most beloved parks. Plans called for paths, playgrounds, fences, benches, a wading pool, and a variety of athletic facilties for tennis, paddle tennis, badminton, handball, shuffleboard, ice skating, and bicycling. Baseball and softball fields were built on top of the Department of Sanitation's former landfill dump. The extensive horticultural program included the planting of 168 new shade trees, 2000 rose bushes, thousands of shrubs, and vast lawn areas. 
Trinity Lutheran Church on Dry Harbor Road and Penelope Avenue was founded in 1851. The building, however, is obviously not quite that old. The church went through several incarnations before settling into this postmodern type of structure. The bells and cornerstones, located on Juniper Blvd. South, are all that are left from the previous two churches, the first of which was located in Lutheran Cemetery. BM
Though western Queens is well-known for its vast cemeteries, there are also a number of very small ones. A small section of Juniper Valley Park at Juniper Blvd. North and 81st Street is given over to the Pullis Farm Cemetery, once the property of farmer Thomas Pullis, who purchased 32 acres in the area in 1822. Pullis prohibited the sale of the cemetery in his will, and it continues to be maintained and protected. After a 1996 restoration a memorial marker has replaced the cemetery's old tombstones, which had gradually disappeared through the decades. BM

79th Street south of Juniper Park.
 On any given Sunday any NFL team can beat any other NFL team; anything can happen in the 
WWE
; and you never know what will turn up on a Forgotten Tour, from front porches straight out of Kalamazoo, plastic cows not part of the 
Cow Parade
, and what looks like an LAPD Dragnet-era black and white.
SG; bottom right, BM
This old farmhouse on Furmanville Avenue dates back to the 1890s. At one time, it was surrounded by vast acres of farmland. In 1759, Jonathan Furman settled in Middle Village (then part of Newtown) along Dry Harbor Road. The area surrounding his land soon became known as 'Furmanville.' The old colonial road that led to this part of town is still named in its honor. BM
St. Margaret's Roman Catholic Church, 79th Place south of Juniper Valley Rd, was built in 1860 (above) on land once owned by Thomas Pullis. A school was built a few years later. During the Civil War, priests from St. Margaret's administered to Rebel soldiers being held in a Metropolitan Avenue tavern serving as a makeshift jail. The church was rebuilt in 1907 (above) and remains standing today, behind the current church building. The school was rebuilt in 1899. BM

On the way to Metropolitan Avenue the tour entered a temporal anomaly, leaving us in 1945 briefly. The strange thing was that the 2006 model cars were unaffected. BM
The rococo Artistic Building, Met Avenue between 79th and 80th Streets. The house to the left of the Artistic Building contains a hidden wall which features entablatures of biblical or classical scenes. What this building once was is a mystery, although given the area, it's quite possible that it was either a floral shop or a monument company. BM; SG
At 79th Street and Met Avenue is one of those wonderfully designed old Lions Club signs, but the sign at bottom is a ghost of old Niederstein's Restaurant…of more anon. BM
Met Avenue just west of 78th. Drinking, dancing, bowling, picture-taking and an old telephone exchange: Havemeyer. Will "Kodak" be as synonymous with photography in the 21st Century as it was in the 20th? SG
On 67th Drive we find the Holy Archangels Michael & Gabriel Romanian Orthodox Church, which tends to the area's most recent influx of immigrants. The church moved into this building in 1997. The Ten Commandments and the words "Congregation of Brotherly Love (Ahavath Achim)" are inscribed in Hebrew above the entrance to the building, which was built in 1921. This was the second of the three orthodox congregations that flourished in Middle Village during the first half of the 20th Century. BM
Another remnant of Middle Village's Jewish past, the Middle Village Adult Center on 75th Street, began as The Hebrew Institute of Middle Village, a rabbinical seminary built in 1919. The first area synagogue, which dated from 1906 and next to which this was built, was torn down in the 1970's. The letters inside the stars likely represent the initials of the schools founders or major donors. BM
The Coca Cola logo has survived with only slight modification since the soft drink was made with coca leaves in the 1880s. Here is a painted ad, possibly 1920s or earlier, south side Met Ave. between 73rd and 75th Streets.BM
Your webmaster, when first encountering the "Juniper-Elbow" sign on Met Avenue near Pleasantview Street, thought he was dealing with a pasta factory. But Christina determined that these "elbows" are curved pipes used in furnaces and for other uses. The building features a nifty neon clock. SG

One of Middle Village's travesties and tragedies has been the destruction of historic Niederstein's Restauarnt, in continuous operation on Met Avenue just east of 69th Street from 1850-2005. At first a roadhouse on the Brooklyn & Jamaica Turnpike, it later served travelers journeying to nearby Lutheran Cemetery. Over the years its interior and exterior were altered to such a degree that it was deemed unworthy of protection by the Landmarks Preservation Commission, and in 2005 it was razed and replaced with an Arby's Roast Beef fast food palace, which has a tacky boulder decoration marking where the old place once stood. Across the street, Niederstein's parking lot awaits a new shipment of boxy buildings which will surely advertise a prominent air conditioner manufacturer. BM
One of Middle Village's more fascinating and ornate creations is the 1904 Frank T. Lang funeral home at Met Avenue and 69th Street, across the street from Lutheran Cemetery, with its vari-colored stone work, cathedral windows, and playful overall concept. It was designed with street-leval alcoves so that people exiting vehicles would be shielded from rain. The design serves the auto shop that occupies the building today well. An ornamental stonework firm also was located here, and there are a pair of fierce-looking watch cats on the facade. BM, SG
Near cemeteries you will always find monument retailers, florists, and cremators. (Did you know that the finished product is called the cremains?) The landmark Fresh Pond Crematory and Columbarium has been in business since 1893 on Mount Olivet Crescent and 62nd Avenue. It's Middle Village's Beaux-Arts entry perched on a high hill that overlooks Manhattan. The driveways and sidewalks seem to be constructed of Kreischer yellow brick. Lou Gehrig and Ring Lardner Senior are former "clients." BM
Now, that's what your webmaster calls a porch.You'll always find funeral parlors near cemeteries, too. In fact this part of Middle Village can pretty much be called the City of the Dead. This building dates from 1902 and was originally the summer home of a local politician. In 1920, John Miller purchased the home and established his funeral parlor here. When Arthur Hess partnered with him in the 1940's, it then became the Hess-Miller Funeral Home. It is still in business under the same name, although it is no longer owned by either family. SG
At M train last stop, Met Avenue and Rentar Plaza shopping center. SG
Next stop: infinity. The Fresh Pond LIRR stop closed in 1998: it was a tin shack at the side of the tracks. Its 5 customers per day have long since found other means of transportation. BM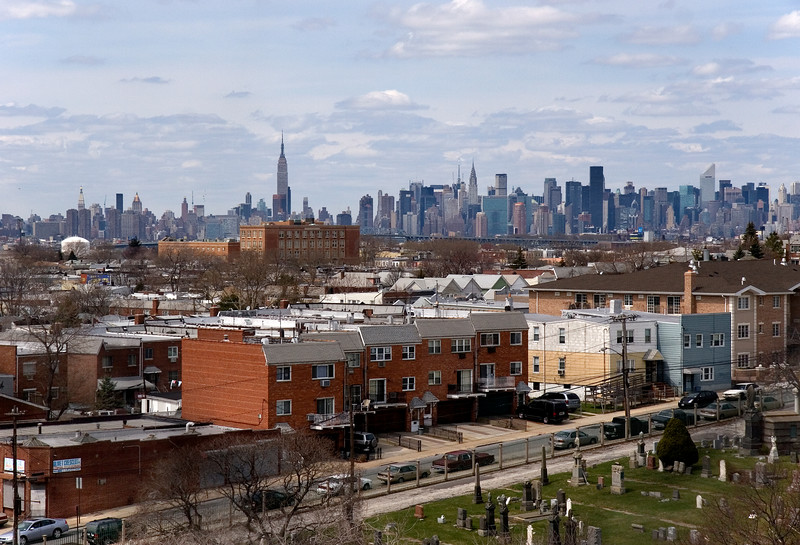 Manhattan from the roof of Metro Mall. Lutheran-All Faiths Cemetery is in the foreground. SG
Much info for the tour and this page comes from FNY Correspondent Christina Wilkinson's (left) Middle Village FNY page. The Queen of Queens co-narrated the tour with your webmaster. Special thanks to Bob Holden, president, Juniper Park Civic Association.
Once again, all "moneys" as Mayor Bloomberg would put it went to the Save St. Saviour's legal fund.
More on Middle Village history