The Bronx's Longwood and Hunts Point, heavily residential and, toward the East River, industrial, are remnants of country estates: Longwood Park was an 1870s estate owned by Samuel B. White, and Hunts Point was formerly a collection of country estates owned by the Casanovas, Barrettos, Spoffords, Failes, and other wealthy families, many of whose names now grace street signs.
In the late 19th Century Longwood and the surrounding area was subdivided into residential lots. A group of now-landmarked brownstone buildings was developed by Warren C. Dickerson for landowner George Johnson between 1897 and 1901 consisting of parts of Beck, Kelly and Dawson Streets and Hewitt Place between East 156th Street and Longwood Avenue. Designated a New York City Landmark District, its buildings are marked by their eclectic peaks and roof embellishments.
The region's odd street layout… streets sort of undulate, twist and turn…was, in part, defined by the now-underground Sacrahong Brook, whose route is now nearly exactly copied by Intervale Avenue.
WAYFARING: Longwood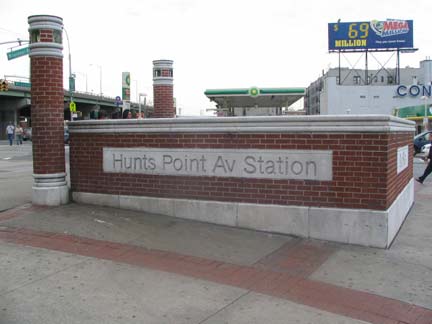 We'll begin at the crossroads of Southern Boulevard, Hunts Point Avenue and East 163rd Street, a.k.a. Monsignor Raul Del Valle Square. Del Valle (1926-1998) fled Fidel Castro's Cuba in 1961, arriving in the Bronx, and rehabilitated and revitalized local parishes St. Anselm and St. Athanasius. he became a beloved local activist, setting up homeless shelters and food stations. Upon learning he had cancer, he wished to see his native land once again; John Cardinal O'Connor interceded with Castro, and the prelate returned to Cuba before returning home, where he died a few months later.
The IRT #6 line has an unusual concrete and brick entrance here.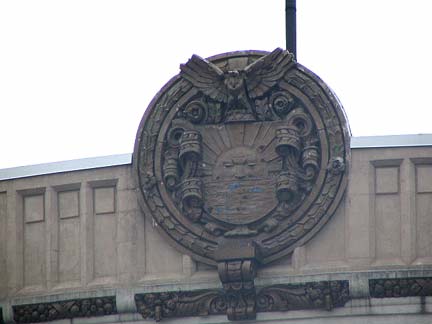 There's an unusual building at the NW corner of Southern Blvd. and East 163rd Street that looks like it could have been an auto showroom. Zooming in on the plaque at the top, it shows and eagle and a rising sun. What could this have been?
Theatre Row
Southern Boulevard was a theatre row of sorts in the Longwood area through much of the 20th Century, wih not one…not two…but three palaces all vying for the moviegoers' dollars…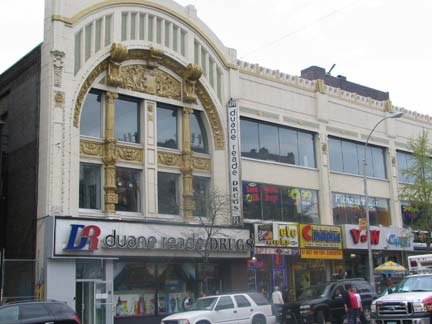 Loew's Spooner, 961 Southern, opened independently by the Spooner Stock Company owned by actress Cecil Spooner in 1910 but was soon scooped up by Loew's. It hung in there until the 1970s. It showed second-run flicks or films ignored by the nearby Boulevard Theater. As you can see it is presently a Duane Reade drugstore.
Boulevard Theatre, 1032 Southern, was designed by the great theatre designer Thomas W. Lamb and opened in 1913 for vaudeville and live acts with films becoming prominent in 1917. Like the Spooner it was opened independently, by the Picker family, and was taken over by Loew.
"When [Jan] Murray was a boy, his mother would take him to burlesque shows and to the 25-cent vaudeville performances at Loew's Boulevard Theater. After she became ill and could not leave the house, he would memorize the acts and perform them at her bedside." New York Times via cinematreasures
The Boulevard showed Spanish-language films into the 1980s, and as you can see today it is a furniture store.
The little Art Theatre (550-600 seats) at 1077 Southern was perhaps the most recognizable along the row, since its evocative sculptures (the lady above seems to be in some distress) could easily be glimpsed from the passing IRT elevated, as they are today. It is presently a Pentecostal church, with a tattoo parlor on its left and a nails place on its right.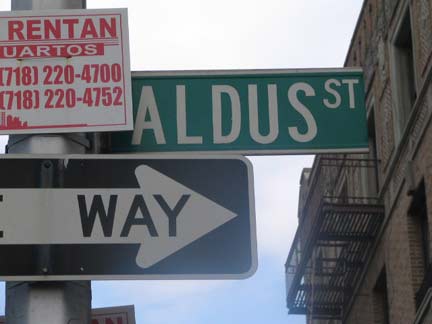 Flocks of NYC streets are named for the signers of the Declaration of Independence, NYC mayors, Trinity Church vestrymen, classical composers, even astronauts. But printers? Why not?
Aldus Street runs through the former estate of Colonel Robert Hoe, inventor of the rotary press. When the city developed the area and streets were cut through, threee were named Hoe Avenue (which is still there) Guttenberg Street, and Aldus Street, for Italian pressman Aldus Manutius (1449-1515) who established one of Italy's finest printing presses in Venice in 1493. It is thought he invented the slanted style we call italic type.
Aldus is the name of a former software company that made, you may recall, an early giant in the desktop printing biz, Aldus Pagemaker. It was purchased by Adobe, which updated it through 2001; Adobe has pretty much succeeded it with the more complex DreamWeaver.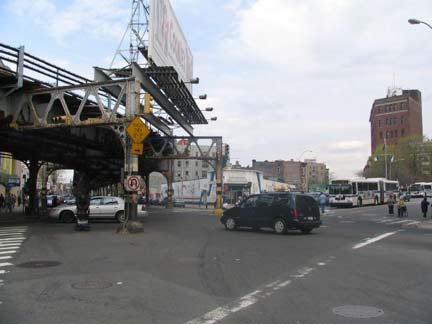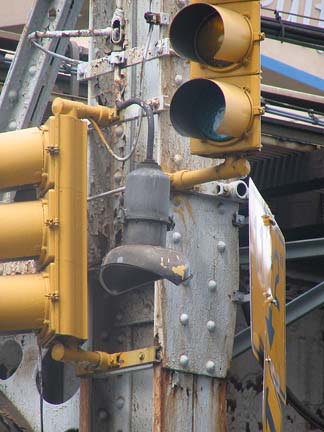 Southern Blvd. gains an elevated when the IRT #2 (White Plains Road line) & 5 (Dyre Avenue line) curves off Westchester Avenue at Gladstone Square. The latter enjoys about 5 blocks of sun before the #6 Pelham Bay Line rises from underground and again shrouds it. One of the pillars conceals a now-rare "crescent moon" incandescent luminaire.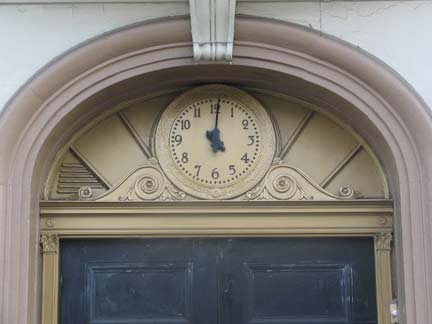 Beaux-arts clock, SE corner Westchester Avenue and Southern Blvd.
West Farms Road runs northeast from the junction of the two roads.
West Farms Road is one of those wild card roads that has survived despite the grid-dization of the rest of the area. Sometimes old roads get to keep names that hark back to the original use of the area through which they run. The road travels from here in a zigzag route along the Sheridan Expressway (and originally ran along the Bronx River) north to Boston Road at East Tremont Avenue. It overlays an Indian trail and was known to travelers in the colonial era as the Lower road, the Back Road and later, the Queen's Road. In 1802 it was called West Farms Turnpike.
The road led to the village of West Farms, so called because it was the westernmost of a larger district called Ten Farms. West Farms was a major (Bronx River) port from the pre-Civil War era to the 1930s.
San Juan Health Center, at West Farms Road and Southern Blvd. has some unusual bas relief art.
Tribute at Southern Blvd. and East 167th Street to local figures Mad Mark and Big Pun. Christopher Lee Rios (1971-2000) was the first Latin rap star to gain mass popularity; his Capital Punishment CD hit Billboard's top five in 1996, and the posthumous Yeeah Baby went to #3 in 2000.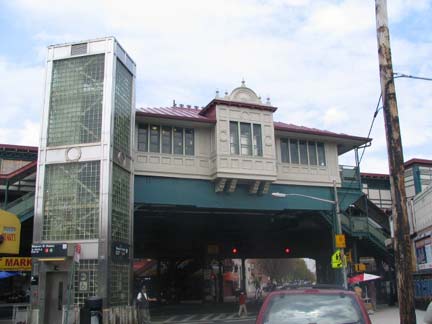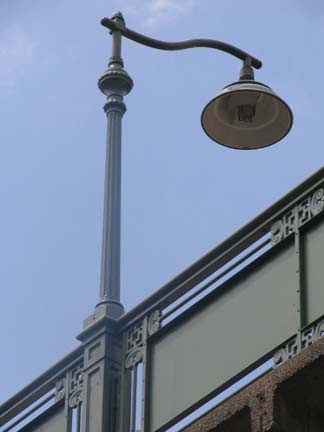 Simpson Street el station, Westchester Avenue. Most of the stops along the White Plains/Dyre Avenue line (#2 and #5) were rehabbed nicely in the early 2000s, including spruce-ups to the chalet-type stations and new platform lamps that echo back to old-fashioned styles. The elevator (left) is an incongruous contrast, but not every el station in the system has one.
St. Athanasius Church, Tiffany and Fox Streets. Father Louis Gigante, who arrived at the church in 1962, was and is a charismatic figure in this community:
…the young assistant pastor Father Gigante focused first on the local teenagers. he got his South Bronx parish involved in the church's Summer in the City program, offering kids an alternative to hanging around and getting into trouble. There were sports and social events for boys and girls, presented with that special brio of Father G: "G brought a great deal of love to that area, no doubt about it," remembers one young man. Moving to take advantage of the fledgling antipoverty programs, Gigante set up the Simpson Street Development Association. Like all other storefront operations popping up in the slums, this served up a potpourri of social services… Jill Jonnes, South Bronx Rising, Fordham U. Press 2002
In an Angels with Dirty Faces scenario in which two friends go vastly different ways, three of Fr. Gigante's brothers were involved in organized crime. Vincent "The Chin" Gigante (1928-2005), a crime boss in the Genovese Family, feigned mental illness for nearly 30 years to avoid prosecution. He was convicted in 1997 and died in prison.
Simpson Street. Many of the houses in the area are new, replacements for the tenements torched by vandals and arsonists in the late 1970s and 1980s.
Fox and Simpson Streets. The area's odd street layout produces many triangle-shaped plots, which early 20th Century architects eagerly filled with distinctive apartment houses.
PS 39, Longwood Avenue between Kelly and Beck Streets. The Banana Kelly organization, named for the shape of the street, was a grass roots organization originating in 1977:
…thirty residents gathered to stop the demolition of their homes along Kelly Street, a crescent shaped block in the heart of the Longwood/Hunts Point neighborhood of the South Bronx. Without any support or even tools, money or title to the property, they succeeded in rehabilitating the buildings and in creating 21 units of high-quality affordable housing, These original activists formed Banana Kelly Community Improvement Association, Inc. to continue the work that they had started.
Banana Kelly's achievements to date include raising or leveraging over $100 million of investment in Longwood/Hunts Points; rehabilitating 2,000 units of affordable housing; conducting ongoing management and ownership of 1,000 units of housing in 47 buildings; weatherizing over 8,000 units of housing; providing 1,500 families per year with service referral and housing advocacy; establishing a program of assistance to small businesses; delivering education as well as construction training and building maintenance programs to over 750 youth; developing the first urban dormitory for homeless high school students; and attracting the first new health care clinic in the community in 22 years. [synergos.org]
Beck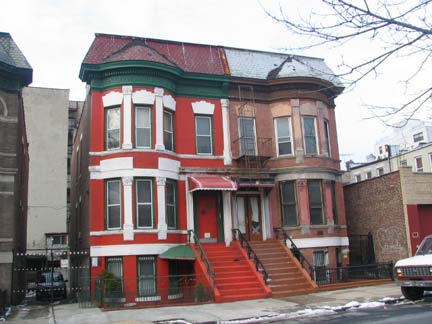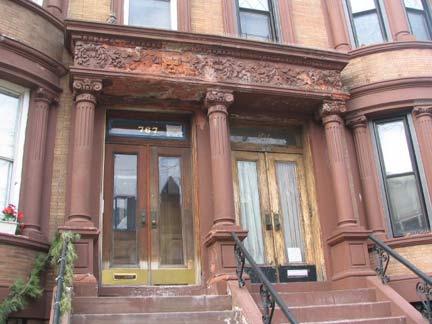 A pair of the landmarked Dickerson-designed houses on Beck Street. Of the landmarked houses on Beck, Kelly and Dawson Streets, these are my least favories since they are not quite as well-maintained as on the other two streets.
Kelly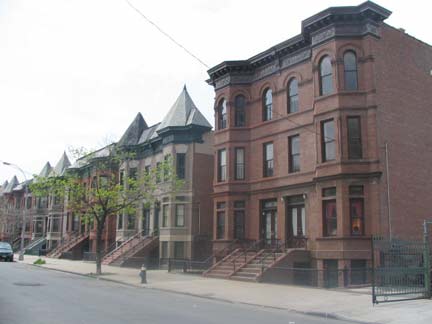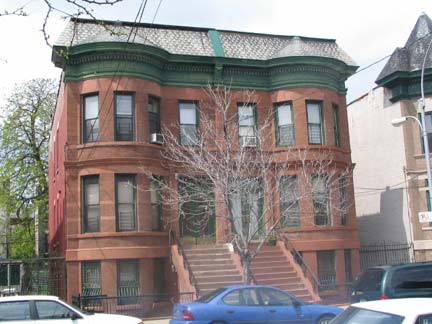 The Dickerson houses are cleverly presented and arranged, alternating between twin-peaked and mansarded roofs.
A visit with Mr. White
Samuel, B. White, the original owner of Longwood Park, the area from which he neighborhood sprung, owned a country house at East 156th and Beck Street, built about 1850 by Charles Denison. The house was built before any of the meandering streets of Longwood were cut through, so it was all askew to the grid and faced it catercorner.
Charles Denison … was a representative from Pennsylvania, a Democrat elected to the Thirty-eighth, Thirty-ninth, and Fortieth Congresses and served from 1863 until his death in 1867. That gave him 17 years to live in the mansion, which he built in 1850. After that, his son-in-law Samuel White moved in. [Lost City]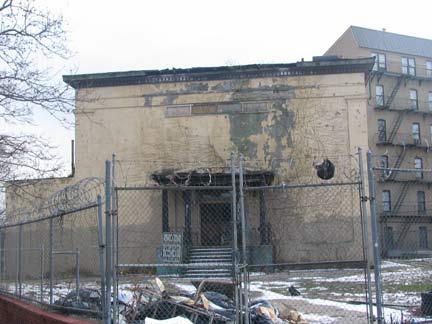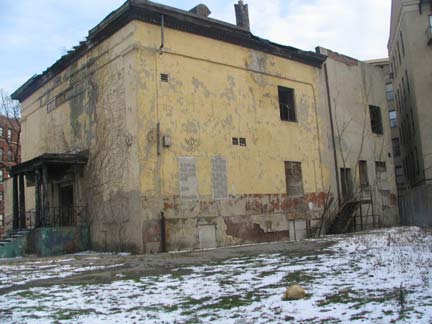 When your webmaster visited in January 2005 the abandoned mansion was still in apparently in salvageable shape, with some detail remaining around the entrance columns. According to the AIA Guide to New York the old building had had a number of uses, including a stint as the Martinique Club.
Returning in April 2007, I saw that some changes had been made.
Essentially only two sides of the exterior wall of the mansion remained. Is this the end of the Samuel B. White mansion? Appears so. I've seen other interiors gutted while exteriors were retained but this looks like the end of the line.
Not so fast!
Friends in the City Inc. and the Lantern Group, both Manhattan-based nonprofit developers of affordable housing, are teaming up to restore the Denison-White residence, turn it into a community center and build 95 apartments — 93 of them categorized as affordable.
The planned $28 million renovation and reuse of the property, which served as a real estate office, social club and Police Athletic League center at various points in its history, has been enough to pique the interest of neighbors and affordable-housing advocates in this blue-collar neighborhood.
But the development, to be called Cedars, is perhaps most notable for its focus on a demographic increasingly known as the "grandfamily": grandparents (or other older relatives) raising grandchildren. A Forlorn Neighborhood Revitalized, David Scharfenberg, NYTimes, October 8, 2006
So here we are in 2012, with the Cedars development completed, and the front end and sides of the White mansion still in place. The White mansion has been renamed Fox Hall.
 The Greek revival-style building, currently called Fox Hall, was originally built in the 1850s and was the Samuel B. White Mansion that stood in the middle of a 70-acre estate called Longwood Park.  By 1903, the mansion had been turned into a social club, complete with billiards and bowling.  Most recently it was the patrolman Edward P. Lynch Police Athletic League Center before it was left abandoned and fell into disrepair.  Through state, city and tax credit funding the building façade has been restored to its 1850s façade to meet all requirements of the Landmarks Preservation Commission.  The windows are mahogany, original window openings discovered and restored, the cornice repaired or replicated, the entry portico reconstructed, and the façade is true stucco.  A central stair wrapping a free-standing brick wall built of the reclaimed brick reinforces the centrality of this building. Urban Architectural Initiatives
Prospect Family Inn, a homeless shelter at at East 156 and Kelly Streets, was Prospect Hospital, a small 175-bed facility institution that traced its beginnings to 1919. In a controversial move its board of directors abruptly closed it in March 1985, a time of rampant hospital closings around town.
The Inn also home to services attempting to prevent child abuse.
Dawson
A look at a third block of Dickerson-designed houses on Dawson Street. When much of the South Bronx burned between 1977-1984 the house proud residents of Longwood kept their amazing buildings intact.
Anything can happen® when Forgottening; when your webmaster reached Dawson Street and Longwood Avenue I came upon some basketball courts and the back of an apartment building facing Hewitt Place.
There were some…objects attached to one of the blank walls.
I was immediately reminded of Parkchester, which has rather playful terra cotta sculptures high on the sides of the buildings in the complex (one of these days your webmaster intends to do a thorough survey of the Parkchester sculptures, listing and categorizing them all) but these four are much more playful and evocative than the ones at Parkchester, which have a precious quality; these are, to use a word I despise but can't think of another, sassy.
This installation is Life on Dawson Street, by Bronx artists John Ahearn & Rigoberto Torres, who have two other groups of sculptures in the same area:Homage to the People of the Bronx: Double Dutch at Kelly Street at Intervale Avenue and Kelly Street and We Are A Family at Intervale and Fox Street.
The artwork dates to the 1981-1982 period.
The Romanesque, onion domed United Church on Hewitt Place is impressive indeed when viewed from Macy Place. This was originally a synagogue completed in 1906–despite the onion domes, which are generally found on Russian or Eastern European churches.
The intersection of Prospect Avenue and Avenue St. John presented yet another opportunity to construct a unique "triangle" or "flatiron" building. A block away at St. John and Kelly Street is the Demera/Santiago Garden, named for Eugene "Fat Fred" Demera and Osvaldo Santiago. the two were friends of Al Quinones, the founder of the organization 52 People for Progress, a non-profit park and garden volunteer organization.
The avenue was named for George St. John, a close friend of the Morris family in the 1850s. It's the only street in he Bronx in which "Avenue" comes first.
Engine Company 73, 655 Prospect at East 152nd Street, dates to 1900. Check the Beaux Arts detail.
St. Mary's Park in Mott Haven is located in roughly 35 acres between St. Ann's Avenue, St. Mary's Street, Jackson Avenue and East 149th Street. It was the locale of Jonas Bronck's farm; Bronck was the 1600s Swedish settler for whom the borough and the river that runs through it take their name. The land was later held by Gouverneur Morris and Janes and Kirtland Iron Works, which helped create the massive Capitol Dome in Washington, DC. The park was home to The Bronx' first playground in 1914. It takes its name from a long-demolished church in the area. The park is home to a number of glacial rock outcroppings.
An abandoned NY Central Railroad spur runs in a tunnel underneath the park, running from the main line to the former Port Morris freight station.
Old School
PS 27, St. Ann's and East 147-148 Sts. facing the park, was created from 1895-18978 by architect C.B. J. Snyder.
The AIA Guide to NYC describes it thus:
"Built 5 stories tall for children with good legs and good lungs. The carved limestone escutcheon over the main entrance is an effulgent work of sculpture."
There's a lot going on there…eagles, ships, windmills, sunrises, harps, cornucopeas (-i?) globes, scales, hammers, and more I'm probably not even noticing.
erpietri@earthlink.net
Photographed mostly April 2007; page completed June 4, 2007
©2007