FNY returns to Astoria Village this week: my third page here. It's a region the Historic Districts Council calls a "neighborhood at risk" due to the accelerating rate of teardowns and new construction. It's a neighborhood that, despite its stock of antebellum mansions and single-family homes, has steadfastly resisted any effort at preservation — and is paying the esthetic costs for such shortsightedness.
Astoria Village has suffered greatly from building speculators with large sums of cash in hand. Numerous important houses have been demolished, only to be replaced with large, boxy multi-family dwellings. The need to save what remains is crucial – as a memory of the Village and a reminder of the importance of preserving districts before its too late. Historic Districts Council
Forgotten New York and Richard Melnick of the GAHS co-conducted a "private" tour of Astoria Village on November 11, 2007 as 35 GAHS members enjoyed brisk weather and the remaining vestiges of a once-great NYC enclave that is bucking the gentrification trend around town–negatively. It's receding into the darkness week by week, day by day. Can any of it survive? Enjoy the photos on this page: these buildings may not last much longer.
GOOGLE MAP: ASTORIA VILLAGE
Astoria dates to the mid-1600s, when William Hallet received a grant for the area surrounding what is now Hallett's Cove from Peter Stuyvesant. The oldest structures in the region date to the mid-1800s, after fur merchant Stephen Ailing Halsey had incorporated the village in 1839. Astoria was named for a man who apparently never set foot in it: a bitter battle for naming the village was finally won by supporters and friends of entrepreneur and real estate tycoon John Jacob Astor (1763-1848). Astor had become the wealthiest man in America by 1840 with a net worth of over $40 million.
Astoria Village is centered at 21st Street, Astoria Boulevard and Newtown Road. West of here, the streets seem more timeless, with old churches, narrow sidewalks and hidden cemeteries, while east of here, things seem more conventionally Queens-like.
Welling Court
L-shaped Welling Court runs from Main Avenue south and east to12th Street. Welling and Main Avenue alone follow Astoria Village's original 17th-Century street plan.
Main Avenue and Welling Court define the outline of the Hallet vegetable garden. The Hallet barn was at the end of Welling Court. About 1837, the ancient Hallet farm was cut up into lots. The property was divided into 100/200 ft plots that sold for $150 each.
Above: houses on Welling Court's south side; below: workers' cottages built about 1850 by Robert Blackwell (Roosevelt Island's old name, Blackwell's Island, came from his family, who owned acres in today's Ravenswood and on the island.)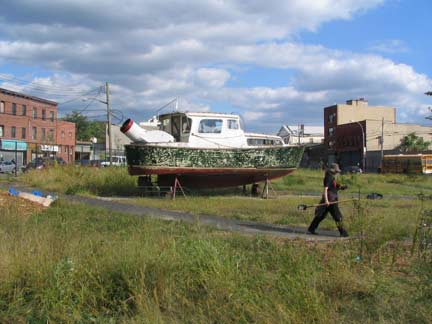 Two Coves Park (Goodwill Triangle) between Main Avenue, Astoria Boulevard and 8th Street. The boatAlbatross was salvaged from Socrates Sculpture Park at Vernon Boulevard and Broadway. The space is being maintained as a green space by local residents.
The remains of Queens Engine Co. #4 firehouse, intersection of Main Avenue and Astoria Boulevard.
12th Street
Astoria Village's 12th Street makes three different direction shifts as it runs in a general NE-SW direction. It is really a combination of two older Astoria Village streets, Welling and Remsen. While not blessed with the surfeit of wide-lawned mansions that its partner 14th Street does, it still features several late1800s buildings painted in every color of the rainbow.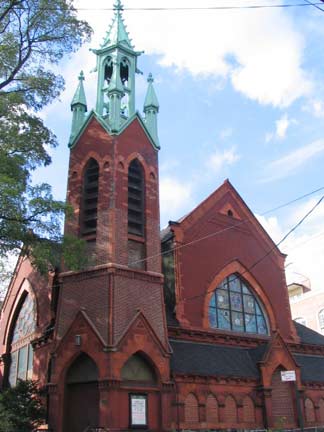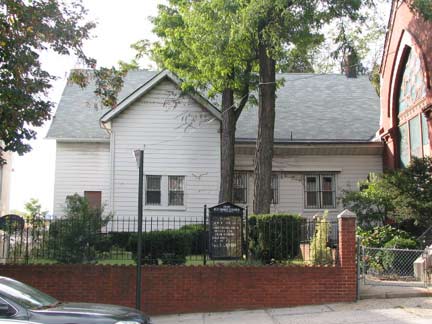 The Reformed Dutch Church of Hallets Cove (now Good Church of Deliverance) at 27-26 12th (left) was built in 1888; its verdigris'ed steeple replaced the original in 1900. The parsonage, which may date as early as the 1850s, is just to its south.
Squat factory building, 12th Street and 30th Avenue. I'm not including it for its beauty but as an indication that industry and manufacturing aren't dead in Astoria Village.
Housing, ca. 1920s, on 12th Street across from the old Reformed Church. These homes were built to house workers in local industries. Unlike the banal Fedders worker barracks of today, these attached homes have panache and style, and gardens in front.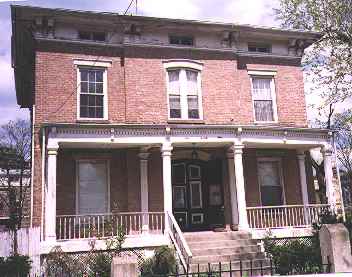 Chamberlain-Taylor (deWayt) house, 9-29 27th Avenue at 12th Street, goes all the way back to 1845. Note the eyebrow windows below the roofline. This is a 1999 view but the house still pretty much looks the same.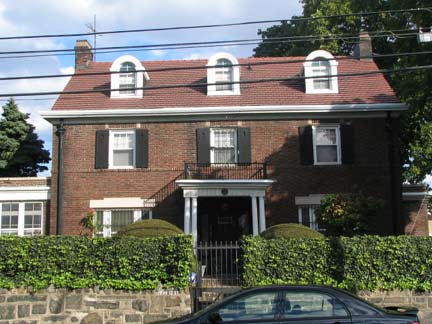 Federal-style house, 12th Street and 27th Avenue, SE corner.
The SW corner of 12th Street and 27th Avenue was formerly occupied by the 1835 Abrahan Remsen House, seen at the top of my second Astoria Village page from a couple of years ago. The building has since been razed and replaced with nondescript residential units. The Astoria Institute for the Education of Young Ladies, a finishing school built in 1828 on 27th Avenue between 12th and 14th Streets, was razed around the same time.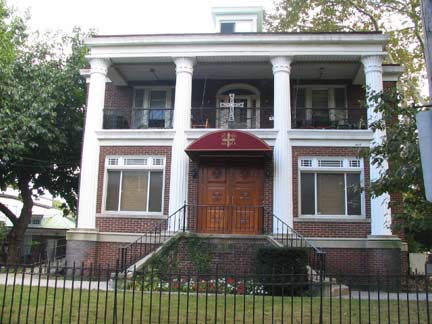 Now a Greek Orthodox church, the Robert Blackwell house was constructed at the NE corner of 12th Street and 27th Avenue in the 1840s.
A rare modern-day Astoria Village success story, "Tara," the Craig-Baylies house (once owned by physician and Blackwell heir Dr. H. Baylies) was recently restored to its late 19-th Century grandeur. 12th Street near 26th Avenue.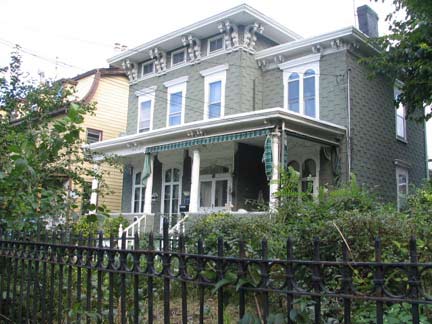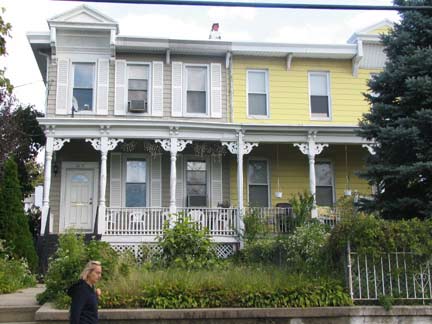 East side 12th Street between 26th and 27th Avenues.
West side 12th Street. At left is one of the few 18th-Century homes left on this side; quickly encroaching "Fedders" style brick buildings are taking over here. Further up 12th is a towering multi-unit apartment house that grants imposing Manhattan or Astoria Park views to those living on the upper floors, but does little for street-level appearances.
14-28 Astoria Park South, a porched survivor with a park view.
14th Place serendipity
14th Place is a narrow lane, probably originally used for carriages, running between 26th Avenue and Astoria Park South. It likely predates the park…
So it was serendipitous indeed that in 1910 when these two porched homes facing each other on 14th Place were built…the architects had no idea whatsoever that a prime view of the Triborough Bridge east tower would be available 24 years ahead. The building on the west side, with its duplex porches, has a specially advantageous view.
14th Place was known asLebanon Terrace decades ago; this is reflected in the name of the apartment building on its west side. When you walk over to the dead end stub of 14th Place south of 26th Avenue, you see that it is one of a matched pair that, again fortuitously, frames the Triboro Bridge effectively. The buildings are not quite twins, as a close look will show.
14th Street Travesty
"Rosemont" and its beech tree in the Super Seventies; "Rosemont" and its asphalt front yard today. Via Queens Crap and OuterB
"The Benner Mansion, occupied for many years by the late Robert Benner, a prominent New York lawyer, is another superb place. Mr. Benner was an enthusiast in floriculture and arboriculture. The beautiful gardens contain many specimens of rare trees and shrubs while the flower beds, chrysanthemums and rose houses have wide renown. The cultivation of these flowers was Mr. Benner's delight and he added many new specimens by propagation and cultivation to the world's knowledge. He named his house "Rosemont!" and the name was appropriate. Mrs. Benner resides in the old home, and as her love for flowers equals that of her late husband, the place is still superbly kept up. Mr. Benner's sons, Willis and Charles, are the law firm of Benner & Benner of Wall St. They both live in Astoria, the former in the old homestead and Charles in the former house of the late Joshua Lathrop, the old New York flour merchant." – New York Times, July 12, 1896 via Queens Crap
In 1852 the mansion was built in a grand Southern-plantation style by varnish moguls Smith & Stratton, who operated in Astoria Village till 1856; they then decamped further down the east Riverside to Hunter's Point. As you can see it was once grand, with a duplex porch supported by 12 Doric columns, and you might well imagine how it was appointed inside. In the 1990s, it was converted to the wreck you see today at 25-37 14th Street, "raped and ravaged" in the words of the AIA Guide to NYC. Its ancient copper beech tree has long been chopped down, and the exterior has been converted to something considered more appropriate to the times by its current owner, or at least a recent one. It's for sale, lsited as land property: anyone purchasing it (asking price $4M) is expected to tear down the building and use the land for whatever.
Curious about this property as an Astoria resident who has spent time walking around Old Astoria, I called the real estate agent and asked a few questions. Looks like whoever buys the property could build a 5-6 story building there, which could have around 25 apartments in it. The agent says it could be a very lucrative purchase. "Astoria is changing" he says. [OuterB]
It sure is, brotha.
One of the 14th Street (Woolsey Street) mansions that has survived…with just a little aluminum siding and its front lawn intact…is the Trowbridge mansion at 26-05 14th, on the corner.
Incidentally, how do you trick a digital camera into focusing on the building you want to shoot instead of the tree branches in front of it?
It's likely the buildings on 14th Street between 26th and 27th Avenues are my favorites in Astoria Village. Above, 26-25 and right, 26-29. The Stick-Style touches at the brown and white 26-29 are attractive. Stone lions guard 26-12 (left)
St. George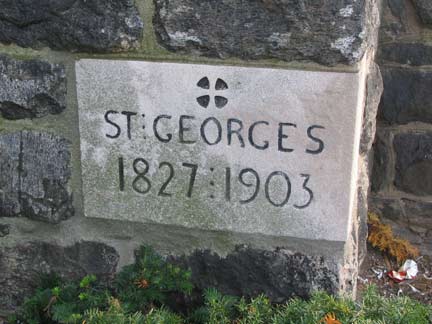 There has been a St. George Episcopal parish in Astoria since 1825 when its site was donated by landowner Robert Blackwell; its original church was on Franklin Street, today's Astoria Boulevard. After that edifice burned down in 1894, the present brick church at 27th Avenue and 14th Street was raised in 1903-1904. The Astoria Library (see below) stands on the site of the present church.
Great how raise and raze, homonyms, are also antonyms!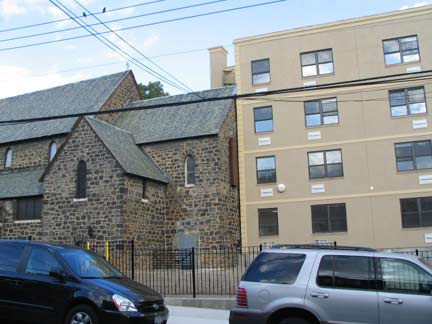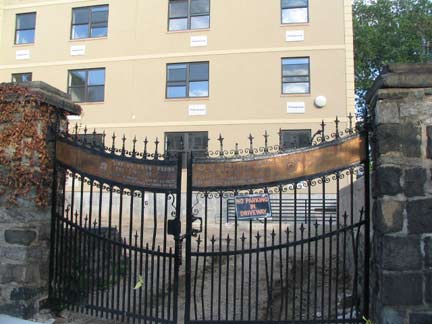 Citing financial straits, the church was leased to a developer in 2005, which promptly razed its parish house, the old Astoria Institute for the Education of Young Ladies mentioned above, and soon after built a block of Fedders residences, in this case, Friedrich. The St. George churchyard is accessible to the public only through a parking lot, though an entrance on 27th Avenue. The ornate cemetery gate on 14th Street (above right) remains in place, though it leads to parking and service access for the new apartments!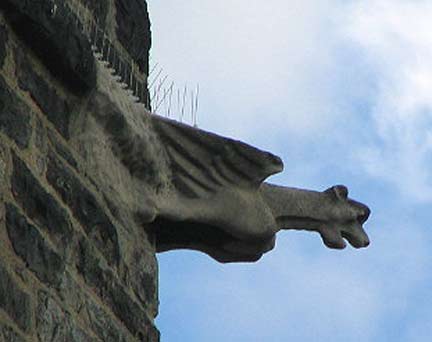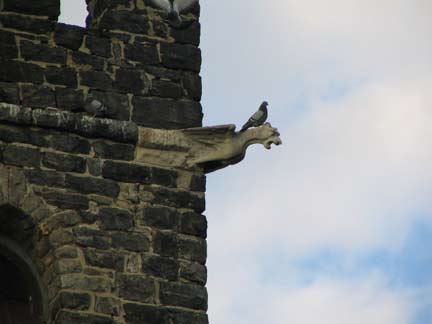 Your webmaster is a gargoyle man, and pigeons are gargoyle birds.City Councilman Simcha Felder is not a pigeon man.
Steel magnate and philanthropist, Scots-born Andrew Carnegie (1835-1919), donated enough to build no less than 1689 libraries throughout the USA and 820 throughout the rest of the world between 1883 and 1929. This one, at Astoria Blvd. and 14th, is part of the Queens Borough Public Library system and was built about 1904.
The past and future on 21st Street. 21st, formerly Van Alst Avenue (the name survives in a G train stop at the street's southern end in Hunters Point) and Emerald Street, is a contender for ugliest and most boring lengthy street in Queens. Increasingly, objects like the thing in the background are rising along its northern end. The buildings in the front are no bargain, but they were once a great deal more presentable. In any case they will soon disappear.
page photographed November 2007; page completed December 1, 2007.
erpietri@earthlink.net
©2007 Midnight Fish