Getting to Staten Island from Little Neck isn't easy. Oh, the logistics of it are straightforward enough. (Bear in mind I don't drive.) Long Island Rail Road to Penn Station; since the IRT South Ferry station isn't open weekends (at this writing, January 2008), walk a block to 6th Avenue, board BMT "R" train, exit at Whitehall, ride ferry, board S-44 bus to today's destination, Hamilton Park. It's just that these days, the pursuit of some semblance of peace is futile. I successfully avoided the Mariachi Brothers, but couldn't evade Hip-hop Boom-Box Kid, who was quickly followed by the Three Gospel Guys.
A few months ago I was riding the bus on the way out to somewhere else on the island…the mall or one of the nature parks…when I noticed that the S44, which takes a convoluted route through the Staten Island North Shore neighborhood of New Brighton and West New Brighton — was passing by some pretty impressive-looking homes. I was aware of the neighborhood of Hamilton Park, a development going back to the pre-Civil War area…but erroneously thought its most impressive remaining houses were confined to Franklin Avenue. They're here on this page, but I was wrong in my assumption. The whole area is absolutely gorgeous. The Landmarks Preservation Commission hasn't saved the neighborhood as a whole, so there are pockets of Fedders and other "Staten Island Crap" beginning to make inroads. These winter days, when the foliage is down, is the perfect time to see Hamilton Park.
Hamilton Park, one of Staten Island's most impressively concentrated areas of beautiful architecture, was begun by developer Charles Kennedy Hamilton in 1853. According to Staten Island resource, Holden's Staten Island:
…Hamilton Park had dwelling sites on curving drives amid a naturalistic landscape. Development proceeded slowly: only three or four houses were erected in the 1850s, but in the 1860s the German-born architect Carl Pfeiffer designed twelve additional residences.
wikipedia: Hamilton Park, laid out circa 1851-52 was probably the earliest suburban residential park on Staten Island and one of the first self-contained, limited access suburban subdivisions in the United States. Unconnected to the grid of surrounding streets until 1886, it is a large, elevated tract bounded by today's East Buchanan, Franklin, Prospect and York. Dwelling sites were set on curving drives amidst a naturalistic landscape. Hamilton Park's setting remains even today one of the Island's most romantic. Traces of the original carriage roads which wound through the wooded terrain are still visible.
Dubbed "cottages" at the time, a number of suburban country dwellings of 12 to 14 rooms survive. 66 Harvard Avenue, also known as the Pritchard House (c.1853) is believed to be the first speculatively built "cottage" and is the only intact survivor of Hamilton Park's original suburban residences. Hidden behind privet hedge, birch trees, and wisteria this grand, Italianate house of yellow stucco with gray stone trim features a notable wooden porch,balcony and projecting window hood. It was placed with its front entrance commanding the downhill view to the west–today its large backyard.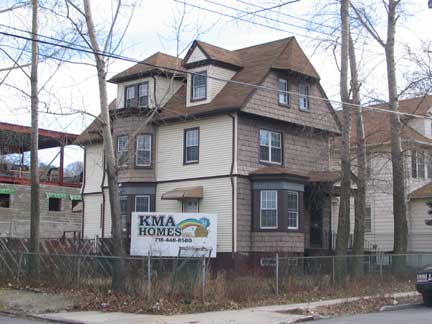 I began my trip at Richmond Terrace and Lafayette Avenue walking south from there. Almost immediately, at Van Buren Street I saw a building in danger: KMA Homes likely intends to build something much worse than what is seen here. At Fillmore and Lafayette, we see the Adobe Blues club.
Street names recall early 19th Century Presidents: Van Buren, Fillmore, and Buchanan. North-south streets recall figues from the American Revolution: Benjamin Franklin, the Marquis de Lafayette, DeWitt Clinton.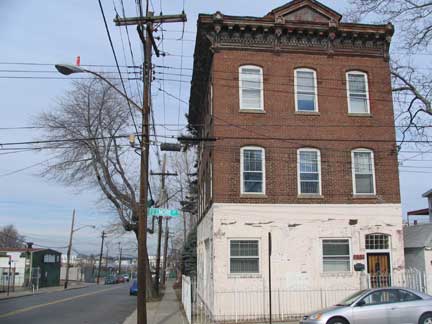 Venerable 3-story apartment building, NE corner of Lafayette and Fillmore.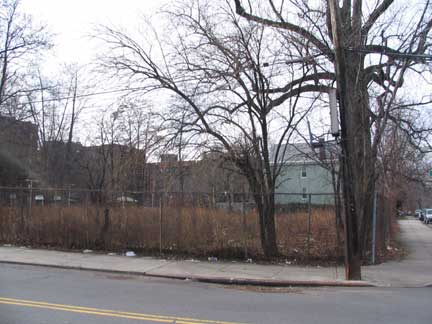 Former site of New Brighton Village Hall, SW corner Fillmore and Lafayette. The hall was the seat of goovernment in the formerly incorporated village, a French Empire-themed building dating to 1871 and built by Staten Island architect James Whitford.
After Staten Island became a part of NYC in 1898, the hall soldiered on as a draft board building and a medical office. It reverted to NYC in 1977, the city sold it to a private individual in 1981, and the building lay empty for nearly 25 years until it was demolished in 2005. Though it was designated a NYC landmark as far back as 1965, the severely ravaged building was not treated as such.
New Brighton came into being in the 1830s, when local citizens formed the New Brighton Association. Using the English resort of Brighton as a model, the goal was to stimulate commerce and tourism featuring the area's most striking attraction, its waterfront. President of the New Brighton Association, Thomas E. Davis, purchased 100 acres of land, and spearheaded the acquisition of property. Davis's mansion later became the Pavilion Hotel, built in the Greek Revival style and known, among other features, for its spacious ballroom. NYC Parks
Henderson Ave.
Houses along Henderson Avenue, one of the main east-west thoroughfares of West New Brighton, were not strictly a part of the original Hamilton Park development, but they're close enough to have at least been influenced by its architecture.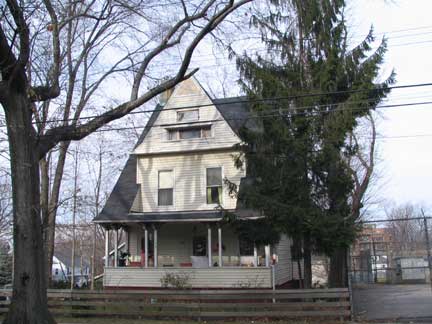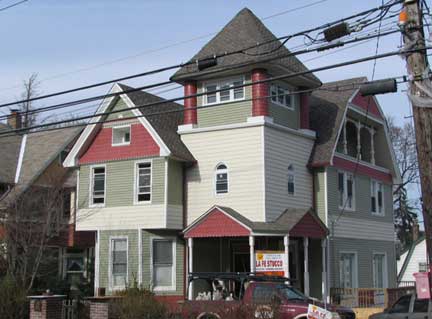 A pair of homes on Henderson either side of Grace Court.
A look down the dead end alley shows a clutch of the pre-fab buildings that are increasingly a part of the streetscape in West New Brighton.
Four more eclectic Handerson Avenue dwellings, the last one at the corner of Henderson and Clinton Avenues.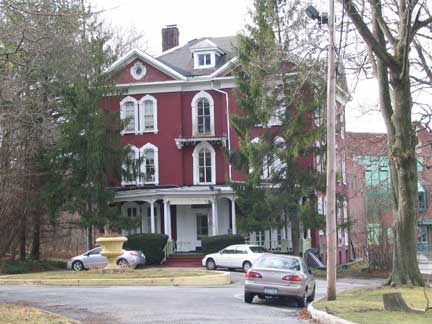 At 200 Clinton just south of Henderson is the 1857 is the former Nicholas Muller mansion, now the residence of the Christian brothers who teach at nearby St. Peter's Boys' High School.
Directly to the south is the Goodhue Children's Center, containing a pair of buildings now used by the Children's Aid Society. The private campus is home to the 1845 "Woodbrook" Jonathan Goodhue residence.
Ellicott Place
The gateposts give it away. Dead end loop Ellicott Place, on Prospect Avenue just east of Clinton, is a former real estate development containing several large, beautiful mostly Shingle Style residences.
In Victorian days, shingles were often used as ornamentation on houses in the Queen Anne and other fancy styles. But Henry Hobson Richardson, Charles McKim, Stanford White and even Frank Lloyd Wright began to experiment with shingle siding. They used natural colors and informal compositions to suggest the rustic homes of New England settlers. By covering most or all of a building with shingles stained a single color, architects created an uniform, unembellished surface. Monotoned and unornamented, these homes celebrated the honesty of form, the purity of line. about.com
Prospect Avenue
Some of Hamilton Park's finest homes are arrayed along Prospect Avenue between Clinton and York Avenues.
The picket fence is alive and well in Hamilton Park. Though the residences of Hamilton Park are collectively called "cottages" most of the buildings are much larger than that.
Check this sprawling house. When I was a kid I read the "The Peterkin Papers," Lucreta Peabody Hale's stories about an odd yet endearing family in back issues of St. Nicholas, a children's magazine from the late 19th Century. (Probably a more recent cognate would be Kaufman/Hart's Sycamores in You Can't Take It With You.) I can imagine either family living here.
Two indoor porches, 3 different window styles, and three peaks. Sagging just a bit though.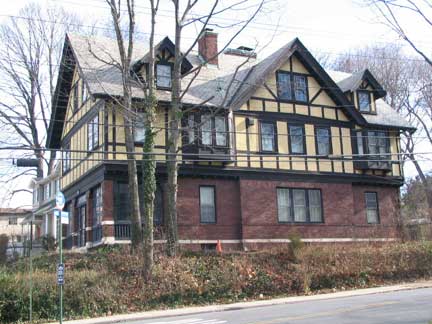 Why it's called Prospect Avenue. This Tudor, as well as many homes on the south side of Prospect Avenue, were built to take advantage of Hamilton Park's 180-ft. above sea level elevation, making it among the highest points on the east coast.
The view above right once looked out over open fields, but now looks across the Kill Van Kull to the oil processors of Bayonne, NJ.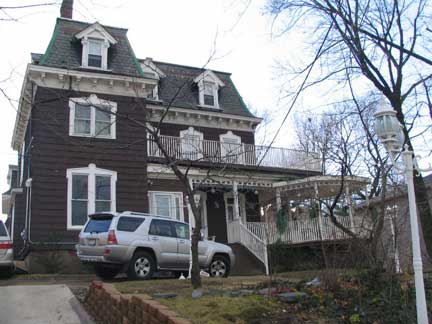 Widows' walk, check, gazebo, check. Sea captains often built homes on Prospect Avenue and Richmond Terrace like this 2nd empire mansard roof house just east of Lafayette on Prospect.
There were also some street lighting "easter eggs" to be found in Hamilton Park in 2009. A pair of Westinghouse mercury lamps, the no-glass cheaper version of the OV-25. These were used mainly to light side streets. Two can be found here, at Pendleton Place (above left) and Franklin Avenue (above right) where they meet Prospect Avenue.
These were installed between 1960 and 1965. They were all claimed in a streetlighting replacement program in 2009.
One of Hamilton Park's more dramatic vistas, at Prospect and Harvard Avenues. New Brighton and West New Brighton are located on high hills divided by a valley through which run Jersey Street and York Avenue (dispensing with the "New" in both cases.)
A closeup of the distant New Brighton neighborhood.
Harvard Yard
Staten Island has its very own version of Harvard Yard at Harvard and Prospect Avenues.
It's a charming green space with horseshoe pits and picnic tables.
And another streetlighting "Easter egg"!
These scrolled masts were once heavily used on NYC roads…from the 1910s into the 1950s they lit side streets and some main roads mostly using fluted "radial wave" luminaires using incandescent bulbs. Later they assumed a new duty, carrying orange fire alarm indicator lamps. Very rarely, like here, they are used to carry modern sodium lights. I've only seen two other instances in NYC: on stepped Stone Street in Stapleton, elsewhere in Staten Island, and also near the tip of Throgs Neck, near SUNY Maritime State College.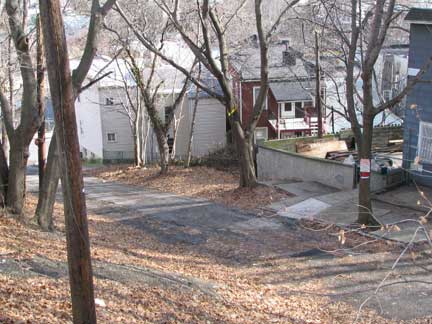 This one, at the back of Harvard Yard, illuminates a stub of Arnold Street that issues west from York Avenue.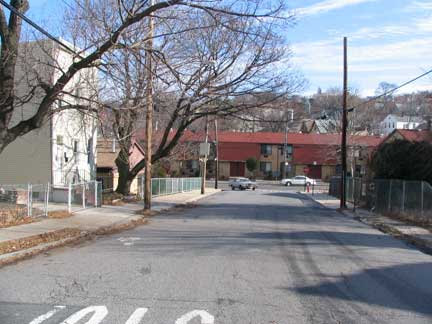 Pauw Street (pronounced "pow" I would have to think) scales the ridge between York Avenue and Jersey Street. Both Pauw Street and Jersey City's Pavonia Avenue are named for the man who once owned much of Staten Island, as well as much of what became Jersey City, although he never set foot in "New Netherland".
The area of Pavonia, belonged to burgomaster (merchant-nobleman) Michael Reyniersz Pauw of Amsterdam. He acquired the property in 1630 under the patroonship system of the Dutch West India Company and from a land purchase from the Indians. According to local historian Joan D. Lovero, "Pauw called this land Pavonia, basing his choice upon the Latin spelling of his own name, pavo, which means 'peacock'". The property consisted of large tracts of land at Hoboken, Ahasimus (later Harsimus), and Aressick (later Paulus Hook) that would become part of Jersey City. According to David F. Winkler's article "Revisiting the Attack on Pavonia." Pauw's grant, "straddled the main delivery route for Indian pelts coming from the west into New Amsterdam and . . . Pauw's agent, Cornelis von Vorst [sic] had positioned himself to intercept the pelts for profit".
Pauw was an absentee landlord of his grant in America. According to Winkler, had conflicts with the directors of the colony that stood in the way of fulfilling the obligations of his grant. He was thereby required to sell his holdings back to the trading company in 1633. Jersey City Past and Present
It is unclear what area was encompassed by Pauw's holdings, but included Bergen Neck (as the Hudson County peninsula was called), the flatlands of the lower Hackensack River (today's Meadowlands), much of Staten Island, and areas along the Newark Bay. wikipedia
York Avenue is a major north-south thoroughfare and forms the line between New Brighton and West New Brighton.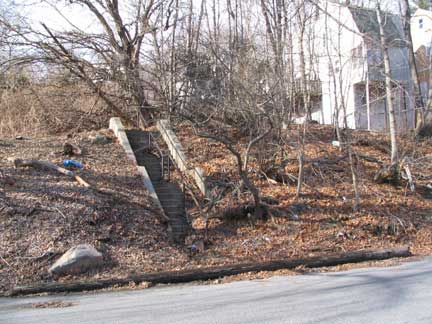 Several sets of decrepit, crumbling steps run west up the scarp from York Avenue to Hamilton Park…
The walk contunes a short distance. Stay with it: rewards follow.
Meantime, check another mini-scrolled mast mounted on the bystanding utility pole.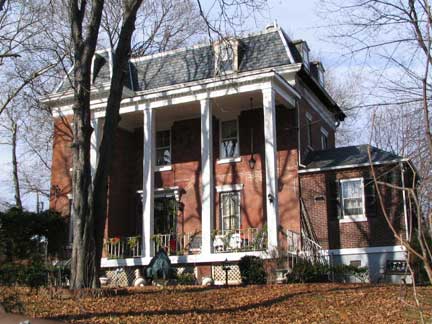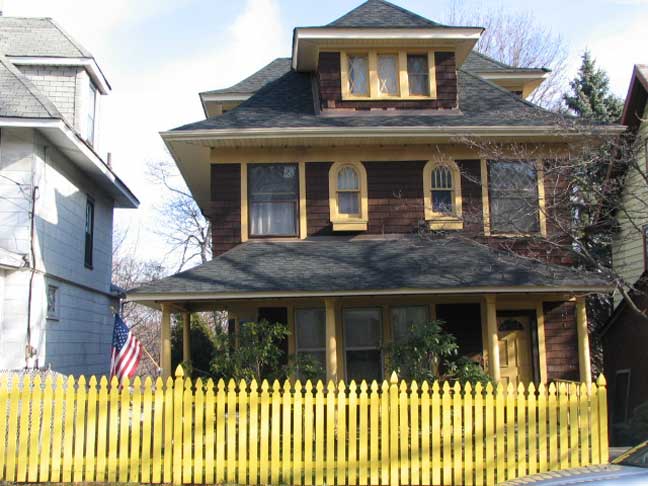 We have arrived at close to the heart of Hamilton Park, at Highview Avenue and Park Place. I like that brown and yellow combination. Is that yellow picket fence a bit much? I don't think so.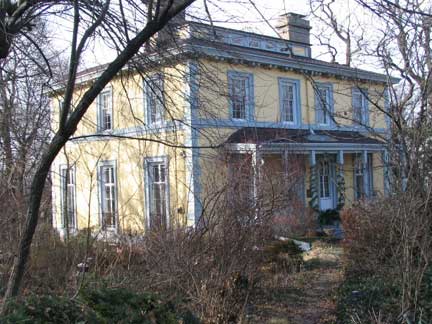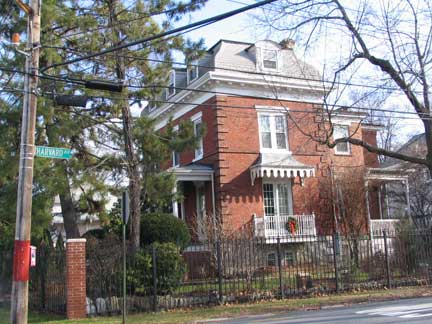 Above two: Harvard Avenue and Park Place. The building at left is one of the original "cottages" pre-dating the Civil War.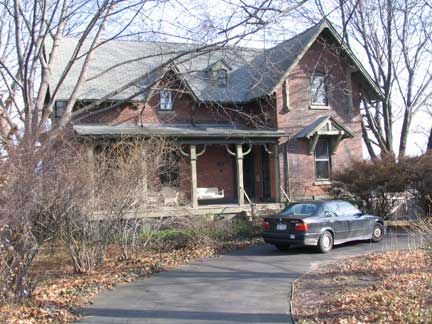 Harvard Avenue and Nassau Street.
Pontiac Catalina, Nassau Street. 1962, I'm told.
Crown Jewels
Pendleton Place curves west and south from Franklin Avenue. It's home to a couple of Staten Island's most notable buildings. Here you will find two residences built for William S. Pendleton, an engraver, lithographer, realtor and owner of a ferryboat company. 22 Pendleton Place (a Gothic Revival villa built in 1855 and 1 Pendleton Place, from 1860, (a larger "Stick Style" mansion across the street, were both designed by British architect Charles Duggin.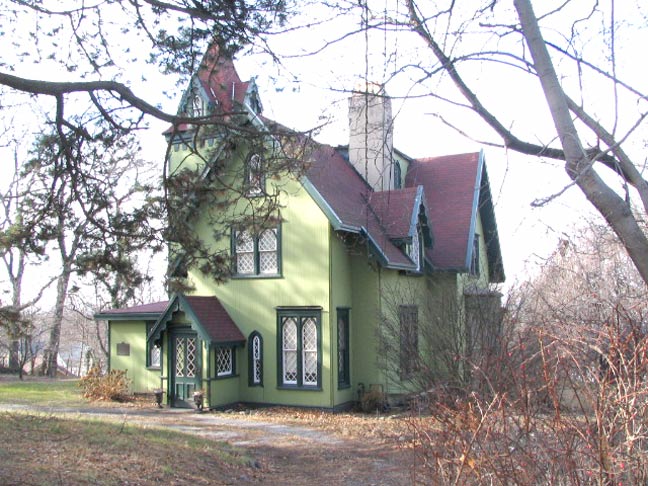 22 Pendleton Place. William Pendleton's first building in Hamilton Park, it dates to 1855.
This Gothic Revival House possesses a striking profile and architectural individuality. Situated on irregularly shaped high grounds overlooking Kill Van Kull, a prominent tower dominates the two-and-half story residence, a survivor of Victorian Romanticism. A gabled vestibule doorway, adorned with scalloped scroll work bargeboards, projects forward from the south elevation. Diamond shaped glass is used in all the various shaped windows. On the side of the house are two one-story extensions and a greenhouse of a later period. The steeply pitched gable roofs are covered with diamond shaped shingles as is the pyramidal shaped roof surmounting the tower. Wally Gobetz
The house is co-owned by Edwin Calderon, who is on the Preservation League of Staten Island Board of Directors. When it was purchased in 1994, the price was $190K. The building would likely be worth upwards of $1 million by now.
The house was landmarked in 1969 when the Guibord family owned it. Mona Guibord was a local artist and loved the magnificent setting of the house, which commanded views of the water and the beautiful sunset. She fought to have it designated … it's like she knew what was coming. A few years later, in the early 1970s, she and her husband Al received an unsolicited offer on the house. Although they had no desire to sell, the potential buyers took back their offer anyway when they found out the house was landmarked. They, too, thought the beautiful water view and the sunset would make a restful setting for the "Anna Erika", a retirement community which was subsequently built on Henderson Street. Had it not been for the Landmarks Commission and their early designation, this Gothic Revival villa would have been replaced by a hideous (at least I think so), bluish, 1970's architectural monstrosity. This Gothic Villa, so rich in history, would have followed the same fate as the Phelps-Stokes Mansion in St. George when that 1930s apartment complex buried it…
…Snug Harbor East [including Hamilton Park] and its adjacent neighborhoods, like mine, need to be protected, and the only sure-fire way to do that is by designating the area an Historic District. I implore all of you to invite anyone and everyone to support the efforts to designate Snug Harbor East our island's next Historic District. You don't have to live in the district to care — the next neighborhood under assault may be your own! Edwin Calderon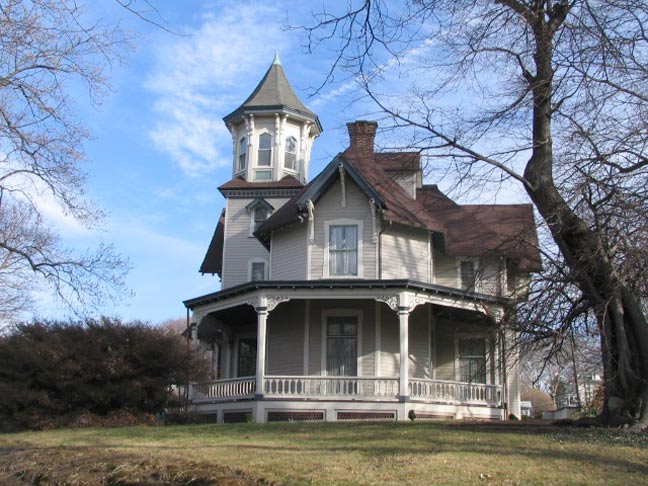 1 Pendleton Place. In 1862 the magazine The Horticulturist published a sketch of a new, much bigger house on the Pendleton property, the giant stick-style residence now known as 1 Pendleton Place, designed by the architect Charles Duggin. The article describes it as "erected for renting," one of a group of seven homes put up by Pendleton.
Pendleton leased the large, asymmetrical house to Thomas M. Rianhard, a Manhattan wholesale merchant who left a rowhouse at 49 West 14th Street to move to Staten Island…
When the Revs. John Walsted and Gerald Keucher, Episcopal priests, bought 1 Pendleton Place in 1983 for $91,000, they got a high-style Victorian house that was largely intact. But, Father Walsted said, "there were mushrooms growing on the walls" because of leaks. Like Mr. Richardson, they cleared away decades of growth around their house, but there was so little damage to the interior they had only to plaster and paint. The downstairs is done in yellow and three shades of plum, with vintage furniture and religious icons. Father Walsted retired in 1994 and now paints icons full time.
The house has its original marble mantels, deeply carved wooden trim and patterned floors in chestnut and black walnut; a fourth-floor eight-sided lookout has wide views of New York Harbor, New Jersey and the ship traffic on the Kill Van Kull. Father Walsted says that he and Father Keucher considered buying 22 Pendleton Place when it came on the market but discovered that the large furniture they had acquired "just wouldn't fit." Christopher Gray, NYTimes Streetscapes, December 21, 1997
I shot the building on its sunny side. To photograph the front of the building it's best to get here in the AM hours.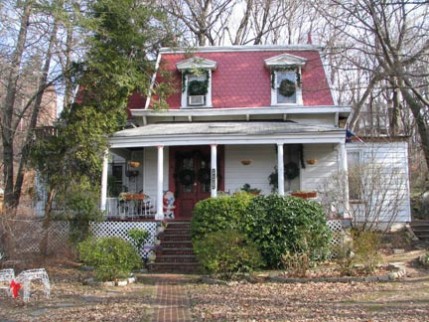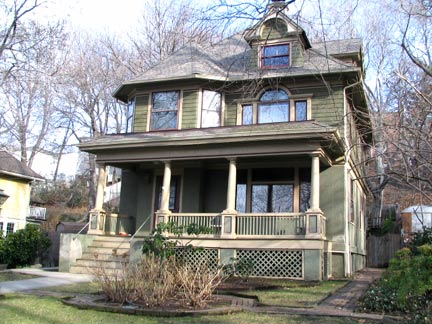 Franklin Avenue treasures. 125 (above), 121.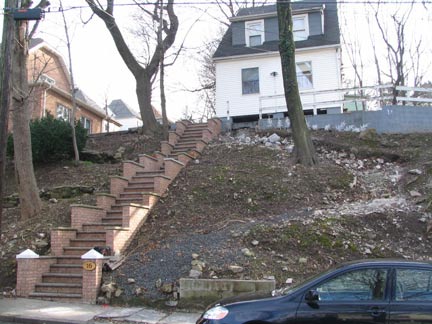 The 32 steps. 16 Cassidy Place. It must be a great house…so much work to get to it!
This scene was probably the same a century ago. The road seen at left is the origin of Henderson Avenue, a major West New Brighton thoroughfare, which issues from Cassidy Place, right.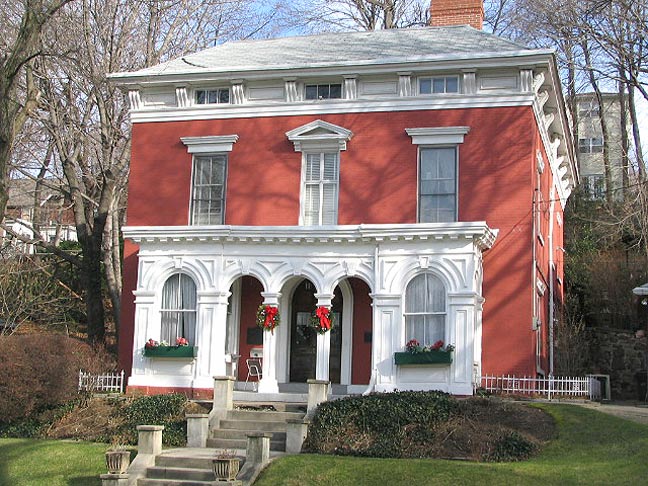 The Hamilton Park Cottage, 105 Franklin Avenue
One of two officially landmarked buildings in Hamilton Park (along with the Pritchard House, 66 Harvard Avenue) this triple arched, porticoed Greek Revival house was among the first developed in the nighborhood. It was built by Charles K. Hamilton from 1853-55 with the assistance of German architect Carl Pfeiffer (some accounts have its completion date as 1872).
Neighborhood Preservation Center page links to a PDF with detailed information on this beautiful house.
The dominant feature of the Cottage is the way in which the central triple-arched porch, in front of the main entrance, links the bay windows of the parlor and dining room together. Another interesting feature is the way in which the small third story windows are set in the fascia board below the roof cornice. A porch at the rear of the second story provides a view of the Kill Van Kull. Wally Gobetz
Christ Church, 76 Franklin Avenue
Established in 1849, the Episcopal Christ Church built this handsome ashlar brick building by 1905. The parish house and residences are also formidable…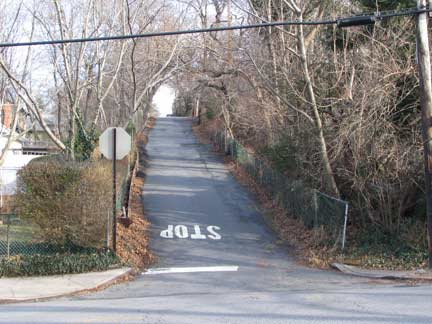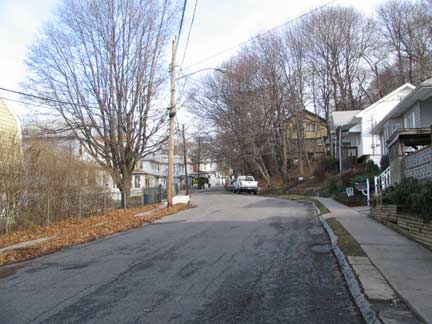 East Buchanan Street and Eadie Place climb the steep hill east of Franklin Avenue. Rather, Eadie attempts to; it dead ends after a few hundred feet.
Salmon masterpiece, Franklin Avenue and Fillmore Street.
Climbing the Fillmore Street hill…
Possibly Staten Island's shortest street not a dead end, Minerva Place runs between Fillmore and Van Buren Streets east of Franklin Avenue.
Belgian Blocks
Staten Island, surprsingly, doesn't have a lot of remaining Belgian block surfaced streets. Highview Avenue between Fillmore and East Buchanan Streets is one of them. The blocks likely remain to give cars and trucks better traction on this steeply-angled street.
#5 Highview, a small cottage, is the only residence on the short bricked stretch. It faces some undeveloped acreage.
St. Stanislaus Kostka, 109 York Avenue
Built in 1923, this church, which makes a guest appearance in the Melanie Griffith-Harrison Ford vehicle Working Girl (1988) has some fascinating terra cotta work at its front entrance…
I'm afraid I'm not up on all my ecclesiastical symbols, so I'll need some help with this. The keys recall St. Peter, and the winged animals represent two Gospel writers. You can find some explanations for the symbols at Trinity Church in Manhattan; though Anglican, it shares some symbolism with Catholicism.
It should be emphasized that the swastika was a universal symbol of good fortune before it was seized as an emblem by the Nazi Party of Germany.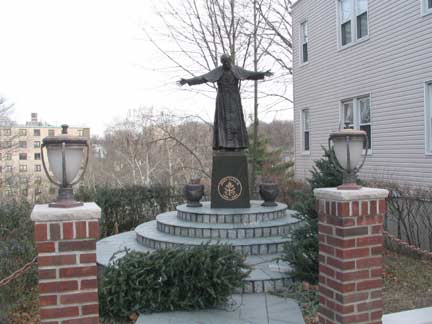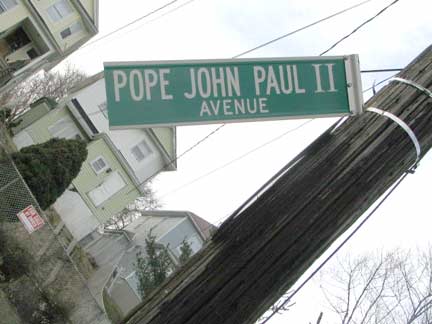 St. Stanislaus Kostka, named for a youthful, devout Polish Jesuit (1550-1568) who died at age 17, features a memorial to Pope John Paul II (1920-2005), a native of Poland and the first non-Italian Pope for hundreds of years.
Jersey Street, at the bottom of the ridge, features some drab institutional housing. At Crescent Avenue, the Richmond Terrace Houses loom in the distance. A dose of reality after the wonderland of Hamilton Park…
erpietri@earthlink.net
Photographed January 12, 2008; page completed January 13.
©2008.