The Upper East Side along Lexington, 2nd and 3rd Avenues is still a "real" NYC neighborhood, meaning it hasn't been Starbucked and HomeDepoted into bland equilibrium; there are still businesses that have been around for decades, working on centuries, and they still maintain the same accoutrements they always had. Until Starbucks buys the joint.
Pharmacist J. Leon Lascoff (1867-1943) emigrated from Russia (he was from today's Poland) in 1892 and opened an apothecary in a brownstone building on the SW corner of Lexington Avenue and East 82nd in 1899. The store doesn't quite have the longevity of Kiehl's (which we saw on FNY's 13th Street walk page), Bigelow on 6th Avenue in the Village or Caswell-Massey further down Lex on East 48th, but being 108+ years old is nothing to sneeze at. And if you did, they have something for that here.
How about that terrific signboard! Those look like handcut letters. You can see the remains of neon lighting that's long gone. And the "DRUGS" is marvelously serifed (check AIGA's recent article on sign lettering in Brooklyn.)
American drugstores traditionally have masked their products, to make the Band-Aids, Gold Bond cream and prophylactics less obvious and regular groceries more prominent. Walk into a Rite-Aid or CVS and you know what I mean. From the 1920s through the present, small-town drugstores have featured soda fountains where the er, young folks (I can say that now, your webmaster has attained the requisite age) gather after school and swallow enough ice cream and soda pop to necessitate the Brioschi and Kaopectate that were also offered there.
Lascoff would have none of that. He was strictly a chemicals and biologicals man and Lascoff's has never sold food products of any sort. He did, however, sell leeches. There are no better agents for medicinal bloodletting then these bloodsucking worms, which in the old days were used to relieve black eyes received during prizefights, among other uses. (The vermiforms are coming back into vogue in some quarters.) Salvador Dali would come in for leeches now and then. They modeled for him. Lascoff's was the first licensed pharmacy in New York State.
The vessel with the pestle appears on each side of the building's entrance and indoors, Lascoff's is maintained pretty much as it has always been, with polished wood walls and railings and gothic windows, some of which feature stained glass with the monogram JLL. There's a sign behind the counter that says "Silence Assures Accuracy" to remind the staff to pay strict attention, and the public that prescriptions are filled with attention to detail. above right, warsze.flickr
Its old wood and glass counters and its countless apothecary jars are the originals, brought in when the store's founder, J. Leon Lascoff, moved from the first location across the street more than 60 years ago. The pharmacists, some of whom have been with the store for decades, still make custom creams and potions to the specifications of local doctors, working in a two-story space whose second-floor balcony is crammed with bric-a-brac and mementos bearing witness to the pharmacy's history. Bernard Stamler, "Druggist and Customer: Doses of Civility With the Tums," New York Times, February 1, 1998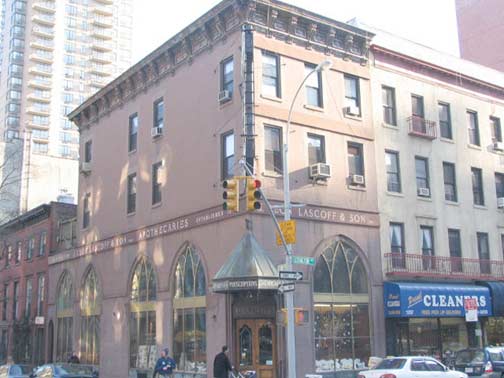 No cut-rate posters sully the Lascoff windows—each has its traditional jewel-colored globe of tinted water, many of them museum pieces. The shop itself is museumlike. One wall is covered by part of Dr. Lascoff's collection of herbal prescription jars, bottles, mortars and pestles, some of which date back to alchemists of the Middle Ages. A tiny gallery is lined with cabinets of rare drugs, books and neatly arranged antique scales and measures. Behind two neat enamel benches there begins the largest drugstore library in the U.S. The 1,000-odd volumes are in many languages. Time, "Drugs Without Soda," May 17, 1943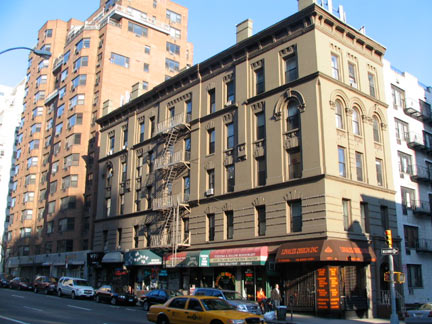 The sun catches the building across East 82nd from Lascoff's just right. I'm not yet done with the Upper East Side and will be showing more of its Forgotten aspects as we go along.
Helping me on this Slice was the book "The Historic Shops and Restaurants of New York," by Ellen Williams and ForgottenFan Steve Radlauer, as well as the efforts of ForgottenFan Vicki Metzger.
2/6/08