FNY has spent too little time in the Bronx over the years — without making excuses, it's a ways from Flushing and Little Neck. I do have a backlog of Bronx scenes, though. Here's some views from Bedford Park that I snagged at the peak of fall color in late October 2006 (and the winter before that).
Bedford Park is a niche lying between Kingsbridge Road on the south, Mosholu Parkway on the north, Jerome Avenue on the west and Webster Avenue/New York Botanical Gardens on the right.
Unlike Brooklyn's Bedford Avenue, named either for the British town or the Dutch word "bestevaar" ("meeting place of old men") Bedford Park, Bronx is named for a historical figure: Edward Thomas Bedford, president of the Bank of the State of New York — an associate of Leonard Jerome, the organizer of the Jerome Park racetrack (now a reservoir) and the grandfather of Winston Churchill.
Bedford Park Congregational Church at Bainbridge Avenue is the oldest church in the neighborhood (1883). In this photo you can see a little of its fine ashlar exterior.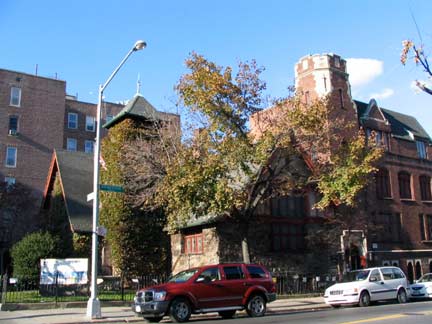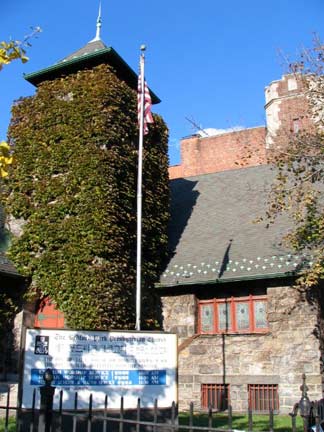 Equally distinctive is the Bedford Park Presbyterian Church at Bainbridge and Bedford Park Boulevard (1900). The boulevard, originally East 200th Street, was renamed in 1906 for the bank president, and Bedford Park Boulevard likely inspired the name of the surrounding neighborhood.
Note the signs in Korean: both Bedford Park and neighboring Norwood are home to a sizable Korean population.
Bedford Park is a mix — and sometimes an uneasy one — of Victorian-era single and two-family houses that once commanded broad yards amid wide-open spaces, with hulking apartment buildings from the 1920s and 30s. In the Gallery above: Left: Bedford Park Blvd; then Marion Avenueand two buildings on Perry Avenue
The Bronx' Ursuline Academy (originally the Mount St. Ursula Convent) is an austere building on spacious grounds at 330 Bedford Park Blvd. at Marion Avenue.
The Ursulines are a Roman Catholic religious academy founded in 1535 by St. Angela Merici, of Brescia, Italy. Throughout the centuries, Ursuline nuns have been heavily involved in education; the Ursulines originated two Catholic women's colleges, Ursuline College of Pepper Pike (near Cleveland), Ohio and the College of New Rochelle, NY.
According to a legend that appeared in the tenth century, Ursula was the daughter of a Christian king in Britain and was granted a three year postponement of a marriage she did not wish, to a pagan prince. With ten ladies in waiting, each attended by a thousand maidens, she embarked on a voyage across the North sea, sailed up the Rhine to Basle, Switzerland, and then went to Rome. On their way back, they were all massacred by pagan Huns at Cologne in about 451 when Ursula refused to marry their chieftain. Catholic Online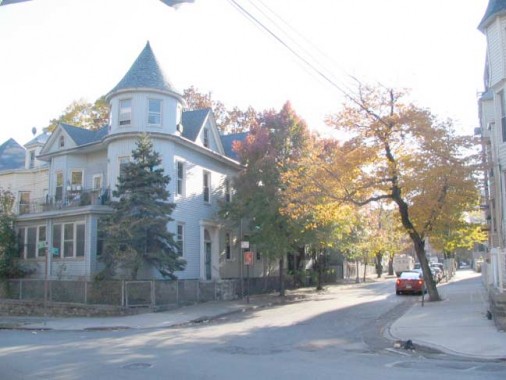 When a street is called Pond Place, it's safe to say there was once a pond there. It's a one-block lane between East 197th and 198th just east of Bainbridge Avenue and lies over what was once a glacial pond on the old Briggs farm. Because of the proximity of the Ursuline Academy it was once called Ursula Place. Today Queens has an Ursula Place in Forest Hills.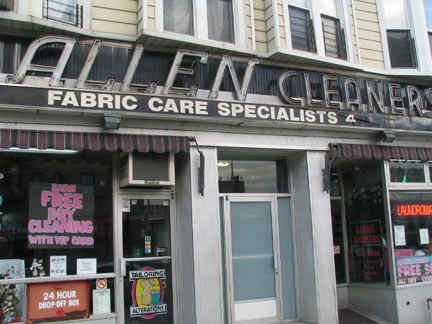 Two scenes from either end of Bedford Park Blvd.: Allen Cleaners, with an old school neon sign, near Webster Avenue and Yaa Khajagareeb Nawaz newsstand at Jerome Avenue.
The Bronx' hilly topography often takes streets places they don't go on maps. If you look at most maps there is no representation of East 197th Street's descent south down a ramp to meet Decatur Avenue east of Marion.
5/21/08