Roving FNY correspondent Gary Fonville has come up with yet another big catch of faded advertisements throughout the five boroughs.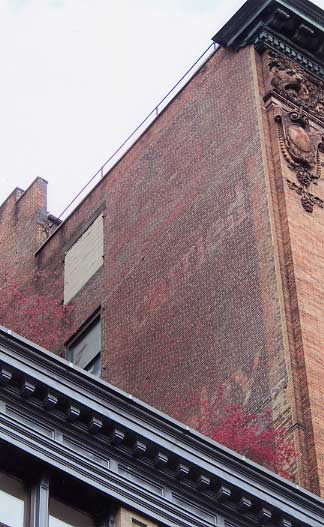 LEFT: This ancient relic was meant to be seen from the old 6th Avenue el and the street. Unfortunately, FNY's camera could not get a better angle on this unintelligible sign. This as in all likelihood predates the adjacent building on 6th Avenue near 22nd Street. Midtown, Manhattan.
CENTER: The Hotel Theresa was once Harlem's Waldorf-Astoria! Constructed in 1913, this hotel was the place where African-American entertainers and sports figures stayed when they were not allowed to lodge downtown. Former occupants included Fidel Castro, Muhammad Ali, Louis Armstrong, Ray Charles and many others. After hotels downtown integrated, the Theresa suffered, leading to it closing as a hotel and opening as an office complex in the mid 1960s.
RIGHT: Could this Franco American Baking Co. be affiliated with Franco American Foods that is now famous for canned spaghetti? 10th Avenue near 39th Street. West Side, Manhattan.
LEFT: Most of this sign is gone, but "ALL CARS TRANSFER TO" is still legible. This is a big clue to know that it is a Bloomingdale's sign. White Plains Road near 227th Street, Williamsbridge, The Bronx.
RIGHT: Thor Moving & Storage. White Plains Road near 244th Street. Wakefield, The Bronx.
LEFT: Based on pictures as shown in FNY under "Hooking 'Em In Upper Manhattan", this is probably an ad for a long defunct tobacco company (begun by David McAlpin) namedVirgin Leaf. South side of Fulton Street between Eastern Parkway and Rockaway Avenue in Ocean Hill, Brooklyn.
RIGHT: Is this a fact? White Plains Road near 241st Street, Wakefield, The Bronx.
LEFT: This sign on Fulton Street near Utica Avenue in Bedford-Stuyvesant was posted in FNY a few years back.
RIGHT: Near 224th Street & White Plains Road in Wakefield, Bronx
LEFT: Montrose Smoked Fish Corp. Montrose Avenue near Manhattan Avenue, Williamsburgh, Brooklyn.
RIGHT: Commercial Corrugated Container Corp. Kent Avenue near N. 8th Street. Williamsburgh, Brooklyn(Endangered, with all the development taking place on Kent these days)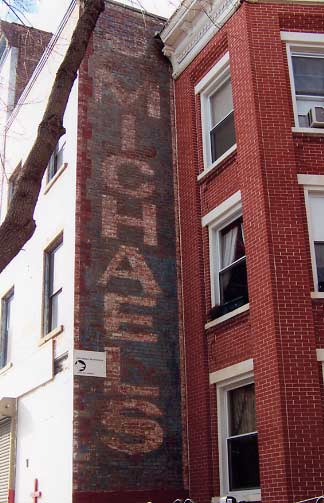 A victim of light exposure, this sign touting Bendix washing machines and All detergent can be seen on the north side of West 23rd Street immediately west of the Avenue of the Americas. Two identical signs (or part of them ) can still be seen in the Bronx and Brooklyn on Bedford Avenue near Myrtle and Westchester Avenue near Wheeler Avenue.
CENTER: J. Michaels was a furniture company on Fulton Street near Flatbush Avenue that ceased to exist nearly twenty years ago. However, this ad has survived on a street just of Broadway in Bushwick, Brooklyn.
RIGHT: Lunch with soda could be had at this location on 35th Street just west of 5th Avenue.
These two ads, recently exposed in Queens Plaza with a teardown, may soon be demolished or re-covered once again.
LEFT: While almost gone, "Commercial Truck Bodies" can still be read on this sign at Classon Avenue & Pacific Street. Prospect Heights, Brooklyn.
RIGHT: Wyckoff Avenue & Myrtle Avenue host this nearly obliterated Hamburg Savings Bank sign.
The next two photos may represent a first on FNY. This may be the first time where a faded sign was posted of a defunct business AND traces of that defunct business still exist at the advertised location! This J.J. Friel sign on 5th Avenue near 9th Street in Park Slope, Brooklyn was featured in "5 Alive" inStreet Scenes a few years back.
RIGHT: Well, here it is! FNY's ever roaming camera found, J.J. Friel's business site here at 171-0 Jamaica Avenue in Jamaica, Queens — exactly as advertised on the ancient ad in Park Slope.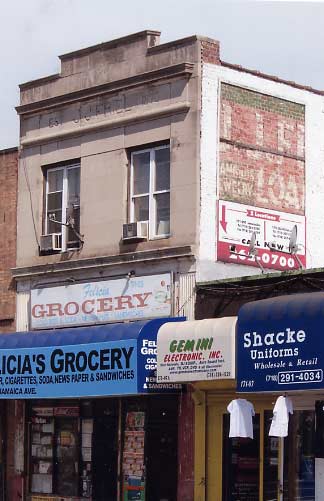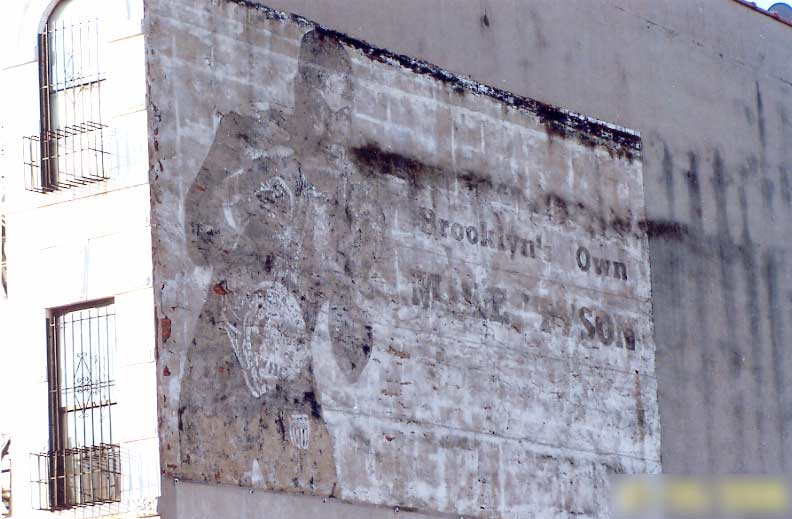 Who would have thought that Mike Tyson would be featured on a faded sign in FNY? This sign was painted when Tyson was the heavyweight champion during the late 1980s. Lexington and Stuyvesant Avenues, Bedford-Stuyvesant, Brooklyn.
(This was specifically painted to be featured in Spike Lee's 1989 feature film set in a Bedford-Stuyvesant pizzeria and its immediate neighborhood, Do The Right Thing.)
Here's a rather more distinct view of this painted sign.
LEFT: Bingo Hall on Burnside Avenue near Creston Avenue in The Bronx.
RIGHT: This puzzle-like Emerson sign advertising color tv and stereo harks back to the 1960s. It can be found on Melrose Avenue near 163rd Street, Melrose, the Bronx.
LEFT: The world "upholstery" lingers on in this faded sign on Avenue of the Americas near 23rd Street, Manhattan. RIGHT: Who in the world could read this one? Maybe a FNY aficionado could help out with this one. The only word that's understandable is "Bros". Flatbush Avenue near Linden Boulevard, Flatbush, Brooklyn.
I have heard from ForgottenFans who say J. Michaels, which I believe was a furniture store.
LEFT: An easy to miss sign graces this building in an industrial part of Unionport, the Bronx, on Haviland Avenue near Zerega Avenue. RIGHT:
The camera could not clearly discern the faded letters on this very ancient sign, but it can be better seen in person. The sign says "GROCERIES FLOUR FEED". To the uninitiated, feed is the grain that is fed to animals. In 2008 it's hard to imagine feed ever being sold in this part of Brooklyn at Franklin Avenue near Prospect Place. Crown Heights, Brooklyn.
Page completed July 13, 2008; all photos and text by Gary Fonville