The definitive 2nd Avenue FNY page has yet to be written — in sunnier weather I intend to walk it from Houston Street all the way to where it ends at the FDR Drive and East 128th — but till I wind up doing that, I'll use these shots that I obtained on an east side stagger in July 2006 (here it is February 2009 and I have an archive of unused photos that go further back than that. In fact one or two of the scenes shown here don't exist anymore.) On even a casual walk in NYC its skins of history can be peeled off like onion skin…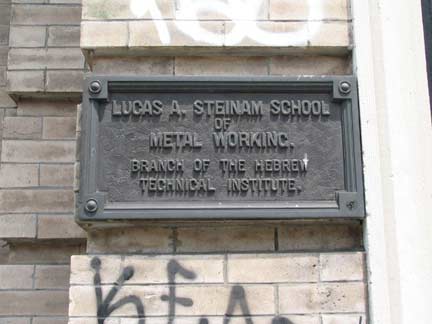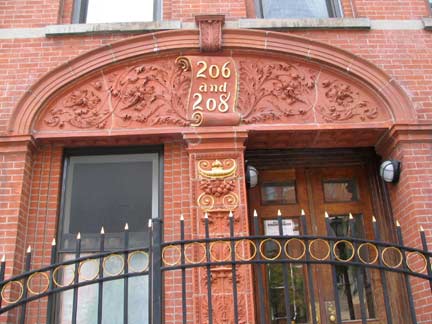 A pair of items on East 9th and Stuyvesant Streets. The Lucas A. Steinam School of Metal Working, 227 East 9th, dedicated March 26, 1902; it was a division of the Hebrew Technical Institute, a Jewish vocational school in operation from 1884-1939. Now part of NYU's Barney Building. BELOW: gilded house numbers, 206 and 208.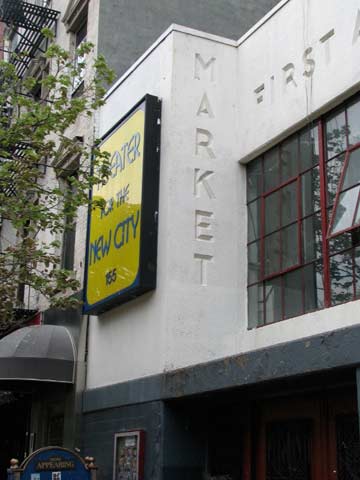 The no-frills First Avenue Retail Market at 155 1st Avenue was one in a series of identically-designed markets built by the Depresion-era Works Progress Administration. Since 1986 it has housed Theatre for the New City, which was organized in 1971.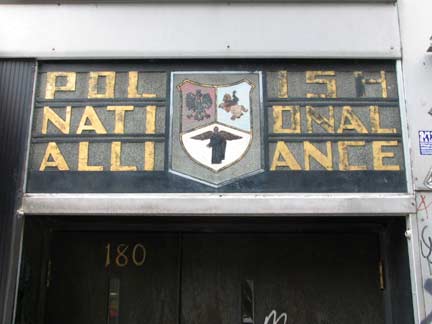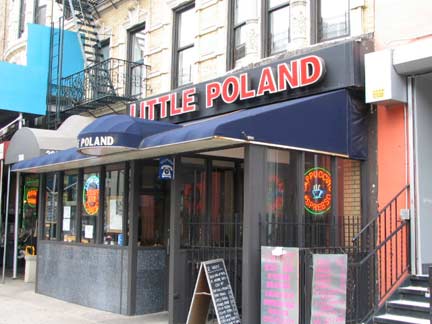 Fill me in on this — has the stretch of 2nd Avenue below 14th Street always been a Polish stronghold (as the East Village for many years has been a Ukrainian section)? The old Polish National Alliance made its home at 180 2nd, and the modern-day Little Poland restaurant is at 200, between East 12th and 13th.
Few of NYC's neighborhood theatres can boast a richer history than Village East Cinemas — originally the Yiddish Art Theatre when built in 1928 ay 2nd Avenue and East 12th, it has had almost as many monikers as stars that have passed through. It has been the Century, the Stuyvesant, the Casino, the Gayety East, the Eden, the Phoenix, the 12th Street Cinema, the Entermedia, and the Second Avenue Theater. It's been a Yiddish-language theater, a movie theater, and a burlesque house. Walter Matthau began a life in showbiz here as a counter clerk at the popcorn stand. Carol Burnett made an initial splash in 1959 in the "Princess and the Pea" spoof, Once Upon a Mattress. The Night They Raided Minsky's was filmed here and Oh! Calcutta, Grease and The Best Little Whorehouse in Texas made their debuts here.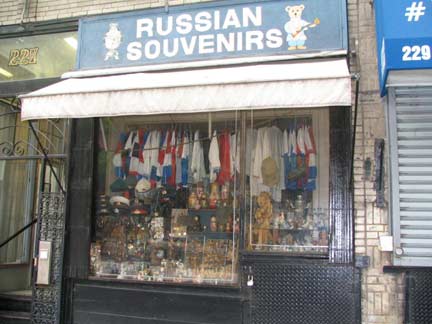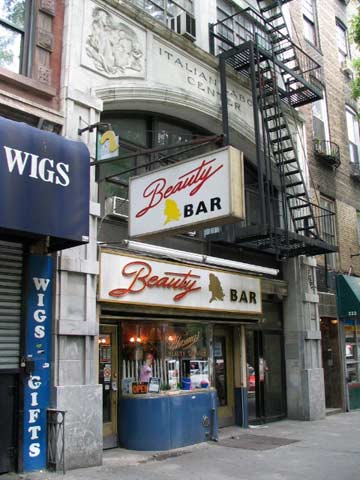 Reaching 14th Street I ambled west. This stretch of the busy route, between 2nd and 3rd, is a little different, a little quirkier. For one thing, it's tree-lined, which no other block on 14th Street can claim. There are a number of little storefronts like Russian Souvenirs (227) , with a display window full of samovars, those dolls-within-dolls, and portraits of Gorbachev, Yeltsin, and Putin; and Beauty Bar at 231, where ladies still get their hair "done" with permanents. Or used to. It is an actual bar these days, run by scenester Deb Parker.
The real treat at 231 East 14th, though, is the remains of the Italian Labor Center. In Philip V. Cannistraro and Gerald Meyer's "The Lost World of Italian-American Radicalism," the authors say the building dates to 1919, the headquarters of Cloakmakers Local 48 ILGWU (Unione dei Cloakmakers Italiani). "The carvings are likely the work of Onorio Ruotolo, poet and sculptor, whose works in that peiod dealt with the theme of workers and their resistance to exploitation."
The women with the snake reminds me of Annie Leibovitz's famed portrait of Cindy Crawford with an accessory. Every woman should have a portrait with a snake done at one time in their lives. The relief at left is rather more placid. I wonder what scenes Ruotolo was trying to depict.
Stuyvesant Square straddles 2nd Avenue between East 15th and 17th Streets. The park began life as a land grant (technically a $5 sale) by a Peter Stuyvesant descendant, Peter Gerard Stuyvesant (1778-1847) of the original family farm. The cast iron fence surrounding the park dates to 1847, second only to the Bowling Green fence in years. Preparations were finally completed in 1850 and the park opened to the public; there were two extensive renovations completed in 1937 and 1982. Statues of New Netherland Director General Peter Stuyvesant and composer Antonin Dvorak were installed in 1941 and 1963.
Behind the western fence on Rutherford Place, we see the Romanesque Revival St. George's Church, completed in 1856 by architects Otto Blesch (exterior) and Leopold Eidlitz (interior). In the early days, financier J. P. Morgan was a congregant. The church's two grand spires are long removed.
2nd Avenue Police Supplies was once part of a row of tenements on the west side of 2nd between East 20th and 21st razed in 2008 to make way for, most likely, a glass condo.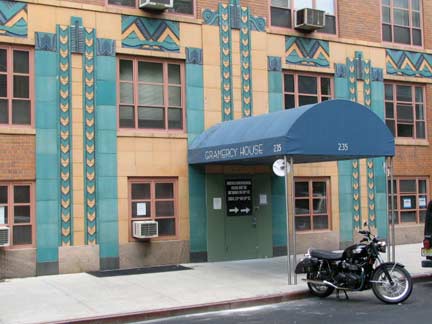 Art Deco terra cotta riot at 235 West 22nd, the Gramercy House, which helpfully describes the building on its website: 

One of the largest pre-war apartment buildings in the Gramercy Park area, this attractive 17-story building was erected in 1929 and converted to a cooperative in 1984. The 332-unit building has a light-colored facade above a dark two-story base. Three courses around the top half of the corniced building visually break the building's huge mass as does a light court in the middle of the sidestreet. The assymetrical placing of the courses in the top half of the building gives it a vertical accent despite their horizontality and as such the building has a distinct personality of strength.
Haironymus, a takeoff on one of my favorite artists.
Some nice basic neon at McSwiggan's, 2nd between East 22nd and 23rd.
We cannot display this gallery
Detouring west on East 23rd we find the old PS 47, with its comical carvings depicting medieval scholars, now home to the School for the Deaf. Stuyvesant High School was founded here as a vocational school in 1905.
We will finish at the old 1947 Cartoonists and Illustrators' School, now called, of course, the School of Visual Arts. Though I attended and worked for the now-vanished Center For the Media Arts from 1990-1993 (where I learned all this computer stuff) I did take a course or two at SVA as well.
What is that thing? Was there a statue here at one time?
Page completed February 26, 2009