Your webmaster intends to break new ground in FNY — or, rather, cover new ground in 2009 (check back in December to see if I did!). Staten Island and the Bronx have hundreds of acres yet to be roved through and combed for traces of the past or unusual artifacts. However, I can always find new bits in neighborhoods I am quite familiar with, such as Windsor Terrace, that narrow strip of Brooklyn wedged between Green-Wood Cemetery and Prospect Park.
I was stumbling through Windsor Terrace on my way to Park Slope with specific locales in mind on a mild Sunday in February 2009 when the camera automatically came out when I passed a couple of things that attracted my interest. Here they are, along with occasionally garbled explanations of why I snagged them.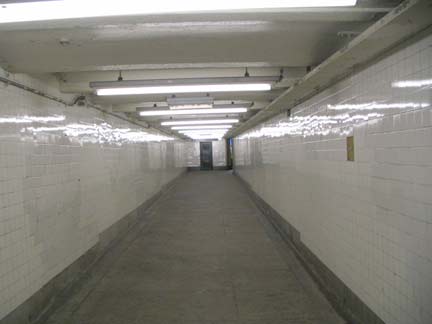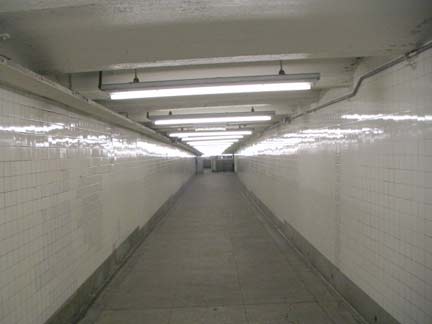 Without looking closely you might think that this is the same photo. I was standing in the center of the lengthy pedestrian passageway in the IND Fort Hamilton Parkway station that goes to Prospect Avenue and Reeve Place and shot one picture in each direction. I was surprised to see an unbroken line of white tile for what must have been about 100-200 feet. No signs, no ads, nothing. Just white tile. Not even graffiti to break it up.
SEELEY STREET BRIDGE. This is one of NYC's "secret" bridges, in that it doesn't show up on maps; I've only found a couple more like this, such as the cast-iron Eagle Avenue Bridge that spans East 161st Street in the Bronx, or the bigger Grand Concourse bridge over East 173rd Street. The bridge spans Prospect Avenue, which cuts through a deep valley and makes a turn to the south. Engineers must have thought it better to just bridge Seeley Street over Prospect Avenue when the street grid was bring built, instead of making it ascend and descend a steep grade.
Attached dwellings on Sherman Street. A quirk in the Windsor Terrace street layout leaves three extra streets between 16th and 17th, which are occupied by Windsor Place, Sherman Street and Prospect Avenue. (Of course, in Queens, they would be 16th Place, Court and Terrace.) According to Brooklyn By Name, Sherman Street was named for Roger Sherman, a Revolution-era Connecticut representative, the only man to sign the Declaration of Colonial Rights, Declaration of Independence, Articles of Confederation, and the Constitution.
Sherman Street and 10th Avenue. One of my favorite brownstone rows in Brooklyn. You can have one in any color you like, as long as it's light or dark. Sort of like McSorley's ale.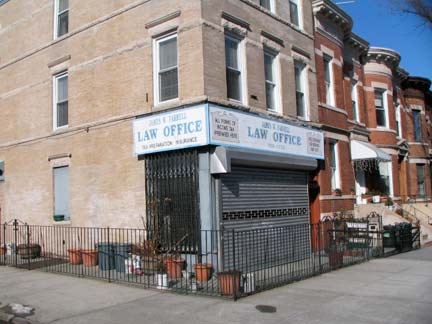 Farrell's Bar, Prospect Park West and 16th Street, isn't the only corner Farrell's in Windsor Terrace. There's also Farrell's Law Office on 10th and Windsor.
I'm aware of Arrow collars, and I think there's an Arrow that makes staples. I liked the 1970s era sign with the Futura Medium subhead. This variety of Futura is a very earnest typefont.
Regina is ready for V-Day.
Photographed February 1, 2009; page completed February 2, 2009