Much of Greenpoint has rightly been named a NYC Landmarks historic district, as its side streets contain vintage architecture from the mid-1800s of a quality not being produced today in even the most lavish of new homes. Several of the neighborhood's side streets, in particular India, Kent, Milton, and Noble have more than their fair share of beautiful multifamily dwellings (the two terms were not anathemic in the 1800s).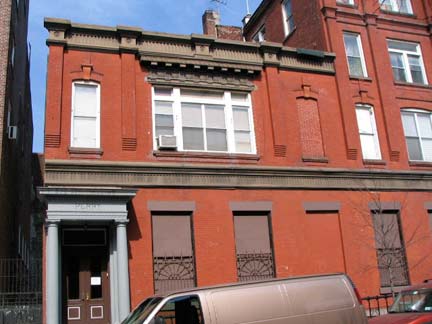 165 Noble is actually the side entrance of 847 Manhattan Avenue, was constructed in 1884 and the ground floor was the original home of the Greenpoint Savings Bank before it moved into its domed present home at Calyer and Manhattan in 1906. TheGreenpoint Historic District Landmarks Designation Report:
The Noble Street facade of No. 845-847 is quite imposing. The storefront returns for a short distance and then the ground floor is pierced by square-headed windows with stone sills and flush lintels. The windows, while no longer glazed, are still graced by handsome iron window guards. A grooved cornice separates the ground floor from the upper floors … A two-story extension at the rear was probably added in 1887 for the Greenpoint Savings Bank. Its entrance is protected by a columned portico with the name "Perry" carved in it.
155 Noble is actually one of the newer buildings on the block, as it was built in 1924 by architect Gustave Erda as a clubhouse. It's described in the Landmarks report as a neo-Gothic structure accented with Flemish bond. A plaque burnished with rust advertises it as the home office of the Polish National Alliance. It looks like a mini version of my high school.
The 1863 Union Baptist Church is described as a late example of Romanesque Revival, first used by famed ecclesiastical architect Richard Upjohn in the mid-1840s. Landmarks:
The style gained widespread popularity during the 1850s with the congregations of the dissenting Protestant sects (i.e. Congregationalists, Unitarians, Universalists, Methodists, Baptists, etc.) because, unlike the forms of the Gothic Revival, Romanesque detailing had no special doctrinal symbolism. The simplicity and austerity of the style held a strong appeal for these Protestant congregations. Most Early Romanesque Revival style churches are brick buildings which gain their architectural character through the sophisticated use of the material in the creation of arches, corbels and other details.
Its name recalls some Greenpoint street trivia. In 1869 there was a split in the congregation, with the new branch erecting a building on Manhattan Avenue — then known as Union Avenue. The pastor of this new church was Rev. David Charles Hughes, whose son, Charles Evans Hughes (1862-1948), became NY State Governor and a Chief Justice of the US Supreme Court. In 1900 the two congregations reunited at the older Noble St. church, which then became known as the Union Baptist Church.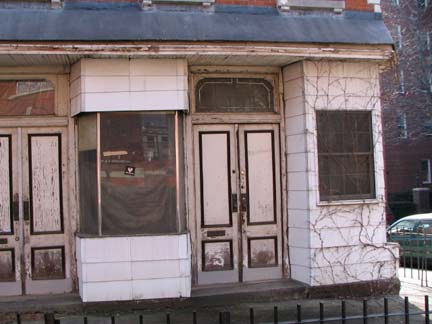 I liked the old-fashioned doorways at 148 Noble at Lorimer, built by E.S. Evans in 1874. Landmarks:
The ground floor was converted to commercial use about the turn of the twentieth century. Two entrances with double wooden doors and transoms are flanked by three projecting display windows.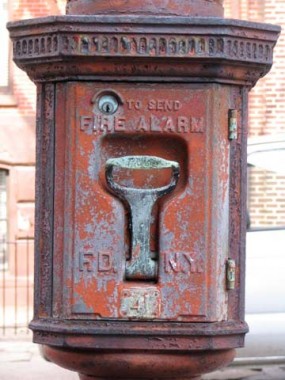 On the corner is an older example of a NYC fire alarm with a simple pull handle.
Italianate rowhouse, 143 Noble, built 1866.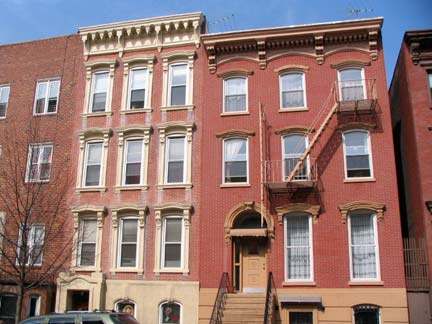 135, 137, 139, built between 1867-1873.
128-132 Noble. Landmarks: This handsome group of three Italianate brick with stone and cast-iron trim row houses was built between 1868 and 1869 by James H. Balston… The houses still retain their handsome nineteenth-century ironwork and double wooden entrance doors. No. 128 [right] has Queen Anne storm doors.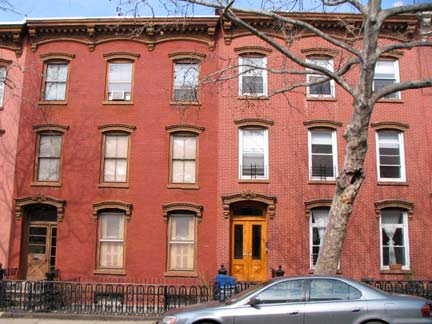 123-125, constructed by William T. Parsons in 1867-1868.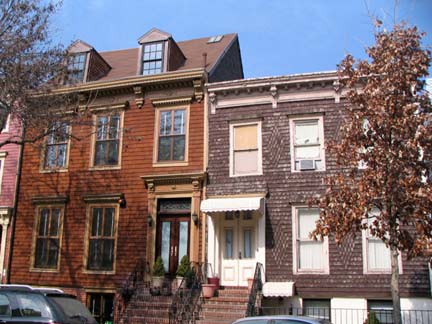 Two of the older frame houses on Noble, 107 and 109, built in 1853 and 1856 respectively. Landmarks calls 107 "one of the finest frame houses in the district."
A temple, Congregation Ahawath Israel of Greenpoint occupies the buildings at 108-110. Both date to the 1890s but have been unfortunately modernized.
After my one block walk along Noble I turned north on Franklin, laid out as a main highway to Hunters Point in the 1850s by developer Neziah Bliss. About a century ago it began to lose ground to Manhattan Avenue as Greenpoint's commercial strip but as we;ll see, elements of those days remain and Franklin has gotten a spark back as a restaurant and retail row in the Greenpoint Avenue vicinity.
A giant water tank seems to stalk Greenpoint like a tripod Martian war machine in H.G. Wells' War of the Worlds.
 Sturdy Store Displays, in a building more reminiscent of those found along West Street in north Greenpoint.
Since Franklin was constructed as the main artery some of the buildings are among Greenpoint's oldest, dating to 1850. Many originally boasted storefronts, remnants of which can still be ascertained.
An old school burglar gate at the NE corner of Milton and Franklin has been like this for several years. At the Word bookshop your webmaster gave a slide show and a reading in support of the ForgottenBook in early 2008.
Between Milton and Greenpoint these Franklin storefronts have been reactivated.
Page completed August 6, 2009