I moved to Queens on March 28th, 1993 and have lived there since, the first 14 in eastern Flushing and the next three (as of 2010) in Little Neck. While I lived in Bay ridge I made the occasional Queens foray on a bicycle, and would also take the #7 to see games at Shea Stadium and visit friends in Flushing, but till I moved here, Queens was vast, mostly unplumbed territory for your webmaster. In the late 1980s (so long ago, I'm not sure) I looked at an apartment in Maspeth, since the area appealed to me, but didn't follow up because at the time it was a two-fare zone. Most of my bike journeys were into southern Queens, which is directly east from where I lived in Bay Ridge, but occasionally I would ramble north of that; I remember I had ridden once, and only once, in the summer of 1979, into the Flushing neighborhood into which I moved in 1993. Every week I attempt to walk on one street where I have never been before. Relatively simple in New York City.
When I invade a neighborhood I haven't been I think of myself as an Amundsen, a Peary, a Cook, a Kirk venturing where no man has gone before, even though these places have been occupied for decades. (As were the far off lands the famed explorers of fact and fiction set off to). I have a fascination with old roads, which point back in time to a neighborhood's original rurality. I used to be on a bicycle more than I am now. When on a bike I have found I have to be alert about dodging motorists, pedestrians, and especially other bicyclists, who invariably want to go faster than I do because I actually want to take in the sights rather than race like it's the Tour de France (I think bike costumes are hilarious-looking and I ride in street clothes, using a rubber band to bind up a pant leg so it won't get caught in the gears. I do use a helmet). Thus, while I used to carry a cheap film camera when on a bike I now do all my Forgottening on foot. I can relax better and concentrate on one thing at a time.
I also arm myself with a map torn out of an atlas (they fold smaller than actual maps). Most people can carry online maps in their blackberries or mobile phones, but since I make about 3 calls a month and take two, I think it's silly to buy a $75 monthly phone plan, so I just use a small tracfone® I use only to make appointments or for emergencies, such as when I misplaced my house key a few weeks ago.
So in 1993 I've just recently moved to Queens and am tooling around here and there on the bike in the Jackson Heights area, and around where Astoria Boulevard meets 96th Street, and I find something that leaves me even more slackjawed than I usually am. Trailing off to the northwest is a dirt road with trolley tracks on it. I bloodhounded my way onto the road, which was festooned with No Trespassing signs even though it was marked with a street sign as Jackson Mill Road, and was thrust back into Queens history, since as soon as I got home, I researched the tracks and discovered an ancient trolley line, an ancient road, and a long-lost neighborhood, all in one.
But before talking about Jackson Mill Road and its trolley line, I have a mural to show you.
At the Louis Armstrong Intermediate School 227 (formerly Junior High School 227) you'll find one of the handsomest building murals in Queens honoring the great jazzman, painted by Tim Payne in 2009. Though Satchmo will always be identified with New Orleans, he lived in Queens, in nearby Corona, for the final three decades of his life and is buried in Flushing Cemetery.
Armstrong purchased a small house on 34-56 107th Street in 1943 and the couple resided there until Louis' death in 1971; his wife Lucille remained there until her death in 1983. Since then, the house was maintained, in turn, by the Louis Armstrong Educational Foundation, the New York City Department of Cultural Affairs and Queens College. After an over $1 million renovation, the house opened as a museum in 2003. Guided tours are offered: among the highlights are Satchmo's 2nd floor den, with reels and reels of home recordings, unsent letters in response to fan mail and an original oil painting by Astoria native Tony Bennett. Elsewhere in the residence is a 1950s-era kitchen, all in turquoise, and a bathroom with gold-plated fixtures, each unchanged since the couple were in residence.
The origin of the Jackson Mill tracks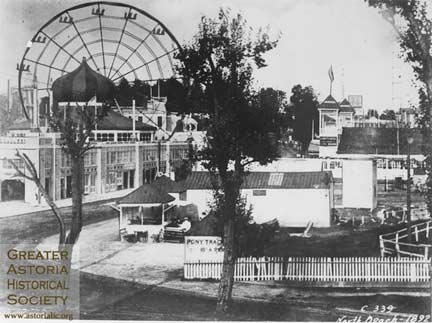 Why would, in 1894, a trolley line be extended north through this relative void? While today's Bowery Bay is just one of many small indents and inlets on the northern Queens shoreline with the East River, it was a big deal from the 1880s through the 1920s as the relative Coney Island of Queens.
The North Beach amusement area, located where the current LaGuardia Airport is today, lay along the shore of Bowery Bay. A bridge carried the tracks across a long-filled inlet called Jackson Mill Pond; its titular mill, in operation since the colonial area and known successively as Kip's, Fish, and Jackson's Mill, ground corn and grain until about 1870.
The North Beach amusement area was instituted in 1886 by brewer George Ehret and piano manufacturer William Steinway. Within a few years it was attracting over 10,000 visitors every Sunday (Saturday was still a work day in that era) with a bandshell, merry go round, ferris wheel, steam roller coaster, and East River bathing. North Beach, like Canarsie's Golden Park, lasted until the 1920s; in 1937, construction of LaGuardia Airport erased all trace of the park. Historic photos: Greater Astoria Historical Society
Imagine, in 1894, climbing aboard a streetcar on a Sunday in Williamsburg, Brooklyn, in the summer of 1894 to go to North Beach. The car would likely be an open air car, to take advantage of whatever breezes there were — air conditioning was several decades in the future. You'd probably be wearing several layers of clothing, no matter how hot it was, because that's how it was done then. Though the "white wings" of the sanitation department kept up as best they could, the air reeked with dog crap and horse dung. As you headed east past Newtown Creek…
Once a rider left Maspeth, the open country began. scattered homes only bordered the road until one reached Newtown Village, now Elmhurst; east of Newtown lay Corona, a small village with a few homes and commercial buildings. Once the car turned north into Junction Ave. and then the Bowery Road, all vestiges of settlement were left behind. Fields and farms stretched in all directions, most tilled by the descendants of the original Dutch settlers, Rapelje, Kouwenhoven, Sanford, etc. Trees overhung the tracks and only an occasional farm wagon or farmhouse interrupted the unspoiled landscape.
After Astoria Blvd. (old Flushing Avenue) was crossed, the land gently descended until one went sharply downhill and crossed the little bridge over Jackson's Mill Pond. A little stream that drained the area formerly known as Trains Meadow was impounded here by a tidewater gate creating a pond, beside which stood old Jackson's Mill, a relic of colonial times … from Brooklyn Rapid Transit Trolley Lines in Queens, Vincent Seyfried, NY International 1998

At 31st Avenue and 81st Street in Jackson Heights stands a reminder that Trains Meadow Road once scythed through the area, as a house turned against the grid is aligned along its original path.
Trains Meadow Road has fewer remains and remnants than its pal, Old Bowery Road, does. There's this, and there's 35th Road between 69th and 70th streets just north of 37th Avenue — and that's about it. Builders and developers, over the decades, have done a good job expunging it. It was a dirt grace for the most part, with no shoulders or sidewalks, and it was simply closed or built over as Jackson Heights was built up. As we;ll see, though, big chunks of Old Bowery Road are still there and for good reason.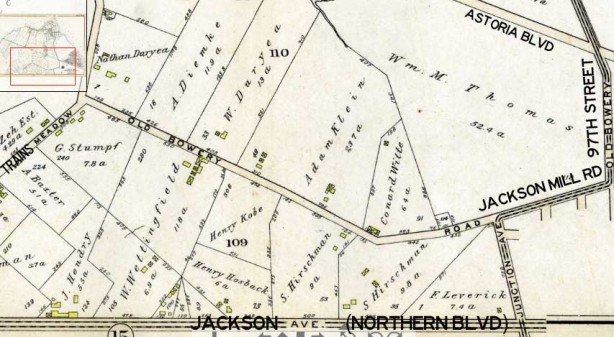 Unfortunately I can't get hold of any maps of northern Queens from 1894 but I do have this map from 1909, to which I have added present day street names to the existing roads of the time. This is Jackson Heights at that time, and if you walk through Jackson Heights today, with its mix of landmarked apartment buildings with spacious courtyards, its heavily populated pockets of East Asian and Hispanic neighborhoods, roaring Northern Boulevard and clattering #7 train on the Roosevelt Avenue el you would never know that less than a century ago, it was a wide-open, little-trafficked, swampy expanse with just a few roads meandering through. In 1914 the Queensborough Corporation and developer Edward MacDougall began building the Jackson Heights we know today.
The names on the map indicate the 1909 landholders. Eventually the Queensborough Corp. bought them out. Two major east-west roads traveled through the area: Flushing Avenue, at the top, built as the Astoria and Flushing Turnpike in 1833, later renamed Astoria Boulevard; and the turnpike built by John Jackson in the mid-1850s as a toll road. It was later combined with other east-west routes in Long Island and became US Route 25A; in Queens and Nassau it is Northern Boulevard.
Two dirt tracks, that were nonetheless important because homes and farms were located along their routes, zigged and zagged through this region: Trains Meadow Road, which ran generally SW-NE, and Old Bowery Road, which went east but then turned north. Of their origins I know nothing; they had been there since the colonial era and may have been tracked by Native Americans before that. All of Jackson Heights was once a marshy area called Trains Meadow, but this was long before the railroad and "Trains", as with many place names in the colonial era, may have been a British bowdlerization of a Dutch name.
Jackson Mill Road runs slightly northeast from 32nd Avenue and 93rd Street. I noted the pleasant house at JMR and 93rd, which surprisingly wasn't there when this was Old Bowery Road, according to the 1909 map shown above. The triangle formed by JMR, 32nd Avenue and 94th Street is called simply Veterans Plaza.
Parks acquired this property in portions between 1928 and 1932. In 1935, a resolution by the Board of Aldermen (predecessor to the City Council) named the property Veterans Memorial Park of Elmhurst Manor in honor of the soldiers who gave their lives in World War I (1914-1918). In 1997, Parks Commissioner Henry Stern renamed the park Veterans Plaza. NYC Parks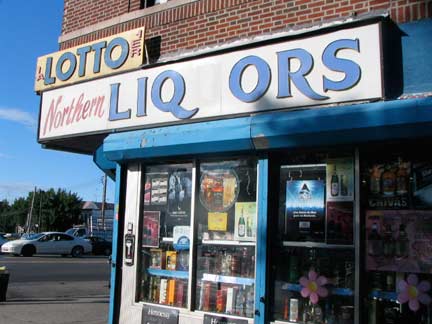 Scenes from Junction Boulevard. Junction Boulevard presently runs from 32nd Avenue south to Queens Boulevard south of Lefrak City. As Junction Avenue, it once ran all the way north to the water's edge at North Beach, which I'll discuss later on this page; the section north of 32nd Avenue is now 94th Street. Many major Queens routes were given the "Boulevard" moniker as part of the new street and house numbering system instituted beginning in 1915.
Junction Boulevard is apparently named for the trolley line that used to run along its length, although there was never a major trolley junction on it with the exception of the line's meeting with the Grand Street line at the south and the North Beach turnaround at its northern limit. Trolleys first ran on the road, which was likely built as a right-of-way for the tracks, from May 31, 1894 until 1949, when the route was finally discontinued.
Here's a look at a 1927 Belcher Hyde atlas. As you can see, by that time Jackson Heights' streets had been laid out and houses (indicated in yellow) had been built on most of them. Though Old Bowery Road is still indicated on extinct sections of the road, the Jackson Mill Road name has been applied to the part of the road that has been retained. You can also see the trolley tracks curving onto the road from Junction Boulevard, off the map at the bottom.
Here's a look at calm, placid Jackson Mill Road as it runs for 3 blocks between 94th and 97th Streets. No property faces on this section of JMR and there are no addresses on it.
By the way this was shot in late June 2010, one of the last cool crystal clear evenings before the summer of 2010 descended into one continuous hot, humid heat wave.
Notice the especially wide sidewalk and the slight curve as JMR meets 97th Street. I've implied that the old trolley right of way and hence, Old Bowery Road and 97th Street were one and the same. This is not the case. Old Bowery Road ran just west of 97th, enough so that the east edge of Old Bowery Road met the west edge of 97th.
Now, of course, we see why Old Bowery Road was kept in place here. The trolley builders used it as a convenient route to get the tracks north to the North Beach amusements.
ForgottenFan John Simonetti: The reason for the extra wide sidewalk on that curve is because that spot was a trolley 'stop' or 'station' or whatever they called it back then. There was something akin to today's bus shelters, but was a small wooden structure with benches, where riders could sit out of the rain waiting for the trolley. By the time they tore the station house down, the adjoining properties (homes and businesses) had already been laid out and the street was paved, so they just filled in the whole plot with concrete.
Walking toward Jackson Mill Road's next remaining section, I struck north on 97th. At Astoria Boulevard is an extraordinary sight: St. Gabriel's Church, and the accompanying LaSalle School, are set way, way back from the boulevard, creating a huge lawn. The cornerstone indicates the church was built in 1940, but the parish is apparently older: the Belcher Hyde atlas shows a church here in 1927, with the same extra-wide setback from the boulevard. The parish was indeed established in 1923.
At 96th Street and Astoria Blvd., across the street from St. Gabriel's, there's a very small traffic triangle the city has fenced off and planted trees in. Note the iron fence details — a horse and cart! Undoubtedly a Henry Sternian nod to the days when Old Bowery Road hosted horses, carts and wagons. The short road shown above left is a small slice of Old Bowery. The city used to have a street sign here — "Mill Road," which is incorrect — but that disappeared several years ago.
Below right is the scene that gobsmacked me when I first saw it on my bike in 1993. Nothing much to see here now, folks, but back then, Jackson Mill/Old Bowery Road trailed off to the northwest, complete with vintage trolley tracks! Soon after that, though, the piece of the road was obliterated when the homes you see now were built over the right of way.
But fear not.
A walk up 96th to 25th Avenue, a dogleg west to 95th Street and, lo and behold there's Old Bowery Road in much of its old glory. Though the city marks it (as Jackson Mill Road) with street signs, this is a private street and doesn't show up on official maps. Hagstrom Maps, for one, has likely not shown it since the tracks were taken out of service in 1949.

Here's what the story was in 1927 — on this Belcher Hyde map, opened streets are shown in gray, planned streets in white, and actual paved streets in purple. As we can see, back then this remaining portion of Old Bowery Road was the only paved one in the area.
On this end of the road the tracks have been well hidden by macadam pavement. Over time, the pavement has worn thin — re-exposing the old tracks.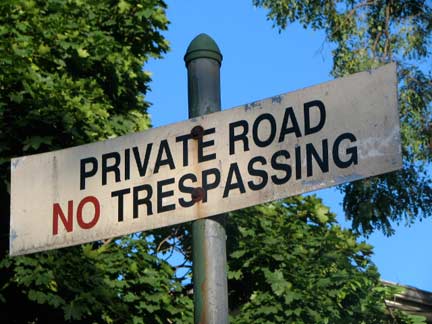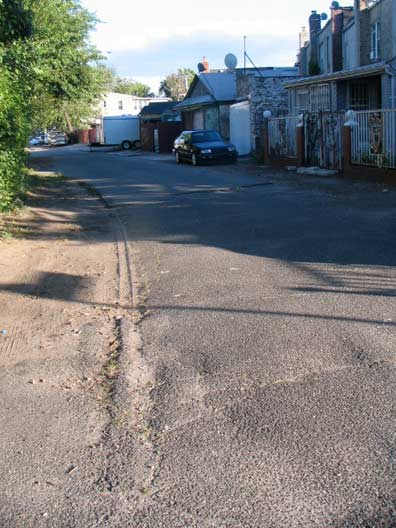 Toward the northern end of the right of way at 24th Avenue, a single curving track is in good relief. What's strange is the the catenary wires and trolley poles have left no trace whasoever unless the cars took power from a different source.
There is a final piece of Old Bowery/Jackson Mill Road, this one running northwest from 24th Avenue to 94th Street. This piece does have homes and businesses fronting along it — these may be the only remaining JMR addresses, though there might be the odd house on the previous piece of trolley ROW. A small green area called Jackson Mill green can be found here.
If you look at the 1909 North Beach map I showed above, you see that Old Bowery Road took a slight jog NE before crossing Jackson Mill Pond. The pond has been long filled in, but that slight curve is still in place.
From here, 94th Street follows the Old Bowery Road trace as far north as LaGuardia Airport, where it crosses the Grand Central Parkway.
Photographed June 2010; page completed August 15, 2010