In the deeply Red East Village (I'm kidding), you can find a triumphant statue of Vladimir Ilyich Lenin, the chief architect of the Soviet state that ruled much of eastern Europe from 1918-1990, atop an apartment building on the north side of East Houston Street between Avenues A and B, opposite Norfolk Street. There is also a large clock looming over the building, unusual in its own way, as we'll see. Houston Street is not a tribute to Texas cities or generals, but honors a Georgia congressman, William Houstoun, who married the daughter of a local landholder in the early 1800s. Houstoun's father-in-law named a steet surveyed through his holdings for his son-in-law, and it lost the second "u" in the ensuing decades.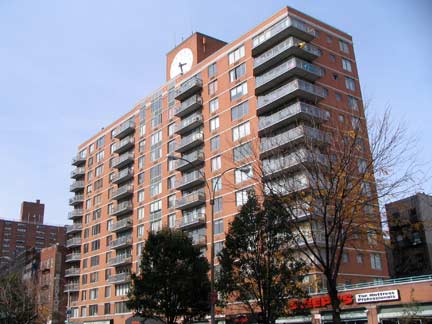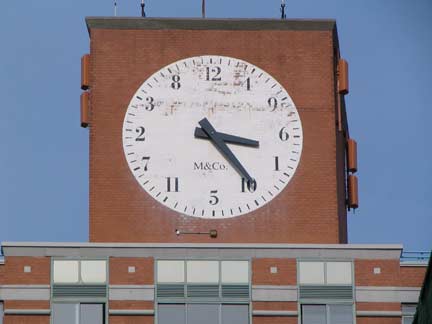 The statue of Lenin, and the "crazy clock" that appears to have come from Mr. Mxyzptlk's dimension, are part of a luxury apartment building known as Red Square since 1989, when it was developed by owner Michael Rosen, a former professor of radical sociology at NYU who, after finishing work on Red Square, concentrated on developing housing for battered women and AIDS sufferers.
The 18-foot tall statue was a Soviet-commissioned heroic sculpture by Yuri Gerasimov, but when the USSR collapsed, the statue was never officially unveiled. Rosen's co-developer, Michael Shaoul, found it in a dacha outside Moscow, and it has been part of the building since 1994 when it was purchased from Gerasimov. The clock, by designer Tibor Kalman, was based on an "Askew" watch featured in a Museum of Modern Art collection, and in fact the design can still be purchased there.
In Comments, Michael Rosen counters:
The statue of Lenin was found by a partnership of 3 guys named Walker, Ursitti and McGinnis (WUM). They had an art business in NYC and the USSR, as that was stopping to become the USSR. They asked me to invest with them in a painting they said was worth quite a bit, and as a part of the deal they located a monumental Lenin statue because I wanted one for the roof of Red Square, and also a much smaller bronze statue of a grandfatherly Lenin sitting on a park bench. No one from New York went to a dacha except the WUM guys. Cute story, though.
Unfortunately the statue was removed 9/20/16, as the building is to be redeveloped.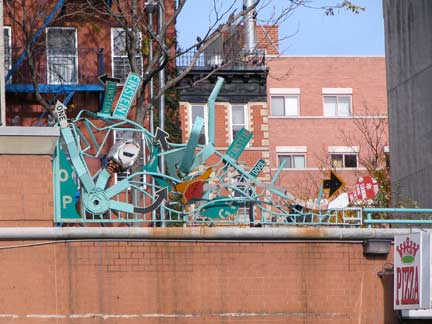 This sculpture of twisted metal and NYC road signage can be found in a low building just east of Red Square. I recognize one "Einstein" sign, and since there's an Einstein Loop in the Bronx' Co-Op City named for the famed physicist, that's probably where the signs were obtained.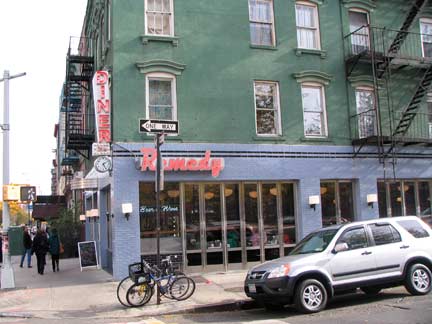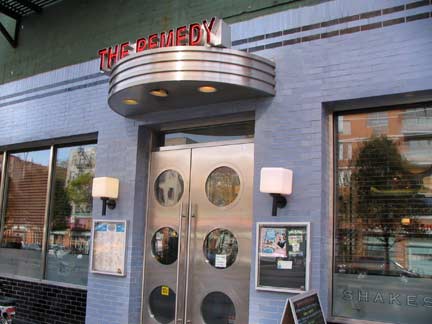 At Norfolk and Houston is The Remedy Diner; as I had recently had lunch, I didn't have time to sample the fare but various Yelp-ers have.
The Local 269, Houston and Suffolk, still has an old school neon bar sign. This is a concert venue — this stretch of East Houston has been home to The Mercury Lounge and The Knitting Factory, now located in Williamsburg, Brooklyn.
The Provident Loan Society of New York at the SW corner of Essex and Houston, which has spent time in recent years as Element, a disco and before that a strip club and goth concert hall; it has also served time as Jasper Johns' home and art space.
photographed October 2010; page completed November 9, 2010