I was hunting down an old road in Ozone Park just past the Brooklyn line south of the Liberty Avenue el, and followed it as far as it went. Near the end of the route, I was met by a playground and a street named Centreville, and I was in the midst of a small subdivision of Ozone Park that is mostly ignored by the tastemakers, cognoscenti, the cool kids, and even the nerds, except me. Centreville isn't particularly in the middle of anything, though it could be said to be caught between Ozone Park and Howard Beach, otherwise known as Gottiville, which might not be the best place to be; I've meticulously avoided Gottiville and I imagine I'm not missed. But I did find myself in Centreville for only the second or third time since I moved to Queens, and I actually got out there more when I bicycled over from Bay Ridge, which is about 7 miles west as the crow flies. And, most Centrevillers think of themselves as Ozone Parkers, since Centreville wasn't originally a -ville, it was a racetrack.
The Centreville Racetrack stood at Rockaway and Woodhaven Boulevards from 1825-1899, one of a number of tracks in southern Queens County in the 19th Century; Union Course and Centreville are gone, but Aqueduct, named for the conduits bringing water from Ridgewood Reservoir and opened in 1894, is the sole survivor of those 19th Century tracks. Centreville, which began as Eclipse Racetrack, was named as a speculative effort to being in business, promoted as being in the center of the action. Today I doubt one person in 50 knows of the track. There is a main drag, Centreville Street, and I traversed it in February 2011. Centreville St., by the way, is not to be confused with another C-ville, Clintonville Street, which cuts diagonally across Whitestone.
Left: 97th Street forks left from Centreville Street under herringbone clouds; right: NYCTS power station at Pitkin Avenue and Centreville Street. Pitkin, which begins at Eastern Parkway in Brownsville, runs for miles through East New York, where it's a main shopping drag, southeast through Ozone Park, and winds up here.
There are a number of roads and bodies of water named Hawtree in this area, and so we might imagine there were numbers of red haw or hawthorn trees in the area at one time; perhaps you might still find some. (I always think of Charles Hawtrey, the British funnyman memorialized by John Lennon at the start of "Two of Us" on Let It Be. Here's Hawtree Avenue north of Centreville and Pitkin.
It's amusing the lengths homeowners go to mark property as their own. The gambrel roof houses at the top have two separate owners each, who decided to define their property accordingly. Why they couldn't get together and agree on one treatment was too much to ask for, apparently. (The effect is less bothersome on the salt box house at left).
Olds Cutlass, Hawtree Avenue north of Linden Boulevard. What year?
Consensus among commenters says 1969
In Centreville and Ozone Park, Linden Boulevard, which roars through East Flatbush and East New York as an 8-lane behemoth, literally falls to pieces — a piece here, a piece there. It resumes in a straight line at Rockaway Boulevard east of Aqueduct Raceway and continues into Elmont in Nassau County.
Sorry, Banksy, this street art is more popular than your brand, especially in southern Queens. This display on both sides of Linden Boulevard under the A train overpass (originally home to LIRR trains) was sponsored by the adjoining OZ Auto Body:
"I'm here everyday and I was sick of looking at that wall," [OZ Auto Body owner John] Patti said. "I had a vision of doing something there that would appeal to everyone."
Patti came up with the idea of painting a mural that would serve as a tribute to the New York City Police Department, New York City Fire Department and all the victims and families who lost loved ones on Sept. 11. He requested the artistic services of ArtFx Murals, a company that has specialized in hand-painted murals since 1984 and whose fine art and advertising work is displayed across the city.
Patti and his neighbors are pleased with the result — an intensely hued, horizontal panorama that features the downtown Manhattan skyline, a firefighter, emergency vehicles and a stoic eagle taking flight before an American flag. Queens Chronicle
A glimpse of Aqueduct Racetrack just east of the overpass, where LInden Boulevard, Centreville Street (the DOT spells it wrong) and Peconic Street come together. Peconic Street likely is named for Great and Little Peconic Bays, which are actually inlets of the Atlantic Ocean between the north and south forks of Long Island in Suffolk County; I don't know why a street so far west of them is so named.
I was always intrigued by this name on the map: Boss Street, a short enclave between Peconic Street and 133rd Avenue. I can't imagine anyone naming it after their own boss, but maybe it was named for someone named Boss. (There are people named Boss, like one of my favorite Giants, tight end Kevin Boss, and he's 6'7″, 255 and could probably stop a freight train, so you don't want to argue with him.)
(Boss went to the Raiders prior to the 2011 season)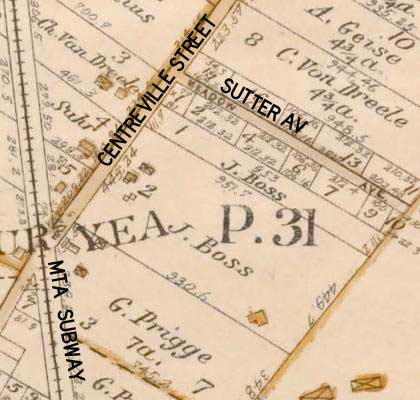 ForgottenFan TJ Connick: J. Boss shows in map (see NYPL Digital Gallery Image ID #: 1693860, excerpted left) as owner of 12 acres backing to east from Centreville Ave where street is today. This may be German-born founder of prolific farmers, or one of his sons. The old man died 1903. Family name was – and is – Boos. Maybe pronounced Boss by locals, compounded by entry on map? One of the sons expanded to big farming operation, but got displaced by Levittown, downgraded to a large Nursery. A great-grandson shows photos on TotalPestman.com (wonder what names he rejected before he started calling himself Total Pestman?)
His sons married into other German-born farmers and landholders in Centreville: Moelius, Suhr, Giese. They were modern farmers, reversing the trend of large farms fracturing into small holdings, concentrating on feeding the city with specialty vegetables and flowers (a la Van Sicklen to the east). Higher yield per acre, greenhouses, restaurant supply, etc.
Also interesting: the district at time of Boos and sons was known as Aqueduct, Long Island. I guess the track cooled that idea, particularly since the anti-gambling chucked names of tracks around like they were synonyms for the seven deadly sins. They succeeded in shutting down the whole horse-racing scene for a while. Land-sale crowd seem to have fallen in love with Richmond Hill name, too. Must have been a lack of imagination. The first one had been around a while, and you could walk over there in an hour or so. Pretty strange to me.
l
Belcher Hyde (NYPL Digital Library Image ID# 1801363, detailed left) shows Peconic Street running the full length of rail line. I believe that it draws its name from its root down by the Conduit. While the aqueduct along Conduit was in place well before the street was mapped and cut through, its eastern feed was moved out to remarkable distance of Peconic Valley around the time of street's making. It gave Brooklyn a vastly expanded, cleaner source for its reservoir.
[check this book link for more on the making of the aqueduct]
Note the original street names — likely most of these streets, except Peconic, which seems to be a leftover remnant — were never built as Aqueduct Raceway now occupies the property east of the railroad.
ForgottenFan Ted of Forest Hills:
I noted your query as to why the Peconic Bay & the street you found in Centreville would have the same name, yet be so far apart. I don't have a specific answer. My initial thought was that it sounded

Native American

& it wouldn't be illogical for two places on the same island to have the Indian name.
Peconic can be loosely translated
from the Algonquian Indian language as "
place where we meet
."l
l
Architecturally, John Adams High School (Rockaway Boulevard and 103rd Street) should probably be mentioned next to Flushing High School and Morris High in the Bronx, but you never hear about it. The school was constructed about 1930, but like most NYC public schools, it's tough to find details about its history or design.
From what I've seen of Rockaway Boulevard it's rife with these small Italian ice and snacks joints, like My (Grand)mother's Place at 109th Avenue.
One of a group of bayed-front brick houses on 103rd north of Rock Boulevard and the ultramodern Calvary Assembly of God opposite John Adams High School.
l
On 101st south of Rock Boulevard, the silent Martian tripod war machine surveyed the small town just before blasting it with a Heat-Ray. (It's actually a water tower associated with the building shown just below, now festooned with cell phone relayers.)
What was once the Nemo "Medicanical Science" Building, Rockaway Boulevard between 100th and 101st Streets. The internet is totally silent about this building, so if you lived in the area and can tell me what it was all about please do.ForgottenFan & Gravesend, Brooklyn historian Joe Ditta sent me that ad shown above from the Batavia, NY Daily News in 1921: Nemo was a corset company.