My pointless peregrinations along the Queens-Nassau line, through Little Neck, Bellerose/Floral Park, and Cambria Heights/Elmont then brought me to the undefended border of Rosedale and Valley Stream, where worlds of vastly similar appearances collide. The first thing you should know is that the web address given in the sign in this week's title card is incorrect, as rosedalecivic.org wasn't connecting when I tried it. Google searches led me to the Rosedale neighborhood in Richmond, VA, as well as Rosedale, Mississippi, where blues master Robert Johnson sold his soul to the devil, according to legend. But not much about Rosedale, Queens.
When the Standard Land Company acquired holdings in what had been known as Foster's Meadow (after colonial-era British settler Christopher Foster) in 1890 and set about building homes and laying out a street grid, it called its main thoroughfare Rosedale Avenue after wild roses found in the area. Rosedale Avenue is now the southern end of Francis Lewis Boulevard.
Rosedale is presently a stable community consisting of a mainly African- and Caribbean-American population. Like Cambria Heights to the north, it was the site of a brief but ugly neighborhood war in the 1960s in which white residents resisted black families moving in; the result was white flight to eastern sections of Long Island.
Valley Stream, meanwhile, on the eastern end of the city line, is famed mostly for its vast Green Acres Shopping Center. The community was formed in 1843 and went through names such as Tigertown and Rum Junction before its present name was settled on. In its early days in the 1890s Valley Stream was the epicenter for the bicycling craze sweeping the land, and hotels and overnight flops for cyclists led to a more permanent settlement. Valley Stream was built up heavily in the early 1920s by developer William Gibson (a LIRR station bears his name) and in the 1930s was home to Curtiss Airport; Green Acres was built in 1956, and actors Ed Burns ("Saving Private Ryan") and Steve Buscemi ("Boardwalk Empire") grew up in Valley Stream. Information from Hometown Long Island, Newsday 1999
When I lived in Bay Ridge, I found Rosedale and Valley Stream easily accessible by bike, as they are directly east by about 10 miles. Rosedale can also claim NYC's highest street number combination (411) at the corner of 149th Road and 262nd Street. The lowest is 2, at 1st Avenue and East 1st Street.
Rosedale can also claim a railroad oddity, as its street pattern at Huxley and Edgewood Streets marks the former passage of a spur called the Cedarhurst Cutoff, which branched off the LIRR main line in Laurelton and ran southeast to the Five Towns community. According to Bob Andersen in LIRRHistory, the line was built in 1872, saw service only until 1876, but was electrified in advance of planned service in 1918 that was never seen, due to America's entry into WWI. It was once again rebuilt in 1928, but again, service never got restarted because of the Great Depression. The tracks were removed, but the street pattern still makes way for it.
For railroad mavens, the great Art Huneke has more than you can possibly stand.
Brookville Boulevard, shown here from 130th Avenue looking north, is the main north-south traffic route in Rosedale, looking rather rural without a sidewalk. The road is one of the oldest through the region and has always snaked south through the marshes to meet Rockaway Turnpike (later Boulevard) at the tiny community of Meadowmere. Until the 1920s it was known as Fosters Meadow Road. For most of its run in Rosedale it is the eastern end of Brookville Park and a feeder road for Laurelton Parkway.
There are a number of short numbered streets trailing from both Brookville and Hook Creek Boulevards that dead end. Some contain now-outmoded street lighting, and 129th Avenue features a "Department of Traffic" sign, and a hand-lettered safety sign. The huge lawn in front of the small house imparts a decidedly suburban aspect.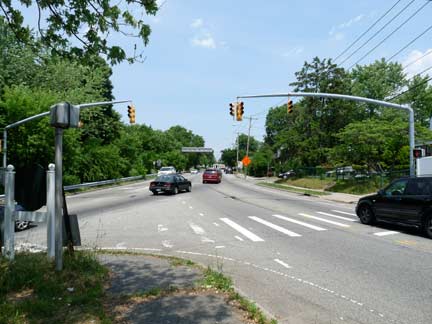 As Mets broadcaster Ralph Kiner used to say whenever the Mets visited Pittsburgh, "The Ohio River is formed by the confluence of the Allegheny and the Monongahela," and similarly, Elmont Road (center, in the distance) is formed by the confluence of Brookville (left) and Hook Creek Boulevards. From here, Elmont Road runs northeast through the village it is named for to Hempstead Turnpike. I chose Hook Creek Boulevard, where the city line runs, to explore southern Rosedale.
Joe Albergo Way was named in 2009 for a prominent local school board member.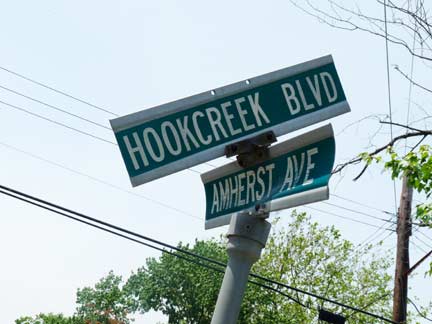 Hook Creek Boulevard is named for a mostly-submerged (ie. diverted to sewers) waterway that runs from Valley Stream south to Jamiaca Bay. It does have an exposed surface component (see below). The boulevard runs athwart the Queens-Nassau line from Elmont Road south to Merrick Boulevard, from whence the line drifts graudally southeast, and the road is entirely contained in Queens.
It's not shown thus on the 1949 Hagstrom, but the road has a split identity, as Jamaica Avenue/Jericho Turnpike in Bellerose used to have before the entire road was renamed Jericho. The west end of the Rosedale divider, in Queens, is named Hook Creek Boulevard, while the east is called Ocean Avenue — until the 1920s, the road on both sides was called Ocean Avenue.
But things are never completely cut and dried along the border. Note that the street sign on the Nassau side reads "Hook Creek Boulevard", not Ocean Avenue…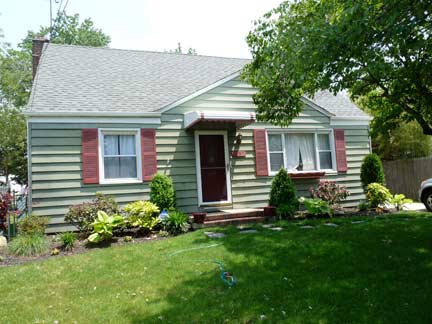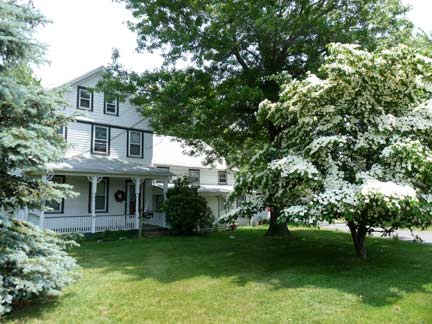 …and that these two houses located on the east side, the Nassau County side, carry Nassau County house numbers (left) and Queens house numbers (right).
Could it be possible that instead of the line running down the center of the street, as is shown on the street maps, it instead jogs back and forth from one side of the road to the other? That might explain the weird house numbering, and perhaps the "Hook Creek" sign in Nassau.
By the time you arrive a bit further south, though, all ambiguity is erased. This side of the road is called Ocean Avenue in Nassau — none of this Hook Creek Boulevard stuff as on the Queens side — and 128th Road becomes Foster Avenue.
It's a little hard to see in photo right, but two sets of utility poles line the road, one carrying Con Ed lines, the other carrying LIPA — and there are two sets of street lighting, as well.
Ocean and Foster is also an intersection in Flatbush.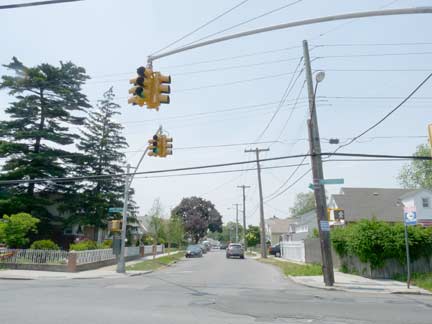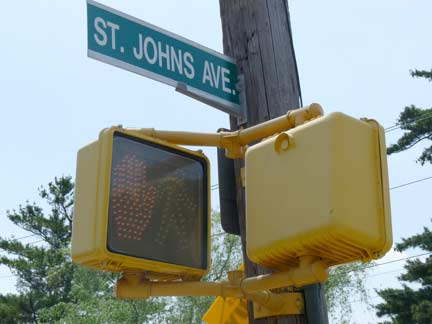 130th Avenue rates a stoplight and 'don't walk' pedestrian signals — it crosses Laurelton Parkway and brings traffic all the way to Springfield Blvd. in Springfield Gardens. Its Nassau County extension is St. Johns Avenue, which unusually, has NYC-style pedestrian signals mounted on the Nassau County side. Elsewhere on the border, the Nassau County davit-style stoplights are mounted on the Queens side so turnabout is fair.
When Hook Creek Boulevard reaches Merrick Boulevard, the city line has moved a couple of feet east of it, and from here on south, Hook Creek Blvd. is all Queens. At this point, though, Merrick Boulevard becomes Merrick Road. The route, designated NYS 27A and named for the Merrick Indians, opened as a plank road in 1853, and extends from Hillside Avenue in Jamaica southeast and east to the Suffolk County line, where it becomes Montauk Highway.
The USA Diner on Merrick Boulevard, just west of Hook Creek Boulevard, is a 1991 remodeling of the former Cross Island Diner. At the Nassau Line and east, several telephone poles are decorated by scrolled masts that originally held "gumball" luminaires. The short mast on the pole once held a fire alarm marker lamp.
Just as no dinosaur — or any other large reptile species alive at the time — made it past the Cretaceous-Tertiary Age boundary 65.5 million years ago, possibly done in by a meteor impact that caused changes in atmospheric conditions that killed the prey and fauna they fed on, no numbered street makes it past the Queens-Nassau line in Valley Stream. For example, 136th Road becomes Fir Street at the line, while 137th Avenue becomes Gold Street.
Many communities, big and small, have a Broadway. Valley Stream's runs north to south from Merrick Boulevard to Gold Street and is paved with concrete blocks.
The Gold Street-137th Avenue line is discernible by the change in blacktop. Oddly, streets are in alphabetical order from Ash to Gold, but A-F are all plants while G is a precious metal.
At Sunrise Highway and Hook Creek Boulevard, I made a hook west a few blocks to Francis Lewis Boulevard, where you can find possibly Queens' biggest concentration of war memorials. They were installed in 1962 and 1968 and commemorate Rosedale residents who perished in World War II and Vietnam.
Francis Lewis Boulevard, named for a Queens County signer of the Declaration of Independence, was mostly laid out in pieces in the 1920s and 1930s, with the northern end originally called Cross Island Boulevard; in southern Queens, it usurps the routes of various numbered streets, and in its turn through Rosedale, assumes the route of what was originally Rosedale Avenue.
The Sunrise Highway, constructed in 1926, once stretched all the way west to Atlantic Avenue in Cypress Hills, but was supplanted in Queens when the Belt Parkway was built along its route in the late 1930s. It now runs from Laurelton Parkway and Brookville Boulevard all the way to the Long Island South Fork, running toward the sunrise. The NYC Department of Transportation seems uncomfortable with a road so identified with Nassau and Suffolk Counties barging into Queens, and occasionally signs it as South Conduit Avenue.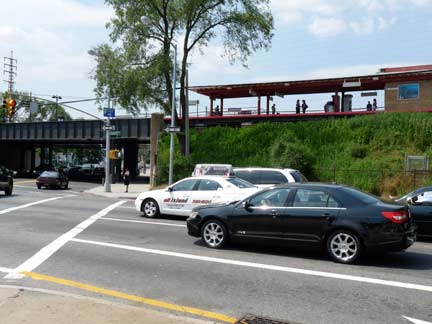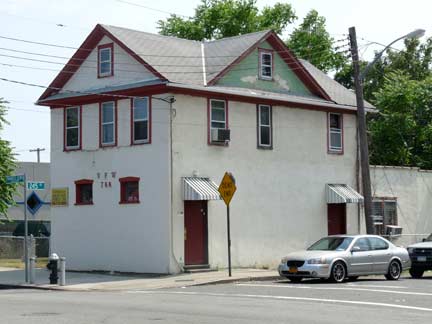 This elevated Rosedale station opened in 1941, replacing two earlier stations that had been at grade.
Since Francis Lewis Boulevard is among the oldest laid-out streets in Rosedale, there are some older buildings scattered there such as this Veterans of Foreign Wars hall at 245th Street just south of the station.
On either side of 248th Street and Francis Lewis Boulevard, the Rosedale Jewish Center and the Evangelical Lutheran Church of Christ.
Forgotten NY contributor Sergey Kadinsky in the Jewish Press in 2006:
The doors of the Rosedale Jewish Center describe the synagogue as Conservative, the congregants come from a variety of backgrounds, and the interior is richly decorated with Jewish artwork. Located in the southeastern corner of Queens, Rosedale is within walking distance of what's commonly called the Five Towns- a section of Long Island with large, thriving Orthodox communities.
Rosedale's Jewish community, by contrast, has been experiencing decline for decades, with younger families choosing other places to live, and older members retiring to Florida. When the synagogue opened a half century ago, the neighborhood was mostly Jewish and Italian, and the Conservative movement seemed to be the wave of the future. Today, the majority of the residents are African-Americans with a Caribbean background, and the nearest synagogue to Rosedale, the Conservative Laurelton Jewish Center, closed its doors in 2000.
Evangelical Lutheran Church of Christ
This, the heart of Rosedale, was laid out in the 1890s and glimpses of that legacy can be spotted along Francis Lewis Boulevard, such as the porched house at 248th, and the older houses at 254th without a sidewalk in front of them.
At 256th, Francis Lewis Boulevard inexplicably widens by a few feet very briefly. Other streets in Queens, such as Jewel Avenue in Fresh Meadows, also can widen and get narrower, block by block. Perhaps, at some time in the past, the city got started in a widening program on these streets and then discontinued it.
147th Avenue is the main east-west street in Rosedale, other than Conduit Avenue/Sunrise Highway, but oddly, traffic is controlled at Francis Lewis Boulevard by only a single telephone pole mounted stoplight.
Seating is provided at the bus stop that connects to the LIRR Jamaica station (mostly using 147th Avenue and Guy Brewer Boulevard).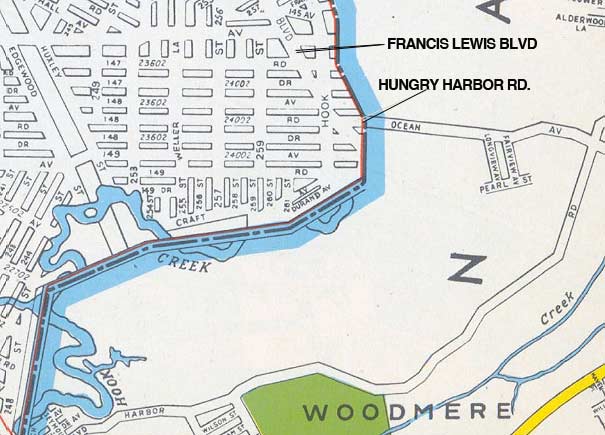 The general street pattern shown in this plate from a 1949 Hagstrom atlas holds true today, pretty much, though the map has been updated since (and the hand drawn version abandoned and a digitized edition replacing it). Francis Lewis Boulevard, angling in from the left in the photo, the longest street contained entirely within Queens, ends its run at Hook Creek Boulevard and 148th Avenue. Its northern end is at the Cross Island Parkway in Whitestone.
Hungry Harbor
Just south of the Francis Lewis junction, a narrow two-lane road issues east from Hook Creek Boulevard. This is the only entry into Nassau County available for auto traffic from Rosedale south of the Sunrise Highway.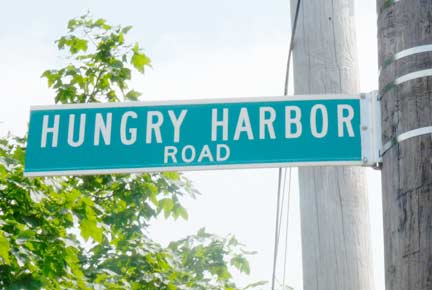 The road's unusual name comes from a colonial-era name for Valley Stream, "a settlement of squatters named for the status of its residents," according to the 1999 Newsday Home Town Long Island book. Once it crosses into Nassau County it widens and becomes Rosedale Road, named for the neighborhood from which it originates. A longer Hungry Harbor Road begins further east on Rosedale Road, running southwest into Woodmere. No doubt there has been a fair amount of confusion over the years about Queens and Nassau County's separate sets of Hungry Harbor Roads.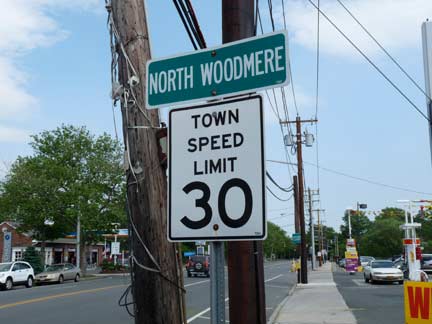 The road is bridged over a surviving surface section of Hook Creek, which is shunted underground north of Sunrise Highway, and south of here runs as a channel to an inlet called Head of Bay which in turn empties into Jamaica Bay south of Kennedy Airport.
The road enters Woodmere, the largest of the affluent Five Towns of southwest Nassau County. The town is named for liquor tycoon Samuel Wood, who built two large hotels in the area in the 1860s. After the turn of the 20th Century the hotels were demolished, homes and streets were built, and Woodmere became a NYC suburb.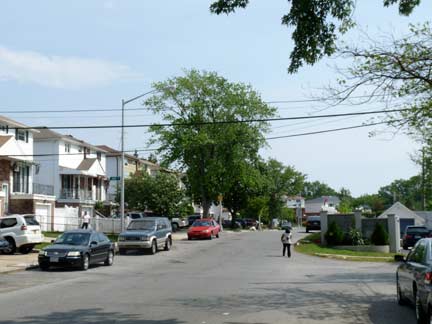 Hook Creek Boulevard, meanwhile, peters to a halt a couple of blocks south of Hungry Harbor Road, losing a sidewalk.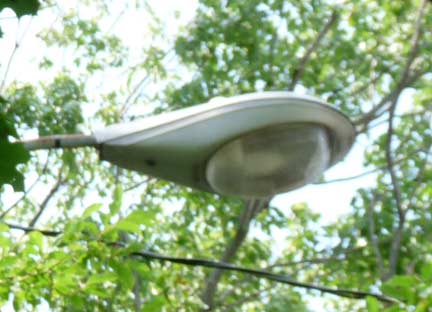 I noticed, peeking through the trees, a now-rare example of a 1960s General Electric M400 luminaire, first introduced in 1958. Once the co-ruler of NYC streets along with the Westinghouse Silverliner, the GE M400 became much rarer in 2009-2010 when most of the remaning ones were removed and a standard new luminaire was installed on most NYC posts. The new lume? The 2009 GE M400!
No doubt this will be replaced as soon as the leaves fall and DOT spots it.
7/24/11