Kensington, the section of Brooklyn located just south of Windsor Terrace, SW of Prospect Park and SE of Green-Wood Cemetery, is named for a western borough of London — many streets in Prospect Park South were given British names by Prospect Park South's developer, Dean Alvord, during the early 20th Century.
Kensington lies near Bay Ridge and Borough Park, and so I have always had a familiarity with it from my days of cycling through Brooklyn from my Bay Ridge home. I filed away a lot of meterial in my head from that era, roughly 1973-1993, when preparing Forgotten New York, the website and later the book.
There are a number of short streets within the neighborhood (differentiating it from neighbors Sunset Park and Borough Park, and likening it to Flatbush, which borders it on the east). Neither alleys nor main streets, they run for one block, two at the most, and some bear hidden delights.
TODAY'S WALK ROUTE: Kensington Lanes
Kermit Place/Caton Place/Friel Place
The part of Kensington found between Ocean Parkway, Coney Island Avenue and Church Avenue is curious. It seems to predate the surrounding checkerboard street grid, its streets are narrower and the atmosphere generally different. Signs point to it being developed earlier than the rest of Kensington.
On the 1890 atlas above, the earliest one I can readily find of this area. Most of the streets shown are still there. The purple color of the roads gives evidence that they had already been paved (with concrete blocks or macadam) and the small yellow rectangles along the streets show that homes and buildings had ben built, as well. By contrast see the eastern part of the map, south of the Parade Ground, where there's still nothing.
Today, Caton Place is still so named, but Henry Street is Kermit Place, Johnson Street has become Caton Avenue, and Montgomery Street is now Friel Place (so renamed in 1933 for a recently deceased alderman). Looking north to south, 18th Street (an odd extension of the 18th Street of Park Slope) and Poplar Street have both been renamed East 8th Street.  Bowne Street has been obliterated completely.
By 1929, when this plate was surveyed, things had pretty much settled in to what they look like today, though the Prospect Expressway was extended along Ocean Parkway by Robert Moses in the early 1950s, and Caton Avenue was extended southeast from Ocean parkway to East 7th Street some time between 1929 and when I first encountered it as a boy riding in the B16 bus in the early 1960s. Kermit Place has also gained an eastern extension.
Kermit Place between Ocean Parkway and East 8th. While Avenue Q in Marine Park may have been renamed Quentin Road after Teddy Roosevelt's son was killed during World War I (the odds are against it), I can't be sure Kermit Place was named for another son of his, Kermit Roosevelt, soldier, businessman and, with his father, a South American explorer, and a 1943 suicide. Kermit Place had attained its name by 1929 so I doubt there is a connection, but you never know.
It row of attached homes, likely from the 1910s, give the eastern section of Kermit Place between east 8th and Coney Island Avenue an atmosphere all its own, as well as does a quirky slight bend in the road.
Though I bowled as a kid at Leemark Lanes on 88th Street between 4th and 5th Avenues, I also, now and then, came here to a lanes at Caton Place and East 8th. That was so long ago I can't think of the name of the place, and Leemark, too, has disappeared. The Calvary Cathedral of Praise World Outreach Center has replaced strikes and spares. Top names in gospel music, including CeCe Winans, have appeared there.
[Park Circle Lanes — see comments]
I'd like to do a Remembrance of Bowling Alleys Past, if anyone remembers where they were.
Kensington Stables, Caton Place and East 8th, is one of two remaining stables in Brooklyn, joining the Jamaica Bay Riding Academy that serves the Shore Parkway area east of Flatbush Avenue. It gives Prospect Park one more stable than Central Park, whose Claremont Stables galloped away in the early 2000s.
Our barn at 51 Caton Place was built in 1930 as the last extension of the riding academy at 11 Ocean Parkway founded in 1917. The first extension was torn down to make the foot bridge over Ocean Parkway. The original riding academy closed in 1937 and is now a warehouse. Today, Kensington Stables is the only remaining stable in the Prospect Park area. We continue to offer friendly, accessible, and affordable equestrian activities for New Yorkers and New York's many visitors from all walks of life. Kensington Stables
What will likely be an apartment building is rising across East 8th from the stables.
A second large church, International Baptist, is found at Caton Place and Coney Island Avenue across from the parade Grounds.
This excerpt from the 1929 atlas shows Montgomery Street, soon to be renamed Friel Place. Also shown are Turner and Hinckley Places, which are explored later in this entry.
SW corner building at Coney Island Avenue and Friel Place — plenty of hardware store signage.
Tudor-ish building on Friel between East 8th and Coney Island Avenue appears to have been cut in half by a giant blade.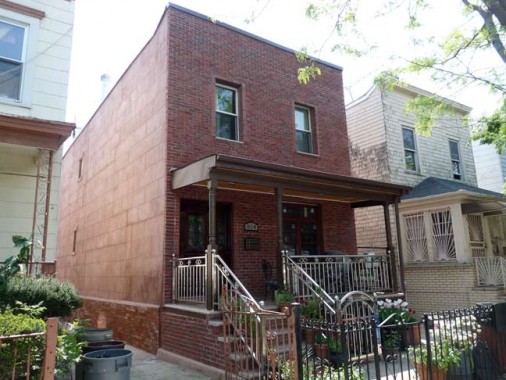 What is likely a near-century old salt box building has been given a makeover. Note the house number, 814, which reflects its proximity to East 8th. Other short lanes in the neighborhood begin their house numbering at #1, or close to it.
Friel Place at East 8th. The 2-story boxy brick buildings, one apartment each floor, are near standard issue in the NYC area.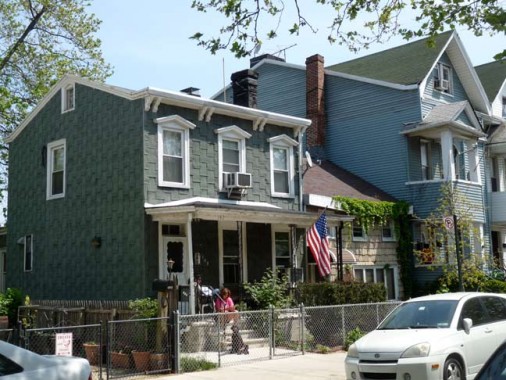 Likely one of the older houses in the neighborhood, on the portion of East 8th formerly known as 18th Street between Friel Place and Church Avenue.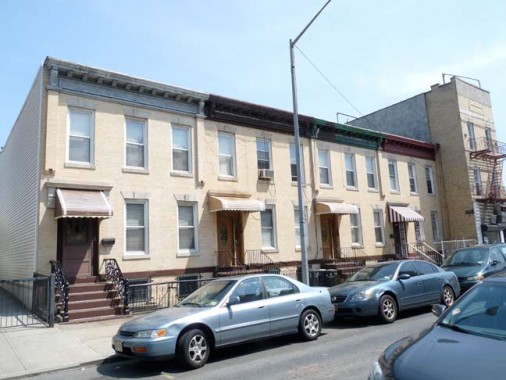 Two-story attached brick buildings on East 8th near Church Avenue. Note the original rail on the building on the left.
Church Avenue is a main shopping and business street in its entire length between 37th Street in Borough Park and East 98th in Brownsville.  It was originally known as Church Lane as it led to the Reformed Dutch Church at Flatbush Avenue, a congregation founded by Peter Stuyvesant in the 1600s — its present building was erected in the 1790s and has tombstones in Dutch in its cemetery.
Oddly, Church Avenue follows a colonial-era path, and wobbles and weaves a bit in its eastern stretch instead of taking a straight path.
In the blocks between Ocean Parkway and Coney Island Avenue, you will occasionally find a large private home facing the street instead of the usual brick buildings with storefronts on the bottom and apartments on the top.
Turner and Hinckley Places
In the 1890s Turner and Hinckley Places, which run between East 8th and what was once East 11th, now Stratford Road, were already laid out and partially paved, though no homes had yet been built. Oddly they were laid out to cross busy Coney Island Avenue, which had a trolley route running on it that had been electrified in 1890; its origin was as a horsecar line. The B68 bus is its descendant.
Avenue B was renamed Beverl(e)y Road during a British-obsessed period when the region was being built up. Parts of Avenue C were renamed Clarendon Road, but another section in Kensington kept its old name. At the same time, portions of Avenue A and B in the East Flatbush-Canarsie area got to keep their letter names. The upshot of all this is that on the Brooklyn map, Avenues A and B are 3 neighborhoods and about 5 miles away from Avenue C. Only a map geek and a Brooklyn history geek, like your webmaster, understands why.
The Coney Island Plank Road was opened in 1850. The planks were removed in 1860 and the road was turnpiked and the horse cars began to operate over its line; this road is now known as Coney Island Ave. Coney Island History Project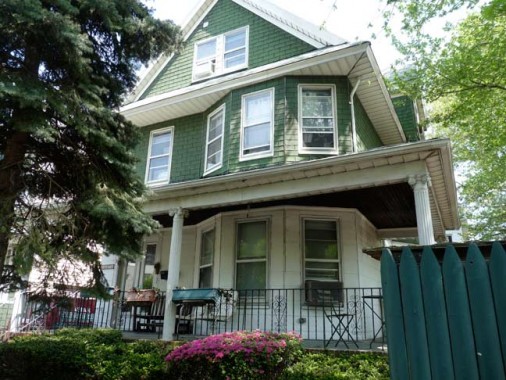 Large house with porch, NE corner East 8th and Turner Place.
Helen Court, apartment building at the west end of Turner Place ay East 8th. You can see it on the 1929 atlas shown previously. I thought of the British Australian tennis champ, but that was Margaret Court.
East side of Coney Island Avenue, north and south of Turner Place. These buildings likely date to the mid-1920s.
50-52 Turner Place. More often than not you see more units in a row like this, and they take up an entire block. Note that #50 has a new door, while #52 has what could be its original door.
In Kensington, the duplex porch is a common style, almost the signature style of the neighborhood, especially along Beverley Road. Here is one example on Turner Place.
At Stratford Road we are almost on the doorstep of the landmarked Prospect Park South. In 2011, ForgottenTour #46 explored the incredible housing to be seen in the area.
On the corner of Stratford Road and Hinckley Place, a building with a spherical, spacious shady porch almost negates the need for air conditioning in the summer for its lucky owners.
Compromise is the Hinckley Place theme, as the genteel housing of Prospect Park South gives way to commercial realities and cheaper warehousing.
Your home is your castle and there's something to be said for the notion that you appoint your home as you see fit. That said, I wish there was more guidance and wisdom out there that would prevent situations like this Hinckley Place mistake from occurring.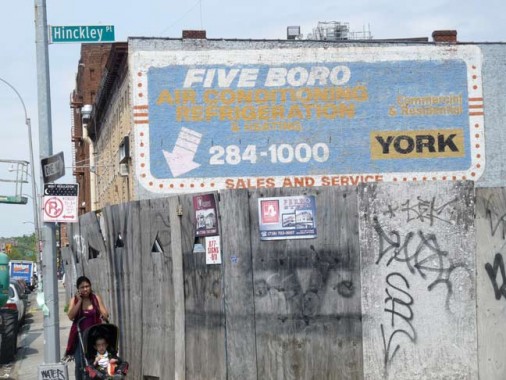 Painted ad on Hinckley and Coney Island Avenue that will be a classic in a few decades after tastes and styles in advertising ineluctably change.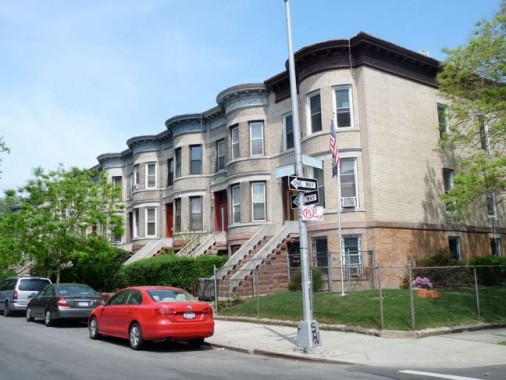 Remember the isolated attached homes at 50-52 Turner? More commonly they run in packs like this, on East 8th and Hinckley.
Far back as I remember, from when I lived in Brooklyn, this house on East 8th facing Hinckley has always had something going on with the presentation. Currently there's a red, white and blue flag motif.
Massive apartment building at Beverley Road and East 8th features multiple doorways, with Ionic columns and, once again, British-sounding names, which apparently seem to impart a certain gravitas.
Lewis Place, Matthews Court, Slocum Place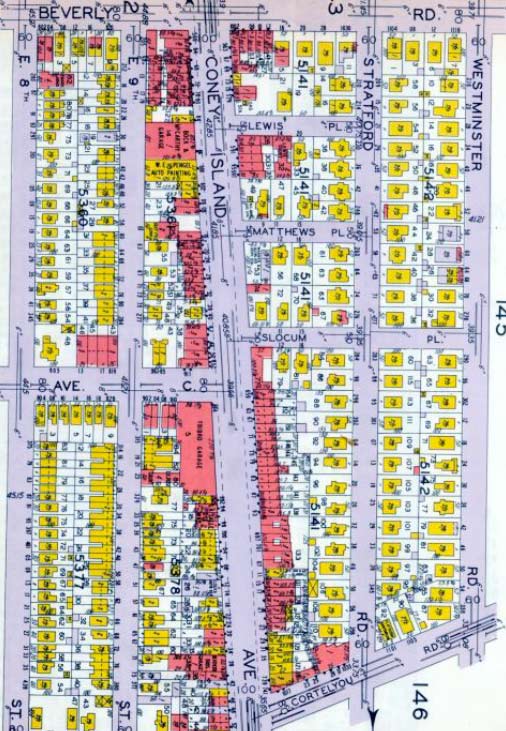 These three lanes don't appear on the earlier 1890 map, and some modern maps make the mistake of showing all three as one block each. Slocum runs for two blocks, as on this 1929 atlas plate. Sometime and somehow between then and now, Matthews Place became Court.
Discount liquors, Lewis Place and Coney Island Avenue. Note the liquor bottles replacing the letter I's in the sign.
Quiet Lewis Place runs one block to Stratford Road. New bishop crook lamps have been installed in the Prospect Park South landmarked district, but unusually these have shallower than normal glass diffuser bowls.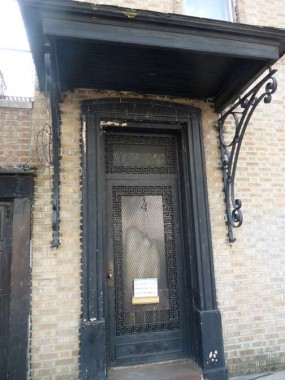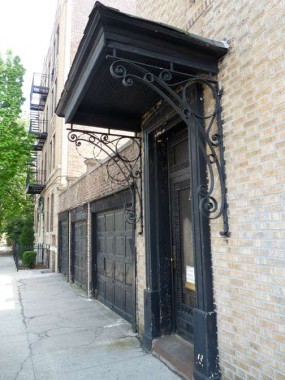 At #4 Lewis, actually part of the building with the liquor store on Coney Island Avenue, there's a nice find: a doorway shelter with original scrolled metalwork. Nice stuff.
Lewis Place meets Stratford Road in a thicket of A-frames.
Matthews Court (not Place, like its brothers) meets Coney Island Avenue in a much more commercial gathering of painted ads and signs.
Slocum Place may or may not be named for Civil War General Henry Warner Slocum, who is also memorialized by a statue at Brooklyn's Grand Army Plaza. The excursion steamboat named for him was involved in NYC's worst disaster prior to 9/11/01.
Shady villa at Slocum Place and Stratford Road.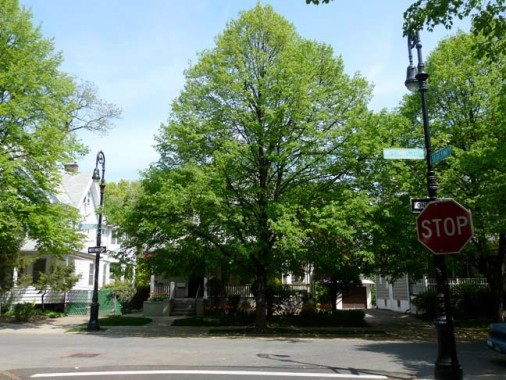 Slocum Place goes the extra block, but ends, like this page, at Westminster Road.
7/21/12