Greenpoint, Brooklyn's northernmost community, settles along the junction of the East River and Newtown Creek north of Williamsburg. It has a — for Brooklyn — unusual alphabetized street name system. While Queens has quite a number of pockets of named streets in alphabetical order, Greenpoint can claim one of Brooklyn's 4 entries in the genre, even though middle and southern Brooklyn has an alphabetized Avenue scheme. The other 3 are in Manhattan Beach (Amherst through Quentin) and Gerritsen Beach (Allen through Gotham and Abbey through Nova, with two sets of K-M streets, just to confuse).
Noble and Franklin Streets
After Greenpoint's grid street system was laid out by Neziah Bliss, east-west cross streets were named simply, A through Q Streets from north to south. Greenpoint Avenue was a plank road that was bridged over Newtown Creek, entering the Queens township that gave the creek its name, but it later became National Street and later,  simply L Street.
The story goes that by the early 1850s Greenpoint residents were dissatisfied with the bland lettered street names, and thenceforth they acquired names. Interestingly there's a pattern to those: the ones in the north, Ash, Box, Clay, DuPont — seem to honor the industry and manufacturing along Newtown Creek, though some historians believe Clay Street was named for Henry Clay, the "Great Compromiser" of the US Senate in the early to mid 1800s.
Further south, Huron, India and Java Streets hark to the shipyards found on the East River side, where vessels from the world over unloaded their cargoes. L became Lincoln in honor of the 16th President, while Milton and Noble honor Williamsburg political luminaries. There may have been many Oak trees in the area, while Quay (properly pronounced "key") is a fancy word for "dock." There had never been a "P" name, since P Street became Calyer for an early Greenpoint patriarch.
Many Greenpointers are aware of the old alphabet system and know something about where the alphabet street names come from. There are other sets of lost Greenpoint streets, though, that are not as prominently chronicled.
This 1886 map shows a number of dead-end streets… Dick, Ann, Bell, Pink, Blue, and Bay, along today's Commercial Street between West Street and Manhattan Avenue.
By 1916, Bell, Pink and Blue are still on the map but notice that there are no buildings shown along them. Pink Street seems to have a building right on top of it. By then the other streets have disappeared from the map. I'd have to guess that these were "paper streets" on developers' blueprints, but never actually built. Whatever rhyme or reason there was for these names would be hard to track down by now.
There's one more road on this map that should be noted. Note the dotted line diagonal marked "Old Ravenswood and Williamsburgh Turnpike." This was part of the turnpike constructed in the 1840s by developer Neziah Bliss between Greenpoint and western Queens, bridging Newtown Creek. Today's Franklin Street, Manhattan Avenue and Vernon Boulevard were part of the old turnpike.
Moving forward to 1891, there are a number of dead-end streets on the map emanating from Paidge Avenue that dead-ended at the creek. In order they were Shawnet, Pequod, Ranton, Setauket, Brant and Duck west of Whale Creek, and Holland, Henry (likely an extension of North Henry without the "North"), Leyden, Halleck, and Emery.
OK, once again here's a look at the 1916 atlas plate. All the streets west of Whale Creek are depicted, but weren't paved at all and it's again debatable whether they were built in the first place. Today, the areas between Commercial Street, Paidge Avenue, and Newtown Creek are largely given over to light manufacturing, water and gas tanks, and warehousing and any trace of any streets has been completely eliminated. As for those dead-ends east of Whale Creek, they disappear from maps quickly after 1900.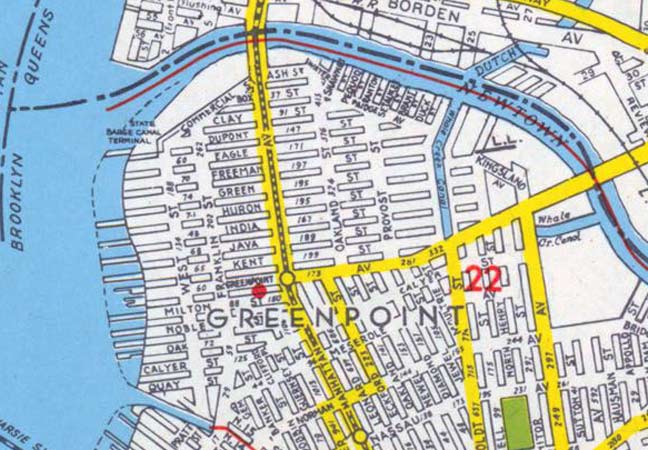 This 1949 Hagstrom still dutifully depicts these streets, but they seem to vanish for good from maps in the 1960s. As for their derivations, Setauket is a community in Suffolk County at Long Island Sound near Port Jeff; Pequod was Captain Ahab's whaling ship in Herman Melville's Moby-Dick; or: The Whale (could Whale Creek and Pequod Street both have honored the work?) while Duck Street may have been named for Newtown Creek waterfowl.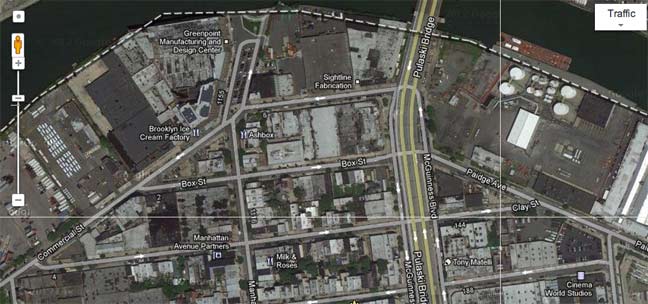 A satellite view from Google showing the areas where the supposed streets were located. As mentioned, no current trace of them exists.
Formerly a major north-south Greenpoint thoroughfare, Oakland Street, which went from the Creek south to Driggs Avenue, was extended south and widened when the Pulaski Bridge was opened in 1954. It was renamed and given Boulevard status in 1964 for former local Democratic alderman Peter McGuinness, who was the first to call Greenpoint the "Garden Spot of the Universe."
Peter J. McGuinness: My Hero [Miss Heather in The Gowanus Lounge]
Another of Greenpoint's lost routes is Old Woodpoint Road, which zigged and zagged through the area before Neziah Bliss began to develop it. When the street grid was built, Woodpoint Road utterly vanished, though a small slice of it can be found further south in East Williamsburg at Bushwick and Maspeth Avenues. You can see it above as the jaggedy route in the upper section of the map.
I've mentioned Greenpoint's lost streets, and now here's a lost waterway. Whale Creek is a tributary of Newtown Creek that was straightjacketed into a ship canal during the peak of Greenpoint's industrial era. It's still there, but has been landfilled almost out of existence, and now extends to about were Paidge Avenue would be had it, too, not been truncated.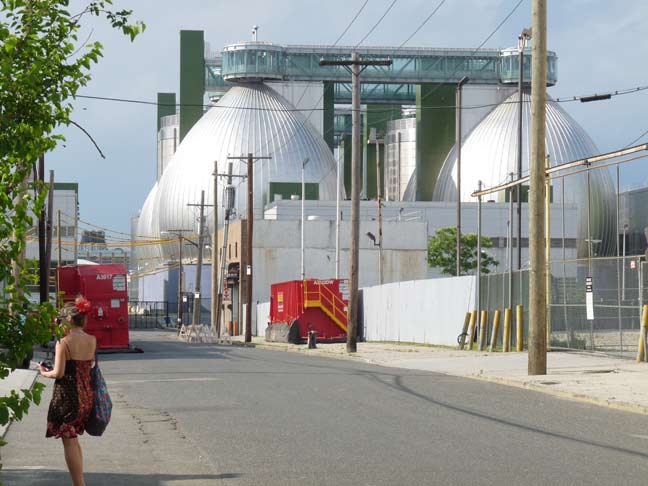 Today, the Newtown Creek Wastewater Treatment Plant, whose "digester eggs" are seen here from Monitor Street, now fills the area where Whale Creek formerly ran, as well as the street grid east of the canal as seen on the map. It was formerly known as the Newtown Creek Sewage Treatment Plant, and the "eggs," which process over a million gallons of sewage each day (I'm not afraid of the word) have become beloved local landmarks and tours are given regularly in them.
Make no mistake, though, the area gets pretty ripe — especially during the summer.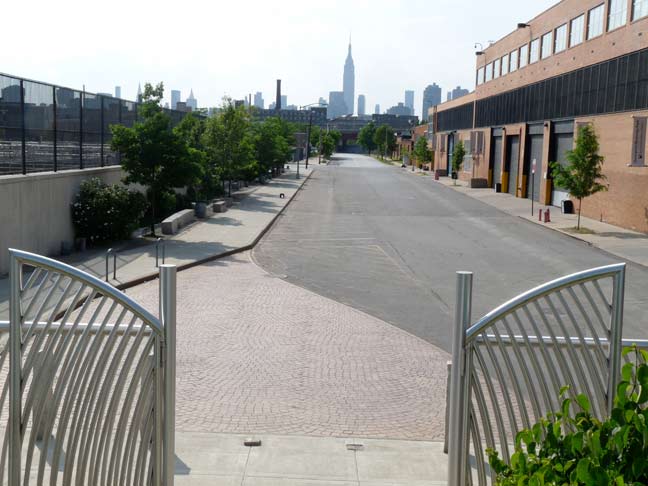 A casualty of the construction of the sewage treatment plant in the 1950s was Paidge Avenue, which was cut back to a dead end just east of Provost Street. However, in recent years…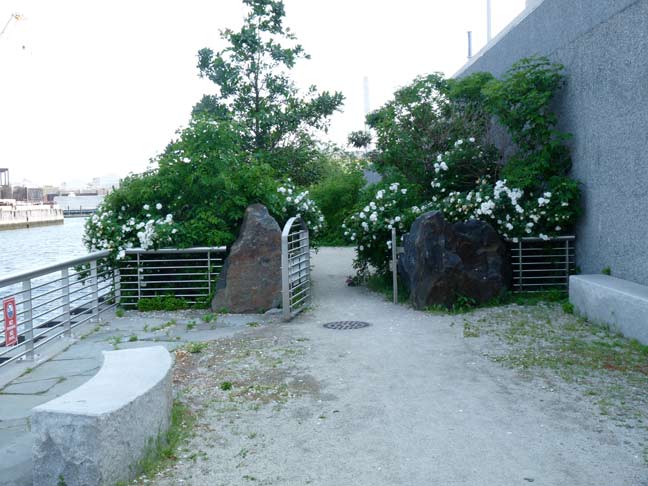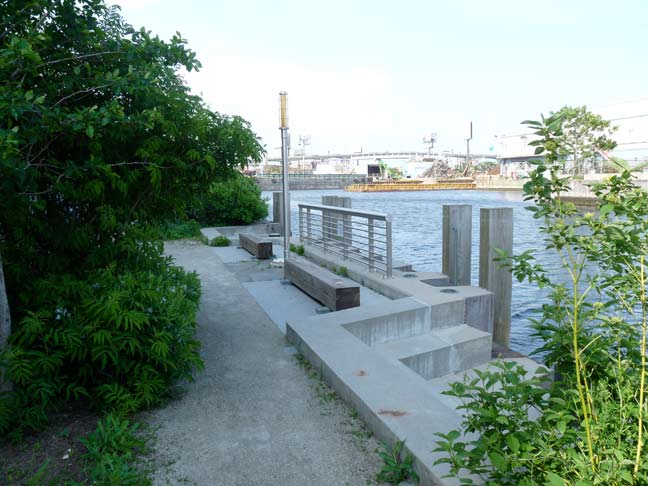 … the Newtown Creek Nature Walk was amazingly constructed in an area where, as little as five years ago, you would not have even conceived of anything at all being open to the public. I'm speaking in general terms but there has been a complete alteration in the city's attitude about what constitutes a proper area to let people in — especially the waterfront areas, which had always been zealously protected from the curious eyes of the public. The walk lines Newtown Creek and is eventually going to wind around Whale Creek as well as the sewage treatment plant.
Newtown Creek Nature Walk [pamphlet providing a detailed description of the nature walk and what will be opening before long]
12/17/12