It all began on a lunchtime stroll when I was working at Macy's in the summer of 2001. I'd frequently take the train downtown or uptown — sometimes I'd go as far afield as Brooklyn. I was going up Division Street, probably on my way to the F train at East Broadway, when just before I got to the Manhattan Bridge, I spotted a Deskey post with a Florence Place street sign. [sorry for the crudely blown-up scan].
Now, I had vaguely recalled a Florence Place in these parts. The Bible on these matters, Henry Moscow's Street Book, says "Florence Place was authorized by the Board of Aldermen July 1st, 1913, for the enlargement of Market Street between Forsyth and Division Street." There's just one thing about that, though, since if you go by that reasoning Florence Place would have to go through the Manhattan Bridge approach to reach Forsyth. And, Forsyth intersects Division once you pass under the Manhattan Bridge.
Meanwhile, Florence Place shows up on precious few maps, and I've checked editions from the 1910s through 1940s. Geographia's "Little Red Book" street guides from the period say Florence Place can be found at 70 Division Street.
In 2001, the Florence Place street sign pointed at the entrance to a parking lot that at one time may have been a dead-end Florence Place, and there's a parking garage on that site in 2013. However there's another possibility.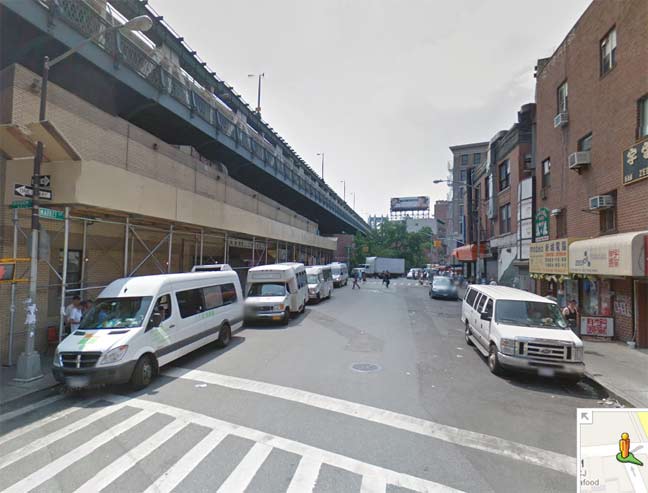 Google Street View, Market Street south from Division Street
Google Street View, Market Street from East Broadway looking north
Hagstrom used to produce a downtown Manhattan map that ran from the Battery north to Tribeca, and barely made it to the Manhattan Bridge on the east. (I don't have a scan of that one.) It labels the piece of Market Street between Division and East Broadway as Florence Place. So, what we're looking at here may once have been Florence. There are no street addresses on it.
There's one more monkey wrench to throw in.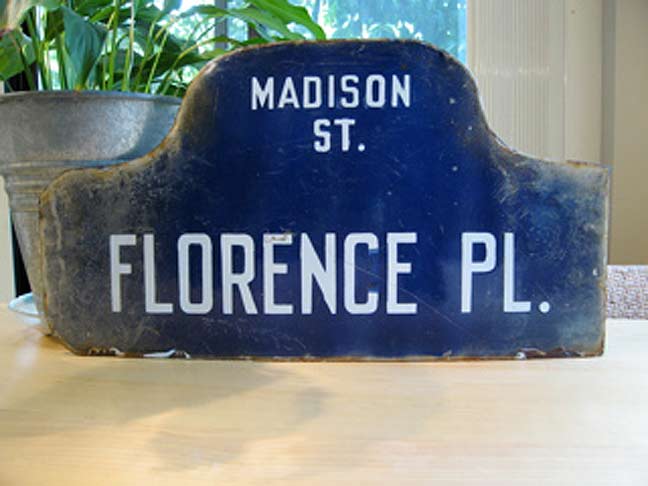 Here's a classic navy blue and white Manhattan street sign indicating Florence Place with an intersection at Madison Street. None of my sources indicate Florence got that far south, and also note this is a nonstandard font for this ilk of NYC street signs, which usually featured a serif font.
In any case, the Florence Place street sign I spotted in 2001 is long gone, as is any further mention of the alley, wherever it was.
I do think Gil Tauber has the definitive word in Oldstreets:
A street along the west side of the Manhattan Bridge approach, from Bayard Street at the line of Forsyth Street to East Broadway at Market Street. Initially called New Market Street, it was named Florence Place in 1913. The part between Bayard and Division Streets was eliminated about 1960 for the Confucius Towers site. The part between Division Street and East Broadway was then added to Market Street.
Another such odd alley along the Manhattan Bridge, Mechanics Alley, is described on this FNY page.
1/21/13