I haven't paid as much attention to Brooklyn Heights over the years as I have to its neighbors, DUMBO and Cobble Hill. I  hope to make up for it in the upcoming months, as the shooting here is best in the winter months when the architecture can be seen through bare trees. Brooklyn Heights, which was first widely populated in the 1820s after the institution of the ferry that connected the Fulton Streets in Brooklyn and Manhattan, can boast block after block of handsomely appointed brownstone buildings as well as stable mews that have become exclusive cul-de-sacs like Hunts Lane and Grace Court Alley, is also peppered with wood frame buildings, some of which go back to the neighborhood's inception.  I chose Middagh Street for today's journey since it has more than the usual share of such houses, which were outlawed (for new construction) by 1852.
Brooklyn Heights, like Bay Ridge, is named for a high hill overlooking Lower New York Bay, especially obvious when looking across the water from Manhattan or standing on the Esplanade (Brooklynites have been calling it the Promenade for decades) and looking down on the waterfront. It runs from Old Fulton Street south to Atlantic Avenue and from the bay to Cadman Plaza West, which used to be Fulton Street. It was the very first landmarked neighborhood designated by the new Landmarks Preservation Commission in November 1965.
Middagh Street is another one of those Brooklyn Streets you rely on intuition for the pronunciation. My best guess is Mid-dah, as if the g wasn't there, like Erin Go Bragh. My intuition has failed me before, as my pronunciations of JOR-a-lemon and COR-tel-you will demonstrate. And I say Luquer Street is LU-ker, while others say lu-QUEER.
Middagh runs east to west, from just west of Willow east to Cadman Plaza West. The endpoints used to be Columbia Heights and Fulton Street, but are no longer, for reasons to be discussed. When walking north in Brooklyn Heights, it's the first street after the fructiferous trio of Pineapple, Orange and Cranberry.
Carbohydrate-conscious dieters will feel right at home in Brooklyn Heights as a fruit salad of thoroughfares welcomes them. According to one story, a little old lady, who would have worn tennis shoes had they been invented, is responsible for their names, a century and a half before little old ladies started wearing tennis shoes.
Before the IRT subway arrived in 1908 Brooklyn Heights was one of the more secluded areas in Brooklyn that only the very wealthy could afford (rather like today). Jealousies and disputes arose among the moneyed gentry. The story goes, as recorded by the WPA Guide to New York, that in the decade prior to the Civil War, a local resident, whose name is given as Miss Middagh, resented her aristocratic neighbors and tore down the street signs bearing the names of the offending families and hastily installed signs bearing the names of her favorite fruit and trees, Pineapple, Orange, Cranberry and Willow. When Brooklyn city authorities restored the original street names, Miss Middagh struck again and changed them back. This tug-of-war eventually resolved itself in the lady's favor with the streets retaining plant names to this day.
The more likely story is that they were simply named by early-19th century landowners the Hicks Brothers, John and Jacob. Each brother bore the middle name Middagh, their mother's maiden name. There is a Middagh Street and, of course, a Hicks Street in Brooklyn Heights. An 1816 map of Brooklyn Village compiled by Jeremiah Lott, as well as William Hooker's Pocket Plan of 1827, show the three streets in question as Pineapple, Orange and Cranberry. It's likely, therefore, that the amusing tale of Miss Middagh is apocryphal. But it does make for an amusing yarn.
The three "fruit streets" are, for the most part, quiet, shady streets with brick or brownstone town houses. Cranberry Street, in particular, offers an iconic view of downtown Manhattan at its western end. Walt Whitman briefly lived on Cranberry as a child and "Leaves of Grass" was first printed in a now-demolished building at Fulton (now Cadman Plaza West) and Cranberry in 1855. The 1989 Cher vehicle Moonstruck also had scenes filmed at 19 Cranberry Street at the corner of Hicks.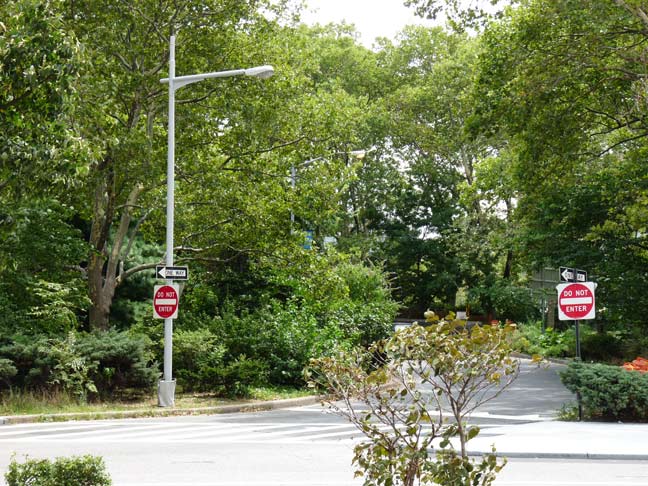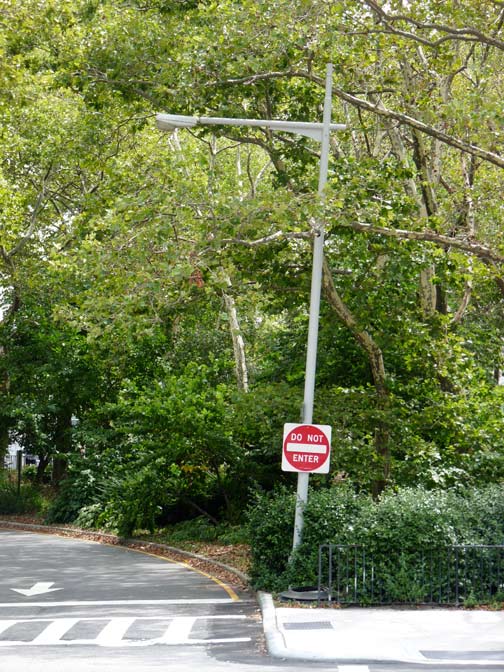 This exit from the Brooklyn Bridge empties onto Cadman Plaza west opposite the east end of Middagh Street. The last bastion of the T-shaped lampposts known (by me) as the 'Stones, since they first appeared in the 1930s on the new Bronx-Whitestone Bridge, are the Brooklyn Bridge approaches in Brooklyn and Manhattan, though you may see an isolated specimen here and there.
Looking west at Engine 205/Hook & Ladder 118, at #74 Middagh. A famed photograph taken on 9/11/01 shows H&L 118 making its way across the Brooklyn Bridge to the burning towers, where the company lost six firefighters. The firehouse also battled raging wildfires in the Hamptons on eastern Long Island and the devastating St. George Hotel fire in August 1995.
A couple of doors away is one of Brooklyn's more prominent remaining painted ads, this one advertising a long-gone real estate office on Fulton Street and Nostrand Avenue. The old-fashioned "To Let Flats" today means "Apartments For Rent." Why place a prominent ads like this on modest Middagh Street?
The answer is simple. Before about 1940 or so, the Brooklyn Bridge carried elevated trains between Brooklyn and Manhattan at a terminal near City Hall. From an elevated train shed on the east side of Fulton Street, els and trolleys converged, and then fanned out across Brooklyn to far-flung terminals in Coney Island, East New York, Bay Ridge, Coney Island, Canarsie and many other locales. Brooklyn's Fulton Street El, Myrtle Avenue El, Lexington Avenue El, and 5th Avenue El all began their Brooklyn runs here. By the early 40s, many Brooklyn els were on their way to extinction, as well as the trolleys; today, the Brooklyn Bridge is the carrier of automobiles as well as pedestrians and bicyclists, who uneasily share a boardwalk running through the center of the span.
An ad on Middagh Street facing the el platform would be seen by thousands daily!
You will find a lot of firehouses around town built between 1918 and 1932 — they will have plaques bearing the names of Mayors John "Red Mike" Hylan or Jimmy "Beau James" Walker.
This massive factory building was constructed by Mason, Au and Mangenheimer Candy in 1885 at #20 Henry Street, at the NW corner of Middagh.  According to advertisement researcher Walter Grutchfield, the company was in business here between until 1949. The company was founded by confectioners Joseph Mason and Ernest von Au in 1864.
In actuality the painted signs on the building are a bit misleading since there was no such candy as "Peaks Mason Mints"; there were Mason Peaks and Mason Mints. Mason Peaks was a coconut-chocolate combination (like Mounds) while Mason Mints was a chocolate-covered mint patty (like today's Peppermint Pattie). Mason also made Dots, a fruit or cinnamon-flavored gumdrop, and Crows, a licorice-flavored gumdrop. Both are still distributed by Tootsie Roll, which acquired Mason in 1972.
In 2012, Canyon-Johnson Urban Fund, a development group including former LA Lakers superstar Magic Johnson, completed the conversion of the building into luxury residences, with some "affordable" also included. In a nice touch, the painted ads were not only retained, but renovated to their current splendor.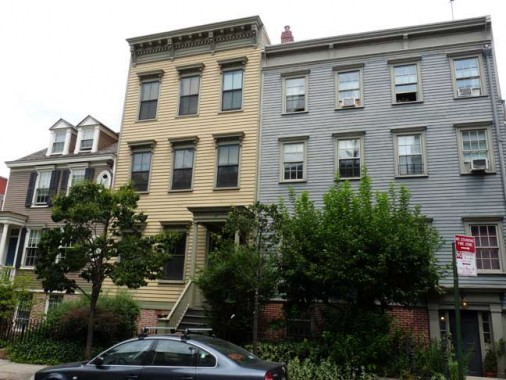 I'll deal with the house on the left later, but on the center and right are #57 and #59 Middagh were both in city diretcories by 1834. Both are wood frames on brickwork first floors and basements. #57 was built for merchant John Kirk while #59, for William Rog, a professor of Hebrew.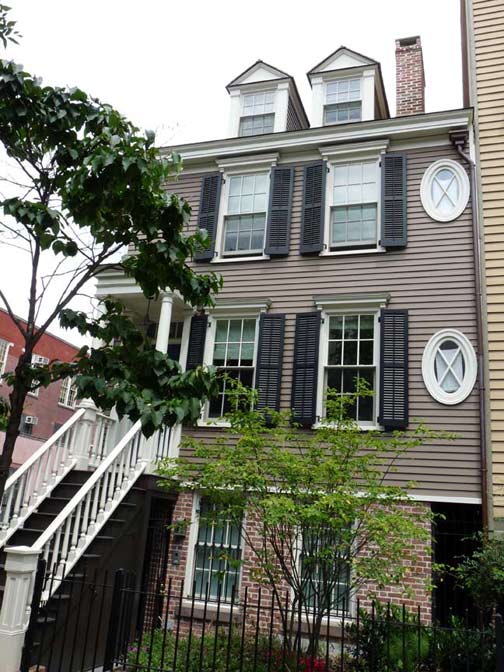 The dormered #55 was built by 1829 for teacher John Laidlaw. The window shutters are a nice touch. A one-bedroom was recently available for $2100 per month, a bargain in Brooklyn Heights terms. The interior can be glimpsed here.
Across the street, #56 Middagh has a sheltered front entrance supported by two Doric columns. It's a handosme Greek Revival building with attic eyelet windows. It was built by 1829 for two blacksmiths, Robert Philips and Joseph Haggert. In 2011 it was on the market for $3.6M. It's been recently resided after previously displaying a robin's egg blue color.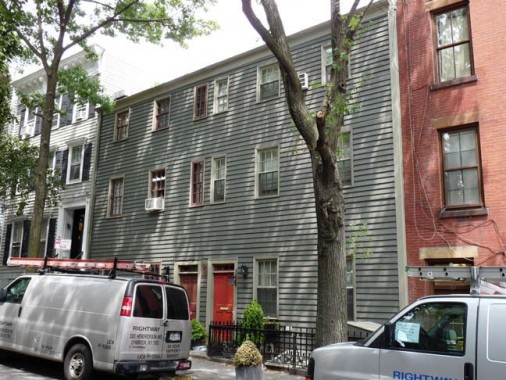 Walking west past Hicks Street, here's a matched set at #31 and #33. They were originally home to a paint store and a hairdresser, respectively, when listed in a city directory in 1847. They could be considerably older than that, dating to the early 1820s. #31 was on sale for $1.795M in 2012.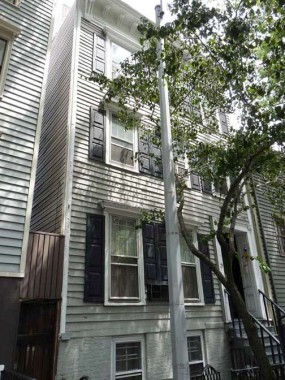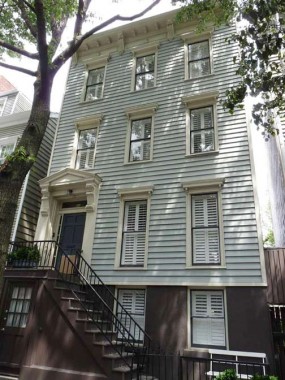 #29 Middagh and its near-twin, #27, were each listed by 1830. Both have kept their handsome bracketed cornices, while #29 has window shutters. #27 requires more of a climb on entrance steps than #29. I liked its interior shutters…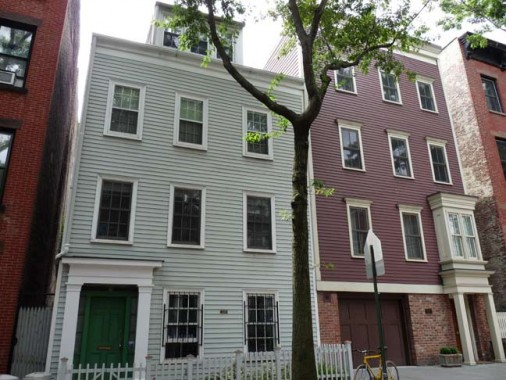 #30, at left, conveniently displays the date of construction, 1824, between the windows on the first floor. When I visited Marblehead, MA and Providence, RI in the 1990s, I noted that just about all the homes in both cities' historic districts proudly displayed the construction dates on their exteriors, some of those going back to the 1690s. The entrance is described as a 'pilastered Greek Revival'; a pilaster is a half column that is attached to the front of its building. In 2011, 30 Middagh was on sale for $2,990,000.
Next door, #28 was built in 1829 for 'shipmaster' John M'Manus. The garage was likely added before this became a landmarked district. A nice touch is the bay window over the entrance.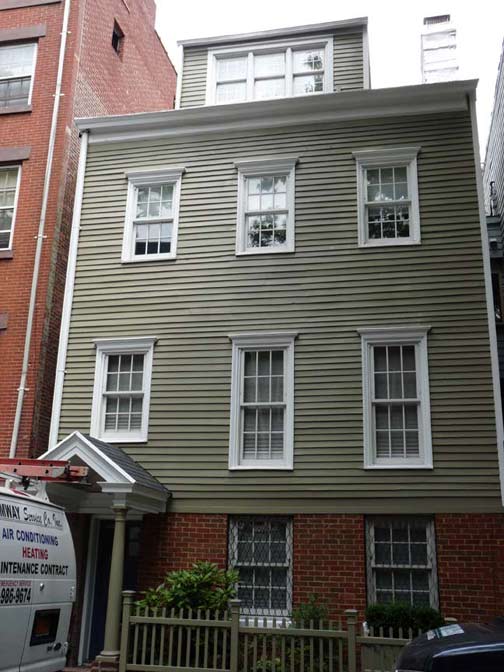 At #25, the siding looks older than the neighbor buildings. It also has a sheltered entrance, but with cylindrical true columns instead of pilasters. It is one of the older buildings on the block, also from 1824, and was first occupied by laborer Michael Trapple.
The dormered #24 Middagh sits on the southwest corner of Willow Street. It's handsomely appointed in light grey with maroon door and window shutters. It was constructed in a Federal-style in 1824 or 1829, depending on which source you use, with Ionic pilasters and leaded glass above the front entrance. The door begs for a closer view, which is provided by the Wooden House Project. It still has a "back house" for carriages in its rear yard.
The 1829 Eugene Boisselet House is commonly referred to as the "queen of Brooklyn Heights." It is an almost perfectly proportioned and exquisitely detailed, wooden Federal clapboard house with a rear carriage house and garden. At the time, these houses were typically painted white with green latticed blinds. While generally characterized by the classical simplicity that marked the style, Number 24 is particularly notable for its front doorway with its "delicately leaded toplight and sidelights and elegantly carved ornaments." – Wally Goibetz, who shows the Willow Street side.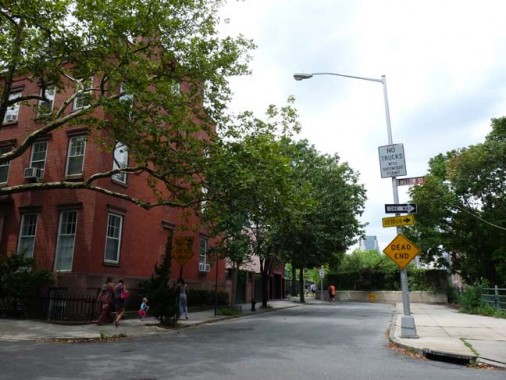 Middagh Street is truncated west of Willow Street and is cut off midblock, with only a south sidewalk continuing on to Columbia Heights. Thus, its houses with the lowest house numbers no longer exist. The reason is that the Brooklyn-Queens Expressway angles through the neighborhood and here, cuts across Middagh.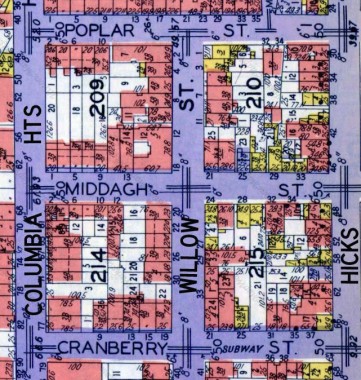 Middagh Street map in 1929
When NYC traffic czar Robert Moses was planning the expressway in the 1940s, he thought Brooklyn Heights was a slum (it was not as well-to-do and now, with pockets of poverty) and wanted to run the BQE up Hicks Street right through the spine of the neighborhood. Residents and local community boards asked him to reroute it along the waterfront, and so it was built as a triple-decker arrangement, with the Esplanade on top, northbound traffic on the second tier and southbound on the third tier. It was very rare to get Moses to change his mind in those days.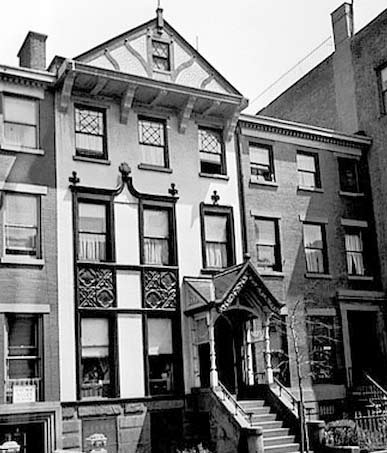 Probably the most interesting house on Middagh from a historical and artistic viewpoint, #7, no longer exists; it was eradicated in favor of the BQE in the late 1940s.
Brooklyn Heights' leafy lanes have been a mecca for the lions of literature for much of the 20th Century and on into the 21st; it all began in the pre-Civil War period when Walt Whitman's Leaves of Grass was published on Fulton Street. At one time or another Whitman, W. H. Auden, Truman Capote, Hart Crane, Norman Mailer, Arthur Miller, Henry Miller, Carson McCullers, Thomas Wolfe, and for two years, the nonpareil horror master H.P. Lovecraft, have all lived in Brooklyn Heights and Cobble Hill, attracted by their quiet atmosphere and the contingent of like-minded literati.
[F]rom 1940 to 1941, one house at 7 Middagh Street became home to a rotating group of authors, poets, and artists whose stars were rising (or in a few cases, falling) at the time. 
It all started in 1940, when George Davis, then the literary editor at Harper's Bazaar,rented the townhouse with his friend, 23-year-old Carson McCullers (top left).
McCullers had just published her first novel, The Heart Is a Lonely Hunter. She and Davis leased the house for $75 a month and let friends W.H. Auden, Paul Bowles, British composer Benjamin Britten, and stripper Gypsy Rose Lee move in.
At "February House" (so named because many of the occupants had birthdays that month), Auden wrote The Double Man and McCullers worked on The Member of the Wedding. [even Lee came up with a novel: "TheG-String Murders"]
But like most situations involving adults sharing living quarters, things didn't work out. Residents moved out amid disorder and excessive drinking. The bombing of Pearl Harbor in December 1941 was the final nail in the coffin, with only Davis remaining from the original group.
By 1945, 7 Middagh Street was history, razed to make way for the Brooklyn-Queens Expressway. Ephemeral New York
February House: The Story of W. H. Auden, Carson McCullers, Jane and Paul Bowles, Benjamin Britten, and Gypsy Rose Lee, Under One Roof in Brooklyn, Sheryl Tippins [amazon]
The Harry Chapin Playground was named for the popular folksinger, who reached #1 in 1975 with "Cat's in the Cradle." The singer was proudest of his humanitarian work, participating in the creation of the Presidential Commission on World Hunger in 1977. Chapin lived in Brooklyn Heights as a boy, performing in the Brooklyn Boys Choir and graduating from Brooklyn Tech in 1960. Before his singing career took off, he was a documentary filmmaker; Legendary Champions, featuring footage of former boxing champions, was nominated for an Oscar in 1968. Chapin was killed in a car crash at age 38 on the Long Island Expressway on the way to a concert in 1981.
A plaque on the Middagh Street gate is dedicated to Virginia Travell Weeks, an area pediatrician who practiced in Brooklyn Heights for 50 years. Her sister, Janet Travell (1901-1997), was John F. Kennedy's general practitioner during his White House years, as well as a pioneering pain researcher.
From Columbia Heights a ramp leads down to a sitting area, complete with restrooms, built on the bluff that separates Brooklyn Heights from the waterfront…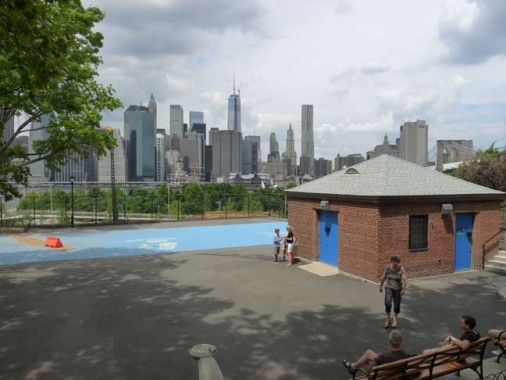 Not coincidentally the sitting area boasts a spectacular view of the NY skyline.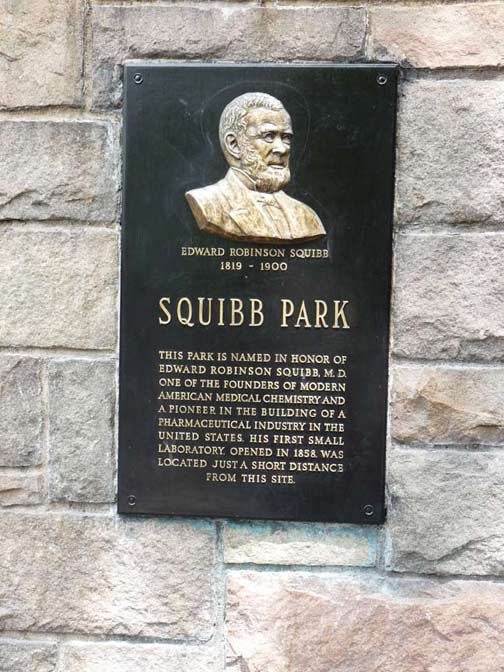 A number of years ago the park was named for Dr. E.R. Squibb (1819-1900), a pharmacologist whose lab was located nearby. Squibb became a major commercial manufacturer; its slogan was "the priceless ingredient in every product is the honor and integrity of its maker." The company merged with competitor Bristol-Meyers in 1989.
Squibb constructed a large manufacturing plant at 25-30 Columbia Heights in the mid-1920s until most of the company's plants were relocated to New Brunswick, NJ beginning in the 1960s. Subsequently the plant was purchased by the Jehovah's Witnesses and became The Watchtower, recognizable by the large red neon sign overlooking the East River. The Witnesses owned a lot of property in Brooklyn Heights in the latter 20th Century including the Hotel Bossert on Montague Street.
With the new Brooklyn Bridge Park under piecemeal construction (several sections have been opened, with the finished park expected to stretch from the waterfront along Columbia Street north and east to Main Street in DUMBO) engineers were faced with a challenge: how to get foot traffic from Columbia Heights across the Furman Street gulch to the new park. Thus the new Squibb Park Bridge was conceived and completed in late 2012.
The bridge is constructed of Black Locust timber with bronze and galvanized steel connections that echo the material palette of the park. Black Locust timber is naturally rot resistant and an unusually strong, durable, and sustainable resource. The bridge consists of two under-slung suspension spans that open up views in all directions when crossing Furman Street. The bridge has 42-inch-high lighted railings that are consistent with railings for the adjacent Brooklyn Heights Promenade and on the Brooklyn Bridge. The bridge is also ADA accessible.
If you walk across Squibb Park Bridge, you may notice a little bounce in your step. The bridge was designed with trail bridge technology and is meant to be lightweight and flexible like the trail bridges in our state and national parks. So whether you're a first timer or returning visitor of the Squibb Park Bridge, expect an extra pep in your step and know that this is completely normal and part of the design.  Brooklyn Bridge Park
The Squibb Park Bridge does indeed have a little give, and sways just a little as you cross it, though certainly not enough to trigger a seasick reaction. The experience reminded me a little of the Capilano Supension Bridge (constructed in 1889 and renovated in 1956) over the same-named river north of Vancouver, BC.  That bridge, though, connects two cliffs and has no supporting piers or pillars, as does the Squibb Bridge. (Though I stepped onto that bridge, I was too chicken to cross it, not because of the swaying, but because I found the railings too low for comfort.) No such fears, though, stopped me from using the Squibb.
Several sections of Brooklyn Bridge Park are still under construction along Furman Street, which FNY explored in 2008 before any park was built and it was still an abandoned waterfront area.
In July 2013, crews were at work clearing out several large plots to make way for new sections of the park. An ice warehouse almost a century old was demolished there. The Watchtower complex can be seen in the background right.
Here you can see the Brooklyn Heights bluff and the triple decker arrangement that carries the Brooklyn-Queens Expressway along the waterfront. The brick building at left is an exhaust vent for the IRT's Cranberry Street Tunnel, which carries A and C IND trains.
By the summer of 2014, this stretch will join parkland both west and north, but condo towers are planned on this part of the waterfront.
In the rear, the Watchower carries an electric neon sign indicating time and temperature, visible mainly by Manhattanites.
I have taken a lot of intermediate shots of Brooklyn Bridge under construction along Furman, but will wait until the whole stretch is complete in a couple of years to use them. Park engineers have taken a new approach to public park construction — it's much more "natural" than most public parks, with trails winding through lushly wooded stretches. Of course, near Old Fulton Street there are many park amenities such as snack and ice cream shops. It's a jarring site to see the Manhattan towers peeking above treetops; almost a dystopic scene.
The park features handsome directional signs mounted on no-frills lamp fixtures.
But let's not forget that the waterfront isn't becoming parkland for the public's sake or parkland's sake.
It's all about the developers.
Information culled from Old Brooklyn Heights, Clay Lancaster, Dover Publications.
9/29/13