Many of New York City's busiest roads have humble beginnings indeed. Queens Boulevard arose in the pre-colonial period and eventually became a two-lane dirt road called Thomson Avenue, Jamiaca Turnpike, Hoffman Boulevard and eventually, Queens Boulevard after a widening to ten lanes in the 1920s.
The main north-south conduit between Elmhurst and Woodhaven and the Rockaway Peninsula, Woodhaven Boulevard, was also a two-lane dirt road before a major widening and straightening that began in the 1910s.
This 1909 map shows major routes in what's now Elmhurst and Forest Hills that now go by different names (except for Dry Harbor Road, which has retained its name, and Metropolitan Avenue: note the center road, Trotting Course Lane — I have marked in red its intersection with Metropolitan Avenue. The name refers to the race tracks and "trotting courses' once found in Woodhaven.
Near that intersection, the road had major crossings with the east-west Long Island Rail Road Montauk branch, which is still in place, and the Rockaway Branch, which isn't.
On this Google satellite image, I've helpfully marked the present course of Trotting Course Lane and the LIRR Montauk Branch.  Basically Woodhaven Boulevard, when constructed beginning in the 1910s, followed the old path of Trotting Course Lane, with some exceptions where it was straightened. This left a piece of Trotting Course Lane left over, running from north of Mteropolitan Avenue south to 82nd Avenue, twisting and turining to get around the LIRR Rockaway Branch.
In subsequent years, that piece of Trotting Course Lane was divided in two, and today a Home Depot stands where the old road once ran.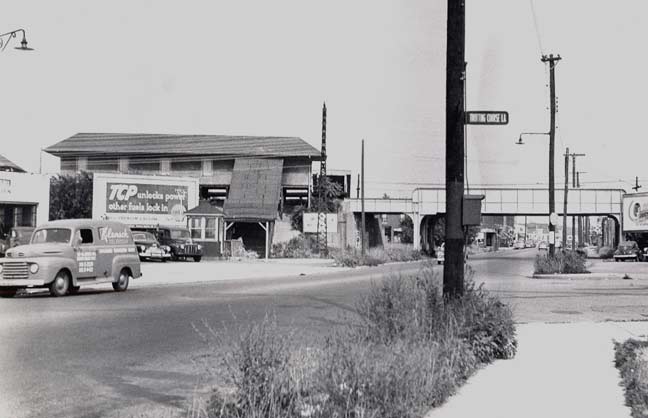 Art Huneke of Arrts Arrchives, an online history of the Long Island Rail Road, sent over several scenes from he old days showing TCL's interaction with the tracks. These two photos show Metropolitan Avenue at Trotting Course Lane, looking east, with the top photo taken around 1945.
In both photos we see the Rockaway Branch bridged over Metropolitan Avenue but in the first picture the Parkside station is still open for business, as it would be until 1962 when the line was taken out of service.
This photo courtsesy Huneke, circa 1915,  shows Trotting Course Lane crossing the Montauk Branch at grade, with the Rockaway Branch on the overpass in the background.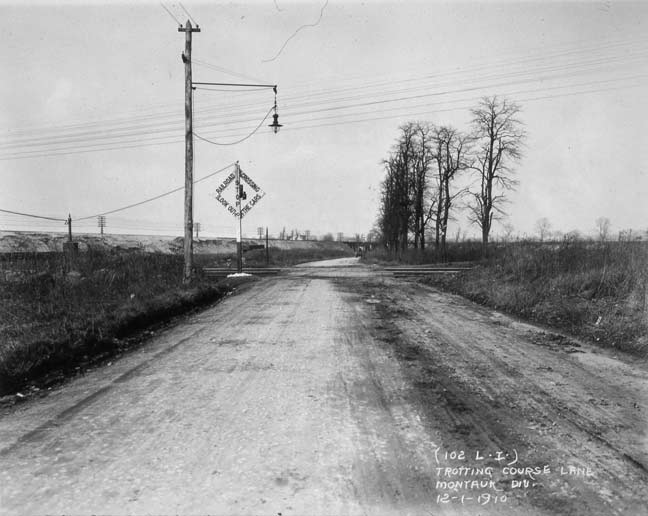 In 1910 Forest Hills was still open country and TCL is shown crossing the Montauk Branch. This location is presently in the rear of a Home Depot fronting on Woodhaven Boulevard.
I'm taking liberties here, because Woodhaven Boulevard is a few rods west of the old Trotting Course Lane route, but the crossing looks like this these days, as the mighty Woodhaven Boulevard was bridged over the tracks, with a surface road built for local deliveries.
Next time you are honking your way up or down Woodhaven Boulevard, consider that it was once a rural lane mostly traveled by horses and carts in the dim past.
11/27/13