While traversing the wilds of Williamsburg on New Year's Day, 2014, I stumbled on a forlorn, windswept concrete traffic triangle that is likely little frequented by even area denizens. The name of this plaza reminded me that several miles away, a new mayor, Bill DeBlasio, was taking the oath of office, and that in 2013, the Queensboro Bridge was renamed, or subtitled, depending on what you prefer, as the Ed Koch Bridge.
The 20th Century has seen a number of mayors who were larger than life, including Fiorello LaGuardia: the Little Flower, among NYC's most colorful mayors, served three terms from 1932-1945, and is remembered by two busts (LaGuardia Houses in the Lower East Side and in the Marine Air Terminal, Queens) a statue on the Greenwich Village street named for him, one of NYC's two major airports, and a community college in Queens. On Broadway, he was played by Tom Bosley, later Richie Cunningham's father on TV's Happy Days, in 1961. A restaurant near Lincoln Center bears his first name.
Robert A. Van Wyck, NYC's first mayor after the 1898 5-borough consolidation, had a major north-south boulevard, later an expressway, named for him, as well as a Jamaica junior high school; Brooklyn's Seth Low enjoys a park and a public school in Gravesend, Brooklyn; George B. McClellan, Junior, who was the mayor from 1904-1909, was the son of Civil War General McClellan (who clashed with Lincoln and ran for President against him). He presided over the opening of NYC's subway system October 27, 1904 and took the controls of the first train to rumble through the tunnel. He seemingly has no major NYC monuments, though his father has a Bronx street in High Bridge named for him. His successor's memorial, the William Jay Gaynor Memorial is rather prominent in Cadman Plaza, Brooklyn.
John Purroy Mitchel, the youngest elected mayor in NYC history, has a prominent gilded bust at a Central Park entrance at 5th Avenue and 91st Street, as well as a pair of flagpoles outside the New York Public Library at 5th Avenue and 41st street. John F. Hylan is honored by a housing project near his old house in Bushwick, as well as a major boulevard in Staten Island. Jimmy Walker, his successor, left office under a cloud of corruption though James J. Walker Park, on St.Lukes Place and Hudson Street opposite his former townhouse is named for him, and he was played by Bob Hope in the movies and by Frank Gorshin on Broadway.
Ardolph Kline, John P. O'Brien, William O'Dwyer, and Vincent Impelliteri served with distinction in the 20th Century, but are little-remembered. If there are any schools or plazas named for any of them, let me know.
Robert F. Wagner Junior, a scion of a powerful political family who served three terms from January 1, 1954—January 1, 1966, is honored by the Robert F. Wagner, Jr. Secondary School For Arts And Technology in Astoria, Queens, and Robert F. Wagner Jr. Park in Battery Park City.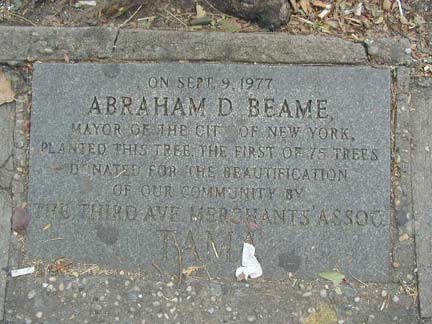 Abraham Beame, who presided over NYC's fiscal crisis in the mid-1970s in which the city nearly declared bankruptcy (and left office with a $200M surplus) seemingly has no public memorials in town, except for a street tree at 3rd Avenue near East 34th planted by him in 1977. David Dinkins, NYC's first African-American mayor, is remembered by a pedestrian plaza, David Dinkins Circle, at the Flushing Meadows-Corona Park entrance. Dinkins, an avid tennis fan, helped secure funding for Arthur Ashe Stadium, where the US Open is held each summer. Mayors Rudolph Giuliani and Michael Bloomberg are not yet honored by any public memorials [as of January 2014].
John Lindsay Triangle can be found in a true triangle formed by Broadway, Lorimer Street and Throop Avenue in southern Williamsburg, almost at the point where Bedford-Stuyvesant begins. It was so named in 1998 by Rudy Giuliani's parks Commissioner, Henry Stern.
Lindsay (1921-2000), elected in 1965, was the first NYC mayor in my consciousness. He was a tall, patricianly sort, part of a now-extinct breed: the liberal Republican (of which longtime Senator Jacob Javits was another member). He presided through the Swingin' Sixties and into the 1970s, entertaining a Presidential run in the spring of 1972. Just as deBlasio is the first elected Democratic mayor in 20 years, so was Lindsay the first elected Republican mayor in 24 years, since LaGuardia won in 1941. He was forced to deal with a transit strike upon taking office, and his failure in cleaning up after a snowstorm, especially in Queens, in February 1969, led to his defeat in Republican primaries for mayor to John Marchi, a longtime Staten Island politician. He ran as an independent and squeaked into City Hall again. His tenure is considered middling at best, though he instituted reforms in NYPD minority recruitment and added to the cityscape with small "vest pocket" parks. However, the city was roiled by strikes, unrest in the Vietnam War era and there was a general feeling that the city's problems were too much for one man to deal with. A biography of John Lindsay was titled The Ungovernable City.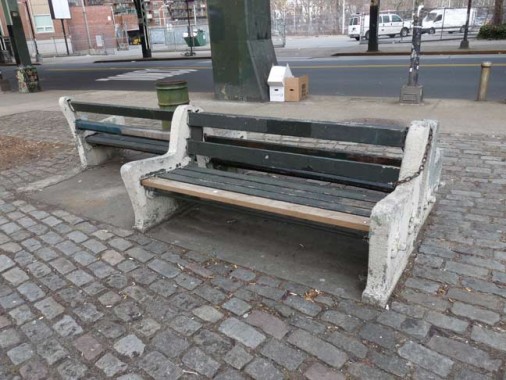 Given all that, though, Lindsay Plaza, on land ultimately ceded from the colonial-era Wyckoff family (Pieter Claesen Wyckoff, from Holland, built the city's oldest still-standing house in East Flatbush) seems unduly isolated and sad. The three park benches standing there are replicas of old-school park benches that were used in the early part of the 20th Century. Other than that, it's flat pavement, some brick pavement and a few trees getting what sun is possible under an elevated train.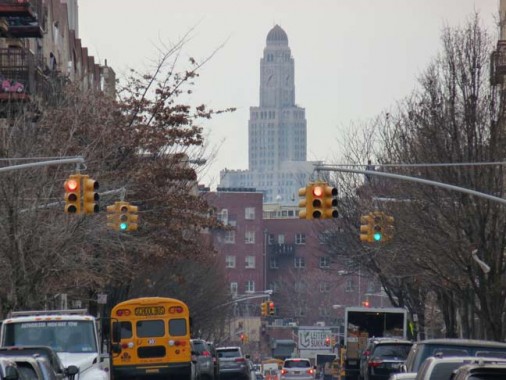 From the north end of Lindsay Triangle, a look west on Middleton Street reveals a good look at the King of All Brooklyn Buildings, One Hanson Place, aka the Williamsburg Bank Tower.
1/2/14