I come today in the Names of the Neighborhoods series to a place considered the center of the universe… ask any Manhattanite. There are Manhattanites that will only grudgingly travel to any other of the four boroughs, considering them déclassé. Lynn Samuels, the late talk show hostess, once declared that she had never left Manhattan. I have rarely left New York City lately, though I do beat around the provinces, a pitable, baseball-capped grotesque wearing a jacket long overdue at the cleaners with a camera that is not part of a mobile phone or music player, but a device only capable of making photographs. These days, I can only afford the dollar bus out of town, but I never use it, keeping in mind the old proverb "you get what you pay for."
For Forgotten NY purposes, Manhattan is a borough like any other, and is treated in alphabetical order, following the Bronx and Brooklyn.
Castle Clinton, Battery Park
THE BATTERY
Contrary to popular opinion, when the origins of the term "The Battery" for the southern tip of Manhattan are thought of at all, those origins don't come from Castle Clinton, built on a fortification in the Hudson River (and later ending up on Manhattan Island via landfill) during the War of 1812 just in case the British came bruiting down the river. The British had earlier built a series of munitions here as early as 1693 to guard against an expected French attack, which didn't materialize.
Irish Hunger Memorial, Battery Park City
BATTERY PARK CITY
A 92-acre neighborhood constructed on landfill employing soil and rock excavated from the first World Trade Center, as well as a water tunnel and sand dredged from Upper NY Bay near Staten Island, Battery Park City, Manhattan's first "new" neighborhood since northern Manhattan acquired a large population in the late 19th and early 20th Centuries, was named from the park it borders on the west and north. It was built gradually from the late 1970s until the present.
New York Stock Exchange, Broad and Wall Streets
FINANCIAL DISTRICT
Many business insiders and columnists consider NYC the financial capital of the world, with London, England a close second, though other businesspeople reverse the two positions. According to legend, the New York Stock Exchange originated with an meeting by 24 local stockbrokers under a buttonwood tree at #68 Wall Street in what is known as the Buttonwood Agreement.
Until recent times — a decade or two ago — the Financial District around Wall Street emptied out completely after work at 6 PM. It has taken its place as Manhattan's newest residential area, and all that development took place after it was Ground Zero for a terrorist attack on 9/11/2001.
Broadway and Thomas Street, original Met Life Insurance building (1870) and AT & T Long Lines building (1974)
TRIBECA
After the term DUMBO was coined in Brooklyn out of the first initials of "Down Under the Manhattan and Brooklyn Bridge Overpasses," it became increasingly fashionable to do the same thing for other neighborhoods. Manhattan has a few of these. But in this case the neighborhood names are "portmantaeux" derived from two or more words combined into one. Tribeca (some insist on TriBeCa) comes from the first 2 or 3 letters of the term "Triangle Below Canal Street" and roughly refers to the area between Broadway, the Hudson River, Canal street, and Vesey Street, the north end of the first World Trade Center.
Before Tribeca was a residential and shopping district, it was home to warehouses and industries, some of them in exquisite cast iron front buildings constructed in the late 19th Century. Before the WTC and Independence Plaza were built, the Washington Market, along West Street and Hudson River shipping, was a major produce exchange and the neighborhood was also home to many dairy wholesaling businesses. In those days, Tribeca was known as the Lower West Side.
Horace Greeley by John Quincy Adams Ward, City Hall Park. City Hall is on the left. The NY Tribune's offices were near City Hall in the 1800s.
CIVIC CENTER
When New York's third City Hall building was finished by Joseph-François Mangin and John McComb, Jr. in 1812, the location south of Chambers Street east of Broadway was considered so remote and distant from the business conducted "downtown" that marble was used for the front of the building and cheaper brownstone for the rear, since the architects thought that only service personnel would ever see it. Within a few decades, landmarks like the Woolworth Building, Tweed Courthouse, the Manhattan Municipal Building, the Park Row Building, One Police Plaza, and the Brooklyn Bridge had surrounded it and overshadowed it.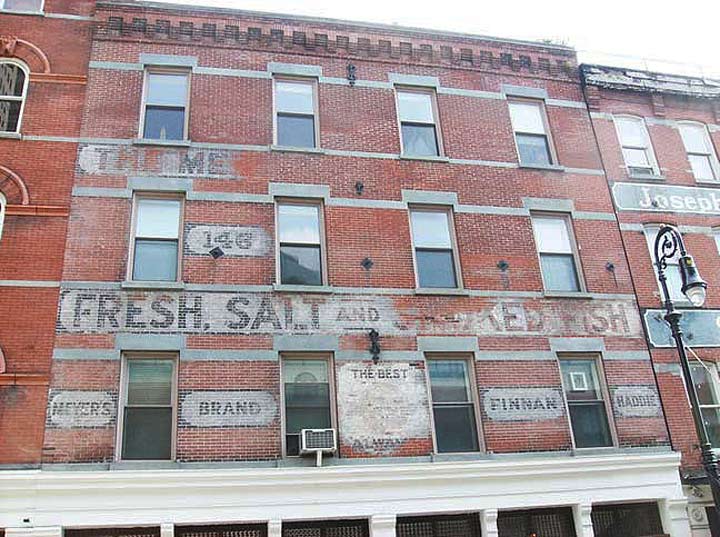 Beekman and Front Streets
SOUTH STREET SEAPORT
South Street runs along the southeast Manhattan Island coast along the river from the Battery to Corlear's Hook. For centuries tall masted ships would dock in the East River and bowsprits would hang right over the east side of the street. From 1822 to 2005 the Fulton Fish Market dominated the wholesale seafood business at Fulton and South Streets, and The New Yorker's Joseph Mitchell wrote voluminously about its denizens. The market operated mostly in overnight hours and the smell of fish permeated the nostrils in these streets even during the day.
In 1983 a retail area/museum was opened in the area, centered around a collection of old sailing ships and the mall at Pier 17. It thrived with out of towners and Wall Streeters who would arrive for a liquid lunch, but the area never caught on with rank and file New Yorkers. In 2014, it was being completely renovated.
Nom Wah Tea Parlor, Doyers Street
CHINATOWN
The first in what has become many New York City Chinatowns (others can be found in Sunset Park and Homecrest in Brooklyn and in Flushing, Queens) Manhattan's Chinatown, centered around Chatham Square at East Broadway and the Bowery, had its origins in the late 1850s when tobacconist Ah Ken founded a Park Row smoke shop. Because of racial discrimination on the West Coast, Chinese began to settle in the small Asian community in New York and year by year, decade by decade, Chinatown became one of New York's most distinctive ethnic enclaves. Today its population is over 100,000 while other Chinatowns in the 5 boroughs bring the number close to 3/4 million.
Old  St.Patrick's Church, Mott and Prince Streets
LITTLE ITALY
Located just to the north of Chinatown between Centre Street, Bowery, Canal and Kenmare Street, Little Italy has been losing ground to an expanding Chinatown in recent years. East Harlem, Belmont (Bronx)  and later, Bensonhurst has boasted more Italian immigrants and Italian-American residents, but since the early 20th Century Little Italy has held public imagination especially with the annual September San Gennaro Festival. By the latest census in 2010 just over a thousand Italian-American residents remained in a district that once was home to over ten thousand.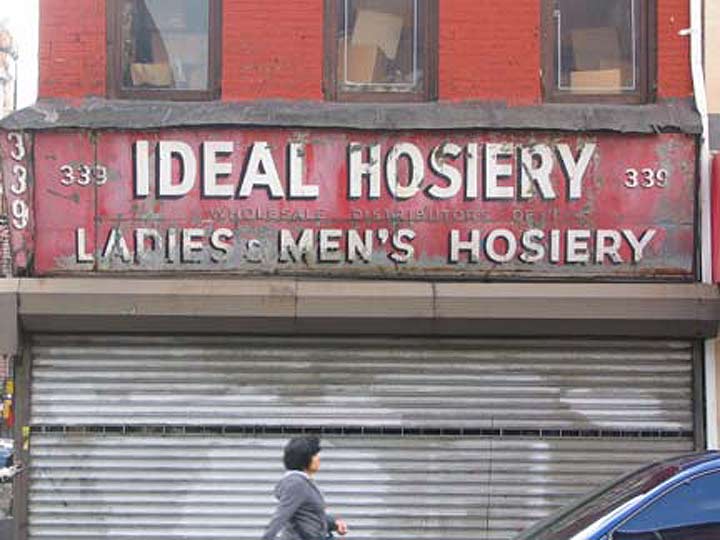 Storefront, Grand and Ludlow Streets
LOWER EAST SIDE
This is a large region geographically, running from the East River north to East Houston and from the Bowery east to the river. Of course it takes its name from its location on the southeast end of Manhattan Island as the East River turns more to a northerly direction. Most of this territory in the colonial era was part of a farm owned by the Delancey family, and a major east-west street bears that name. By the early 20th Century it was a mecca of Eastern European and Jewish culture, and there are still major remnants of this with current businesses such as Katz's Deli and Russ and Daughters Appetizers. Orchard Street became a major clothing retail and wholesale center, and ancient signs from wholesale clothiers like the one shown above are still scattered around.
The Lower East Side became more of a Hispanic and surprisingly, Japanese enclave in later years. Chinatown has begun to extend east along Grand and Hester Streets.
Ear Inn, Spring Street between Greenwich and Washington Streets
SOHO
Like Tribeca, Soho, or as it is sometimes spelled, SoHo, takes its name from the first couple of letters of a longer two-word term, south of Houston. It's a relatively small region, running from Canal Street north to Houston and from the Hudson River to Broadway. In recent decades it has begun to resemble London's counterpart Soho (named apparently for a 17th Century hunting call, e.g., Tally ho! when it was mainly farms and fields) as far as being a center for shopping, nightlife and restaurants. Not too many years ago Soho was, like its neighbor Tribeca, a sleepy manufacturing and warehousing part of town. It was given a new lease on life after 1969, when a Robert Moses proposal, the Lower Manhattan Expressway, which would have connected the Manhattan and Williamsburg Bridges with the Holland Tunnel, was defeated by local residents.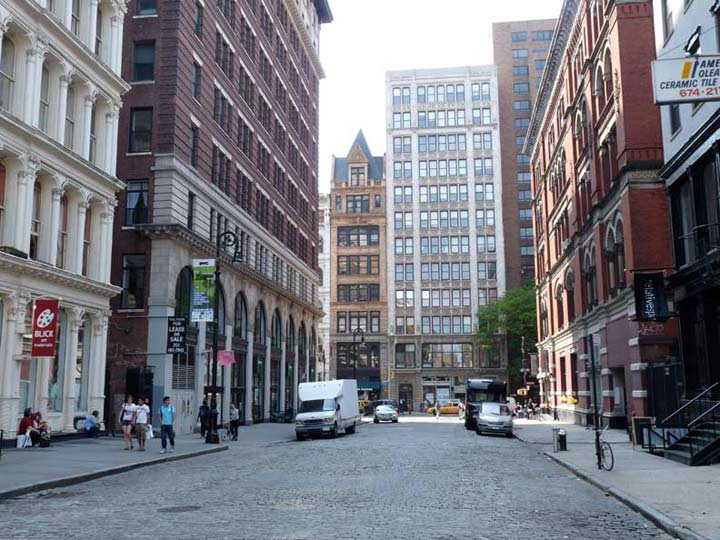 Bond Street looking west
NOHO
NoHo, or Noho, is a small district named in imitation of SoHo, running from Houston Street north to Astor Place and from Broadway east to the Bowery, where it meets the East Village. Most of it contains 19th-Century building fronts and has been designated a landmarked neighborhood by the Landmarks Preservation Commission. It's one of the most exclusive real estate enclaves in the city and apartment units can run into the tens of millions.
Northern Dispensary, Waverly Place at Waverly Place at Christopher Street
GREENWICH VILLAGE, EAST VILLAGE, WEST VILLAGE
Greenwich Village has always had a unique literary and bohemian character, and even its street layout is angled to the northwest, away from Manhattan's prevailing grid. I've always found its east end to be ill-defined but for the purposes of this page I'll say it runs from Broadway west to the Hudson and from West Houston north to West 14th if you include the Meatpacking District, Gansevoort Street if you don't. The West Village is pretty much everything west of 6th Avenue, while the East Village is a separate neighborhood east of 4th Avenue, west of the East River, between East Houston and East 14th, though Loisaida (see below) takes up some of that as well.
The name "Greenwich Village" is actually redundant because in old English, "wic," wick" or "wich" itself meant "village." Originally part of the vast holdings of Britisher Sir Peter Warren, this area became an up-river summer resort for the landed gentry, which enjoyed its heavily wooded acres (hence the Green) along the river frontage. Later streets and homes were built to a particular grid, and "Village" was added for non-etymologists.
Chico mural, Avenue B
LOISAIDA
The east end of the East Village, the "alphabet streets" Avenues A through D and East Houston north to East 14th, is increasingly referred to as Loisaida ("lo-ee-SIDE-a"), a term that can be traced back to local poet Bittman Rivas in his work of the same name written in 1974. It is a local pronunciation of the term "Lower East Side" with a few pesky consonants elided.
Washington and Gansevoort Streets, 2000
MEATPACKING
The area began as a trading village for the Sapokanican, an Algonquin Indian tribe. After the famous sale of Manhattan Island for a few beads and baubles, it became a Dutch tobacco plantation, then English farmland, before America built Fort Gansevoort to protect New York during the War of 1812. After the war, New York City began negotiations with John Jacob Astor, who owned most of the Gansevoort area, to purchase the underwater rights for the Hudson River. When the deal was complete, the shoreline, west of what is now Washington Street, was filled in, and became the terminus of the Hudson River Railroad. A farmers' market emerged, taking advantage of the railroad and the ever-present ferries across the Hudson from New Jersey. In 1886, the city declared the area as a public market to ensure that they participated in the profits!
At the turn of the last century, with the advent of an underground brine-cooling system, the city market was able to sustain a safe meat-market. The buildings that were once dwellings, stores and warehouses were quickly transformed into meat businesses – the vestiges that we still see today. In the past few years, many of the meat businesses have relocated to the Bronx, but a variety of new businesses have replaced them, and adapted these remarkable, historic structures once again – so that the neighborhood retains a vibrant, 24-hour energy that defines Gansevoort as unique in New York City. Meat guys work next to famous retailers, restaurateurs, art galleries and production houses in a wonderful cycle that ensures there is always something for everyone in Gansevoort Market! from the former Florent Restaurant webpage
Resembling the old Fulton Fish Market in that it came alive in the midnight hours, the wholesale meat markets operated in the small area from 9th Avenue west to West Street and from Gansevoort north to West 14th. Over time, most of the meat guys moved out and decamped elsewhere, some to the Hunts Point market in the Bronx, replaced by upscale boutiques owned by the Diane von Furstenburgs and Stella McCartneys. Expensive restaurants and hotels also move din, and the conversion of the old West Side Freight Railroad to an elevated park was the cherry on top. Today, few meat wholesalers are still around, though Hector's Restaurant, which served them for reasonable prices, still is.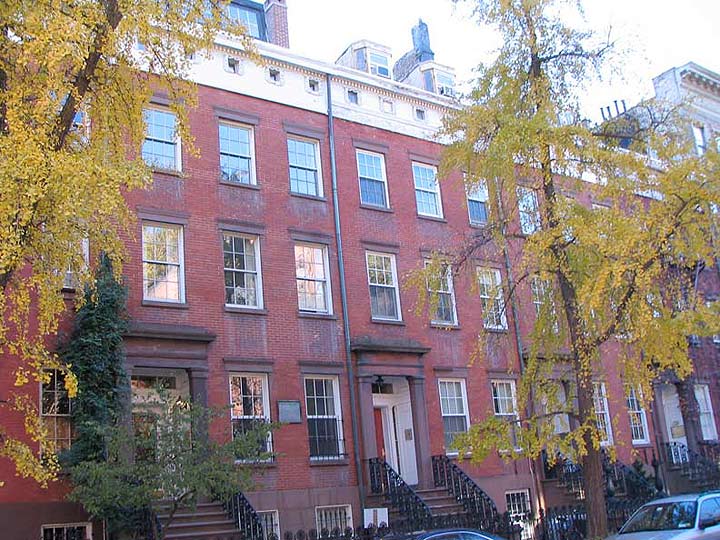 Cushman Row, West 20th Street near 9th Avenue
CHELSEA
"Chelsea" was the name of Clement Clarke Moore's estate (in turn, named for a district in London, England; the name is Old English for "chalk wharf"), now a part of the grounds of the General Theological Seminary campus between 9th and 10th Avenues and West 20th and West 21st Streets. By trade, Moore was a languages professor at King's College, now long since moved uptown and become Columbia University. He is the supposed author of the Christmas classic poem "The Night Before Christmas" describing the Jolly One's trip to a housetop and down the chimney. The Moore family also had extensive holdings in Newtown (now Elmhurst) Queens.
Chelsea is a fairly large area known for its beautiful mid-to-late 19th Century townhouses, the Penn South Houses and the Morgan post office complex on 10th Avenue, extending between West 14th and 34th Streets from 6th Avenue west to the Hudson River.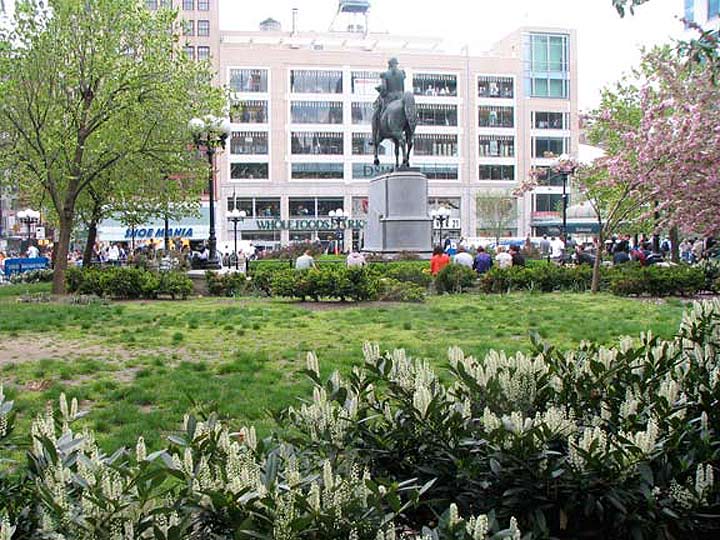 Union Square looking south to East 14th Street
UNION SQUARE
The neighborhood in the immediate vicinity of Union Square takes the name of the park; actually Union Square was named (actually as Union Place) in 1815 at the near-junction of the Bloomingdale Road, or Post Road to Albany, and the northern part of the Bowery Road, the Post Road to Boston. In the original Commissioners' Plan drawn up 1807-1811 by surveyor John Randel, Broadway was originally going to run "north" above Tenth Street and end at a 239-acre military training ground called The Parade spanning between 3rd to 7th Avenues and from 23rd to 34th Streets. By 1814, however, the idea for The Parade had been scrapped as the new Third Avenue diminished the Post Road's importance, and emphasis was then placed on Broadway as a main north-south route up Manhattan Island.
Union Place, the meeting of the Bloomingdale and Bowery Roads, was so named by 1815, but served time as a potter's field and a place for squatters until the park's present configuration west of 4th Avenue (Union Square East), Union Square West (Broadway) East 14th Street and East 17th was finally laid out and landscaped as the modern street grid had reached that far uptown by then. After a short stint as Union Park, the name Union Square was settled on by the 1870s. The square is named for the junction of roads, not the Union (USA, vs the Confederacy) or later gatherings by trade unions that took place there.
In the mid-1800s, Union Square was actually the home of NYC's entertainment district that had crept north along the Bowery since the post-colonial era. It kept moving north before settling in the Times Square area by 1900.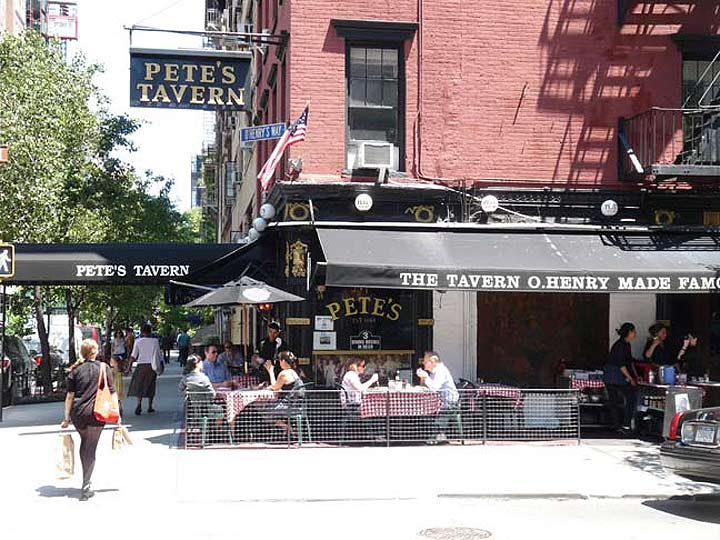 Pete's Tavern, Irving Place and East 18th Street
GRAMERCY PARK
For the longest time I thought this private park, and the neighborhood surrounding it, were named for a British contraction for "Grant mercy." In Britain they like to contract the pronunciation of place names — "Worcestershire" comes out like "Wuster" or "Wooster" and that name did indeed turn up on a SoHo street name. But I was wrong. It is a British mashup of a Dutch phrase, "Crom Messie" or "Krom Moerasje" meaning "crooked stream" or "crooked knife," since the stream was narrow. Such streams were part of the original Manhattan Island topography, before they were filled in or diverted into sewers. The stream in question here also fed the now-disappeared Sunfish Pond.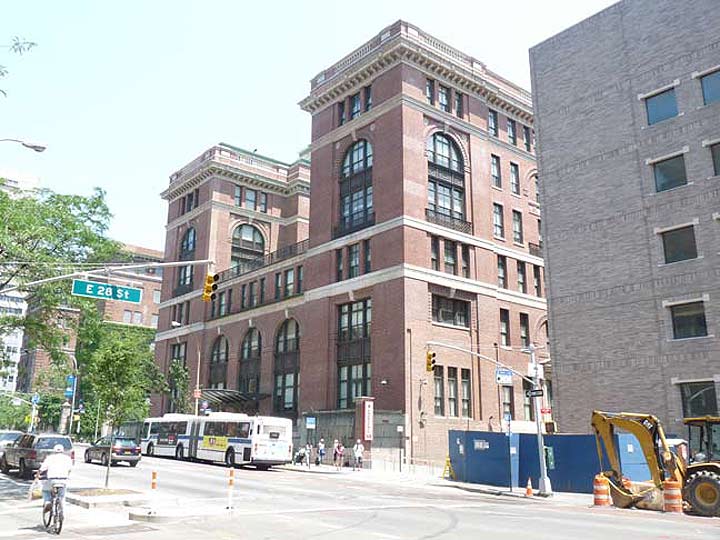 Bellevue Hospital, 1st Avenue and East 27th Street
KIPS BAY
This neighborhood on the East Side runs from East 23rd to East 34th between Lexington Avenue and the East River. It is named for a former East River inlet that had been on the property of 17th Century Dutch settler Jacobus Hendrickson Kip.
Kips Bay was the site of the Landing at Kip's Bay (September 15, 1776), an episode of the American Revolutionary Warand part of the New York and New Jersey campaign. About 4,000 British Army troops under General William Howe landed at Kips Bay on September 15, 1776, near what is now the foot of East 33rd Street. Howe's forces defeated about 500 American militiamen commanded by Colonel William Douglas. The American forces immediately retreated and the British occupied New York City soon afterward. wikipedia
Landfill has since claimed the inlet, but the East River still does make a slight bend to the west at East 23rd Street.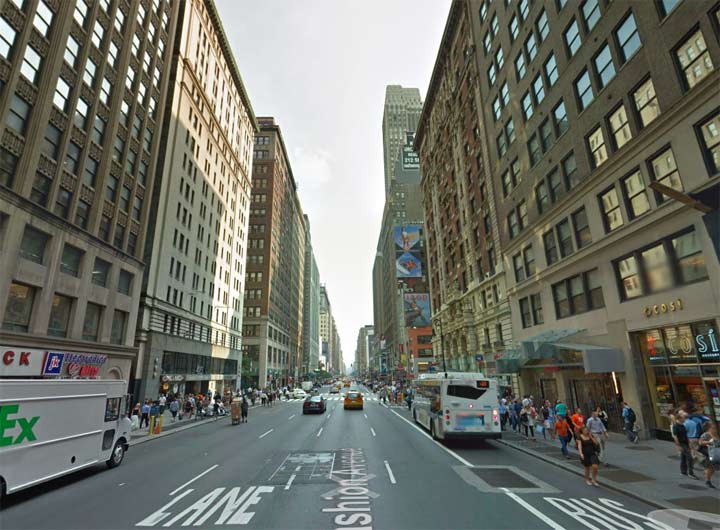 7th Avenue looking south at West 37th Street
GARMENT DISTRICT
The Garment or Fashion District, located along 7th and 8th Avenues from West 34th Street north to West 42nd Street, contains one of the largets concentration of clothing wholesalers in the country. When I worked for print shops and later, Macy's in this area from 1988-2004 it wasn't uncommon to see racks full of fox stoles being wheeled up 7th Avenue. Most of the best known designers and fashion label have showrooms here, and while there are a number of retail spots, most storefronts cater strictly to wholesalers.
A little -known adjunct of the Garment District is an area clustering around West 23rd-West 28th Streets and 6th Avenue, which has a number of sewing machine repair joints.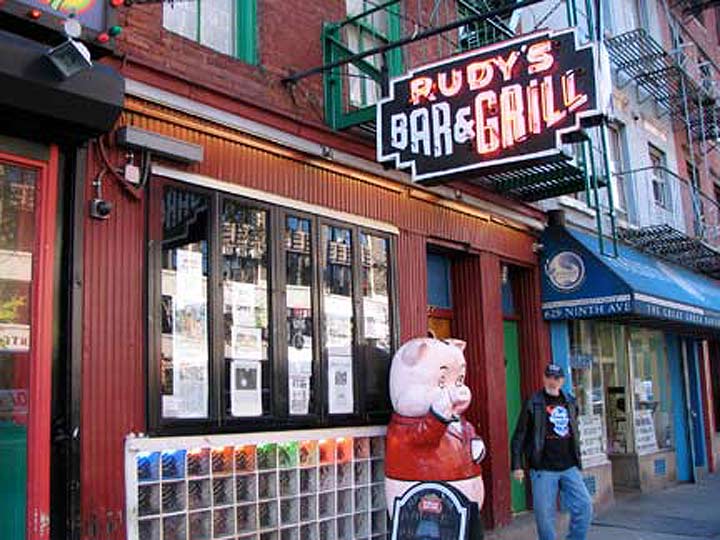 Rudy's Bar, 9th Avenue and West 44th Street
HELL'S KITCHEN
Though Hagstrom and local real-estate brokers have resolutely tried changing its name to "Clinton" in honor of early NYS Governor DeWitt Clinton (who has a city playground namd for him at 11th Avenue and West 53rd Street) the large neighborhood between West 34th and West 57th and from 8th Avenue west to the Hudson has been persistently called by its residents the more colorful term "Hell's Kitchen." Theories abound for the origin of this name.
The most oft repeated theory says that it originated the night that Dutch Fred, a veteran police office, was on patrol with a rookie cop on West 39th street near 10th Avenue (suspiciously close to the rookery of the same name). The two cops were witnessing a small riot and purportedly the rookie said to Dutch Fred, "This place is Hell itself,"  to which the veteran cop replied, "Hell's a mild climate. This is Hell's Kitchen, no less." Manhattan Unlocked*
From the 19th into the 20th Centuries, this was among the most gang-ridden and toughest parts of town. The infamous Westies of the mid-to-late 20th Century were headquartered here. The heat has always been on law-abiding citizens and cops.
*Nice site, but no new entries since mid-2011.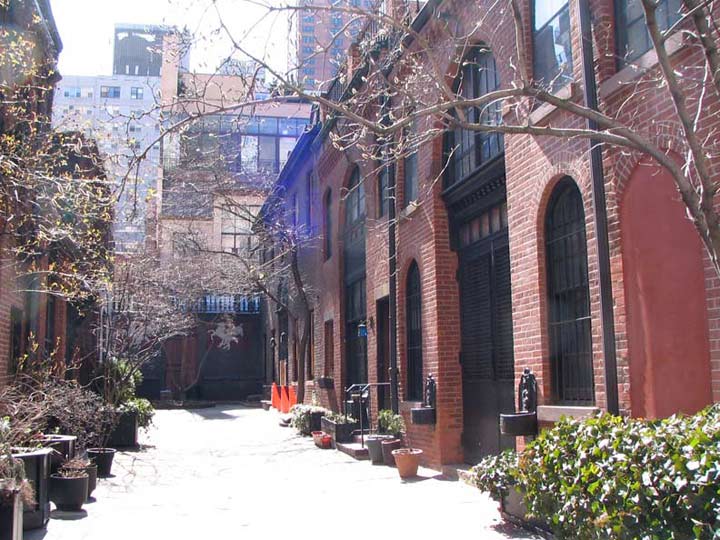 Sniffen Court, East 36th Street near 3rd Avenue
MURRAY HILL
Murray Hill is generally accepted to lie between East 34th and 40th Streets between Madison Avenue and the East River. It is named for the mercantile Murray family, who migrated to New York from North Carolina and Pennsylvania in the mid-1700s. Patriarch Robert Murray lived in a grand mansion called Inclenburg at today's East 36th and Park Avenues; a plaque on a building marks the site today. Inclenburg was situated on a high hill that has since been leveled, but there are still a number of inclines remaining in Murray Hill, particularly on 3rd Avenue in the 34th Street vicinity. Today its chief public attraction is the J.P. Morgan mansion at Madison and East 36th, which is now the Morgan Library and Museum. Mrs. Robert Murray, according to legend, was responsible for delaying the British advance on Manhattan Island by having British officers in for tea and cookies at Inclenberg!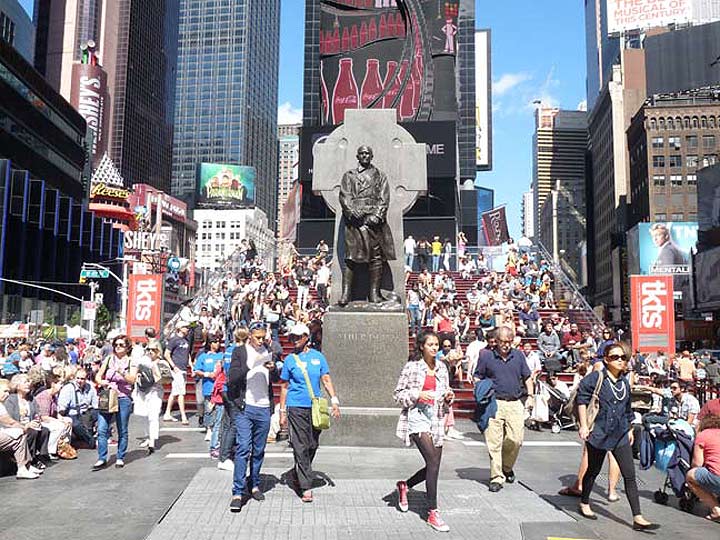 Father Duffy Memorial, Broadway at West 47th Street
TIMES SQUARE
(I consider Duffy Square part of the overall Times Square experience)
In a long-distant era, this section of Manhattan was the city's carriage-trade center, and the confluence of Broadway and 7th Avenue was then known as Longacre Square–Longacre being the carriage center in London. In a couple of decades, theaters would begin moving into the Longacre Square area from their old center at Union Square, and the carriage trade would greatly suffer from the advent of the "horseless carriage."
In 1904 the New York Times moved from its longstanding offices on Park Row to the Times Tower, which still stands today, stripped of its ornamentation as an advertising billboard, and Longacre Square was changed by the city to Times Square, the brand new subway station underground was christened Times Square, as well, and it has been known as Times Square since then.
Several blocks in the West 40s and 50s between Broadway and 9th Avenue have been called the Theater District for its many first run Broadway theatres, and West 46th Street is known as Restaurant Row because of its row of Zagat-rated eateries.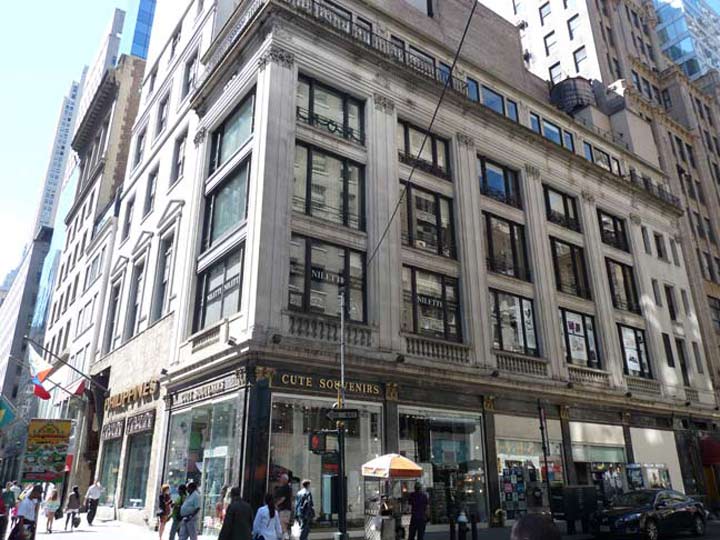 5th Avenue and 46th Street
MIDTOWN
Nothing much to explain in detail here; the blocks from 42nd north to Central Park either side of 5th Avenue are close to the figurative, if not geographic, midpoint of Manhattan and for the want of a better name, have been called Midtown for several decades.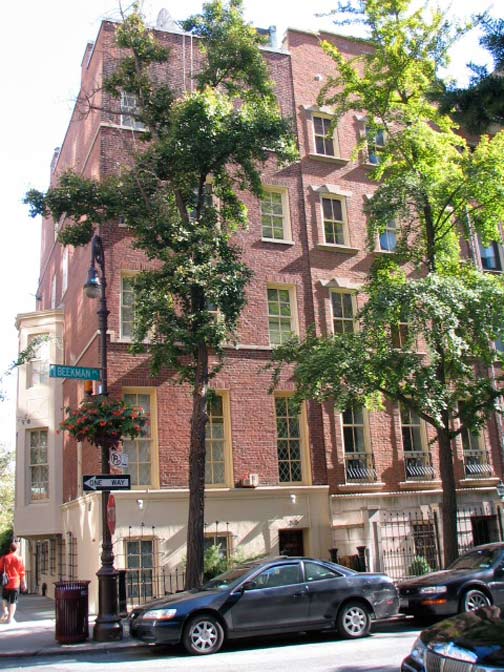 Beekman Place and East 51st Street
TURTLE BAY
Turtle Bay, in the East 40s and 50s from Park Avenue east to the East River, likely takes its name from a Dutch term meaning "bent blade," probably referencing the shape of the shoreline. It is somewhat hard to believe it now, but along the waterfront slaughterhouses had to be razed in the 1940s to make way for the United Nations complex on 1st Avenue. These days it's a residential neighborhood prized for its peace and quiet — longstanding residents have included Katharine Hepburn and Irving Berlin.
Next time: Central Park and north
Part 1: NAMES OF THE NEIGHBORHOODS, Bronx
Part 2: NAMES OF THE NEIGHBORHOODS, Brooklyn
3/23/14