After wandering around northern Rossville in June 2014 I decided to probe south, curious about the enclave known as Sandy Ground, to see if anything remained of it (details on the neighborhood to come below). As you've seen on FNY's Rossville page, In the past 40 years Rossville has metamorphosed from a rural enclave complete with truck crops and farm animals to a thoroughly boring suburban enclave with cookie cutter houses. However, my interest is in traces of the past poking their noses through the banality.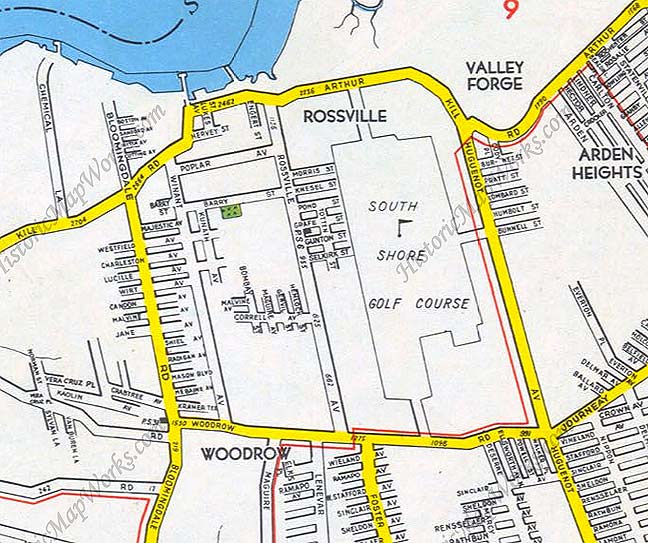 This 1949 Hagstrom map except shows Rossville as it was laid out until the mid-to-late 1970s. In their 1960s and 1970s editions, Hagstrom would add a considerable number of streets to the map, but momentum to buold hem really didn't happen until the Easy Eighties, when a housing boom spread throughout the south shore of Staten Island. The streets shown on this map were then extended to form a grid, while special enclaves with curved, no-outlet streets were also created. Some sections, like that Bloomingdale road extension above Arthur Kill Road, were never built at all.
Among the older relics on Rossville Avenue and Gunton Street is the remains of PS 6. It's now camouflaged by a brick addition with storefronts on the Rossville Avenue side that include a caterer and a dancing school. The relatively new PS56 at Winant Avenue and Woodrow Road serves area schoolkids, and an even larger school, PS 62, is under construction at Bloomingdale and Woodrow Roads.
A modest frame house and perhaps an acre of attendant property are found at Rossville and Correll Avenues, but a dreaded For Sale sign has been posted, and multifamily housing will likely follow.
Speaking of Correll Avenue, it runs from east to west in Rossville from Bloomingdale Road to Rossville Avenue, and then a small piece between Mallow Street and Alverson Avenue. However, it was once plotted by the city to run east through Arden Heights as far as the grounds of the old St. Michael's Orphanage, in Arden Heights from 1890-1981. But in the early 1970s the Village Greens houses were built instead, and only a stub of Correll Avenue can be found along Arden Avenue, more than a mile east of the rest of the avenue. Strange…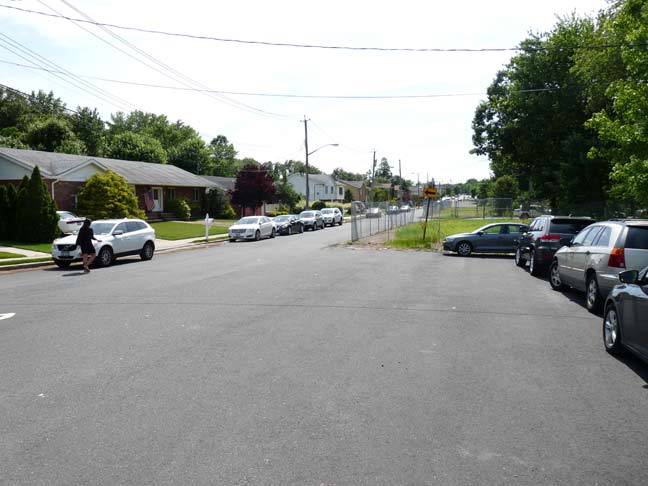 In southern Staten Island, street widths can vary widely, sometimes between blocks, as on this stretch of Mason Boulevard west of Rossville Avenue. At one time, the city may have gotten started widening it to "boulevard" status, but perhaps the money ran out. Mason is likely called "Boulevard" because there's already a Mason Avenue in Midland Beach.
Rossville Avenue itself narrows considerably as it is bridged over Lemon Creek, through what is called the Staten Island Bluebelt.
The Staten Island Bluebelt is an award winning, ecologically sound and cost-effective stormwater management for approximately one third of Staten Island's land area. The program preserves natural drainage corridors, called Bluebelts, including streams, ponds, and other wetland areas. Preservation of these wetland systems allows them to perform their functions of conveying, storing, and filtering stormwater. In addition, the Bluebelts provide important community open spaces and diverse wildlife habitats. The Bluebelt program saves tens of millions of dollars in infrastructure costs when compared to providing conventional storm sewers for the same land area. NYC.gov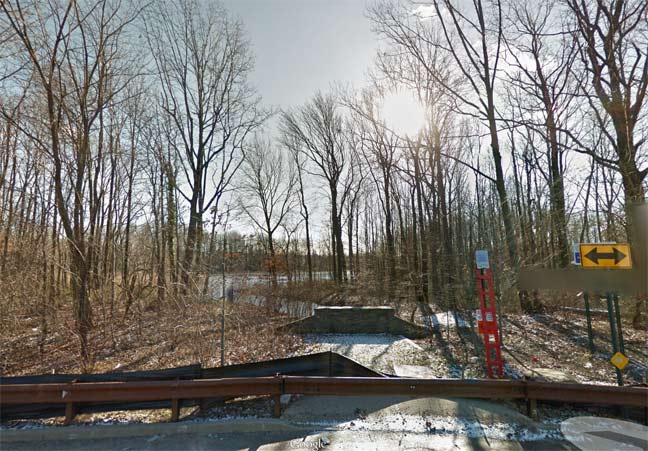 At McBaine and Maguire Avenues, in winter when the leaves are off the trees, you can glimpse Porzio's Pond, a small freshwater pond fed by Lemon Creek. A better photo can be found here.
One of the few remaining older homes in Rossville, at one of the older intersections, Woodrow Road and Winant Avenue. Known as the Coleman-Gray House, it was constructed in the 1850s and is one of historic Sandy Ground's oldest houses.
It is unclear when the Coleman-Gray House was originally constructed, although it is identified on one of the earliest surviving maps of the area, from 1859. It was occupied at that time by Ephraim Bishop, who arrived from Maryland in 1851. The house was purchased by Isaac Coleman and his wife Rebecca Gray Coleman when he came to Sandy Ground to serve as pastor of the Rossville A.M.E. Zion Church in 1864. Although Isaac Coleman probably lived in the house only one year, the building has been in the possession of descendants of Rebecca Gray Coleman since that time. The house was likely built as a 1 ½ story structure, with a single room on each story. The shed roof addition to the east, probably used as a kitchen, was added at some point early in its existence and the two-story, two-bay addition was made on the western side, possibly sometime around the Coleman's purchase. It is likely that the most recent section of the  house, the two-story section on the western side, was added during the late 1880s to accommodate a growing extended family. Throughout this time, the basic form of the house has remained, although these later additions have enlarged the space. More recently, the house has been sided with contemporary materials and the window sash replaced. Its massing, fenestration pattern and siting on a large lot helps it stand out in this recently-developed part of Staten Island and its survival is a remarkable and rare reminder of this very early African-American community. Landmarks Preservation Commission Designation Report 
Before the Civil War, Sandy Ground was founded by New York City's first community of free blacks, oystermen who moved north from the Maryland shore to work then-burgeoning oyster beds along the Staten Island shore. There are still a number of descendants of those settlers residing in Woodrow and Rossville today. After the water became too polluted in the 1910s, the oyster beds were condemned, and many residents moved away. Yet, the community's unique identity was able to persist until the 1960s and 1970s, when suburban sprawl, bringing the anonymity that is increasingly pervading Staten Island's south shore, began to take over the area.
The Sandy Ground Historical Society, 1538 Woodrow Road at Lynbrook Avenue, exhibits letters, photographs, film, art, quilts and rare books, all collected from area homes over the past few decades, in its collection. Call (718) 317-5796 for hours. They were having their annual festival the day I happened by, but I was by myself and didn't go in (I'm like that).
The African Methodist Episcopal Zion Church on Bloomingdale Road near Claypit Road serving Sandy Ground was mentioned by New Yorker writer Joseph Mitchell's 1956 story "Mr. Hunter's Grave," in which he interviewed the church's board of trustees, who provided an indelible portrait of Sandy Ground in the early 20th Century. It was constructed in 1897.
AME Zion Church Landmarks Designation Report
Walk down Crabtree Avenue, which at first looks like the rest of its brother streets – lined with new, anonymous housing with nothing to make it really interesting. But give it time. Continue down the road and you come upon an old cemetery, associated with the nearby African Methodist Episcopal Zion Church. Soon, it looks like a rural country lane. (In 1998, when I first wandered the area, I found a lean-to on Harris Lane, a block away, with a rusted sign, emblazoned at the top with "Hon. Robert F. Wagner" who was New York City mayor between 1953 and 1965.)
NYC Landmarks Preservation Commission Report
Little of the physical aspect of 1800s Sandy Ground is there today…there are a couple of frame dwellings, constructed in 1887 and 1898,  along Bloomingdale Road, and Zion Church. They too have been designated NYC Landmarks.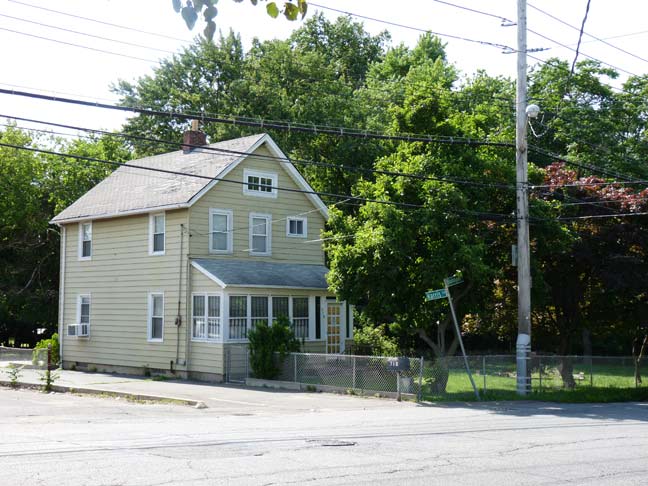 Both Crabtree Avenue and Harris Lane, which used to be dead ends, have been incorporated into the street grid. Here is another of the modest oystermen's houses, at Bloomingdale Road and Harris Lane.
6/25/14
Joseph Ditta assisted with this page's research