On a crystal clear day in September, I took the A train like Ellington uptown to the 145th Street station and started idly milling about the upper Manhattan neighborhoods of Hamilton and Washington Heights, named for the country's first Treasurer Alexander Hamilton, who built a house here that still stands, albeit after several moves, and General, later President George Washington, all of whose battles with the British in what would come to be Greater New York came down to strategic retreats; here was no different, as the Battle of Fort Washington's conclusion left the city in the hands of the Brits, who would hold it with an iron fist until 1883's Evacuation Day.
GOOGLE MAP: Hamilton and Washington Heights Walk
The Bailey Mansion, St. Nicholas Place and West 150th Street, was built for James Anthony Bailey, one of the circus impresarios of Ringling Brothers and Barnum and Bailey Circus, and completed in 1888, a peak year for American architecture, by architect Samuel Burrage Reed.
After enlisting in the army at age 16 and fighting for the northern side during the Civil War in Sherman's company, Detroit-born James McGinniss reinvented himself as a circus showman and operator, changing his name to the more aristocratic-sounding "James Anthony Bailey." By 1881, even though his circuses were successful, he recognized Phineas T. Barnum as the undefeatable master of the genre and joined forces with him, acquiring Jumbo the Elephant from the London Zoo for $10,000.
Bailey was an avid sportsman and horseman, and the choice of this location for his mansion was influenced by the nearby Kingsbridge Road, now known as Broadway and St. Nicholas Avenue in different stretches, and the Harlem River Driveway, both of which were famed as venues for taking teams of horses and carts out for weekend outings. In 1886, when work on the house began, the general area was fairly wide open and the hill on which the house was built commanded a fair view of the Hudson River.
Architect Samuel B. Reed brought in J. B. Tiffany and Company to do the mansion's ornamentation and appointments. Joseph Burr Tiffany was a cousin of stained-glass king Louis Comfort Tiffany and founded his own company in 1884 as a "Specialist in Constructive and Decorative Fine Art." The interior of the Bailey mansion features
"massive amounts of contrasting French polished oak and ash woodwork and elaborate combination gas-electric light fittings. The saleint elements, though, are innumerable stained-glass windows. Made in a mosaic technique by the Belcher Mosaic Glass Company, they were mass-produced in Irvington, New Jersey, by Henry F. Belcher. In 1884 he obtained a patent to manufacture "glass pictures." Belcher's technique of arranging individual bits of molten glasss on  agummed sheet of asbestos and holding them together with an alloy of molten mercury poured between the pieces copied…that of Louis Comfort Tiffany. –Michael Henry Adams, Harlem Lost and Found
A pair of shingled Queen Anne (i.e., eclectic, using many different architectural elements) homes were built across West 150th and St. Nicholas Place were  built in 1993, at #14 and #16 St. Nicholas Place by James Montieth, designed by architect William Milne Grinnell.
Though adjoining #22-24 St.Nicholas Place are now occupied by pedestrian, yet handsomely designed, apartment buildings, the plot was formerly dominated by a wildly designed Victorian villa occupied by the original landowner, Dr. Maunsell Van Rensselaer. "Superbly massed, with slender round towers, gables, porches, and attenuated chimneys, the Van Rensselaer houses set the tone for more modest residences in the area through the next decade." — Adams, Harlem Lost and Found
Much more on the St. Nicholas Place mansions [Michael Henry Adams]
#43-57 St. Nicholas Place, on the west side north of West 152nd Street, were built by architect Clarence True, relatively unknown today, but responsible for over 400 buildings in Manhattan. Known as Northern Renaissance Revival, the houses featured separate entrances on the street level for the owner and the servants.
Beauty and the beast? Early 20th Century meets early 21st Century on St. Nicholas Place and West 155th, where the new modular, square-windowed, boxy Sugar Hill Development,  13-story affordable-housing complex designed by British architect David Adjaye, neared completion in October 2014.
Its north and south facades, staggered into saw-tooth patterns, playfully echo an arrangement of several nearby rowhouses. Sugar Hill's corrugated concrete panels, studded with recycled glass, lighten and glint in the sun…  NY Times, which has a slide show of the new apartments
The complex also contains a preschool accommodating 100 children along with a children's art museum.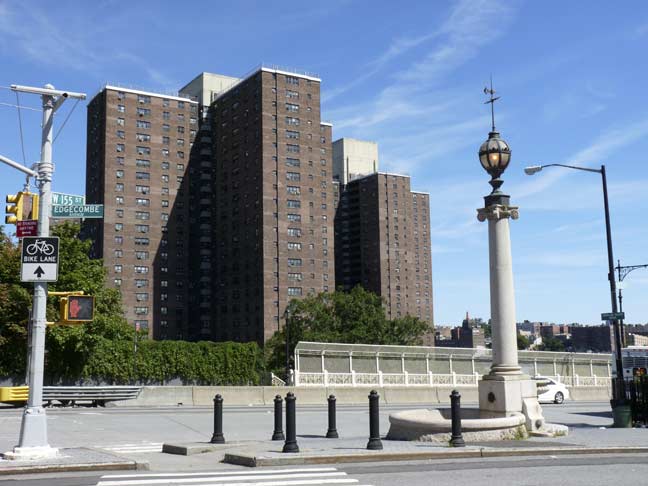 The Sugar Hill Development wasn't the first boxy housing complex in the neighborhood. The Polo Grounds Houses, constructed where the longtime home of the New York Giants and New York Mets had been playing since the early 20th Century. The complex, opened in 1968, features a plaque where home plate had been and stars like Mel Ott, Willie Mays and Bobby Thomson had taken turns at bat.
As for that object in the foreground, I've always been fascinated with it — a combination horse trough and lamppost. From FNY's 155th Street page:
The highly unusual Hooper Fountain at Maher Circle, West 155th and Edgecombe Avenue and St. Nicholas Place was a gift from civil engineer/newspaperman/entrepreneur John Hooper. In his will, made public upon his death in 1889, he appropriated funds for the construction of two public fountains that had to include horse troughs as well as drinking fountains. Both fountains were built in 1894: the one here, designed by George Martin Huss at Maher Circle and another, in Brooklyn at Flatbush and 6th Avenues in Park Slope that disappeared long ago.
The unusual design features a trough topped by an Ionic column with a human-scale drinking fountain appended, while the column is topped by a spherical lantern topped by a weathervane.
After motorized traffic began to overtake equine in the early 1920s the trough became an anachronism and there were efforts made to have it removed to a bridle path. But here it remained, decade after decade with no upkeep and gradually deteriorating. Vandals finished it off in 1981. However, it was renovated, brick by brick, and restored to its old spot in the mid-1990s.
The Restored Brush Staircase
I usually don't like to include so many photos in one gallery (as always, click on a pic for a bigger view) but I wanted to show you how marvelously the old, previously rusted and dangerous John T. Brush staircase, named for former NY Giants owner, has been revived. The restoration took almost two years and was completed in 2013, fifty years after the last baseball game was played at the Polo Grounds. Funds were provided by the NFL New York Giants and New York Jets as well as MLB's New York Mets, Yankees and 2010/2012/2014 World Series Champion San Francisco Giants, all of which had played at the Polo Grounds during its history.
John Tomlinson Brush was born in Clintonville, New York in 1845. After founding a clothing company in Indianapolis in 1875 he became involved in local baseball teams to help promote the city and business. He later owned Indianapolis' short-lived entry in the National League in the 1880s, and later acquired the Cincinnati Reds in 1895. After selling the Reds in 1902, he bought the New York Giants the same year. When the Giants won the National League pennant in 1904, he agreed with manager John McGraw that the Giants shouldn't play the "junior circuit" American League champion Boston Pilgrims (later, the Red Sox) because of an ongoing disagreement with AL president Ban Johnson. The World Series would be played every year thereafter until 1994, when a players' union strike forced a cancellation. Brush was on his way to California on board a train in 1912 when he suddenly passed away; he had suffered from ill health for some time.
The staircase, at Edgecombe Avenue between West 157th-158th Streets, was commissioned by Brush's son-in-law Harry Hempstead and was used to provide a means for Polo Grounds fans to climb the steep escarpment known as Coogan's Bluff to the neighborhood now called Sugar Hill. The staircase remained in place after the Polo Grounds closed.
Today the Brush Staircase descends to, or ascends from, a newly-restored park area along the Harlem River Driveway. The Driveway was originally built as a horse trotting course along the Harlem River. The Polo Grounds Houses are seen beyond the driveway.
Much more on the Harlem River Speedway/Driveway (as well as the Hooper Fountain) on FNY's Sugar Hill page.
The staircase, with two landings and three separate stairs, is quite the workout for your out-of-shape webmaster.
This is the west end of Sylvan Terrace at St. Nicholas Avenue and West 161st Street. From FNY's Sugar Hill page:
"Sylvan" is an adjective that means "woodsy" or "like a forest" and there are three uptown alleys named "Sylvan": Sylvan Court and Sylvan Place, which are on East 121st Street near Marcus Garvey (Mount Morris) Park, and Sylvan Terrace, which dead-ends on Jumel Terrace facing the Morris-Jumel Mansion, with a set of steps leading down to St. Nicholas Avenue. This was once the carriageway to the mansion, but since 1882 it has been home to about 40 nearly identical clapboard wood-frame houses, meticulously maintained by their owners. It was developed by James Ray and built by architect Gilbert Morrison. Earlier critics mistook them for servants' quarters, but they were originally middle class residences, and present prices on the terrace are around $1M if you want to purchase one.
I can never see enough photos of this block — check this google photo aggregation for more, including some interior views.
Classic neon: Almacen Ferreiro Men's Wear, right side of Amsterdam Avenue between West 162nd and 163rd Streets.
McKenna Square is an oddly-shaped triangular park between Amsterdam and Audubon Avenues, named for a local soldier who perished in World War I. It's bordered on both sides by West 165th Street; the section of West 165th north of the park was formerly named Croton Street. The square has some old-style park furniture that seems to be surrounded  by efforts to bring them up to date with more recent stylings, but all it does is make for an odd combination.
Croton Street has been there a long time. This atlas plate from 1867 shows the roads that would become St. Nicholas Avenue and Amsterdam Avenue, as well as the planned route of West 165th. The small grouping of dwellings along a short route between St. Nicholas and Amsterdam Avenues at 165th would eventually form the northern edge of McKenna Square and for several decades would be called Croton Street.
McKenna Square's south side is dominated by St. Rose of Lima Roman Catholic Church. The parish was established in 1901 and this Romanesque Revival church, designed by Joseph McGuire, was dedicated in 1905. The narrow brick rectory (out of the picture on the right), also by McGuire, was opened in 1904.
The church's namesake, Isabel Flores y de Oliva (1586-1617) was the first Catholic saint born in the New World. She was known for her asceticism and good works. Reputed to be a great beauty, she deliberately negated and played down her looks in order to discourage suitors, even though she did not become a nun; she considered herself married to Christ.
A pair of newer buildings can be seen from Audubon Avenue and West 165th. On the left is the Mary Woodard Lasker Biomedical Research Building (1992), which incorporates the front of the old Audubon Theater on its Broadway end (where activist Malclom X was assassinated in 1965) and on the right, the 2012 Dominican Alliance Triangle Building.
The Morgan Stanley Children's Hospital and Presbyterian Hospital (right) are seen looking west from Audubon Avenue and West 166th Street.
Groundswell Community Mural Project, Amsterdam Avenue and West 166th Street, completed in 2004.
These signs represent the new and old way of commemorating local heroes: both are named for NYPD patrolmen killed in the line of duty. The Department of Transportation formerly made blue and white signs (matching the 1960s color scheme of Bronx street signs) but later switched to green and white, matching the street signs.
Both of these are now being replaced by newer signs using Clearview type in upper and lower case, which are harder to read than these classics in Highway Gothic.
A small High Bridge Park sampler, seen from Amsterdam Avenue and West 171st Street. The park runs along the Harlem River from West 155th and Edgecombe Avenue all the way north to Fort George Hill and Dyckman Streets, and despite the efforts of entertainer Bette Midler, who has been trying to rehabilitate it along with the NYC Parks Department for several years, it stubbornly remains one of NYC's more dangerous parks in spots.
The park was assembled in pieces for nearly 100 years, as the city acquired various properties along the river; the last chunk was acquired in 1967. It was, of course, named for the bridge that spans the Harlem River to the Bronx, one of the oldest such bridges, younger only to King's Bridge (Spuyten Duyvil Creek; since removed) and Macomb's Dam (at 155th Street).
High Bridge itself was enshrouded in construction netting in September 2014, as the city strives to prepare it for its reopening for pedestrian traffic scheduled for spring 2015 (though we'll have to see about that).
The High Bridge Water Tower, in High Bridge Park on the Manhattan side, was built by architect John Jervis at the same time as the bridge (1838) and was used as a 47,000-gallon storage tank and as a water pressure equalizing structure. It has a winding spiral staircase inside whose climb, while a little winding if you're not in terrific shape, rewards you with spectacular views of the surrounding Washington Heights, Harlem and Morrisania neighborhoods. The bridge was built as a conduit for water entering Manhattan from the upstate Croton Aqueduct.
High Bridge is best viewed from High Bridge Park at Amsterdam Avenue and West 174th Street in Manhattan, from University Avenue and West 170th Street in the Bronx and from Exterior Street on the Harlem River, attainable from Depot Place crossing the Major Deegan Expressway.
The view from High Bridge Park across the Harlem River takes in — what else — a view of the Bronx' High Bridge Houses. The expressway is the Major Deegan.
A staircase just as large as the Brush Staircase, though without a name, leads down to a High Bridge park path. It, too, seems to have been recently rehabilitated. I hadn't the time to explore High Bridge Park, but may do so if the bridge itself opens again in 2015.
Exposed gneiss rock is frequently seen in northern Manhattan and the Bronx, and here along High Bridge Park on Amsterdam Avenue.
Unique sign stanchion at Amsterdam Avenue and one of the shortest expressways in NYC, the Trans-Manhattan, which connects the George Washington Bridge and the Cross-Bronx Expressway via the Alexander Hamilton Bridge.  The GWB was connected to the Washington Bridge through a pair of vehicular tunnels until 1962, when the new TME opened.
It gets a little confusing uptown, since there are two separate bridges called the George Washington Bridge and simply the Washington Bridge. The latter, which connects West 181st Street and the Cross-Bronx at University Avenue, came first, opening in 1889:
Because of the relatively deep and narrow valley that surrounds the Harlem River, the large arch design was particularly well suited to the site. The two main arches of the Washington Bridge are 510 feet long, and consist of riveted plate girders with a maximum depth of nine feet. Each of the main arches has a clearance of 135 feet above mean high water.
The length of the main spans exceeds those of the Eads Bridge across the Mississippi River in St. Louis, a bridge that is often considered the most impressive steel-arch bridge of its time. Each of the main spans is actually made up of six parallel arches that carry the traffic loads to the masonry foundations. The multi-ribbed, plate girder arches reveal the artistic sensitivity of the designer. On the Manhattan and Bronx approaches, a series of masonry arches supplement the two main steel-arch spans. NYC Roads
The George Washington, which always has to include the "George," is a massive suspension bridge completed in 1931 connecting the Trans-Manhattan Expressway with the north end of the New Jersey Turnpike in Fort Lee.
Belfer Hall (1968), Amsterdam Avenue and West 183rd Street, is one of Yeshiva University's science labs. Its rather forbidding visage is emblematic of the Brutalist school of architecture; the AIA Guide to NYC describes it as "monumental but hollow brick piers for a warehouse of science." The building contains vents for the extensive science equipment used in its laboratories.
I took note here of one of NYC's oldest extant fire alarms at the same location. This type was produced only in 1912 and features a sloping roof and interlocking FDNY symbol. Subsequent models from 1913 to the mid-fifties were made with the "ice cream cone" design element at the top and a spelled out FDNY symbol. This one was outfitted with police and fire alarm call buttons sometime in the 1970s or 1980s.
Mendel Gottesman Library, Amsterdam Avenue and West 185th Street.  It's from the same era as Belfer Hall, but more welcoming; the AIA Guide calls it "a tour de force of brick, terra cotta and glass, highly articulated to make the best of sun, shadow and view: in effect, super bay windows." Interestingly the windows are absent on the 185th Street side.
The Library holds Yeshiva U's manuscript, rare book and scholarly collections of Judaica. The Gottesman family was instrumental in securing the Dead Sea Scrolls for the state of Israel, and the architect of this building, Armand Bartos, helped design the Shrine of the Book, which houses the Scrolls in Jerusalem.
Zysman Hall, the main building of the Washington Heights Yeshiva University campus, was built in 1928 [Charles Meyers Assoc., arch.] and features an eclectic array of design features such as orange stone, copper and brass, ceramic tile, and multicolored domes and turrets — notable because in 1928, architects were quickly adapting to a more streamlined Art Deco methodology. The Hall was constructed the year of Yeshiva U's founding with a class of just 28 students.
Meyers adeptly blended Art Deco touches with Moorish Revival, resulting in a lush combination of pseudo-minarets, artful masonry textures, and Moorish arches and windows. The interiors boast inlaid stone floors and an auditorium with a plaster ceiling mimicking a Middle Eastern tent, enormous Art Deco chandeliers and stained glass windows. Here such illustrious figures as Golda Meir, Yitzhak Rabin, Eleanor Roosevelt, Bernard Baruch, David Ben-Gurion, Earl Warren and Natan Sharansky have spoken. — Daytonian in Manhattan

More from Washington Heights in Part 2
11/2/14