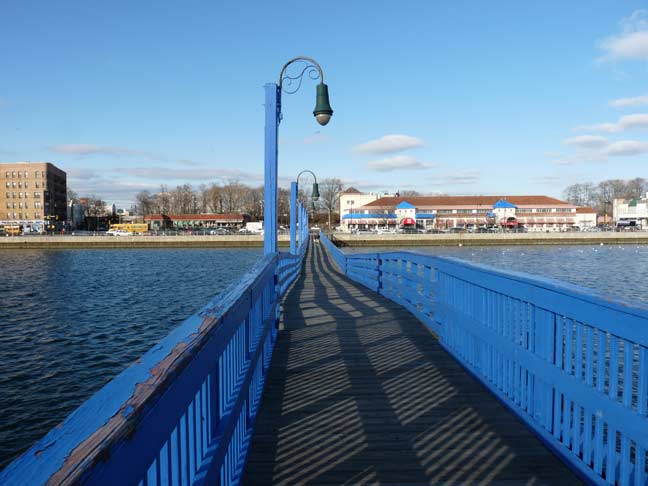 Spanning Sheepshead Bay just west of Ocean Avenue is a weird, wooden bridge with a low fence that looks as if you could easily jump over it into the bay, or even get knocked over if sufficiently jostled. The bridge has a very old pedigree: it was first opened by Long Island Rail Road king Austin Corbin in 1880, and after a few false starts (Corbin kept closing the bridge since he thought "undesirables" would frequent his development, then-exclusive Manhattan Beach) there has been a pedestrian bridge here almost continuously since. It's called the Ocean Avenue Bridge, even though it's a block west of Ocean Avenue on the north side.
You can still get a ticket for riding a bicycle across the bridge; one time, as I was crossing, I discovered one of the wooden rail sections missing, making a dip in the bay a real possibility for the unwary. The bridge was lit by mini-versions of the old Belt Parkway "woodie" poles ; faux bishop crook fixtures were installed in the late 1990s, though one "Woodie" on the south side is still there.
Seen on the right is the old Lundy's Restaurant building, which served seafood to Brooklynites for generations from 1937 to 1979 and again from 1997-2007, though the second iteration was inferior to the first, much like Ebinger's baked goods. The building now hosts several small businesses.
4/25/15