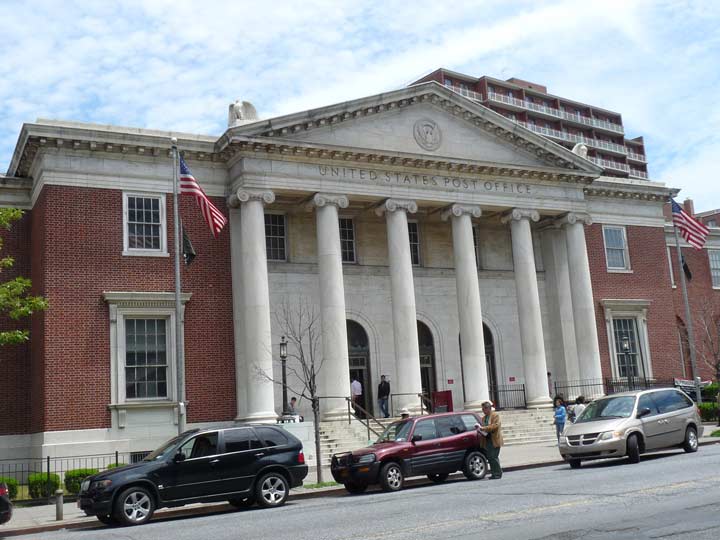 As post office architecture goes, Colonial Revival is a popular style — Flushing's majestic post office building, Main Street and Sanford Avenue, with its pediment and six Ionic columns, is similar to post offices in Hunters Point and also in St. George, Staten Island. It was constructed from 1932-1934 and designed by Dwight James Baum and partner William W. Knowles; most of Baum's other NYC buildings are in Riverdale, Bronx, including the neighborhood's iconic bell tower at Riverdale Avenue and Henry Hudson Parkway.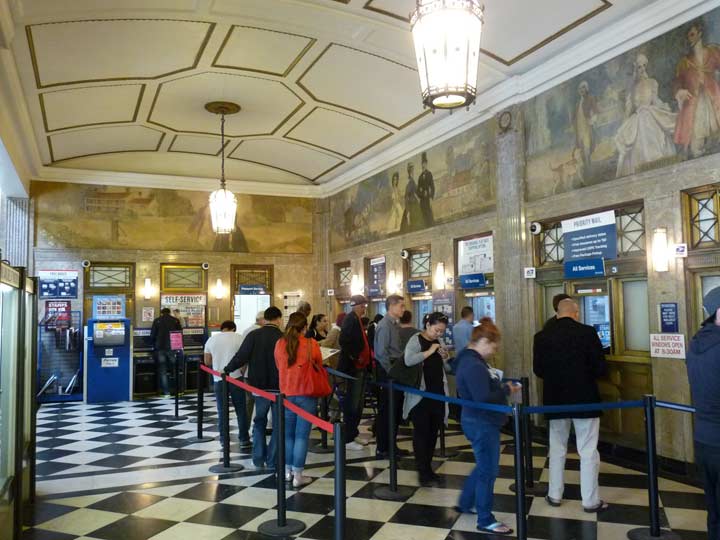 For the first time, I was by on  a weekday and decided to jump in and have a look around. The lobby must look quite similar to how it did when the building opened in 1934, with hanging lamps, marble walls, gilt-edged service windows….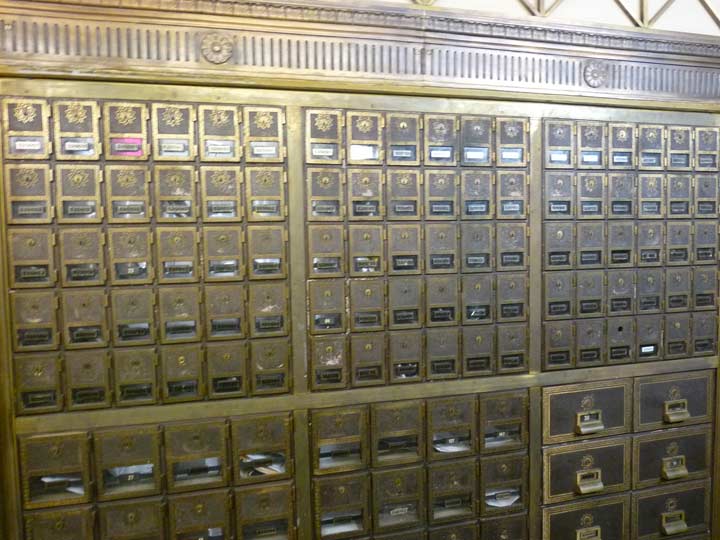 … and what have to be the original deposit and pickup boxes!
Unique wrought iron lampposts stand guard by the front entrance.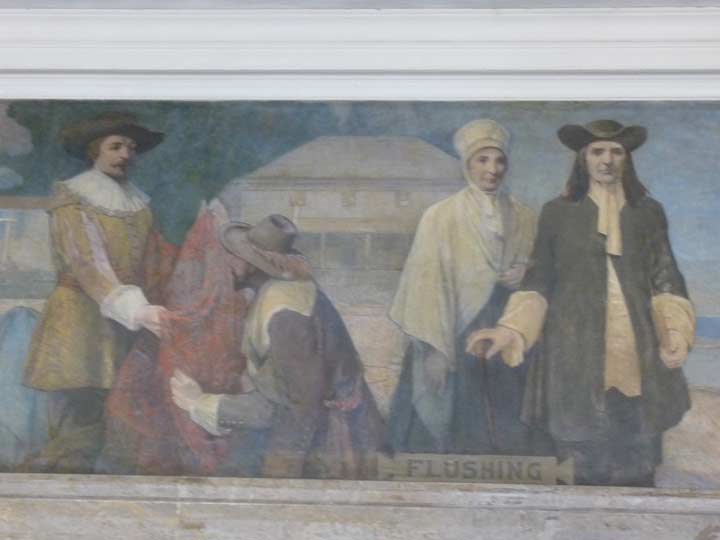 The main attraction in Flushing, P.O., though, are the wall murals created by Vincent Aderente (1880-1941), an immigrant (at age six) from Naples, Italy, who studied at the Art Students League and became an assistant to muralist Edwin Blashfield. His commissions beside the Flushing P.O. are found in Brooklyn's Kings County Hospital, Queens County Court House, Denver Mint, Detroit Public Library, and until it was demolished, the Long Island Savings Bank; after the mural was stolen, the bank was demolished, but a copy turned up and has been hung in the Quinn Funeral Home on Broadway and 36th Street in LIC.
The murals are arranged on the upper walls of the P.O. above the service windows, boxes, etc. and depict Queens neighborhoods surrounding Flushing on the east and west.
Some murals, such as Flushing's, show extant historic buildings, such as the Quaker Meeting House which still stands on Northern Boulevard and Linden Place. The mural shows Dutch traders and a man (possibly John Bowne, a Britisher who originated the concept of religious freedom in 1620s Flushing) and his wife.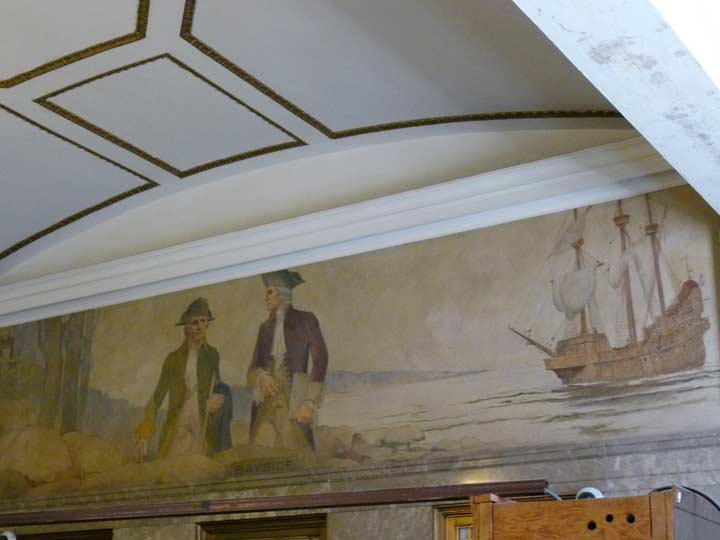 Having rowed ashore from Little Neck Bay, a pair of colonists take a look around in the Bayside mural.
Douglaston's mural shows the Zion Episcopal Church, constructed in 1830 on Northern Boulevard and rebuilt in an almost exact replica after a fire in the 1820s. The man on horseback, possibly George Douglas, the original property owner, is riding past Little Neck Bay or Alley Creek.
The college point mural, I'd guess, shows Augustus Muhlenberg, who founded St. Paul's College, for which the neighborhood is named, in 1839 (it closed in 1849).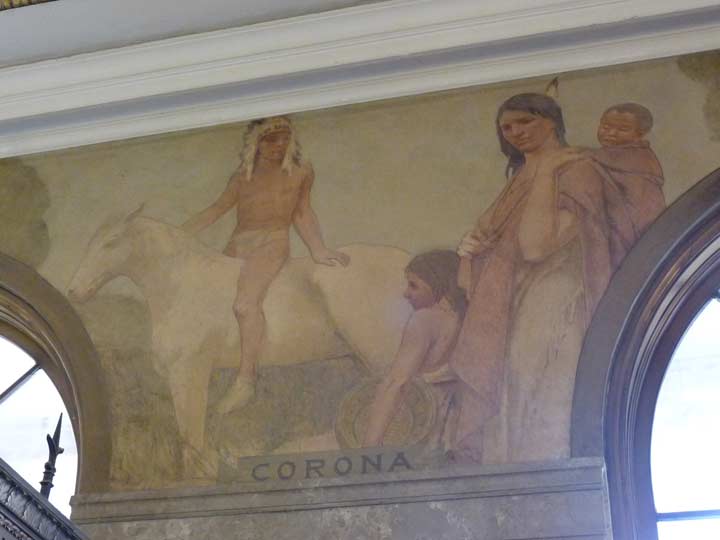 The Corona mural features an Indian brave on horseback accompanied by his family. In this depiction, Aderente may have erred, since this variety of headdress was used by tribes in the midwest, not the east coast (anyone have documentation?)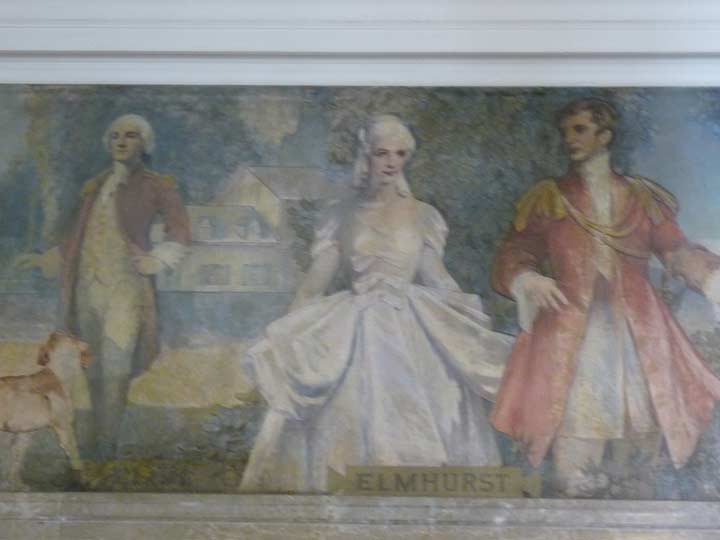 During the Colonial era, Elmhurst was called Newtown or perhaps its earlier name, Middleburg. A couple are on their way to a fancy dress ball, passing a squire and hound. That is possibly the Moore mansion in the background, which stood at Broadway and 45th Avenue well into the 20th Century.
Were there ever any cattle drives in Forest Hills (the former southeast section of Newtown)? Muralist Aderente thinks so.
British redcoats are depicted in Aderente's Jackson Heights mural.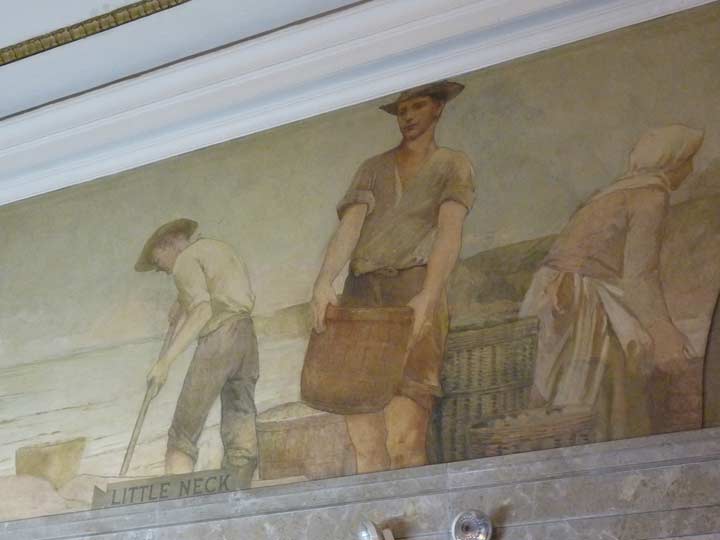 In the 19th Century Little Neck Bay was famed for its huge stores of oysters and clams, which before pizza, hotdogs and hamburgers were considered New York City's favored fast food. Pollution eliminated the oyster harvest in the early 20th Century.
In the early 19th Century, Maspeth was the home of DeWitt Clinton, who held nearly all of New York's statewide elected offices. His house, shown here, was demolished in the early 1930s.
Woodside remained fairly pastoral and small-townish until the 1910s, when its massive transit hub was constructed.
A day at the East River beach for a Native American family. They are shown on the now-vanished white rock for which the neighborhood is named.
7/6/15