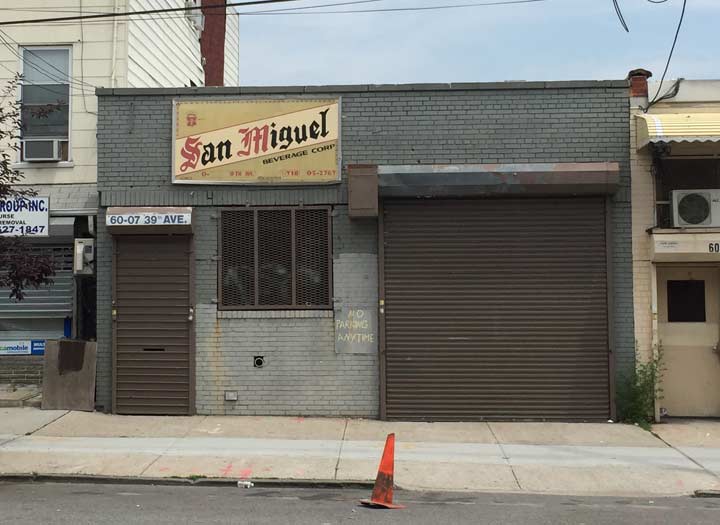 I found the San Miguel Beverage Corporation on 39th Avenue in Woodside at just the right time. The sign, using ecclesiastical lettering or what, with a different design, is called "blackletter" on German documents, must have held forth on what is a bit of a Woodside backwater for several documents. The lettering is supposed to evince the swashbuckling air of a Captain Morgan ad. Part of the address and phone number on the sign had worn off, and I'm not sure that the San Miguel Beverage Corporation had even occupied these offices for several years. Looking carefully at the upper left, there seems to be a heraldic shield there, but I didn't approach the sign sufficiently closely to ascertain what it is.
Across the street the old building associated with St. Paul's Episcopal Church mostly burned several years ago, but the old hulk still stands with boarded-up windows. The parish carried on without it. The rest of the surroundings seem stuck in time, and if you were to see the area in the 1930s, you'd probably see only incremental changes, an old building since torn down or two.
A few weeks ago, though, the building housing the San Miguel Beverage Corporation was duly torn down, and the sign was likely broken up and sent to a landfill somewhere.
9/25/15