For the first time in about 12 years I was called in for jury duty last week (October 2015). In the past, I've had to go to the Queens County Criminal Court building next to Queens Borough Hall in Kew Gardens, but the last couple of times I have gone to the new Civil Court building on Sutphin Boulevard and 89th Street. On this occasion, there was a special 'treat' waiting for me because our case was going to be adjudicated in the older Queens Supreme Court Building north of the Civil Court.
This is a building that looks older than it actually is. It was built beginning in 1936 and was not completely finished until 1942; the first case was held in the building March 7, 1939, just a month or so before the first World's Fair opened in Flushing Meadows. The architect was Queens architects  Alfred Eccles and William Knowles –Knowles, with Dwight James Baum, had previously designed the Flushing Post office on Main Street.
The building was partially funded via a $2.2M grant from the Works Progress Administration out of a total cost of $4.8M. It was built in a classical style with eight massive Corinthian colums flanking the entrance, whose doors have depictions of historic lawgivers Hammurabi, Confucius, Moses, Manu, Gaius, Mohammed, Edward I and Grotius.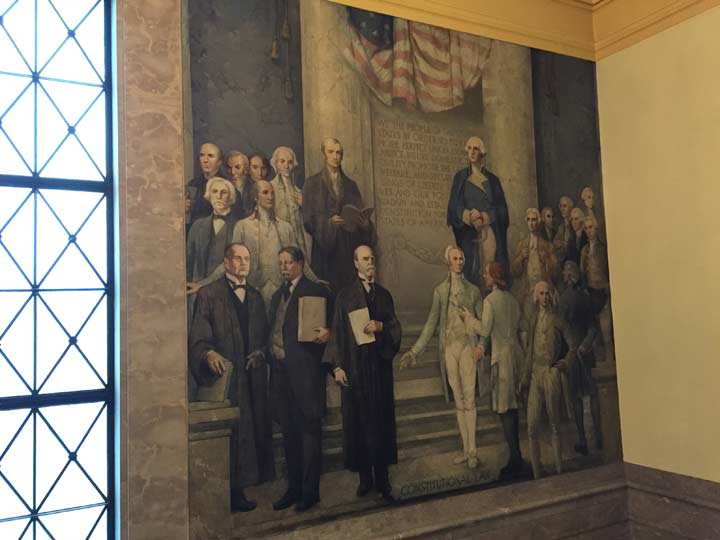 I didn't take many photos of the interior since cops, who dislike photography, were around in numbers. I couldn't resist, though, snapping these two murals seen from the staircase featuring "Mosaic Law" and "Constitutional Law" lawmakers. Moses looks considerably more composed than in The Ten Commandments, in which Charlton Heston played him with brio. Figures from the 18th and 19th Centuries appear side by side in the Constitutional mural, but don't seem to want to have much to do with the other. Both murals were executed by Vincent Aderente, who also painted the Queens neighborhood murals in the Main Street post office.
Much more at NY Courts.
11/13/15