I'll say right off the bat: there's no such thing as a 200th Street, East or West, in Manhattan or the Bronx, but I hope here to indicate why there isn't, or at least what's in 200th Street's place. When the triumvirate of commissioners drew up the grid plan for Manhattan streets in 1807 (described expertly in Gerard Koeppel's book City on a Grid) the plan's northern edge was 155th Street; other commissions planned the streets thereafter, as it was wrongly assumed that it would take over a century for urban Manhattan to reach that far north!
North of 155th, Manhattan gets narrower and more hilly, and while developers leveled Manhattan's hills as the city encroached north, the uptown hills remained in place. The numbered plan was followed north of 155th, but more spottily (it eventually got into the Bronx, where it ends with West 263rd at the Yonkers city line). When it came to 200th Street, it never was laid out.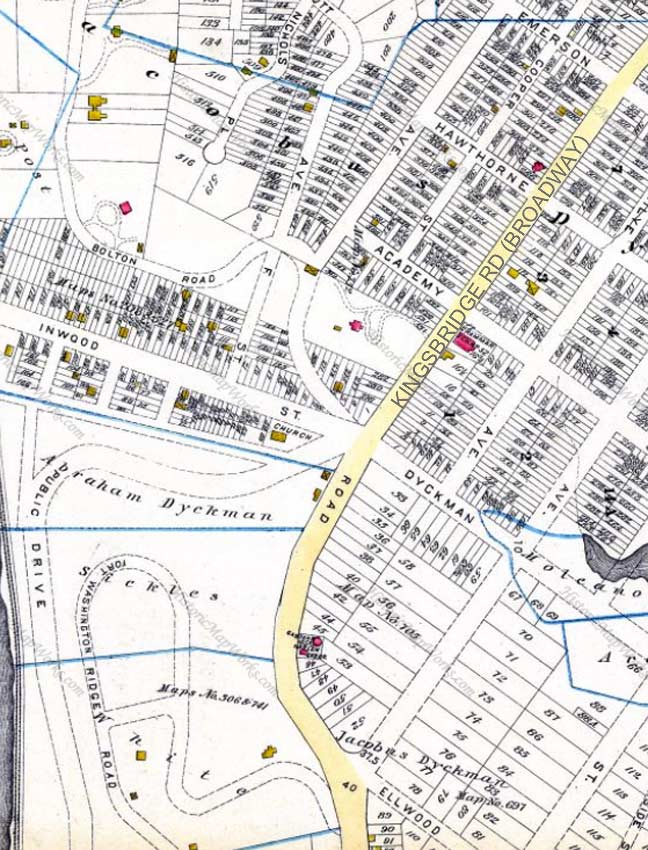 By 1883, Inwood streets had been mapped, but there was still only one existing road, Kingsbridge Road (which crossed the Spuyten Duyvil Creek at King's Bridge, an early colonial-era bridge still in use). As you can see, some of these street names are still in use, such as Academy and Dyckman, named for a colonial-era family whose farmhouse still stands at Broadway and West 204th (then called Hawthorne Street). Dyckman Street, originally called Inwood street west of Kingsbridge Rd (Broadway) stands about in the spot where West 200th would be.
The Dyckman Farmhouse has been here since about 1785 and is Manhattan's last remaining Colonial farmhouse. It was built by William Dyckman, grandson of Jan Dyckman, who first arrived in the area from Holland in the 1600s. During the Revolutionary War the British took over the original Jan Dyckman farmhouse; when they withdrew at the war's end in 1783 they burned it down, perhaps out of spite.
The farmhouse was rebuilt the next year, and the front and back porches were added about 1825; the Dyckman family sold the house in the 1870s and it served a number of purposes, among them roadside lodging. The house was again threatened with demolition in 1915, but it was purchased by Dyckman descendants and appointed with period objects and heirlooms. It is currently run by New York City Parks Department and the Historic House Trust as a museum. A copy of one of the occupying British soldiers' log huts, with a log roof, can be found at the back of the house. The cellar kitchen is particularly engaging, with old waffle irons, sausage stuffers and a child's game board.
Presently, Manhattan numbered streets skip from West 196th to West 201st, and both of those streets go for one block or less. Manhattan has never had a 200th Street. But…there's always a but…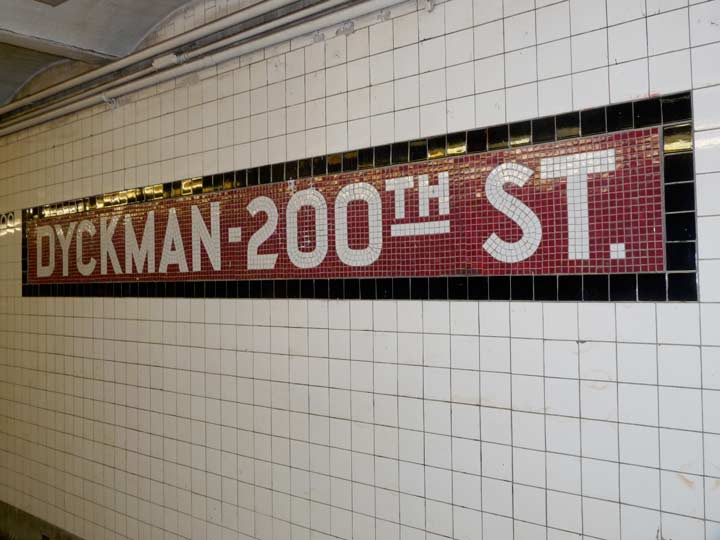 When the 8th avenue IND Subway reached Dyckman Street on September 10th, 1932, the first Independent subway line to open, the contractors saw fit to subname Dyckman as 200th Street. Perhaps there was a surplus of tiles used for the station ID plaques, and they had to do something with them. Nowhere else in Manhattan is Dyckman Street called 200th Street.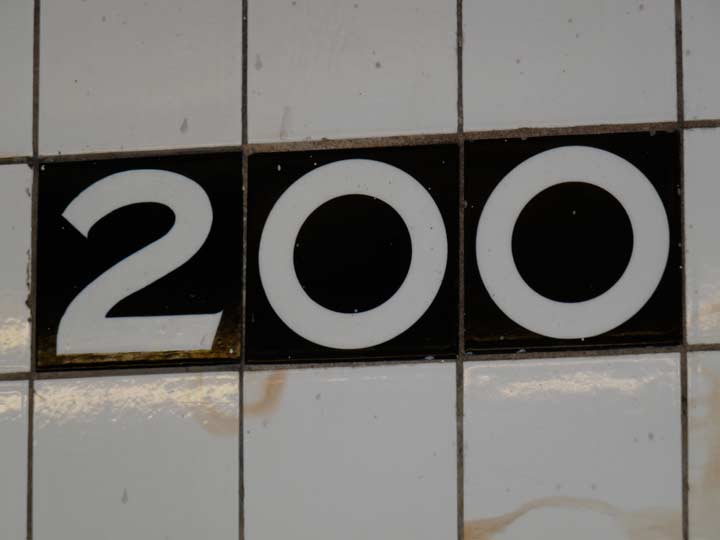 The motif contined on the IND's small black and white wall tiles, and modern black and white signs on pillars dutifully indicate 200th Street, as well.
But ask an Uber driver to get you to 200th, both (s)he and the GPS will be in abject wonderment.
Across the Harlem
Geographically speaking, in the Bronx, West 200th Street would run approximately just south of the Jerome Park Reservoir. However, it was never laid out there, either. But East 200th Street in the Bronx did exist, in Bedford Park.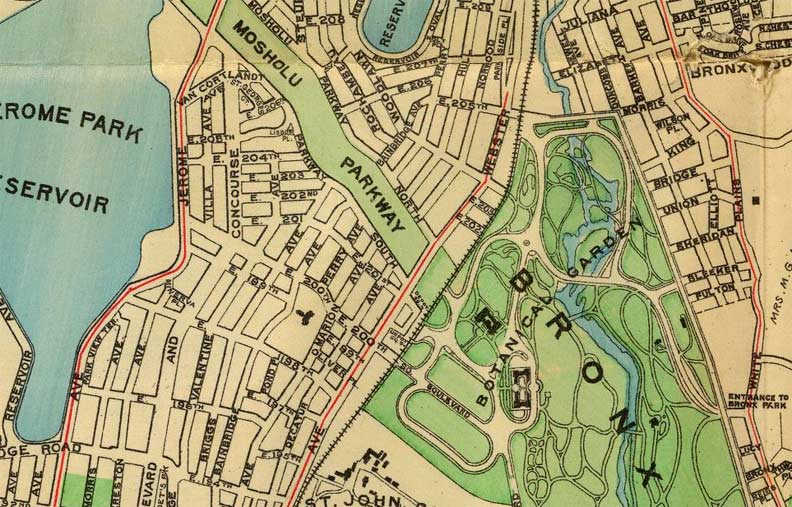 This map from 1900 shows East 200th Street, in place of where Bedford Park Boulevard is today. According to the late Bronx historian, John McNamara, 200th became BPB by 1906. Unlike Brooklyn's Bedford Avenue, named either for the British town or the Dutch word "bestevaar" ("meeting place of old men") Bedford Park, Bronx is named for a historical figure: Edward Thomas Bedford, president of the Bank of the State of New York — an associate of Leonard Jerome, the organizer of the Jerome Park racetrack (now a reservoir) and the grandfather of Winston Churchill.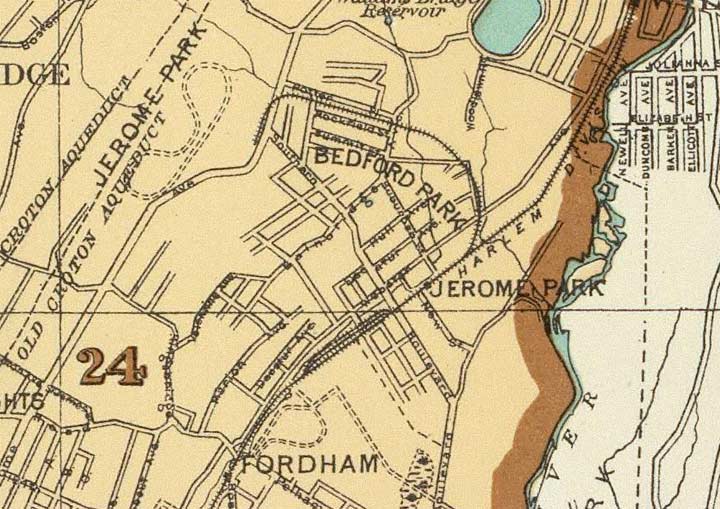 Bedford Park Boulevard's stint as East 200th Street was short-lived indeed. This 1895 map of the Bronx, then part of New York County (the brown line is the dividing line between the Bronx and Westchester, but this section of Westcheester County would be transferred to New York County later in 1895) shows that BPB was originally a northwest extension of Southern Boulevard!
Thus, there was an East 200th Street in the Bronx for only about ten years at best.
In Queens, there's a 200th Street, but it's a quiet side street split between stints in Bayside and Jamaica, nothing special.
2/10/16