By SERGEY KADINSKY
Forgotten NY correspondent
With Memorial Day in mind, it is easy to think of it as the unofficial start of summer rather of its origins as a day honoring those who fought in the American Civil War. Having sent the largest number of fighters, New York certainly felt the impact of the country's bloodiest conflict. Yet when it comes to honoring locals sons who fought, the pickings are few in comparison to World War One, in which the U.S. fought for just a year and a half.
Ranking individuals by monuments and parks in their honor, President Lincoln, Ulysses S. Grant, William T. Sherman, Philip Sheridan, and David Farragut appear prominently on the city's map. They're certainly not forgotten.
Lesser known is Oliver Tilden of the Bronx, killed in combat in 1862. His name appears on Captain Oliver Triangle in Morrisania and has a historical sign explaining the namesake. In Bayside, Queens, local son William C. Dermody was killed in the 1864 Battle of Spotsylvania. Two years later, Captain Dermody Triangle was dedicated in his memory, the first park space in Queens relating to the Civil War. It too has an explanatory historical sign.
In my search for the least remembered public Civil War memorial in the city, I stumbled upon Travis Triangle in the Murray Hill section of Flushing, Queens. Formed by the separation of Murray Street and Murray Lane, with 34th Avenue as its northern border. It is a long and thin traffic triangle, entirely paved, with a single bench, and a couple dozen sidewalk trees on the triangle's two long sides.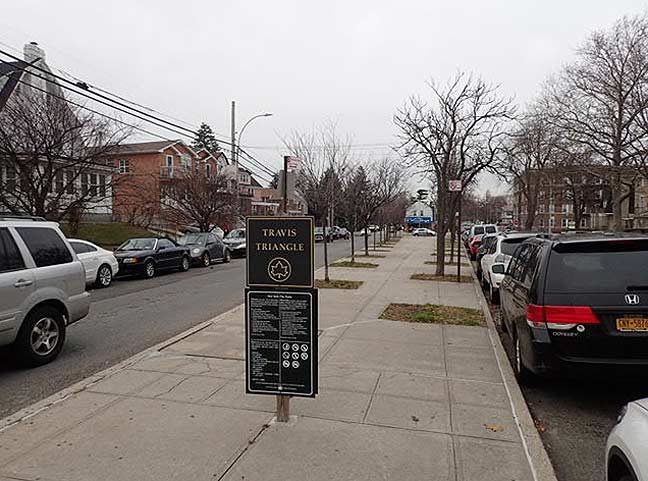 This park does not have a historical sign so I did some research and found that it received its name in 1932 by the city's Board of Aldermen in honor of local Civil War veteran Ira Underhill Travis (1839-1921). With a full name to go by, I learned that he signed up to fight in the 11th New York Volunteer Infantry Regiment also known as Colonel Elmer E. Ellsworth's Zouaves. Travis' commander did not live to see much combat. On May 24, 1861, they stormed into Alexandria, Virginia, pulling down a Confederate banner from the Marshall House Inn. Ellsworth entered with seven men including Travis. After pulling down a flag that could be seen from Washington, he descended the stairs and was fatally shot by a rebel, who in turn was executed on the spot. The survivors kept pieces of the captured flag as souvenirs.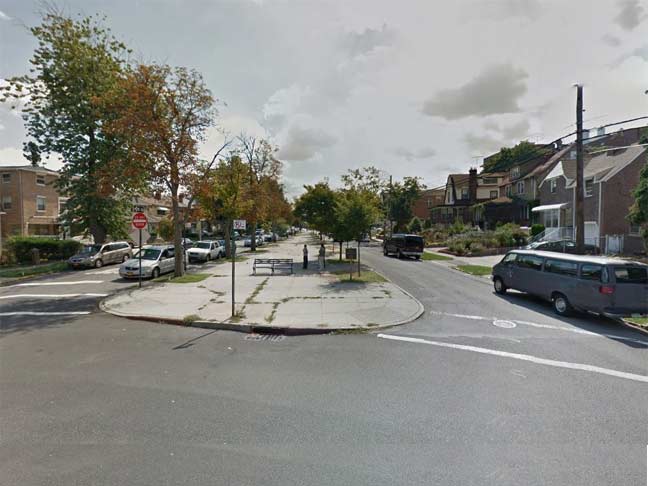 Travis went on to fight in the First Battle of Manassas, where he received a bullet to the shoulder. He was captured and was held for nine months by the Confederates. The bullet from that battle remained lodged in his shoulder for the rest of his life. Among the longest living Queens veterans of the Civil War, he was buried at Flushing Cemetery. In 2008, his great-granddaughter Gale Bay of Jamestown, Rhode Island opened a family keepsake box and found a piece of the rebel flag that Travis had saved. "I sent you a piece of the secession rag that the colonel took down from the Marshall House. Keep it for me as it is a relic of the war," he wrote in a note found in that same box. The flag then made its appearance on the PBS show History Detectives.
Bay's daughter Jill Nicolson recognized the unsung hero in her linage and in 2013 gave him the full profile treatment on Find A Grave, the encyclopedic "Facebook of the Dead." Here, one can see photos of Travis and learn about his parents, siblings and children.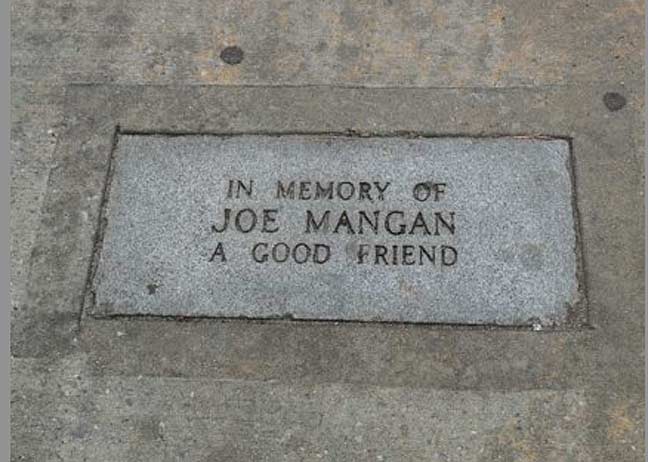 Returning to Travis Triangle, it is sad that there is no monument, plaque, or a historical sign to tell the story of Ira Underhill Travis. Oddly, there is a plaque for Joe Mangan, but nothing to explain who he was. Can anyone solve this mystery?
As with Anthony Catanzaro Square in Brooklyn, I did my part by creating a Wikipedia page for this park, but knowing that it could face vandalism or deletion, there is a more secure place online to honor Travis on Memorial Day: Forgotten-NY.
Sergey Kadinsky is the author of Hidden Waters of New York City: A History and Guide to 101 Forgotten Lakes, Ponds, Creeks, and Streams in the Five Boroughs (2016, Countryman Press)
"Comment…as you see fit."
5/25/17