By SERGEY KADINSKY
Forgotten NY correspondent
In the city's pursuit of a perfect rectilinear street grid, topography was not an obstacle. As the city expanded northward, roads in upper Manhattan and the western Bronx marched across the steep slopes as step streets. More recently, the DOT installed another step street in the Eastchester neighborhood. In contrast, the rolling landscape of Queens does not require too many grid inconveniences, but there are a couple of exceptions.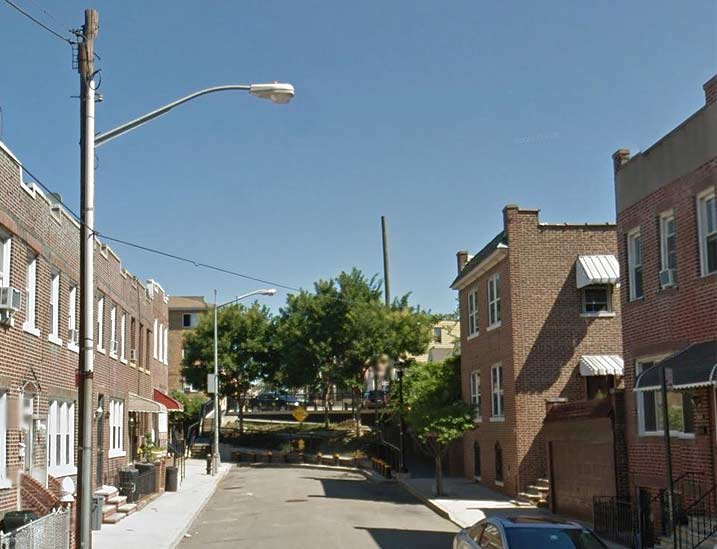 In Astoria, 32nd Street gets the step treatment one block to the north of Astoria Boulevard. Here, the DOT gave it a park-like design in 2008 and a handicapped-friendly ramp.
In Corona, 37th Drive does not quite reach the tri-intersection of 37th Avenue, 110th Street and 111th Street. The drive dead-ends, but its sidewalk branches off to the side as a pedestrian ramp leading down to 37th Avenue. An unattributed inspirational mural decorates the ramp's wall.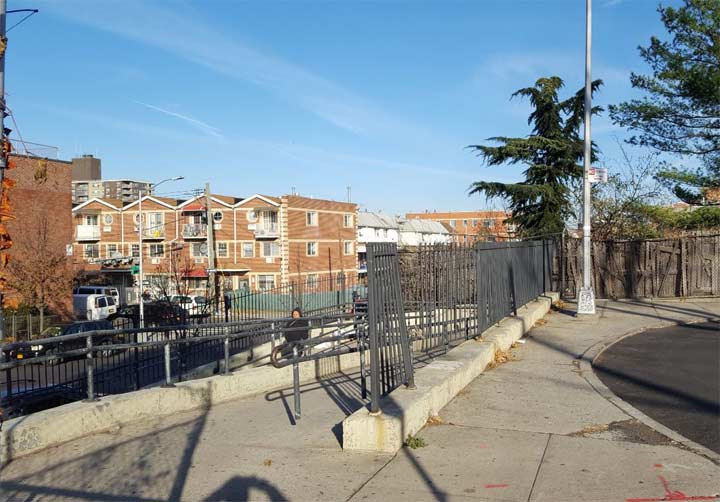 On the bottom landing of its dead-end pedestrian ramp, 37 th Avenue has a much older history serving as a link between the colonial settlements of Newtown and Flushing. Prior to its grid numeration, it was known as the Flushing and Newtown Turnpike.
Looking at the 1915 Belcher-Hyde atlas plate , 37th Drive was always a dead-end, previously known as Darvall Street, and originally as High Street.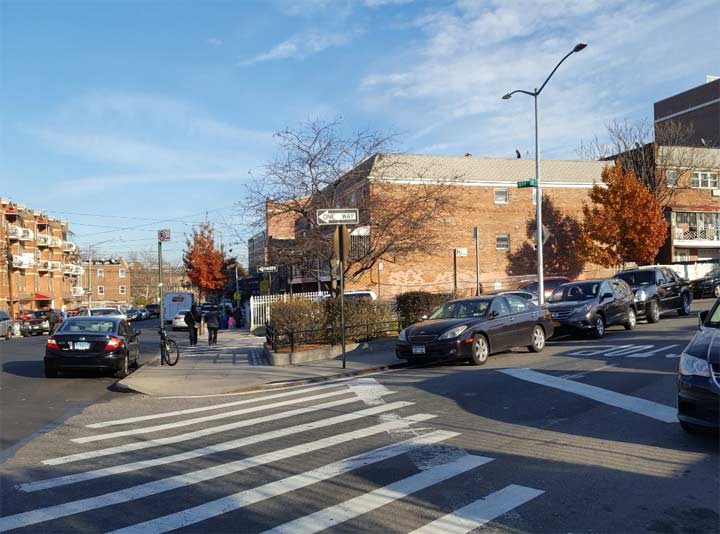 Also near the bottom landing, the grid-makers had 110th Street branch off from 111th Street, creating a Greenstreets triangle, a category that describes the city's tiniest parks.
Forgotten NY items can always be found within proximity of each other. A couple of blocks from 32nd Street in Astoria is Dorothy Place , the privately-owned dead-end street. Likewise in Corona, a few blocks going east on 37th Avenue is a remnant of Pell Avenue inside Hinton Park. In the category of a true stepped streets, I exclude those where the sidewalk has steps while the roadway does not. Richmond Hill has a couple of such streets.
Sergey Kadinsky is the author of Hidden Waters of New York City: A History and Guide to 101 Forgotten Lakes, Ponds, Creeks, and Streams in the Five Boroughs (2016, Countryman Press)
Check out the ForgottenBook, take a look at the gift shop, and as always, "comment…as you see fit."
11/29/17