By SERGEY KADINSKY
Forgotten NY correspondent
Whenever a boulevard or highway slashes through the street grid, triangular parcels that are too small to develop are assigned to the Parks Department, resulting in parks that provide a place to sit, memorialize local heroes, and grow trees. On its 12-mile run across Brooklyn from Greenpoint to Fort Hamilton, the Brooklyn-Queens Expressway has three instances of running elevated above streets: above Third and Hamilton Avenues, Park Avenue, and Meeker Avenue. The latter cuts through the grid and provides a set of triangular parks relating to local history.
As the city's 1951 aerial survey shows, the extension of the highway and Meeker Avenue to the south of Richardson Street broke up eight blocks of apartments and shops, resulting in these leftover green spaces.

At the southern end of Meeker Avenue, the .57-acre triangle bound by Meeker, Metropolitan Avenue, and Union Avenue honors local World War Two veteran Luigi Macri (1909-1962) The property was designated as a park in 1946 during the construction of the Brooklyn-Queens Expressway, which resulted in the demolition of buildings along its route and the extension of Meeker Avenue from Richardson Street south to Metropolitan Avenue. In 1971, this triangle was named in honor of Macri. This Williamsburg resident was a dedicated member of the nearby American Legion Post 1751, which maintained the Second World War memorial inside this park. At the time the neighborhood was heavily Italian, which explains for the bocce courts, but these days they are seldom used as local demographics have greatly changed in favor of hipsters. The lawn is used as a dog park. This bocce court isn't listed on the Parks website, although the agency has a very detailed page on the history of this sport.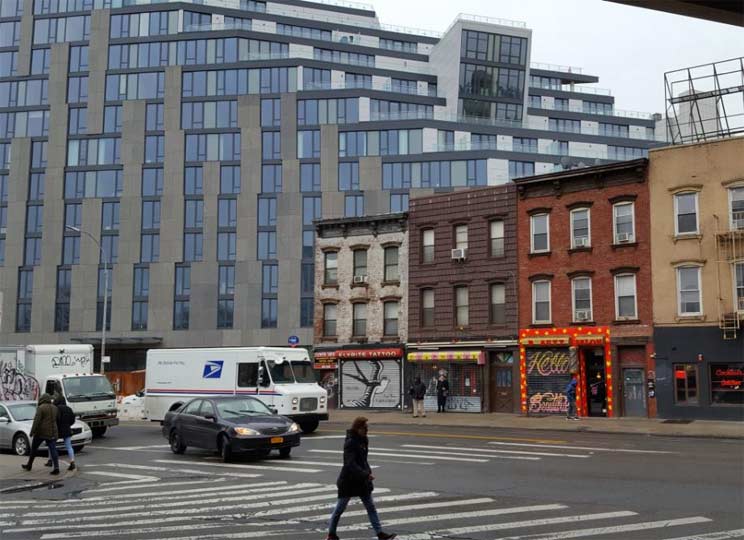 Across Metropolitan Avenue from Macri Triangle is a monstrously huge condo building with an apparent cyclops window dangerously peering down on century-old rowhouses. They appear doomed in the onslaught of luxury developments that have descended across Williamsburg and Greenpoint.

As Union Avenue runs across Meeker, it forms a northern triangle to its route. This .10-acre green space is named for Our Lady of Mount Carmel, a church that stood here prior to its displacement in 1946. The church relocated to 275 North 8th Street, less than a block from the triangle. Inside this tiny park there's plenty of Roman Catholic imagery that's unexpected for a public park- an inscribed prayer to the Virgin Mary and a statue of the crowned Mary holding the baby Jesus. The park is maintained by members of the church.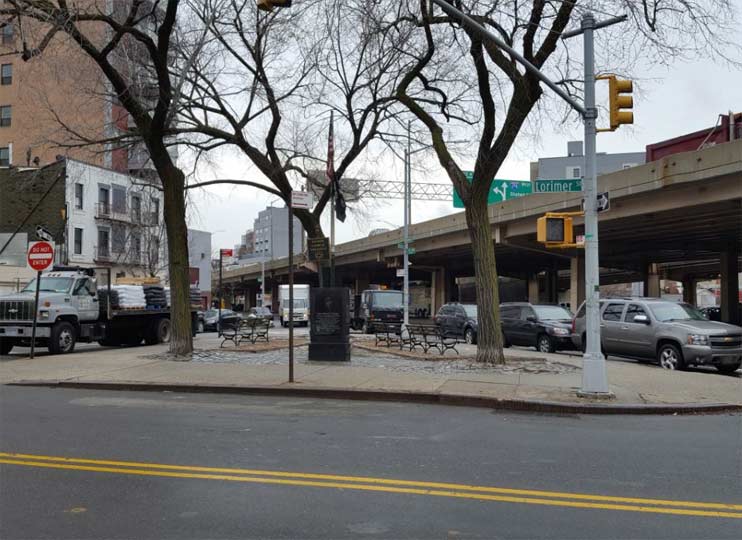 The north side of Mount Carmel Triangle is Jackson Street. Running east across Meeker Avenue, it brushes past another triangle relating to the church: the .07-acre Father Giorgio Triangle. After losing his leg in combat, Father Edward J. Giorgio's health deteriorated and he died in 1946. Shortly after his parishioners installed a monument for him in this triangle.

A block to the northeast along Meeker Avenue, it is crossed by Withers and Leonard Streets, forming the .07-acre Badame-Sessa Memorial Square. Named after two local Vietnam War casualties, it includes a monument with additional names installed by Post 1336 of the American Legion.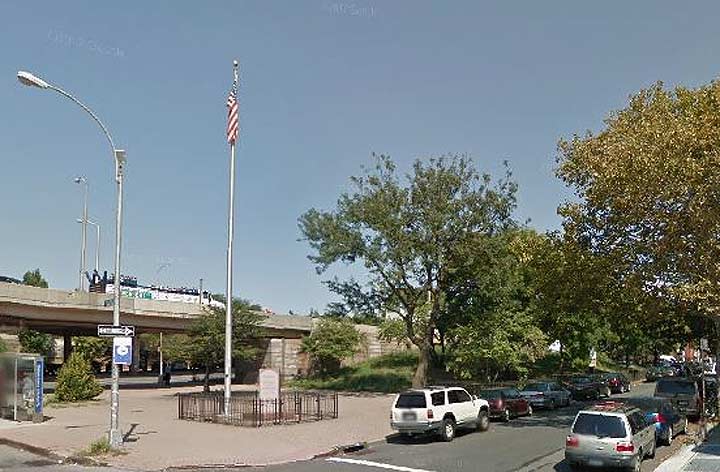 At Humboldt Street and McGuinness Boulevard, there is a northbound exit ramp that took out an entire block, forming a patch of green between Meeker Avenue and Herbert Street. Unlike the other peripheral spaces along the elevated highway, this green strip belongs to the state DOT. The namesake is the nearby Society of Saint Mary of the Snows at 410 Graham Avenue. Founded in 1888 by immigrants from Sanza, Italy, it provides support for its members and holds an annual procession on Graham Avenue in honor of its Blessed Mother.
So many church-related little pieces of earth along Meeker Avenue makes them worthy of a holy pun. Let's turn our page to Matthew 5:5. Got it? Good.
On the Meeker side of this off-ramp is a view of the historic former 19th Precinct, designed by George Ingram. I discussed his work earlier on my walk down Miller Avenue in East New York. It was later designated as the 67th and finally 87th, before relocating in 1970. The building still serves a police function but is no longer a precinct stationhouse. Forgotten-NY contributor Gary Fonville knows plenty of other former stationhouses across the city.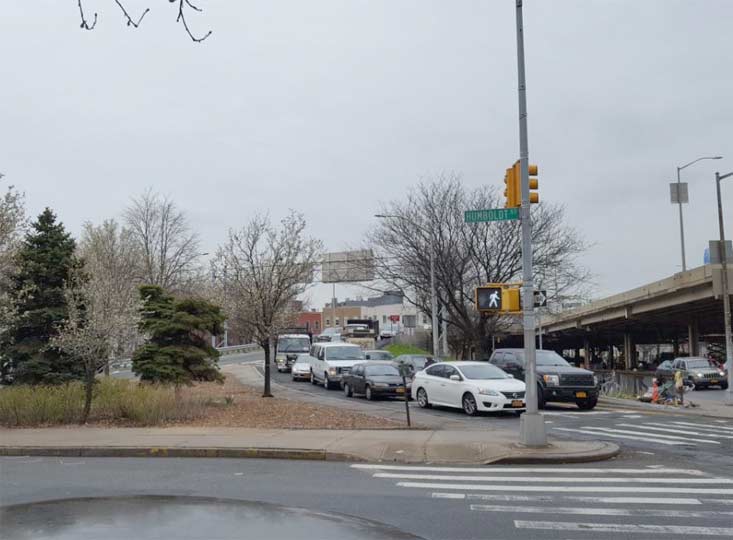 The exit ramp is surrounded by trees planted to mitigate noise and pollution from this heavily-used highway.

Williamsburg has seen many changes since 1973 but one thing that hasn't changed (as of 2018) is its State Assemblyman Joseph Lentol, one of the longest serving lawmakers in Albany. On the north side of Exit 33 is the southbound entrance ramp to the BQE. The shoulder space here is the .76-acre Lentol Garden, which honors Joseph's father Edward S. Lentol (1909-1981). He was also a political type, serving in the State Senate and as a State Supreme Court judge. Lentol was a member of Our Lady of Mount Carmel, so even this politically-inspired park has a church connection.
Parks trivia time: other saints that appear on the names of parks, playgrounds, triangles and community gardens include Albans, Andrew, Ann, Catherine, George, Gregory, James, John, Lawrence, Mark, Mary, Michael, Nicholas, Vartan, and Vincent. Did I miss one?

On the north side of Meeker Avenue in a plot bound by Monitor Street and Engert Avenue is the smallest of this service road's triangular parks, the .01-acre Fidelity Triangle. This one also has a Roman Catholic and Italian-American background. In 1921, the Knights of Columbus Fidelity Council presented a captured German cannon for this park. Between the world wars, many of the city's parks had decommissioned enemy artillery serving a memorial purpose. But with the country's entry into the Second World War, nearly all of these items were pressed back into service, melted down and recast for use by the U. S. armed forces.
In the smallest Parks triangle on Meeker Avenue is the smallest monument, s stone block with the Knights of Columbus logo and a stone plaque in memory of its war dead.

've been curious for a long time on why the streetch of Kingsland Avenue to the south of the BQE has the honorific co-name Grandparents Avenue. I don't see any senior homes here, though the row houses with cornices prove a historic look to the street. The Parks Historical Sign at nearby Cooper Park provides the answer:
"Margaret Carnegie was born in Lawrenceville, Virginia, on April 27, 1910. She moved to New York in 1920… In 1953, Carnegie moved to the recently built Cooper Park Houses. For the next forty years of her life, she became deeply involved in the Greenpoint-Williamsburg community. Carnegie had a special interest in improving the livelihood of seniors… She is credited with bringing 'Grandparents Day' (first Sunday after Labor Day) to New York. Grandparents Avenue, located along a section of Kingsland Avenue, earned its name in recognition of her work."
As honey attracts bears and a red tarp attracts bulls, Kevin Walsh runs towards unusual light fixtures. Under the deck of the BQE, he would not be disappointed, as it hangs dozens of sodium lights to illuminate the parking spots underneath. As for Kingsland? Nothing to do with Brooklyn's county name. Its namesake is New York City Mayor Ambrose Kingsland, who served in office from 1851-1853.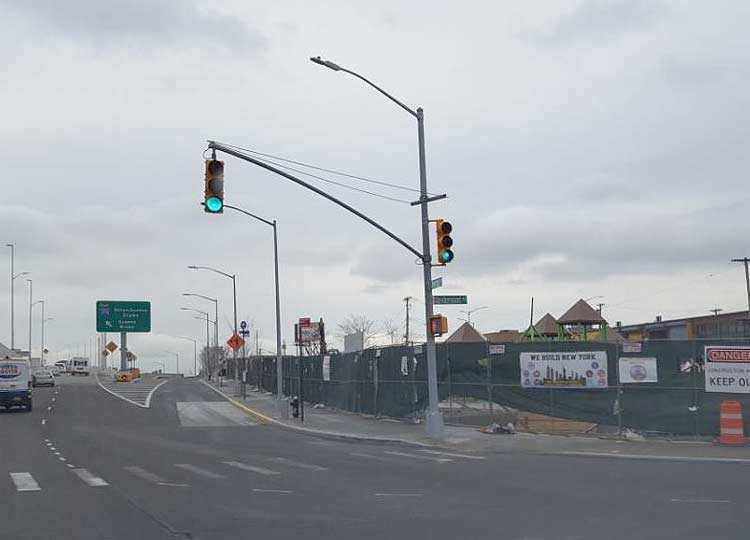 At the Brooklyn landing of the new Kosciuszko Bridge is Sgt. William Dougherty Playground, which honors a local World War Two fighter killed in the Battle of Saipan. Abutting a highway ramp in an industrial section of Greenpoint, this paved playground was an afterthought for more than a half century. With the construction of the new Kosciuszko Bridge, the state kicked in additional funding to rebuild and expand the playground to cover a full city block.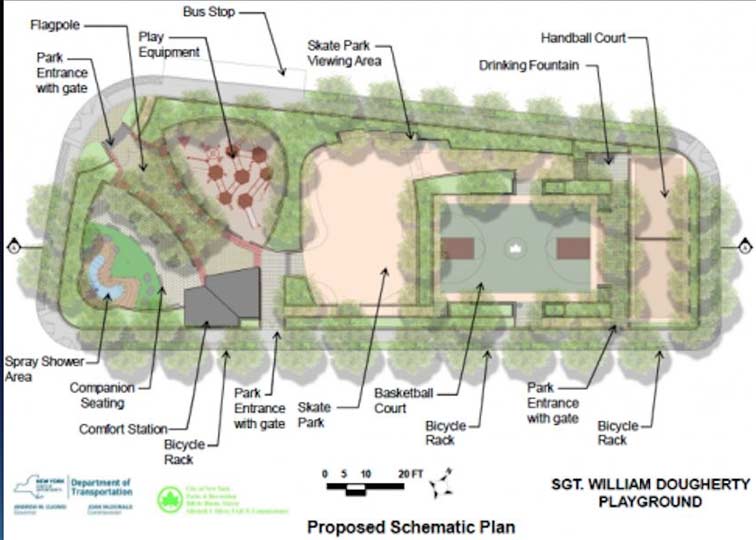 The expanded playground will also include a skateboarding area. As this sport is concerned, we are in the golden age of skate parks in the city, as they pop up across the five boroughs.

On the north side of this interchange, the BQE leaves Meeker Avenue as it rises to the Kosciuszko Bridge. This gives Meeker four blessed blocks of sunshine amid warehouses and factories before it dead-ends by Newtown Creek. At the exit ramp from the southbound BQE, the unusual convergence of Apollo Street, Meeker Avenue, Cherry Street, and the exit ramp is being corrected to ensure safer pedestrian and driving conditions. This means having more green spaces along the highway.
Below its deck, the space is used for parking but as the area isn't commercial or too densely settled, there are plenty of open spots here. Where there is a void, there are bright ideas to fill it, such as sculptures, bike trails, and linear parks. In Miami and Toronto, spaces beneath elevated trains and highway viaducts are being repurposed as parks. New York can't be too far behind.
Dedicated Forgotten-NY fans know well about my love for the city's smallest parks, those that do not have historical signs, conservancy groups, or meet the notability requirements of Wikipedia. From Bath Beach to Howard Beach, if there's a tiny park with a name, I'm here to tell its story.
Sergey Kadinsky is the author of Hidden Waters of New York City: A History and Guide to 101 Forgotten Lakes, Ponds, Creeks, and Streams in the Five Boroughs (2016, Countryman Press)
Check out the ForgottenBook, take a look at the gift shop, and as always, "comment…as you see fit."
4/22/18