LATELY I have been revisiting my Names of the Neighborhoods series over at SpliceToday but I hadn't tackled Staten Island and Manhattan yet. Staten Island has a number of curious neighborhood names, but Manhattan is fairly bland, with its Financial Districts, Upper East and West Sides, Midtowns and acronyms like Tribeca, SoHo and NoHo. I'll probably get around to it but it'll be rather abbreviated unless I include historical stuff like Seneca Village or Carmansville.
As with most of the rest of New York, European settlement on Staten Island began with the Dutch when abortive settlements on the island were made in the 1640s and 1650s. Those were scuttled during the Dutch-Indian wars raging under governors Willem Kieft and Peter Stuyvesant. Permanent settlement in Staten Eylandt (or "State Island," for the Dutch governing body) began in the 1660s in the area now occupied by Fort Wadsworth and South Beach. When the county system in New York was established by the British in 1683 the name Richmond was chosen, which derives from the title of Charles Lennox, 1st Duke of Richmond, an illegitimate son of King Charles II. Many of Staten Island's major roads bear the name Richmond; even Victory Boulevard was laid out as Richmond Turnpike by Vice President Daniel Tompkins in 1818. In 1975, the name of the borough was switched to Staten Island, with the county name remaining Richmond.
Annadale
Annadale, which takes its charming name from Anna Seguine, a member of a prominent local family in the 19th Century (see Prince's Bay later on) is a thriving suburban communities in mid-Staten Island that grew up as immigrant communities along Staten Island Rapid Transit (now Staten Island Railway) stops. Well into the 20th Century, Annadale had few telephones, no dentists, a single general practitioner, and no public school; children attended schools in the next town, Huguenot. However, milk, bread and ice were delivered directly to area homes. As with other rural Staten Island communities, the opening of the Verrazano-Narrows Bridge changed everything, and soon streets and subdivisions were laid out. You can still glimpse a bit of the old days, at the neighborhoods' train stations, which still retain a bit of the town center atmosphere they used to have when regular conductors knew the names of everyone who took the train.
See Gertrude Egish's book, "Next Stop, Annadale! " for a glimpse of the region a century ago.
Arrochar
Arrochar, the first part of Staten Island that the S-53 bus visits when it comes off the Verrazano Bridge from Brooklyn, is often the starting point for my Staten Island peregrinations. Arrochar (pronounced ARROW-car) on Staten Island's easternmost extension, encompasses Fort Wadsworth, now a Gateway Recreation Area (we'll do a whole page on the fort sometime soon) as well as the northern section of South Beach and its lengthy boardwalk. The area was settled by Scottish immigrant W. W. MacFarland in the 1840s; he named his estate, Arrochar, after the small village NW of Glasgow he hailed from. MacFarland's home still stands on the St. Joseph Hill Academy campus.
Bulls Head
Bulls' Head, a small area of Staten Island bordered by the Staten Island Expressway, Richmond Avenue, Victory Boulevard and the wetlands area/Teleport, is named for a vanished Revolutionary War-era tavern that had a large sign featuring the titular bovine (perhaps an inspiration for Signs Road). The tavern was a meeting place for British troops and other Tory residents of the area.
The same idea, pretty much, went into naming Fingerboard Road on the eastern end of the island, which according to legend was named for a large sign in the shape of a pointing finder (like the Clam Broth sign in Hoboken) that pointed travelers to the county seat, then located mid-island in Richmondtown.
Concord
Concord is a Staten Island neighborhood neatly self-contained by West Fingerboard Road, Richmond Road, Staten Island Railway, and since 1964, the Staten Island Expressway, though at one point it extended further north into the Park Hill area: see below for Concord High School on Steuben Street. As the sign says, Concord was "established" here in 1845, but there had been human habitation here before that: the region had been called Dutch Farms, but it was renamed for the Massachusetts town after several famed writers from the MA town lived here, such as Henry David Thoreau and Judge William Emerson, from whom nearby Emerson Hill gets its name, the brother of Transcendentalist-philosophy writer Ralph Waldo Emerson. Thoreau tutored Judge Emerson's children here in the spring and summer of 1843, the only time in his adult life Thoreau lived outside Concord, MA.
Dongan Hills
Dongan Hills is a neighborhood just north of Grant City. and south of Old town (see below) along Richmond Road, which skirts the mid-island hills. Irish Catholic Thomas Dongan (1634-1715) was appointed governor of New York by the Duke of York in 1682 and remained at that post until 1689. His tenure was marked by religious toleration, rare in that era; his family had to move to France when he was a boy when Oliver Cromwell's forces overthrew and executed Charles I in 1649, and perhaps Dongan was sensitive to the persecution of faiths other than the Church of England. Dongan convened the first-ever representative assembly in New York history. He became 2nd Earl of Limerick in 1698. As part of his appointment he was granted 5100 acres in what is now Dongan Hills, which he later expanded to 25,000 acres. His legacy is remembered here, along with three streets on the island named for him.
Eltingville
Just south of Great Kills on Staten Island's southeastern flank, Eltingville was named for a local farming family, Eltinge or Elting. The area was originally called Southside or Seaside and was the original southern end of the Staten Island Railway. It was a mecca for immigrants from Denmark, Sweden, Norway and Finland decades before Bay Ridge and Sunset Park; today, it's mainly Italian-American.
St. Alban's Episcopal Church was designed in Victorian Gothic styling by Richard Mitchell Upjohn, son of church architect Richard Upjohn, and was built in 1865.
Emerson Hill
Novelists and songwriters have often mentioned getting lost in the hilly areas of western metropolises San Francisco and Los Angeles, but Staten Island has one of its very own such areas, Emerson Hill, where the meandering roads, unlit by streetlamps, dodge around one of the tallest hills on the east coast. Even I have never attempted to find my way in and out; I would need a map, a compass and a sextant. There are two ways in or out: via Douglas Road at Richmond Road and Emerson Drive at Clove Road.
The hill was named for resident Judge William Emerson (see Concord, above)
Great Kills
Staten Islanders don't bat an eye about their waterway names, such as Kill Van Kull and Arthur Kill, or the neighborhood of Great Kills, another in the string of communities along the southeastern shore that include Bay Terrace, New Dorp, Eltingville and Charleston. Here, the word kill has nothing to do with murder, or even hunting. It goes back to the Dutch days and was a general term for narrow (relatively) waterway. Hence, Arthur Kill was originally achter kil, or "back waterway." Great Kills simply referred to small streams or rivulets; "great" may refer to their size, or perhaps quality, if the fishing was good. Jack's Pond, shown above, is fed by one of these streams, most of which have been diverted underground.
Huguenot (Park)
A Swiss political leader, the burgomaster, or mayor, of Geneva, Bezanson Hugues (1491–1532) ultimately gave his name to this neighborhood on Staten Island's southeast shore between Arden Heights and Charleston. After Martin Luther founded Protestantism in Germany with his 95 Theses in 1517, the movement spread throughout Europe and ultimately worldwide, France was no exception though French royalty fought fiercely against it, instigating the French Wars of religion in the late 1500s and continued severe repression of members of the French Reformed Church, or the Huguenots, as they came to be called after Hugues provided some key leadership, led some to immigrate to the new world including staten Island. French Protestants would not gain equal rights as citizens until 1789.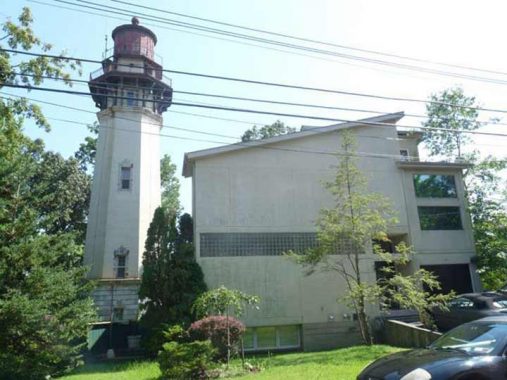 Lighthouse Hill
Staten Island, by far New York City's mountainous borough, supports a few inland lighthouses. The most spectacular is located on this 220-foot hill that looms above Egbertville Ravine, carved through by the meandering Richmond Creek. It's an area of great wealth, but in some ways, it's still emerging from its original rurality; you expect to see a country general store or little red schoolhouse. There is the occasional corral for horses. Richmond Creek is bridged occasionally, almost casually, by bridges over the roads, which are occasionally interrupted for no special reason. In this casual setting, though, are some architectural marvels crucial to New York City's status as a place where if you turn a corner…anything can happen.
Officially known as the Ambrose Channel Range Light, the Staten Island Lighthouse was built here in 1912 and the Coast Guard still employs its light. It is the largest of the borough's lighthouses. Even though it's far inland, its light can be seen far out to sea, as much as 18 miles out.
The 90-foot-tall octagonal structure, made with light brown bricks, can be seen from the bottom of the hill at Lighthouse Avenue and Richmond Road, looming like a benevolent protector. To get closer to the lighthouse, climb steep Lighthouse Avenue, follow it all the way to Terrace Court and then double back on Edinboro Road. It can be seen from Manor Court and from Lighthouse Avenue's length as well.
Mariners Harbor
In the 1840s and 1850s wealthy oyster fishing boat captains lived in an eclectic, eccentric group of homes that faced the Kill Van Kull on Richmond Terrace west of the Bayonne Bridge on the north shore where oyster sloops were moored. A couple of them are still there between DeHart and Union Avenues. One, The Stephen Barnes House, is a landmarked 1853 Italianate/Gothic residence, and an amazing survivor.
Mariners Marsh is a nature preserve in the far western corner of the island. It is a marsh and a wooded swamp (unless rain has been absent for several days, the ground is always muddy) and, while nature-lovers can glimpse dozens of species of flora and fauna, there's something here for the urban artifact aficionado, as well. Mariners Marsh had a former life as an iron foundry and Downey Shipyard between 1907 and 1931. The wooden parts of the buildings are long dearly departed, but the concrete sections are still lying around like animal carcasses. Monument Swamp is cleverly named for the concrete hulks of the old foundries.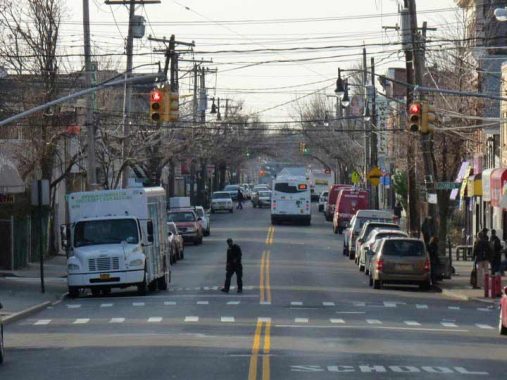 New Brighton, West Brighton
New Brighton was originally envisaged in 1834 by a group of wealthy businessmen headed at first by entrepreneur Thomas Davis. The street pattern, curving around the high hills fronting Staten Island's waterfront, survives to the present; the organization's name, the New Brighton Association (named in honor of Brighton, a British resort town), became the name of the entire region, which stretches from St. George on the east to Hamilton Park on the west. West Brighton, meanwhile, is further west, with the neighborhood a wedge defined by Clove Road on the west and forest Avenue on the north.
There was a time when Staten Island had separate towns, as Brooklyn and Queens had before consolidation into Greater New York in 1898. The island was divided into four separate towns beginning in the 1680s: Westfield, Northfield, Southfield, and Castleton, and in 1860, Middletown was created from portions of Castleton and Southfield, and the village of Edgewater was created within Middletown in 1866. The towns' locations can be seen on this 1874 atlas. Only a few street names are reminders of the existence of these former towns, including the most prominent, Castleton Avenue.
Castleton, on the NE part of the island including New Brighton and St. George, was named in the 1680s for the manor of Governor Thomas Dongan (see above) who named it for his home Castletown, in the town Kildrought (now Celbridge) in County Kildare, Ireland.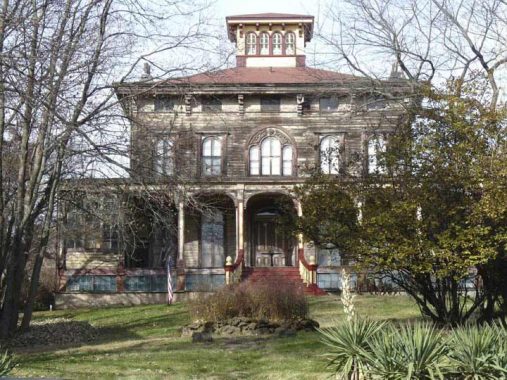 New Dorp, Old Town
New Dorp is a transliteration of Dutch nieuw dorp, or "new town," so called because it was settled in 1670, ten years after nearby "oude dorp", a name remembered in the street name Old Town Road. The town grew up around the junction of Richmond and Amboy Roads, where there were a proliferation of taverns serving stagecoaches and horse-drawn carriages. The Vanderbilt family was prominent in the area and owned several racing and trotting tracks in the area. The family helped found the New Dorp Moravian Church and Cemetery along Richmond and Todt Hill Roads; the Vanderbilt Mausoleum, built for one million dollars (which was real money around 1900) and designed by Richard Morris Hunt, can be found at the cemetery's rear section.
Prince's Bay
After the Revolutionary War ended, New York City virtually divested itself of royal place names, though Prince Street in Manhattan and Kings Highway in Brooklyn are still there. This small neighborhood in southeastern Staten Island, according to tradition, is so-called because before the War, a British prince, the Duke of Nassau, who later became William III, once anchored a vessel in the actual bay at the foot of today's Seguine Avenue. The name of the area is properly spelled with an apostrophe, though variants due to mispronunciation like "Princess Bay" have appeared in print. The French Huguenot Seguine family were early settlers in the area: Seguine Avenue, Prince's Bay's major north-south thoroughfare, is lined south of Hylan Boulevard with craggy osage orange trees, planted by the Seguines at the encouragement of family friend Frederick Law Olmsted, the co-creator of Central and Prospect Parks, who lived nearby in Eltingville.
Chief attractions in the area are Wolfe's Pond Park and Joseph H. Seguine's grand Greek revival mansion, built in 1840.
Richmondtown
As far back as 1685, the area was an important crossroads with roads going back to St. George, New Springville and Tottenville, and a town called Cocclestown was established, named for the oysters found in Richmond Creek and other area streams. The town gradually gained in importance and became the county seat, and a town called Richmond, named for the county and borough and later, Richmond Town to avoid confusion perhaps, evolved. Eventually Richmondtown became one word.
I have written about this part of Staten Island more than any other, as its collection of historic buildings moved here from all over the borough, are endlessly facinating.
Rosebank
Formerly Peterstown, in the 1880s the region came to be called Rosebank presumably for an abundance of rose bushes and its location on the shore. It has always been known for its Italian population, as immigrants began arriving here as early as the 1880s. The present population numbers about 16,000. A substantial part of the shorefront east of Bay Street was taken up by a maritime quarantine station from 1873-1971; the site is now occupied by Coast Guard housing. Rosebank is nationally famed for the presence of the Our Lady of Mount Carmel Grotto on Amity Place as well as the Alice Austen House, longtime residence of the famed amateur photographer (in the early 20th Century, it wasn't as easy as point and shoot).
Rossville
Under its placid veneer of suburbanity, there's over 300 years of history in Rossville on the south shore. The British arrived as early as 1684 and in the early days the area was called Smoking Point and later, Blazing Star, for a long-lost tavern (a separate Staten Island locale was called Bull's Head, after another such tavern).
By the 1830s the southwest Staten Island area was named for a local wealthy landowner, William Ross (who built a replica of Windsor Castle near the Blazing Star tavern), the small town was known before the Revolution by the picturesque name Blazing Star. Ferries, and later steamships whose wrecks are still sinking in the Arthur Kill, connected it with New Jersey. After the West Shore Expressway was built in the 1970s, it spurred development south of the highway, with street after street filled with what songwriter Malvina Reynolds and folksinger Pete Seeger would call "little boxes made of ticky tacky that all look just the same." North of the expressway are shipwrecks, auto repair shops, abandoned cemeteries, and assorted detritus that has been there for decades and may last decades more. Today Rossville is fairly compact and can be defined by the Arthur Kill waterway, the West Shore Expressway, the South Shore Golf Course and Woodrow Road.
Sandy Ground
Before the Civil War, Sandy Ground, located at Bloomingdale and Woodrow Roads, was founded by New York City's first community of free blacks, oystermen who moved north from the Maryland shore to work then-burgeoning oyster beds along the Staten Island shore. There are still a number of descendants of those settlers residing in Woodrow and Rossville today. After the water became too polluted in the 1910s, the oyster beds were condemned, and many residents moved away. Yet, the community's unique identity was able to persist until the 1960s and 1970s, when suburban sprawl, bringing the anonymity that is increasingly pervading Staten Island's south shore, began to take over the area.
The Sandy Ground Historical Society, 1538 Woodrow Road at Lynbrook Avenue, exhibits letters, photographs, film, art, quilts and rare books, all collected from area homes over the past few decades, in its collection. Call (718) 317-5796 for hours. They were having their annual festival the day I happened by, but I was by myself and didn't go in (I'm like that).
St. George
Many New Yorkers, if they have any impression of Staten Island at all, know it primarily from the small area of St. George that can be glimpsed when the ferry gets close to the island…and from the back of the boat when it's returning to the ferry terminal at Battery Park. St. George is a neighborhood of winding streets (Staten Island, in its flatter areas, follows a rough grid plan, but in hilly areas, streets wind to and fro), steep, San-Francisco-style hills, mom-and pop shops, exquisite Victorian-era architecture (and a few Art Deco masterpieces as well). It's a beehive of activity weekdays, since Staten Island courts and most governmental administrative buildings are here where Bay Street meets Richmond Terrace, including the imposing Borough Hall with its elegant clock tower, designed by Carrere and Hastings and completed in 1906. Its main hall displays 12 murals depicting early Staten Island life painted by F.C. Stahr. On weekends, St. George is a sleepy place; Bay Street, except for its busy auto traffic, seems almost deserted.
St. George was named for a land baron named George Law, who had acquired waterfront rights at bargain prices. He agreed to relinquish some of the rights for a ferry terminal – provided it be named for him! Prominent residents of St. George have been New York State Governor Daniel Tompkins and subway bankroller August Belmont.
Over the past decade, the St. George Theatre has been restored to previous glory and now hosts musical performances from top acts known from Broadway, the movie and the pop charts.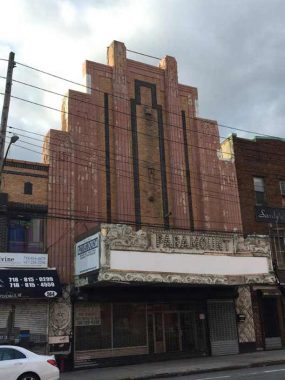 Stapleton
In 1836 Minthorne Tompkins (the son of Vice President Daniel Tompkins) and merchant William Staples established a ferry to Manhattan and founded the village at Bay and Water Streets. German immigrants built numerous breweries in the area in the 1800s including Bachmann, Bechtel, and Piels, whose brewery was in business on Staten Island until 1963.
Among the most notable and strangest aspects of Stapleton's history was the presence of the National Football League, which fielded a team known as the Staten Island Stapletons here from 1929 through 1932. The Stapes were a semipro team founded by restaurateur Dan Blaine in 1915, who played halfback for the team until 1924. Over the following couple of seasons, the Stapes would play exhibitions against pro teams from the NFL and the 1920s version of the American Football League, and after they rolled up a 10-1-1 record in 1928, including a 3-1 record against NFL squads, the Stapes joined the NFL the next season. playing in tiny Thompson's Stadium on Tompkins Avenue, a site now occupied by Stapleton Housing. Led by halfback Ken Strong, a New York University graduate, the Stapletons compiled a 14-22-9 record against NFL competition in four years. The Stapes played an exhibition schedule in 1933, with some games against NFL teams, before Blaine folded the team and Strong joined the New York Giants.
Unfortunately, it appears that the old Paramount Theatre on Bay Street may meet the wrecking ball soon; already, its marquee has been removed.
Todt Hill
You will not find the word "todt" in the modern Dutch dictionary, not at least in the context of "dead" or "death." The modern Dutch words are different. Yet, "Todt Hill" is most often said to mean "dead hill" or "death hill" using a regional or archaic Dutch term, and the most likely story is that the hill itself is named for 113-acre Moravian Cemetery at the bottom of the hill at Richmond Road. However, the road can be found as "toad hill" on some old maps, which is likely merely an English bowdlerization.
However, Moravian Cemetery was established in 1842 and the term Todt Hill is much older. Actually, there have been burials at what would become Moravian for over 250 years and Staten Island's foremost scientist and historian of his era, William T. Davis, in 1930 discovered headstones here going back to 1740. Before incorporating as Moravian Cemetery, it was known as "The Congregation Ground."
Spectacular views are available from parkland wedged between the St. Francis Friary and the Staten Island Academy along Todt Hill Road, including the Jasper Cropsey Outlook, named for the famed painter born in Staten Island.
Tottenville
Tottenville is the southernmost tip of Staten Island, and within it is the southernmost point in New York State. British naval officer captain Christopher Billopp was its first European settler in 1678, and within a couple of years, had built a stone mansion at the foot of today's Hylan Boulevard that would figure prominently in American history as the Conference House. The Billopps remained Tories, loyal to the British, throughout the Revolution and so had their lands confiscated at the end of the Revolution. The story goes that Staten Island is a part of New York State, not New Jersey, because Capt. Billopp won a bet that he could circumnavigate Staten Island in one day. It's likely just a tall tale.
The Totten family owned a large amount of property in the area in the 18th Century, and after a series of names like Unionville, Bentley Dock, and others, the village settled on a name befitting its major property holders. These Tottens had nothing to do with the general for whom Fort Totten in Queens is named.
Travis
A lonely outpost even by Staten Island standards is Travis, a small village of about two thousand at the western end of Victory Boulevard. In the colonial period, it was an important crossing point (New Blazing Star Ferry) over from Richmond Turnpike, as Victory Boulevard was known before 1918, over the Arthur Kill to Carteret, New Jersey, from whence horses and carriages could continue on to Philadelphia and points south. Just as Proctor and Gamble made Mariners Harbor a company town for many years, so did the American Linoleum Company in Travis between 1873 and 1931; the industry became so identified with the region that the town became known as Linoleumville during that time. After the company moved to Philadelphia, residents voted to rename the town for early settler Captain Jacob Travis.
Travis still maintains its own volunteer fire department, Oceanic Hook and Ladder. The town's annual Fourth of July parade, said to be the country's oldest, perennially attracts the NYC mayor and other politicians.
As always, "comment…as you see fit." I earn a small payment when you click on any ad on the site.
3/20/22