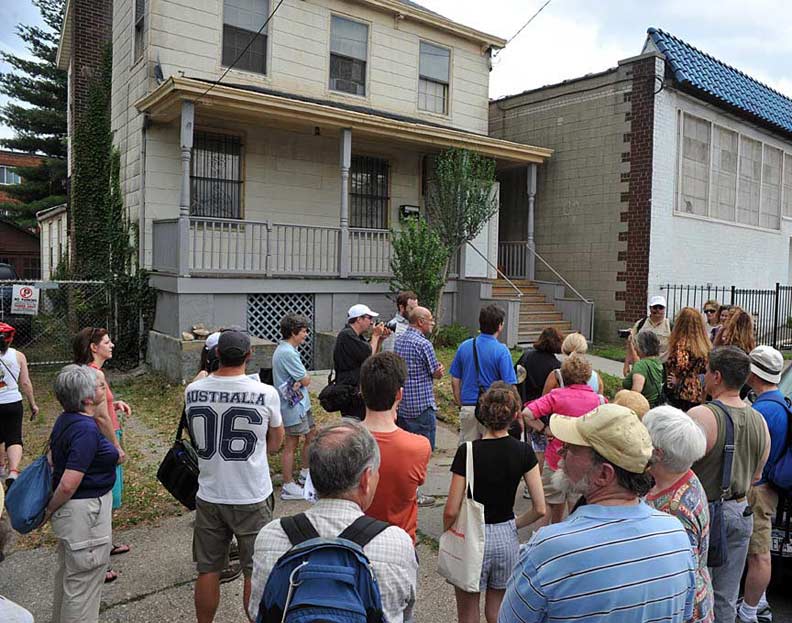 Locations subject to change. All tours run approximately 2 to 2-and-a-half hours unless noted. Note: MTA train schedules on weekends, as well as tour dates, are subject to change.
All tours cost $15 for Greater Astoria Historical Society members, $20 for non-members.
RSVP for whichever tours you wish to attend to info@astorialic.org or Kevin Walsh at erpietri@earthlink.net or kevinjudewalsh@gmail.com. On individual tour pages I will have an easy payment Pay Pal box. However, walk-ups are always welcome!
Sunday, July 28: Kissena Park, Flushing Cemeteries and What's In Between
Take a look at two mid-borough Queens cemeteries, St. Mary's and Flushing Cemeteries, which feature a number of prominent interments including Louis Armstrong; first African-American fighter pilot, Eugene Bullard; French World War I veterans; mid-1800s Irish immigrants. Also take a look at Kissena Park and its lake, and a "hidden" cemetery that was buried under a public park for decades.
Meet 12 noon at 164th Street and Booth Memorial Avenue at the St. Mary's Cemetery entrance. Take #7 train to Main Street, then the Q65 bus at Main Street and Roosevelt Avenue, take it to 164th St and Booth Memorial.
Sunday, August 11: Udall's Cove-Douglaston Queens with Sergey Kadinsky (Hidden Waters Blog)
You'd never believe you're in New York City as we first take a look at the Westmoreland development in Little Neck, a distinct neighborhood protected from overdevelopment by neighborhood covenants; then literally cross the railroad tracks into Udall's Cove and Aurora Park, and then into Douglaston to visit a pair of historic houses going back to the revolutionary period.
Meet 12 noon at the Little Neck railroad station building, Little Neck Parkway at 39th Avenue. Take Long Island Rail Road to Little Neck ($9 round trip from Manhattan via LIRR CityTicket weekends) or #7 train to Main Street, then get Q12 bus on Roosevelt Avenue to Little Neck Parkway, walk 6 blocks north to 39th Avenue.
Saturday, August 24: Gowanus Canal and the Old Stone House
They call it Lavender Lake but it's so much more. Visit this Brooklyn waterway, created in the 1800s by Edwin Litchfield from a natural creek, and take a look at the fascinating structures that surround it such as 19th Century can and box factories, one-of-a-kind bridges, new creekside walkways, and the Old Stone House, a recreation of a Battle of Long Island redoubt where 400 Marylanders lost their lives so George Washington's troops could fight another day.
Meet 12 noon at the R train station, 4th Avenue and Union Street in front of Teheni Restaurant. Note: because of repair schedules, it may take a little longer to reach the station if the MTA is skipping north or southbound local stations.
Sunday, September 8: Westchester Square Bronx
Visit the heart of what used to be the county seat of Westchester County before it became the Bronx, and see ancient cemeteries, libraries and a churchyard featuring remains of colonial settlers. Then we'll walk through Unionport to see some historic structures — some of which have hidden secrets of the area's past hidden in plain sight — and finish with a look at Parkchester and its unique terra cotta work.
Meet 12 noon at "The Chair" in Westchester Square, take the #6 train to that stop. Note: weekend repair work sometimes substitutes shuttle buses for trains.
Sunday, September 22: Astoria to Northern Roosevelt Island
It's another two island, two-borough tour as we journey from Astoria into Roosevelt Island via the Welfare Island Bridge. We saw the south end of Roosevelt Island two years ago, and now we'll see the north end, with visits to two ancient churches, a lighthouse, and a former insane asylum that has become luxury residences. We'll finish at the F train station after returning to the center of the island.

Meet at 12 noon, Vernon Boulevard and 36th Avenue in front of the Melting Pot restaurant (Q102 and Q103 buses; the Q103 can be boarded at Queensboro Plaza)
Sunday, October 13: Open House NY (TBD)
Sunday, October 27: Greenwood OR Evergreens Cemetery
November tour: TBD