On this page, we'll take a look at some of the unusual sights in the subways that don't fit into any other category…
The 181st Street station (IND, A line) is unusual for a couple of reasons: first, it is among the deepest subway stations in the system, and second, it has this rather unique and handsome entrance on Overlook Terrace and 184th Street, which is built into the side of a hill. It still boasts much of its original embellishments, complete with wood-panelled doors set with stained glass.
The station can still boast its original doors.
The 181st Street station's brother entrance has a working stencil-type subway sign, illuminated by lightbulbs. It also keeps the original doors. This station was carved out of the original rock formations in upper Manhattan.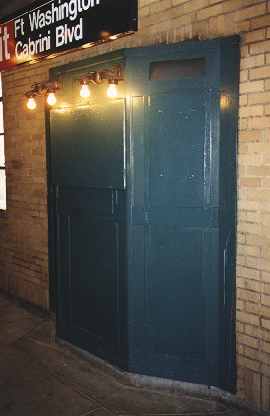 The nearby 190th St station still has its original token booth.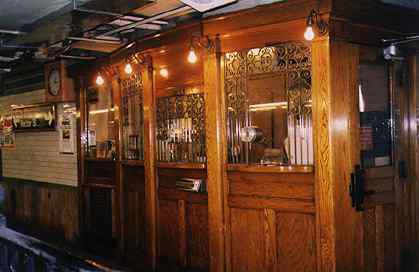 In days of yore, when the trains were relatively safe, there wasn't a need for bulletproof, fire-retardant token booths made of metal and plexiglass. Until the 70s, wooden token booths, like the one above, were the rule. The MTA has lovingly reconstructed one such booth at the downtown side of the Wall Street station (IRT, #4,5).
This is the impressive 215th St el station on the IRT #1 line.
Manhattan used to be filled with impressive el stations like this one, along the 2nd, 3rd, 6th and 9th Avenue els. Most els have vanished from Manhattan other than the extreme northern end, where the #1 travels above Broadway, Nagle and 10th Avenues.
Many years ago, a lovely mosaic advertising the Church Of The Redeemer, at 4th Avenue and Pacific Street in Brooklyn, was installed next to the staircase leading down from the street into the Pacific St station. It's gone undeservedly unnoticed ever since. [2016: The Church of the Redeemer was torn down but the sign remains]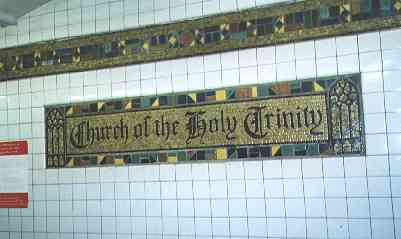 A similar mosaic can be seen in the Court Street BMT station entrance at Montague Street and Clinton Street.
These white and black Times Square BMT platform signs hung on for dear life long after its compatriots had been replaced; these lasted until a station renovation in the mid-2000s.
1/15/99; rev. 6/25/16