Robert E. Lee and Stonewall Jackson left Bay Ridge to serve the Stars and Bars in the "War of Northern Aggression" while Tony Manero left it only to wind up in the 1983 disaster "Stayin' Alive."
Bay Ridge is the ancestral home of your webmaster. My parents migrated to Brooklyn from Troy, NY in 1955, though my father originally hailed from Newfoundland, Canada. It'll always be home, even though Zeke's Roast Beef was ruthlessly shuttered in late 2004.
GOOGLE BAY RIDGE MAP (best viewed from Firefox)
Your webmaster lives in exile.
Having been brought up in Bay Ridge, Long Island's westernmost extremity for my first 35 years, I made the move to Flushing to be closer to a certain direct-mail operation in Nassau County that hired me in 1992.
That ended. But my Flushing exile has not. Let's live vicariously and devote a Forgotten page to Brooklyn's last outpost before Staten Island and New Jersey.
Photo: Kevin W. Walsh
It's a quiet Sunday morning on 5th Avenue and 92nd Street in January 1963. At this time, 92nd Street is a quiet street that leads only from Shore Road to 7th Avenue and Dyker Beach Golf Course and Veterans Hospital. The corner doesn't even rate a stoplight. Quaint cast-iron posts from the early 20th Century still stand, as well as a building that possibly could be from the 19th Century on the corner. Ahead is a firehouse, and, on the right, the Harbor Theatre, which might be showing the flop "Cleopatra" at about this time.
Irrevocable change is about to arrive, though: a monolithic, skeletal Tower, resembling a gigantic tuning fork, has appeared in the harbor beyond.
It's a not-as-quiet Sunday morning on the same corner in spring 2001. Vehicles jam the corner, as they will soon swoop down the still-narrow 92nd Street to enter the entrance ramp to the Verrazano-Narrows Bridge, which was completed in 1964 and held the title for the world's longest suspension bridge for nearly a quarter century. The Colonel hopes to entice bridge crossers where the old 19th Century house used to stand with fried chicken. The Harbor has become a palace of perspiration.
Photo: Kevin W. Walsh
July 1962. Your webmaster's mother is in the foreground. The tower stands where Fort Lafayette used to be. Off to the left, out of the picture, is Denyse Wharf, an 18th Century relic that lasted till after the bridge opened.
The bridge opened on November 21, 1964.
The Verrazano-Narrows Bridge was built by Robert Moses and Othmar Ammann.
Believe it or not, the crossing had been planned for over 75 years before actual construction even began. The Baltimore and Ohio Railroad desired a bridge to connect its railroad operations in Staten Island to New York City in 1888. Another plan to connect the BMT Subway to Staten Island in 1923 fizzled, but not before tunnel shafts, which can still be found in Owls Head Park, were started. In the 1930s, civil engineer David Steinman was the first to propose a 4,000-ft. "Liberty Bridge" across the Narrows that would double the length of the world's longest suspension bridge at that time.
Mayor Fiorello LaGuardia favored the plan as did New York's roadmaster general Robert Moses. Moses had suffered a rare defeat when his Battery Bridge idea was thwarted, but he would not be beaten this time.
Engineer Ammann, who had designed five other New York City spans including the George Washington Bridge, was selected to helm the project, and construction of the bridge and its approach roads began in September 1959.
Fierce opposition from Bay Ridge homeowners was of no avail, and thousands of people were displaced. Gay Talese's book The Bridgedescribes their plight. Your webmaster's home was spared by a whisker.
See BRIDGE IN THE BACK YARD for more on the amazing Verrazano.
The bridge was to change both Bay Ridge and Staten Island, converting them from relative backwaters (more so for Staten Island) into somehow more cosmopolitan locales. Staten Island's overall rural flavor has been forever lost. Bucolic pockets of Bay Ridge are still there though…farmhouses still exist on 73rd Street, and there are further relics to be found. In spring 2001 … your webmaster, to paraphrase The Rock…'Finally…Forgotten NY has come back to Bay Ridge!"
Shore Road and 4th Avenue
Fort Hamilton and Bay Ridge used to be separate small settlements in the town of New Utrecht on the western tip of Long Island. Time has blurred that distinction, but Bay Ridge, Brooklyn, and New York City are still defended by the fort, which was begun in 1825. A smaller fort in the Narrows, Fort Diamond (later Lafayette) had been finished in 1822. It survived until the eastern tower of the Verrazano Narrows Bridge replaced it in 1962.
John Paul Jones Park, also known as Fort Hamilton Park and Cannonball Park, is the site of one of the world's last remaining Rodman guns. Fort Hamilton, in 1864, tested this new cannon, which weighed 58 tons and fired shot weighing 1080 pounds. A derrick had to be used to load the Rodman gun. While it was used effectively for a brief time during the Civil War, ultimately, it was supplanted by other weaponry. One of the last Rodman guns wound up here.
At one time Shore Road was lined with mansions and private homes like the one at far left at 99th Street. It is now Fontbonne Hall Catholic school for girls, but it used to belong to actress Lillian Russell (left), who shared a passion for diamonds with Jim Brady, perhaps the world's greatest gourmand of all time.
The mansion was bought by the Sisters of St. Joseph in 1937. Until that time it was called Shell Mansion.
Farrell House, 1999
This 1849 Greek Revival wood house, on 95th Street near Shore Road, was built when most of Bay Ridge was just forests and meadows. It's now drowning in a sea of cheaply made prefab buildings, one of which was built precariously close to it in 2000. It is officially known as the James F. Farrell House. While the Farrell House has itself been landmarked, that doesn't save its surroundings from desecration.
The private residence shown here, at Narrows Avenue and 83rd Street just across from Fort Hamilton High School, is probably the most extreme example in NYC of the Arts and Crafts school of architecture, a playful, ornate design philosophy championed by Oscar Wilde, among others.
Known to Bay Ridgeites as 'the Gingerbread House,' it is more properly called the Howard E. and Jessie Jones House, after original owners. The architect was J. Sarsfield Kennedy and it was built in 1916-1917.
Even the fenceposts are hewn from boulders.
In front you can see a bluestone plate used for passengers to alight from carriages in the days before the streets were paved.
More of Bay Ridge's past disappears every year… just like the rest of the city.
The destruction of a Bay Ridge farmhouse. Forgotten Fan BrooklynKid87 witnessed the demolition of this Civil-War era building in 2001 and documented its death by bulldozer. There is a standard-issue multi-family brick box in its place now.
Gelston Avenue is one of Bay Ridge's oldest named streets; it turns up on maps from the 1870s. This farmhouse was one of its last links to its rural period.
All is not lost, however. Some of Bay Ridge's oldest dwellings do remain…
A cluster of small buildings along Ft. Hamilton Parkway, 97th Street and Marine Avenue harks back to the original Ft. Hamilton area settlement. The contrast between the older house and new prefab dwellings is stark. More and more of these homes are torn down every year.
A cafeteria on 3rd Avenue and 85th Street had these ancient tin signs on its facade, as well as an old incandescent 'gumball' lamp. By mid-2003 the store had closed.
John Carty Park was built beneath the connecting ramp between the Verrazano Bridge and the Belt Pakway in 1964 and later named for a local 32-year civil servant who died in 1970. Not much of a park, really, but there was playground space for kids, and it became a default playground for me in the late 60s. The basketball court figured in a scene in 1978's Saturday Night Fever.
1996 campaign sticker, still in place on 4th Avenue and 84th Street in 2003.
This was the epicenter of disco in the 1970s and 1980s, the 2001 Odyssey disco* at 8th Avenue and 64th Street featured in Saturday Night Fever. The bowling alley across the street appealed more to your webmaster; it became a car dealership and now, sits abandoned.
This is the only 'official' mention of 69th Street on a street sign. Other DOT signs refer to it as Bay Ridge Avenue, though few in Bay Ridge call it that.
By now, few remember the Bay Ridge-St. George Staten Island ferry, which ran from the pier at the foot of 69th Street (Bay Ridge Avenue). It was shut down one day after the Verrazano-Narrows opened in November 1964; it was decided that the bridge made the ferry redundant.
In the 1980s, commuter ferry service was instituted between Bay Ridge and Manhattan, once again using the 69th Street pier, but the pier has fallen into disrepair periodically through the years. Originally wooden, it fell apart after the original ferry was shut down, and a new concrete pier was built in the 70s.
Eventually that pier, too, became too unsafe, and the commuter ferries repaired to a new dock at 58th Street. This sign on Narrows Avenue, however, remains as a relic of the 1980s version of the 69th Street ferry.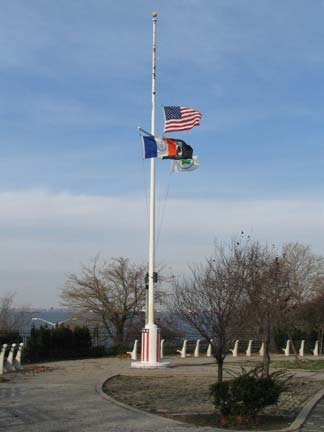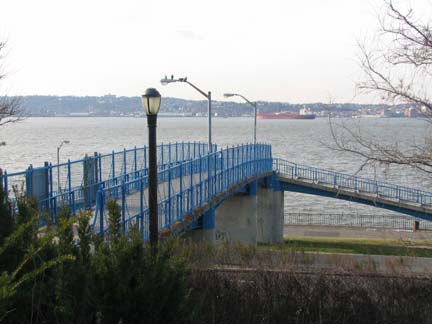 Old Glory Lookout, at Shore Road and 79th Street, affords views of nearby Staten Island and far-off Manhattan, across Upper New York Bay.
When the Circumferential Pakway (later called the Belt Parkway for all those bad spellers) was built here in 1940 a lengthy park along Shore Road between Fort Hamilton and John Paul Jones Park and Bay Ridge Avenue was concurrently built.
After 1940, most of Shore Road's mansions were torn down, to be replaced by high-rise apartment buildings taking advantage of the gorgeous view.
This smallest cemetery in Brooklyn, the "Revolutionary Cemetery" in Bay Ridge, at the corner of Narrows Avenue and Mackay Place was founded in 1725 by Dutch immigrant William Harmans Barkaloo. The "revolutionary" appellation comes from a plaque erected in 1962 on the protective gate, which indicates that several Revolutionary War veterans are buried here; though some historians dismiss the claim as spurious, others say that William Barkaloo's sons, Harmans and Jacques, fought in the Battle of Brooklyn, which raged in Bay Ridge and throughout the towns of New Utrecht and Brooklyn. The last burial took place in 1848.
The Barkaloo Cemetery is still historic since it is the only family plot in Brooklyn not part of a larger cemetery. There are a number of them remaining in the Bronx (Ferris Cemetery) and Queens (Lawrence Cemeteries in Astoria and Bayside and Pullis Cemetery in Middle Village. The Barkaloos lived in Bay Ridge well into the 20th Century.
The 'Ridge' in Bay Ridge is a glacial ridge left during the last Ice Age. There is a steep hill between Ridge Boulevard and Colonial Road that, in some cases, is too steep for vehicular traffic, which necessitates a rare Brooklyn 'step street'.
At the top of one such step street is the 1900 Gothic Revival mansion overlooking the bay. It was first occupied by the founder of Blue Cross. Across the street from here is another magnificent mansion; Bay Ridge is dotted with them.
Sources:
Bay Ridge Chronicles 1524-1976, Jerome Hoffman, Bay Ridge Bicentennial Committee 1976
Out of print, but several copies can be found in Bay Ridge bookstores. Highly recommended.
E me at erpietri@earthlink.net
©2001, 2005 Midnight Fish
8/26/01